For reasons that are obscure even to me, I've been researching Curt Siodmak's novel Donovan's Brain.
It first came to my attention when I heard a radio adaptation, two episodes of Suspense, in which Orson Welles played the main role. That was originally broadcast in 1944; an LP of it won a Grammy for Best Spoken Word Album in 1982. Go figure.
There are also three movie adaptations of it. The first one, The Lady and the Monster, precedes the radio show and has the worst title but the best cinematographer: John Alton.
I just found out that before it was published as a book it was serialized in Black Mask, the greatest of the pulps.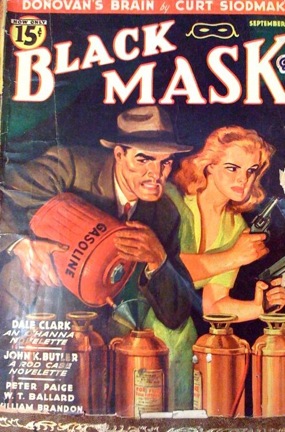 The fellow on the cover is pouring gasoline into fire extinguishers.
---
Happy birthday, Lars!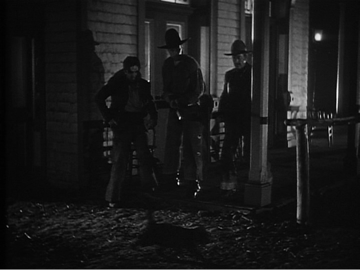 Okay, it's hard to see, but that's a black cat crossing the path of the Plummer brothers in John Ford's Stagecoach (1939). This comes right after Luke Plummer (Tom Tyler, center) gets the "dead man's hand" (aces and eights) in a poker game. He shoots at the cat and misses.
The Plummers are on their way to a gundown with the film's hero, played by John Wayne. How do you like their chances?
---
The forty-ninth Soundtrack of the Week is Go! Cinemania Reel 4: Screaming A Go Go.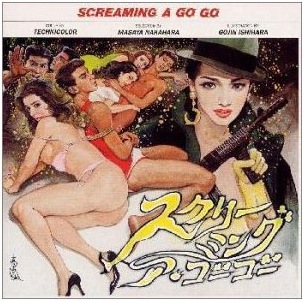 In 2004 Alice and I visited Japan. I found these Cinemania compilations in, I think, the Tower Records in Shinjuku.
I have eight out of the nine Cinemania volumes, and Reel 4 is my favorite, a compilation of surf, psychedelic rock, lounge and jazz from various genre films of the '60s and '70s: the best music but the worst front cover of the series.
It opens with the theme song from Suzuki Seijun's Branded To Kill, a great piece which was covered by Makigami Koichi (with Marc Ribot et al.) on his Killer's Blues CD.
Music from several other interesting movies is included here but my favorites are the cues from the Female Prisoner 701: Scorpion series: very moody, with a seriously ill organ sound and great use of percussion.
---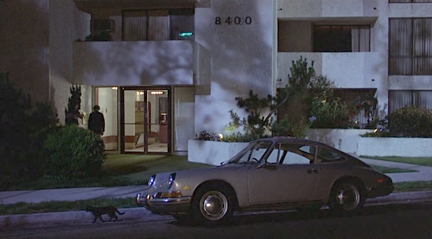 Modern Romance (1981)
---
2009 February 19 • Thursday
Who Killed Teddy Bear and Taxi Driver have a few things in common, both being New York City stories of an obsessive stalker who enjoys exercise and pornography.
Michael Chapman also worked on both movies, as cinematographer on Taxi Driver and assistant cameraman on Teddy Bear.
In one scene in Who Killed Teddy Bear Sal Mineo goes to a porn shop to browse the books and magazines.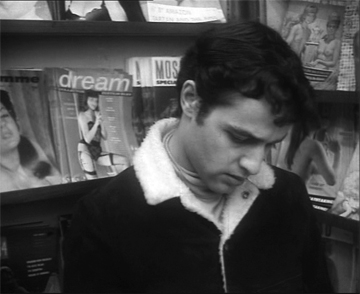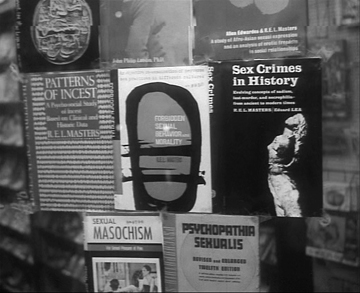 In addition to this titillating fare, the shop has books like The Group, Naked Lunch, Last Exit to Brooklyn, some Henry Miller and so on.
This was my favorite juxtaposition: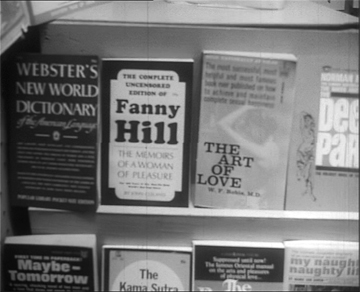 New York is so vanilla now, you couldn't get away with displaying Webster's in a window like that.
---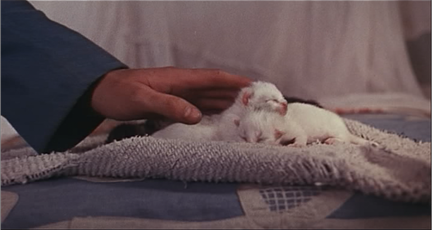 Un tranquillo posto di campagna (1969, A Quiet Place in the Country)
---
The forty-eighth Soundtrack of the Week is George Delerue's score for The Day of the Dolphin.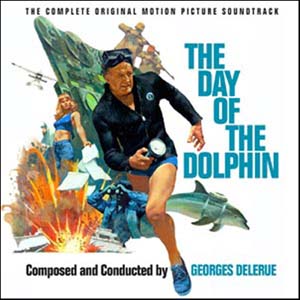 Apparently director Mike Nichols wanted Bernard Herrmann to score this movie, and flew to London to screen it for him. The story goes that when Nichols told Herrmann that the score had to be finished in five or six weeks, Herrmann kicked him out of his house.
I haven't seen The Day of the Dolphin, but I'd kind of like to, despite not being a Mike Nichols fan. It certainly sounds, uh, worth seeing. George C. Scott apparently plays a scientist who has taught dolphins how to speak English. Government agents then swoop in and tell the dolphins to assassinate the president of the United States. The dolphins say "Righto" or whatever it is dolphins say and off they go.
Sounds great. I really love most of the music Delerue wrote, consisting as it does of haunting and lyrical passages for strings with occasional underwater-type noises. There's also some baroque/classical kind of stuff that I can live without.
---
Happy birthday, Alice!
Back in December, our thirty-eighth Soundtrack of the Week was Peter Thomas's Chariot of the Gods. The CD contained two tracks, each about seventeen minutes long. I wondered if it wasn't some unofficial LP transfer.
Whatever it was, a much better CD of the same score will be available in a few weeks, with previously unreleased material.
---
Here's something from my magazine collection. That's the great Anna May Wong on the cover.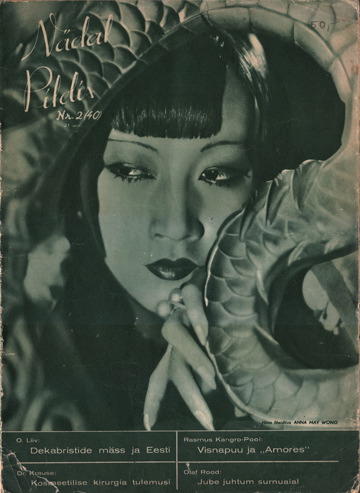 It's from 1937. I bought it a few years ago in Tallinn, Estonia.
---
The forty-seventh Soundtrack of the Week is Goblin's score for La Via Della Droga.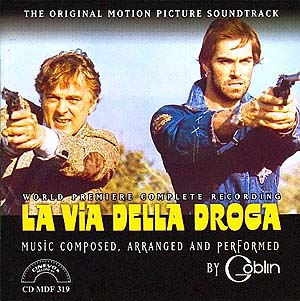 Goblin did a bunch of movie soundtracks, including Dario Argento's Suspiria, one of the greatest film scores of all time. Really, without Goblin's music and Luciano Tovoli's camerawork, Suspiria would probably be mediocre at best. There appears to be a remake of Suspiria planned for 2010. Do you suppose they're doing this just to show us how bad it could have been?
But back to La Via Della Droga. The first time I ever went to Canada, it was to play a couple of shows with Chris Cawthray and Ed Zankowski. The Cawthrays kindly hosted me at their Toronto home and showed me the city.
Somewhere on Queen Street I walked into a hip video store which made me feel right at home. While taking a look around I overheard one of the employees talking about how he had watched The Heroin Busters the night before and how it was "awesome".
Inspired by this chance remark, I watched The Heroin Busters (a.k.a. La Via Della Droga) when I returned home, and also found it to be more or less awesome. I can't remember anything about it anymore, but I enjoyed listening to this CD of the score.
It begins and ends with a wailing psychedelic theme (not the usual Goblin sound), and in between are the funk-prog stylings for which Goblin are so cherished. You'll also hear some hot conga playing and some keyboard sounds that would be right at home in an episode of Doctor Who.
---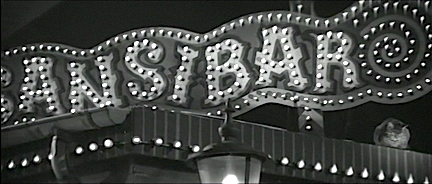 Das Phantom von Soho (The Phantom of Soho, 1964)
---
The forty-sixth Soundtrack of the Week is Alfred Newman's music for The Best of Everything, lovingly presented on CD by Film Score Monthly.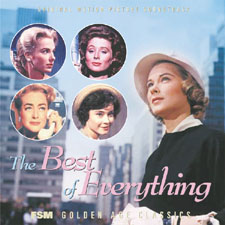 Alfred Newman must be the world's most-heard composer of film music. He wrote the 20th Century Fox theme, after all. Anybody who ever saw a Star Wars movie has heard it. I think you still hear it every time you play a 20th Century Fox DVD.
Newman wrote about a zillion scores, but The Best of Everything (1959) was the last he did for Fox. The music is typically romantic but has a consistent undercurrent of melancholy accompanying the stirring lyricism.
This suits the story of the film quite well. It's about young women working for a publishing company in New York City. Alice and I were surprised by the challenges they face in the movie: abortion, adultery, sexual assault, insanity and so on.
Joan Crawford plays a senior editor whose performance is very The Devil Wears Prada. Newman's music finds a perfect partner in William Mellor's beautiful Technicolor, CinemaScope photography. New York City locations are used to great effect.
There's also a cat in it.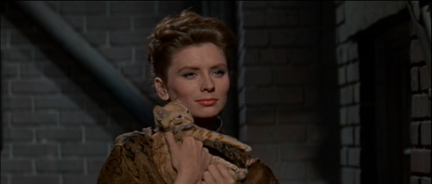 The performances are all strong and while there are some embarrassing lectures to the women about how careers are nice but marriage must be their first priority, the script is mostly intelligent and believable.
---