2009 February 23 • Monday
The forty-ninth Soundtrack of the Week is Go! Cinemania Reel 4: Screaming A Go Go.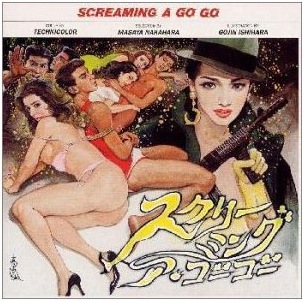 In 2004 Alice and I visited Japan. I found these Cinemania compilations in, I think, the Tower Records in Shinjuku.
I have eight out of the nine Cinemania volumes, and Reel 4 is my favorite, a compilation of surf, psychedelic rock, lounge and jazz from various genre films of the '60s and '70s: the best music but the worst front cover of the series.
It opens with the theme song from Suzuki Seijun's Branded To Kill, a great piece which was covered by Makigami Koichi (with Marc Ribot et al.) on his Killer's Blues CD.
Music from several other interesting movies is included here but my favorites are the cues from the Female Prisoner 701: Scorpion series: very moody, with a seriously ill organ sound and great use of percussion.
---