2009 February 02 • Monday
The forty-sixth Soundtrack of the Week is Alfred Newman's music for The Best of Everything, lovingly presented on CD by Film Score Monthly.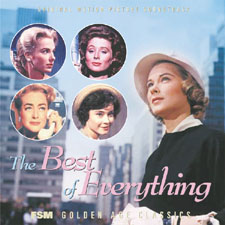 Alfred Newman must be the world's most-heard composer of film music. He wrote the 20th Century Fox theme, after all. Anybody who ever saw a Star Wars movie has heard it. I think you still hear it every time you play a 20th Century Fox DVD.
Newman wrote about a zillion scores, but The Best of Everything (1959) was the last he did for Fox. The music is typically romantic but has a consistent undercurrent of melancholy accompanying the stirring lyricism.
This suits the story of the film quite well. It's about young women working for a publishing company in New York City. Alice and I were surprised by the challenges they face in the movie: abortion, adultery, sexual assault, insanity and so on.
Joan Crawford plays a senior editor whose performance is very The Devil Wears Prada. Newman's music finds a perfect partner in William Mellor's beautiful Technicolor, CinemaScope photography. New York City locations are used to great effect.
There's also a cat in it.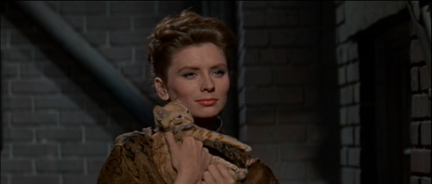 The performances are all strong and while there are some embarrassing lectures to the women about how careers are nice but marriage must be their first priority, the script is mostly intelligent and believable.
---