Rob Price
Gutbrain Records
rob + gutbrain.com = email
---
The 299th Soundtrack of the Week is 7 cadaveri per Scotland Yard (7 Murders for Scotland Yard), music by Piero Piccioni.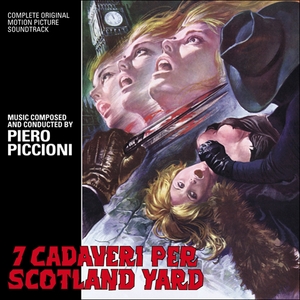 There are basically just a few themes or moods that repeat.
There's a Morricone-like dissonant horror thing, for one. Then there's one that's like a Goblin and/or Peter Thomas remix of Lalo Schifrin's music for Mission: Impossible. That gets the most of a work out. You hear it on almost every track.
Fuzz guitar and percussion, some moments that are like electric Miles, some great organ and keyboard playing, some lyrical moments; all play their part. Good record if a bit repetitive.
---
John McPhee's Levels of the Game is one of my favorite books. An old friend of mine recently gave me McPhee's Looking for a Ship, which is also excellent.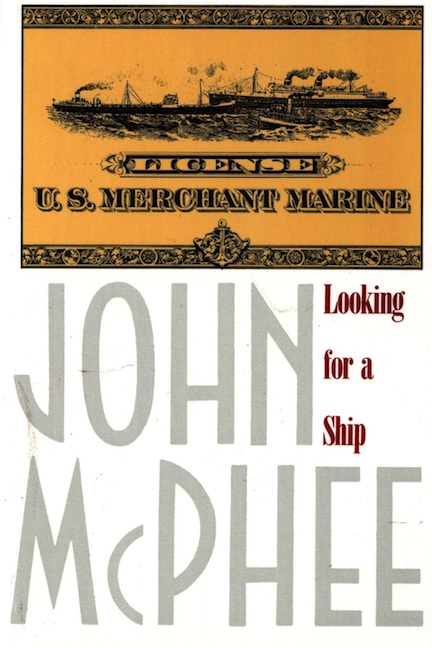 McPhee is really a wonderful writer. A blurb on the back of this edition sums him up rather brilliantly: "the author surrenders to his subject and conquers it".
Looking for a Ship is a literary portrait of the United States Merchant Marine, starting with one sailor looking for a ship to work on. McPhee joins this man and brings us along as they board the S.S. Stella Lykes. We get to know the other people on board—most memorably the captain of the ship, who is quite a character—and discover what for most of us will be a new world, a world that has perhaps already vanished.
The first line is "Andy was worried about the Ben Sawyer Bridge". And McPhee allows himself one rather outrageous pun in this volume: "The author Alex Haley is noted for riding on merchant ships as a way of isolating himself from distractions and forcing himself to write. He could write a book called 'Routes'".
---
We left fifteen thousand seven hundred and twenty-eight GAZ lighters on the dock in Valparaiso. We left four tons of mattress ticking, twelve tons of scouring pads, and two tons of books. We left fatty acid, silicic acid, nalidixic acid, polyvinyl-chloride resin, hexane, methane. We left eighteen thousand pounds of cellophane. We left eight pails of "flammable flavoring extracts," which, according to the cargo manifest, had a "flash point of 32 degrees Fahrenheit" and were "licensed by the United States for ultimate destination Chile and for distribution or resale in any destination except Soviet bloc, Laos, Libya, North Korea, Kampuchea, or Cuba." We left one container said to contain "sausage casings, water filters, auto parts, paper-making-machinery parts, and safety equipment—mixed," and another container said to contain "spare parts for front-end loader, paper-making machinery, aircraft parts, fluorescent tubes, valves, plastic film, air-conditioning parts, and epoxy catalysts." We left thirteen thousand pounds of sunflower seeds and twenty-five thousand pounds of alfalfa seeds. We left three hundred and sixty-four cases of hypodermic syringes that we had picked up in California. We left a hundred and sixteen tons of steel strapping and (in Chile!) nine tons of copper wire. We left a ton and a half of money-changing machinery, forty-three tons of used clothing, a Model 1080 crane crawler, and a fire engine. Among other things.
We picked up three thousand cases of wine, two tons of button-down short-sleeved shirts, seven hundred bags of pentaerythritol, three hundred and fifty pounds of Chilean bone glue, and a hundred and thirteen thousand pounds of candy. We picked up eight hundred and seventeen desks and eight hundred and seventeen chairs. We picked up eighty-five cartons of umbrellas (on their way to Los Angeles), seven thousand spare tires (New Orleans), six thousand four hundred and eighty toilet pedestals (Chicago), and a hundred thousand pieces of kiln-dried radiata pine (destinations everywhere). We picked up nine tons of fruit cocktail, sixty-three tons of peach chips, sixty-seven tons of raisins, two hundred and thirty thousand gallons of concentrated apple juice, four hundred thousand fresh lemons, four hundred thousand fresh onions, five hundred thousand fresh apples. And then we departed.
—John McPhee, Looking for a Ship, 1990
---
Jaga wa hashitta might mean "jaguar ran" in Japanese. It's also the name of a movie whose music, by Masahiko Sato and Toshiyuki Miyama & New Herd, is the 298th Soundtrack of the Week.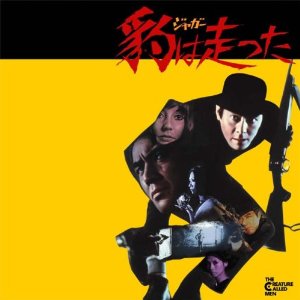 Stylistically it's like a tour of popular late-'60s sounds. Bossa, lounge, blaring horns, funky drums, echoes of Burt Bacharach, a rather blatant imitation of side one of Miles Davis's In a Silent Way, dramatic underscore as required.
I'm intrigued. I'd like to see the movie, whatever it is.
---
And here's Gemtones record number two.
You might notice the photographs of their faces are taken from the cover photo for the previous album.
Their second record shows them in a perkier mood, playing with more alacrity, confidence and skill. I kind of miss the frayed melancholy of the first record, however.
They do a couple of originals here and are also very much under the influence of The Shadows, playing "Les Girls", "The Savage", "Atlantis" and "Peace Pipe".
"Peanut Butter" is a pretty goofy vocal number about, believe it or now, peanut butter. "Reno" and "Palasades Park" are very familiar songs played as straight covers here.
"Turn Around — Look at Me" takes the riff or groove or whatever from Roy Orbison's "Running Scared" and uses it as a launch pad for a broken-hearted guitar instrumental. This is the kind of special thing that I'm looking for in records like this, the original piece by a band of teenagers playing in a certain region at a certain time.
---
Here's more from the WFMU Record Fair.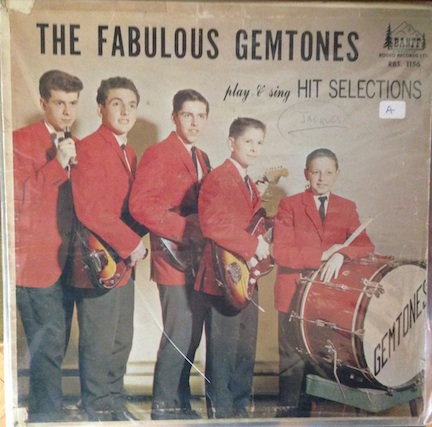 Ah, the days when a band of teenagers with no original material could get a record deal! The youngest member of the band is the drummer, who's 14 years old. The lead guitarist is 18.
"Dance On" will be familiar to fans of The Shadows. This is a decent presentation. I like the drum sound and how the drummer isn't always exactly on the beat.
"Bachelor Boy" is a vocal number in 6/8 time. It's about a guy who will never get married, or so his father tells him. It has a quaint, folky sort of quality, especially when a second voice harmonizes with the first.
Then there's another 6/8 tune, "Last Date", with piano the featured instrument. There's a Memphis soul/pop feel to this and it has a stirring kind of quality.
"Turkey Trot": "Come on and turkey trot / Let's get it while it's hot". This is like very early Beach Boys on tranquilizers.
Then there's the classic exotica lounge tune, Arthur Lyman's "Yellow Bird". A fundamentally languid sort of tune, it's an ideal choice for this somewhat enervated band.
Side 2 opens with "Meet Mr. Callahan", a sunny, jaunty, swinging tune. It has an odd, cloudy feel in The Gemtones's interpretation.
"He'll Only Hurt You" is another vocal number, a lover's lament and perfect for this group. You can feel the profound misery of teenage love bleeding out of the grooves on the record (one of the advantages of vinyl). "Darling, I'll always love you / He'll only hurt you."
"Limbo Rock" is of course a very well known instrumental hit, less rowdy and rousing here than it usually is.
"Listen to the rhythm of the falling rain / Telling me what a fool I've been." "Rhythm of the Rain" is another broken-hearted vocal number and appropriately listless.
"Rumble" is not the Link Wray tune, but an upbeat instrumental that sounds like something The Ventures would have recorded. The drummer really shines on this one, rumbling on the skins and shooting lightning bolts with the cymbals.
---
John Lewis's score for Odds Against Tomorrow is the 297th Soundtrack of the Week. It features Gunther Schuller, Milt Jackson, Percy Heath, Connie Kay, Bill Evans and, on guitar, the late, great Jim Hall.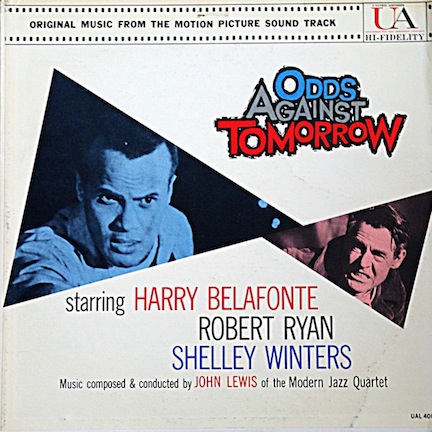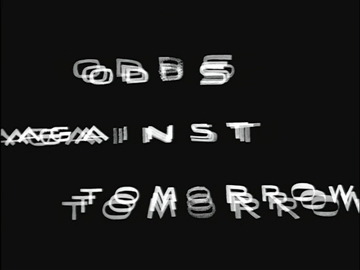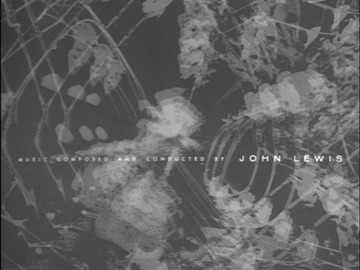 The "Prelude to Odds Against Tomorrow" kicks off with a burst of calypso-like rhythm, some haunting piano playing and then a melancholy figure to be heard many more times.
There's a beautiful harp intro to "A Cold Wind Is Blowing" — I thought it might be Jim Hall at first. Horns suggest the prelude.
Then there's "Five Figure People Crossing Paths" which begins with timpani followed by horns playing the figure from the prelude. again. It ends up swinging gently with some nice interplay between Jim Hall and Milt Jackson.
"How To Frame Pigeons" has ominous horn and bass textures, with some lovely harp and vibes playing.
"Morning Trip to Melton" is delicate, suspenseful and bluesy with some very tasteful and restrained playing by Hall. The tense "prelude" horns come in again. Connie Kay introduces some urgency with his playing on cymbals and the theme is brought in again, this time by tuba.
After that is some very modern-sounding music with echoes of both the theme and Dixie, for "Looking at the Caper". Then vibes take the lead for some jazzy dramatic underscore in "Johnny Ingram's Possessions".
"The Carousel Incident" is in fact carousel music, joined eventually by the prelude theme. This is followed by "Skating in Central Park, a happy, laid-back waltz with nice vibes soloing. Apparently this piece became a staple of the Modern Jazz Quartet.
Some interesting guitar lines, with Hall playing lots of seconds, introduce "No Happiness for Slater". This time Hall gets to introduce the prelude theme. Heath and Kaydrums get into a groove and Jim starts playing a great bluesy solo with some support from Evans. This is a combo that should have done more together! Horns come in near the end with their now-familiar menacing textures.
That's side one. Side two kicks off with Main Theme: Odds Against Tomorrow", a full exploration of what was hinted at in the prelude. It has a very nice melodic line played on flute with invaluable harp accompaniment.
"Games" is bubbly and playful with an easygoing swing to it while "Social Call" has an ominous bass and percussion intro. Vibes, harp and piano create a bridge to a swinging section with nice playing by Evans and Heath.
Tense horn playing starts "The Impractical Man", then there's the usual figure introduced by guitar. There's a nice moment when Jim plays some chords with bass and drums. He also takes another spin at the theme near the end.
There's a different sort of feel to "Advance on Melton": brighter color and jauntier rhythm, heightened suspense.
"Waiting Around the River" has an intriguing intro for timpani, percussion. Harp, vibes and other instruments come in gradually. The harp part is somewhat Herrmannesque here. Lots of ostinato playing and a nice guitar feature, more righteous bluesy soloing from Jim Hall. The same mood continues in "Distractions".
A blast of the jitters, real anxiety music sums up "The Caper Failure". Finally there's the "Postlude", with the usual theme again and the extended theme. There's another nice spotlight on the guitar for a few seconds.
---
Here's a great new comic, Jesse Reklaw's memoir of being a child, a teenager and a young adult. Reklaw had previously done great comics of people's dreams. It's nice to find out some things about him now!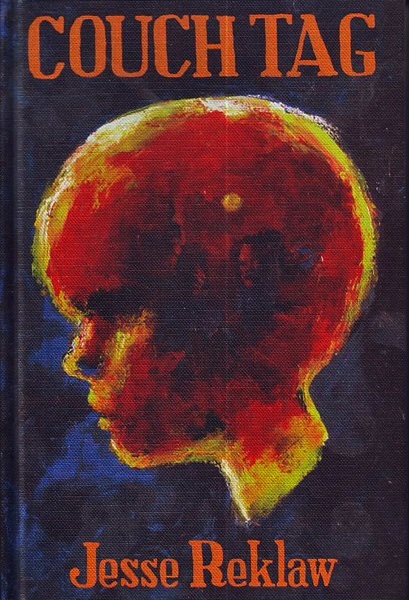 Each story has a certain trigger. There's a series of cat stories, a series of toy stories, stories born from certain games and products of the young Jesse's imagination.
At the heart of it is Jesse's trying to place himself within his family and community, a challenge since his parents and sister are, to put it delicately, quite lively.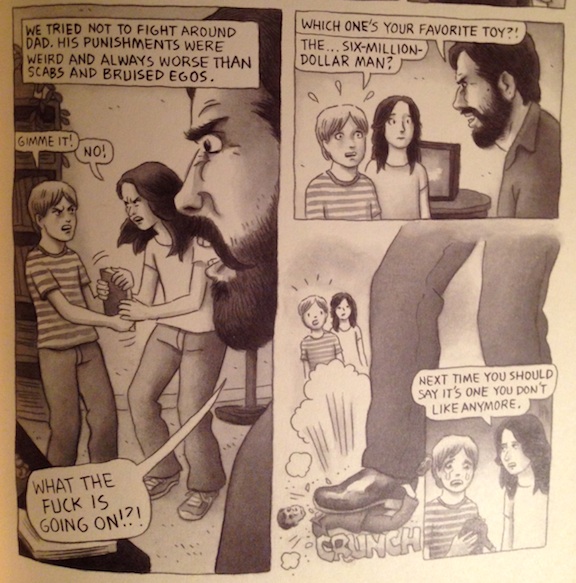 Most of the book is in that monochrome style. The last section is radically different, exploding into color with a very different approach to the artwork; the stories are presented as an alphabetical series of recollections.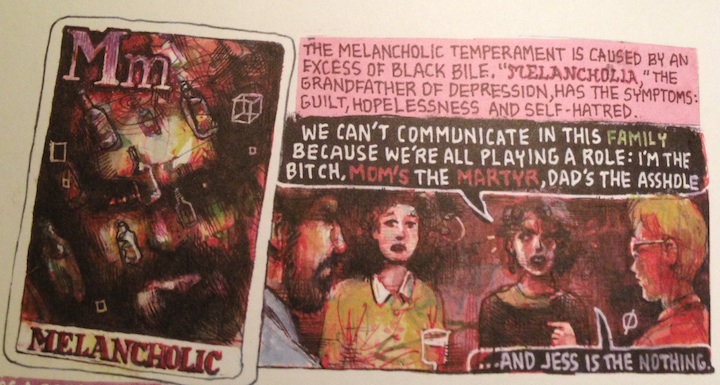 A wonder of this book is that its contents don't feel scattered. All of these small pieces come together to create a moving portrait. I didn't want to put it down and when it was finished I wanted more.
---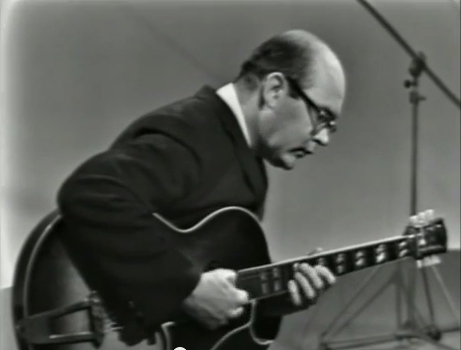 Jim Hall
December 4, 1930 – December 10, 2013
---
The 296th Soundtrack of the Week is Peter Thomas's score for The Big Boss (a.k.a. Fists of Fury), a rather important movie for one Bruce Lee.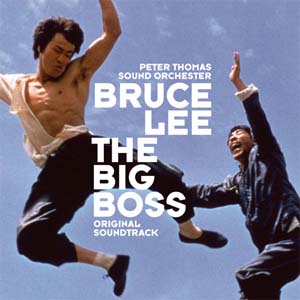 As I understand it, German composer Peter Thomas was hired to write a new soundtrack for The Big Boss in the hopes of increasing the potential for whatever profits would come from the film's international distribution.
He hit it out of the park. The "Big Boss Theme" has very Thomas-like use of cheeky brass lines over pounding and pulsating rhythms. Fans of his Raumpatrouille (Space Patrol) music will be on familiar ground here.
Menacing and slinky electric guitars combine with some freaked out synth sounds to create "Mukuri". And then we've got to get sappy with "Girl Loves Cheng Li", which has reverb-drenched flutes and various romantic touches.
"Hard Drugs" is fuzzed-out acid rock, while "The Amulet" is a re-arrangement of the main theme for a more subdued acid rock combo with horns.
The tempo picks up for the driving "Finding the Drugs" which has some startling guitar parts, notes you probably wouldn't expect. Then the "Girl Loves Cheng Li" returns as "China Love" in which trombone takes the melody.
"Malaparte Sinus" is a curious name for a piece. I'm guessing that this and the next track, "Communication in Hyperspace", are among several that Thomas had written for some other use. (There wasn't a lot of time to put together a full score, so Thomas requisitioned some library cues he's composed.) The former is like prog sci-fi with a surprisingly lyrical flute line amongst the synth freak outs and driving drums. "Communication in Hyperspace" is a weird electronic cue which matches its name rather well.
"Cheng Li and His Friends" is another arrangement of the main theme, similar to "The Amulet". That theme also shows up in "Big Boss and His Gang" and the weird and spacy "The Fist of Fury".
An atmosphere of dread is created by "EKG" while "Blood and Dead Friends" is explores territory very similar to "Hard Drugs".
"Moontown" is a different-sounding kind of cue, with classic Peter Thomas horns blaring away and a psychedelic acid prog concept holding forth.
There are about four seconds of sweet music starting off "Revenge and Corruption" before an insistently pounding piano and other instrument crash the party and bring us onto dangerous ground. Then there's the bizarre, outer-space lounge music of "Dream for Two" and the thumpy and swinging "Bruce Lee Forever".
---
Here's the other Les Jaguars record I got at the WFMU Record Fair.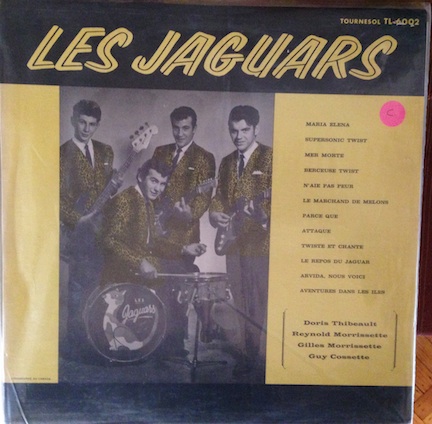 It starts out on the gloomy side again with "Maria Elena", which has an occasional sprightly guitar line.
There's some impressively frantic guitar picking with echo on "Supersonic Twist", which has a great sound in general.
"Mer Morte" is sad again and has a great atmosphere.
The highlights from the second side are the swampy twang of "Le Repos du Jaguar"—in which the guitars blend to produce a frog-like sound—and the Link Wray-like cruncher "Arvida, Nous Voici", both Les Jaguars originals.
There's also a nice cover of "Adventures in Paradise".
---
The WFMU Record Fair has come and gone again. Once again there was this dealer from Canada with a bunch of intriguing early-'60s instrumental rock records—from Canada! I'm not holding my breath waiting for these things to become available in some digital format. Instead I'm just buying the damn records and listening to them.
First up is this album by Les Jaguars.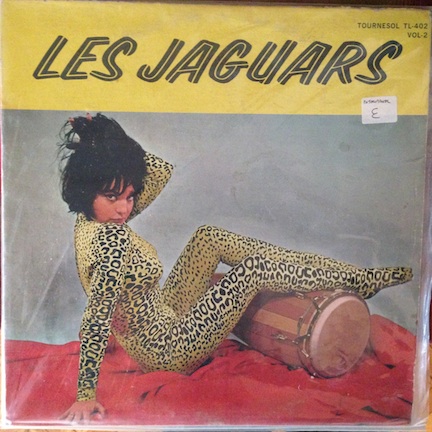 Some might buy it for the cover alone. The music is pretty good also!
What I like about this group is that their sound is unusually dark and gloomy. Even when they're playing upbeat, peppy numbers they don't have a bright, happy sound.
The first tune on the first side is my favorite. It's a haunting, minor-key piece in 6/8 time and it's called "Solitude", just to make sufe you know it's not about partying.
The next number, "Melle Yeye", is a bit more rocking but still pleasantly lugubrious. Call it sulk and roll.
There are only two covers, "Honky Tonk" and "SleepWalk", of which the latter goes by the name of "Dors Mon Amour".
Side two is cheerier than side one. "Jaguar Shake" is particularly upbeat, thanks mostly to the energetic rhythm section.
Thumbs up on this one!
---
One of the greatest things the Intrada label has managed to pull off is releasing the original soundtrack recordings of classic Henry Mancini scores from the 1960s.
These had never been released though in most cases extremely successful albums of re-recorded selections had been available. But now we have the real thing! Intrada has already given us Charade, Hatari!, The Days of Wine and Roses and now our 295th Soundtrack of the Week, Breakfast at Tiffany's.
I don't like the movie and Audrey Hepburn doesn't do anything for me but this is Mancini at his best!
The music doesn't need any introduction. All you need to know is that there's almost 80 minutes of it, including rarities like a "Moon River" demo.
My favorite piece from the album is probably still my favorite music on the score "Something for Cat" with what sounds like Ted The music taking a great saxophone solo, a piano solo from either Jimmy Rowles or Ray Sherman, great guitar comping from Bob Bain and killer percussion grooves from some combination of Shelly Manne, Larry Bunker, Roland Hallberg, Milt Holland and Bernie Mattinson. And now we get to hear how this groove continues with "Loose Caboose"!
---