Rob Price
Gutbrain Records
rob + gutbrain.com = email
---
The 286th Soundtrack of the Week is by one of the greatest composers of all time, Toru Takemitsu. This is the score to Car Thieves, an obscure Japanese movie from 1964.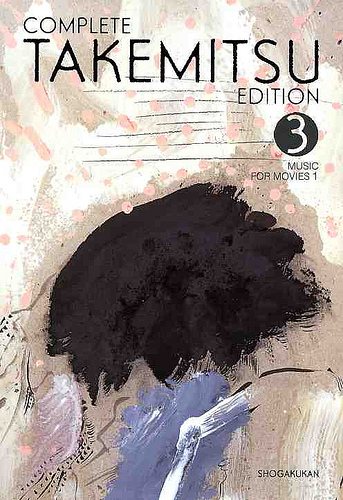 The main theme is a lilting piece often played on steel drum with percussion backing.
The rest of the music is a bizarre and enchanting blend of things. There's vocalizing, whistling, African drumming, weird electronic music and what sounds like musique concrete, big band action jazz, minimalist motifs, island-style guitar playing, mournful harmonica and so on.
The use of percussion seems to be the key. The playing by the horn players and guitarist seems very modern. I'm no expert but I wonder if there's a Varèse influence at work here.
The music is excellent and I'd really like to see the movie!
---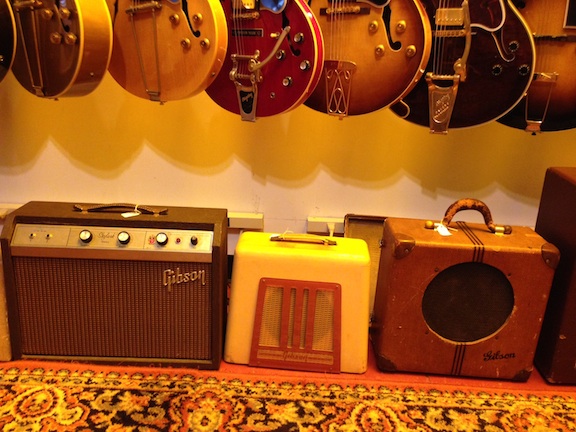 Retrofret
---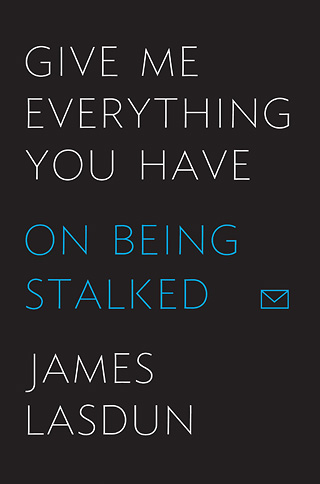 James Lasdun's latest book, Give Me Everything You Have: On Being Stalked, is most probably going to be the best book I read in 2013. I admired Lasdun's two novels and have enjoyed the occasional poem or piece from him in the Times Literary Supplement. As good as all that was, it didn't prepare me for the brilliance of this memoir.
A former writing student flirts with Lasdun, is rebuffed and becomes obsessed with destroying him. Describing herself as engaged in "verbal terrorism" she send him thirty emails a day, attacking, accusing, cajoling, demanding. When he stops responding she begins to target his friends, colleagues and, perhaps most ominously for a freelance writer like Lasdun, his employers.
Horror is most effective when related dispassionately and balanced with humor. Lasdun does this excellently while conducting intricate analyses of the situation and the characters involved. He appears to be completely honest, looking within himself for whatever might be his own responsibility and not that of a deranged mind.
Most impressive of all, however, is the magic trick he pulls off at the end of the book, presenting a different perspective on his trials, transforming it into something profound, spiritual and transcendent, something related to the essence of humanity.
By all means check it out. The firtst line is "A young man on a journey comes across a corpse at the edge of a village".
---
We haven't done a spaghetti western for a while. Gianni Ferrio's music for Gringo, getta il fucile! is the 285th Soundtrack of the Week.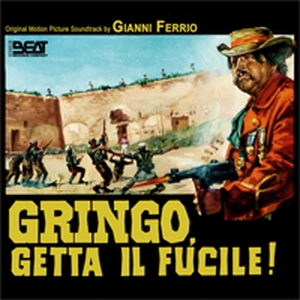 The main title music alternates between tense, almost horror-movie atmospheres and a jaunty, swinging Mexican folksong-like tune with nice use of harpsichord.
A truly killer organ sound and hynpotic harp playing dominate the second sequence, which concludes with a reprise of the swinging tune from the title sequence.
The third sequence is a shake—it's this particularly Italian style of psychedelic, usually instrumental rock/jazz/funk/blues/whatever. This one is very good, with great drumming and organ playing.
Sequence 4 is a tender, sad, romantic and beautiful piece for two acoustic guitars.
The fifth sequence is a percussion ensemble enhanced by some subtle keyboard and guitar. It's very powerful and exciting.
Sequence 6 is another version of the main theme, creatively alternating the instrumentation to give the melody different readings.
Sequence 7 is a frantically swinging 6/8 piece with some brilliant use of different keyboards.
The eighth sequence is mostly marching band stuff, but the ninth sequence finds us back in awesome shake territory, this time a bit more pop than before.
Guitars and strings tell the story of whatever happens in Sequence 10. It sounds dangerous, whatever it is. The same dramatic feel continues in the eleventh sequence.
It's shake time again in Sequence 12, followed by a marching band flourish in Sequence 13.
Sequence 14 sounds like the big showdown at the end, with pounding timpani and other instruments creating suspense but with the bizarre flourish of a sunny waltz that pops up out of nowhere.
Finally there's the fifteenth sequence, which sums up by hitting almost all of these notes one more time.
This is a great spaghetti western score. I wonder how the movie is!
---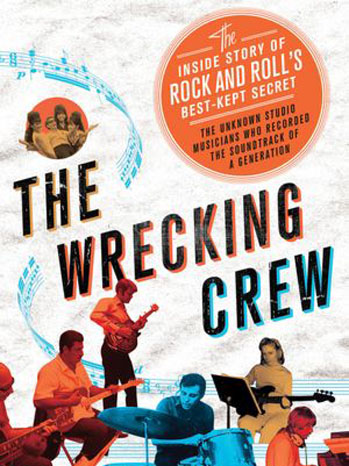 Kent Hartman's The Wrecking Crew, about the session musicians who played on countless pop and rock records of the '50s, '60s and '70s, is an enjoyable collection of anecdotes aimed at a general readership. Knowledgable fans of the music would probably have preferred an oral history derived from various sources and from the numerous interviews Hartman conducted.
The Wrecking Crew is a novelistic and breathlessly enthusiastic compilation of stories, whose unrelenting giddiness and press-kit style writing gets wearisome after a while.
Just about every chapter—maybe actually every single chapter—ends with a cliffhanger, such as: "But in less than twelve hours following the unequaled exhilaration of playing for the one-and-only Frank Sinatra, Hal Blaine's fast-moving world would come skidding to a stop. One of the biggest stars in rock and roll—and Blaine's close friend—would tragically find himself lying near death".
That device got old for me after the first half a dozen chapters, as did the barrage of similes and metaphors, the excess of hyphens (as in "one-and-only" above) and Hartman's deployment of "ironic" and "ironically" to indicate the coincidental or the curious but not the ironic.
And somebody should have told Hartman that The Goon Show was a radio program, not a TV show. He got that wrong so what other mistakes did he put in the book?
Bottom line: it's a decent book to read in an airport, but a serious scholarly work or an oral history would have done more justice to the subject.
---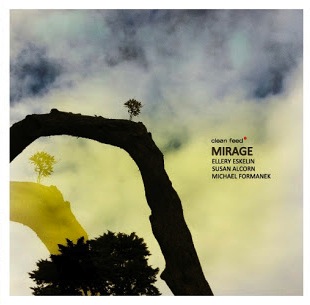 Here's yet another great record that came out this year! It's one of the best free improv recordings I've ever heard.
It's really amazing how freely this trio—Ellery Eskelin on tenor sax, Susan Alcorn on pedal steel guitar and Michael Formanek on upright bass—plays without ever resorting to brute force or cliches. In other words, they don't get noisy or skronky and they don't go the way of louder, faster, louder, faster.
Instead they walk a tightrope of sorts, mixing melodic and harmonic ideas with textures, atmospheres and lyricism to create a spontaneous music of richness and depth. It's really wonderful.
And how often do you hear pedal steel in this kind of context? Susan Alcorn plays the instrument brilliantly and makes it her own. I hope I get a chance to see this group perform live.
---
The Soundtrack of the Week is rarely from this century, let alone this year, but number 284 is about as current as we're likely to get around here: Cliff Martinez's score for Only God Forgives (2013).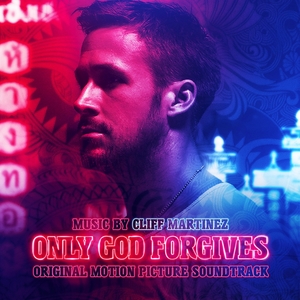 The music is perfect for the movie, which is a nightmarish tale of depravity, violence and revenge. The story has an Old Testament quality and the treatment is dreamlike, mystical and beautiful. It's been a long time since I've seen such amazing colors in a film.
Martinez's music creates beautiful, surreal, swirling atmospheres. The main title music prepares you for the menace and dread to come, if not for the horrific violence that will likely repulse many viewers.
"Ask Him Why He Killed My Brother" is like the evil twin or Twin Peaks version of Tchaikovsky's "Dance of the Sugar Plum Fairies". This hauntingly lovely piece is one of my favorites.
The timpani is one of my favorite instruments and it's used very subtly and effectively in "Chang Vision", a creepy and textural sonic lanscape.
More traditional underscoring with frantically bowed strings creating tension can be heard in "Do As Thou Will".
The cue for "Crystal Checking In" is angelic-sounding, which at first seems like the opposite effect for a character such as Crystal (Kristin Scott Thomas in a powerful and startling performance). She's basically Satan but of course Satan/Lucifer started out as an angel.
"Sister Part 1" is another dreamy and lovely piece that reminded me a bit of Badalamenti's Twin Peaks music.
Philip Glass-like arpeggios with prog rock instrumentation and blasting church organ make "Wanna Fight" an extremely compelling piece of music.
Also included on the CD are two of the karaoke songs from the film, performed by the actors and Mr. Martinez himself, presumably on synthesizer.
The last track is "You're My Dream" which is credited to a band or group or something called Proud.
---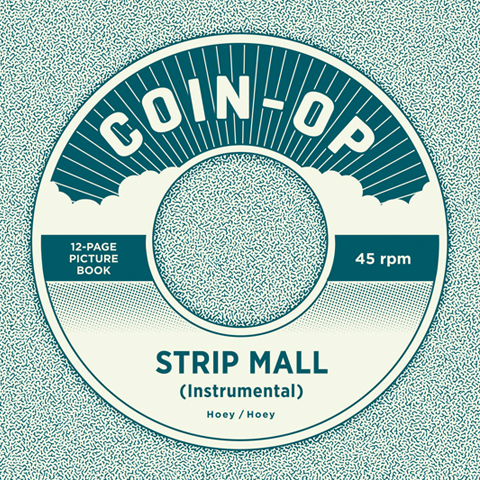 That's the newest book from Coin-Op, Peter and Maria Hoey's wonderful art/design/comics studio. This is the latest in their 7-inch series, each book using a 45 rpm single as an inspiration or template or something.
This latest one might be my favorite as I love instrumental music of the '50s and '60s. Some of those instrumental numbers that made the Billboard Top 100 are worked into the Hoeys' drawings of streets and shopping malls.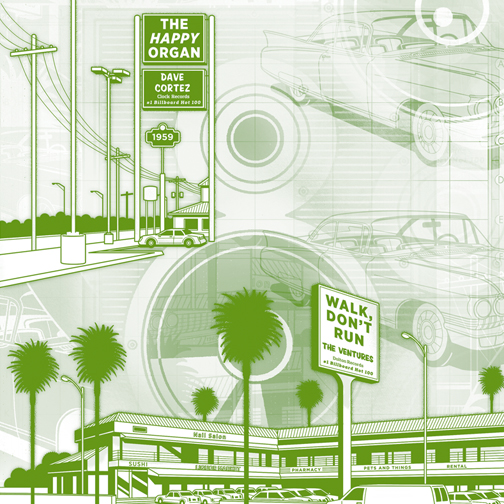 It's really great! And as a free bonus I got a poster they made that has a portrait of Patricia Highsmith on one side and Steve McQueen on the other!
---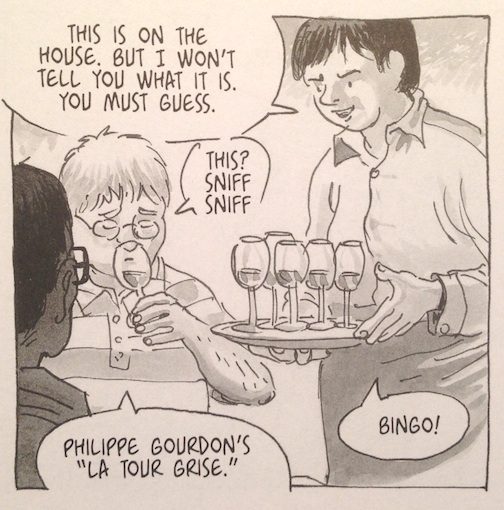 That's a panel from a wonderful graphic novel, The Initiates: A Comic Artist and a Wine Artisan Exchange Jobs. The English translation came out this year. I think the original French version was published in 2011.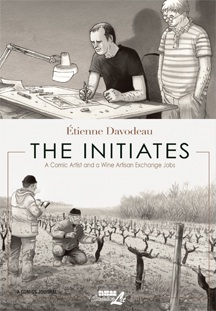 This is a non-fiction work whose English subtitle is misleading. If a comic artist and a wine artisan actually exchanged jobs, they'd most likely both be ruined. The original title, Les Ignorants: Récit d'une initiation croisée, means something more like Ignorant: Story of a cross initiation, which is a better fit.
Étienne Davodeau asks his winemaker friend Richard Leroy to initiate him into the world of wine-making and in exchange Davodeau will introduce Leroy to the world of comics creating and publishing. It's a charming story and very inspiring. It made me want to drop everything and go into making wine.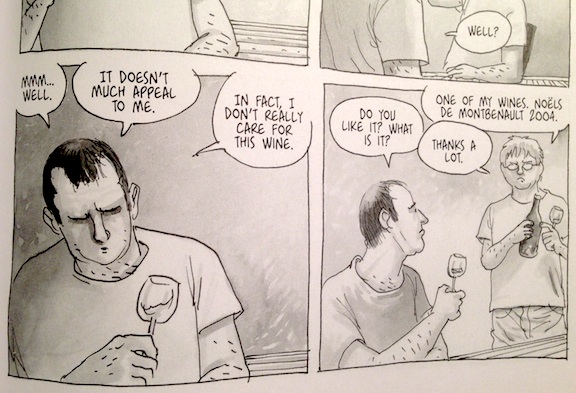 The thing that they have most in common is dedication to and faith in their craft. Often they speak different languages about the same subject. And of course Leroy's work involved a lot of moving around outside while Davodeau's is an indoor, sedentary activity.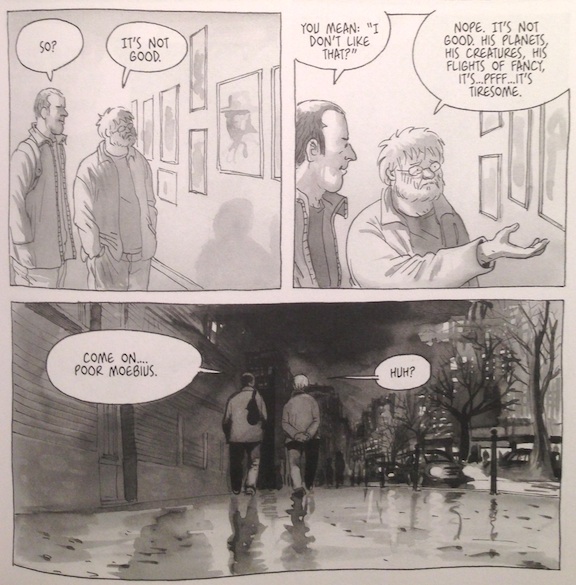 Davodeau must drink many wines as well as assisting Leroy in the vineyard, pruning vines, plowing, picking grapes, everything. Leroy has to read dozens of graphic novels and go to conventions, printers, publishers and so on.
Lewis Trondheim contributes a page to the book, to answer Leroy's bafflement over why he draws himself as a bird, and several other comics creators make guest appearances. Highly recommended!
---
Summer's not quite over, although this is the first day of school for certain people. And so the 283rd Soundtrack of the Week is the music for Five Summer Stories by the band Honk.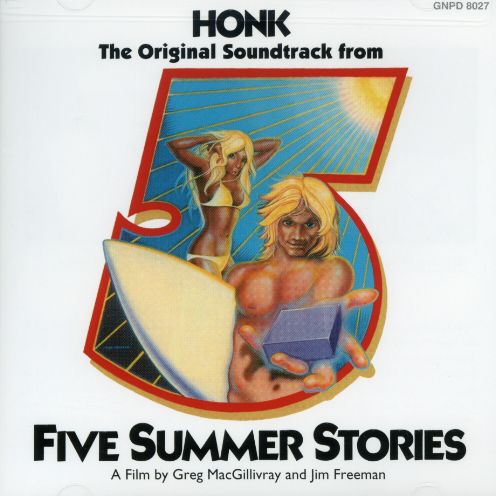 The first track is a very short piece called "Creation". It's a bit ambient, a bit noise. It leads into the sunny country rock song "Blue of Your Backdrop", which almost has a Grateful Dead feel to it. There's an instrumental version of it later.
At first "Brad and David's Theme" has a feel similar to "Blue of Your Backdrop" but is a guitar-led instrumental that goes into almost jazzy areas.
"High in the Middle" is more of a straight country song with prominent piano and pedal steel guitar. It also makes me think of the Dead and bands associated with them.
"Hum Drums" is, surprise, a drum solo, and a pretty rocking one. After that comes "Bear's Country", another toe-tapping piece with some great twangy guitar playing.
Post-Brian Wilson Beach Boys is what "Made My Statement (Love You Baby)" makes me think of. Good playing on this one, especially by the drummer", but it grabs me less than the other tracks.
"Don't Let Your Goodbye Stand" is an earnest and heartfelt song, with a pleasingly brisk tempo and some nice Hammond playing.
The famous surfer Gerry Lopez is immortalized in the ethereal "Lopez", which exploits the potentials of electric piano and Hammond organ.
"Tunnel of Love" is an intricate instrumental that suggests what a Booker T & The MG's prog album might sound like.
Finally there's the triumphant "Pipeline Sequence", which reminds me of a cross between Van Halen's "Jump" and the tune "Melting Pot" by Booker T & The MG's. It's great!
---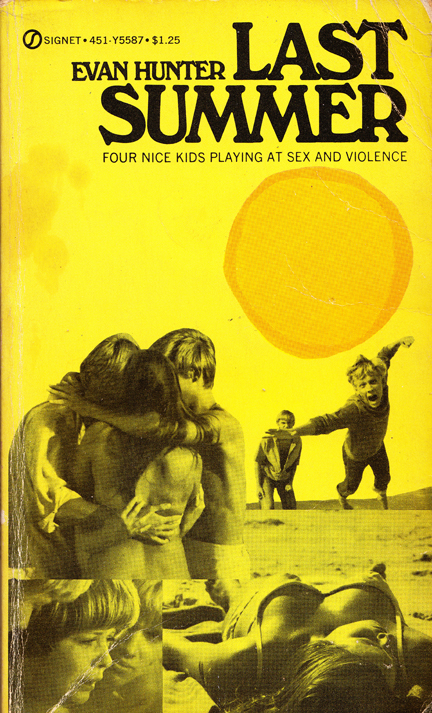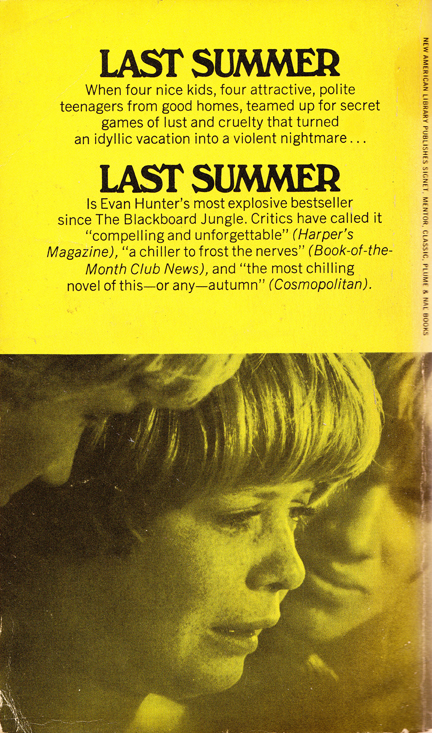 Evan Hunter, who also wrote as Ed McBain, seemed like a nice guy when I met him about eleven years ago. So far this is the only one of his books that I've read. It was quite good.
The first line is "We spent last summer, when I was just sixteen, on an island mistakenly named Greensward, its shores only thinly vegetated with beach grass and plum, its single forest destroyed by fire more than twenty years before".
It's about these kids Sandy, Peter and David, and eventually a girl named Rhoda, and what they get up to. They are interested in sex, and even violence to a certain extent, but the book is neither sensationalism nor exploitation, despite the covers trying to sell it that way.
This edition looks like a movie tie-in, which is possible since it was printed in April, 1969, and a movie version of the novel came out in June of that same year. The movie was rated X, which at that time didn't mean exactly what it meant later. Midnight Cowboy (from the same year) was also rated X, for example.
(Barbara Hershey, who plays the part of Sandy, was apparently so affected by the actual death of a seagull during filming, that she changed her name to Barbara Seagull for a few years.)
The book is divided into two parts, "The Gull" and "Rhoda". Hunter cleverly and fairly unobtrusively makes these two parts more or less the same story told twice, with the main difference being that one character is a seagull in the first half and a human being in the second half.
This transformation is sufficient to introduce a significant amount of anxiety, even dread, in the reader. The climax is awful.
Hunter is especially good at character and has several set pieces in which a single person holds court and shows us what's in his or her mind. There's also a brilliant description of a presumably made-up movie that the kids go to see. It sounds exactly right for the late '60s.
And when it comes to describing a late-'60s drunken adult cocktail party, who can top this?
Mr. Patterson, who was a television executive, said, "Yes, but why do you think kids today are experimenting with all this crap?" and Mrs. Anhelm, who ran a notions shop in Queens, asked, "Why?" Mr. Patterson, grateful for the cue, nodded and said, "I'll tell you why," and Mr. Mannheim, who taught speech and dramatics at Columbia University, said, "I deal with youngsters every day of the week." Mr. Patterson said, "It's rebellion," and Mrs. Anselm said, "It's their sex drive, that's what it is," and a woman wearing high-heeled shoes and a black bikini over which she had thrown a lacy robe that looked like a peignoir, said, "I'm from St. Louis." Mr. Patterson said, They simply refuse to accept adult responsibilities." Mr. Mannheim said, "You'd be surprised how many of them are smoking pot," and Mrs. Anhelm said, "I once smoked Mary Jane at a party," and the woman in the black bikini said, "It's the Gateway to the West," and Mr. Mannheim said, "Did it turn you on?" and Mrs. Anhelm said, "I only smoked half a joint," and Mr. Patterson said, "They refuse to emulate," and Mr. Mannheim said, "It isn't hep to call it Mary Jane any more," and the woman in the black bikini said, "Hip."
---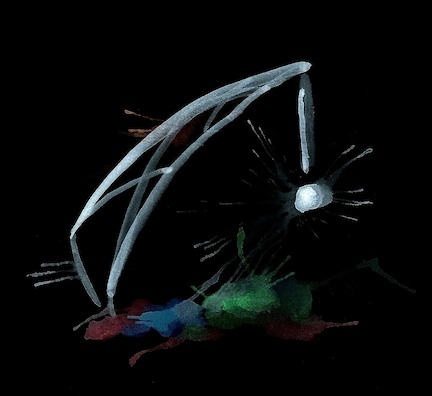 That beautiful painting by the multi-talented Chris Moore is the cover of a record, Neighborhood Changed Fast by Mantic Trio: Chris Moore, Lee Feldman and yours truly, Rob Price.
Check out our SoundCloud page here!
Also Chris Cawthray has put up a few live recordings from our recent tour here. I especially like our cover of Georges Delerue's theme from Chair de poule.
---
The 282nd Soundtrack of the Week is Henry Mancini's classic The Days of Wine and Roses.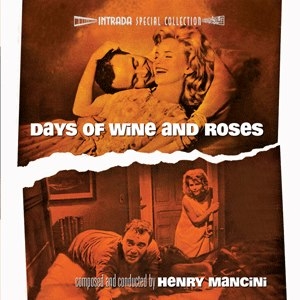 It starts out with the famous theme song, which has since become a jazz standard. I wasn't familiar with the lyrics so I found it interesting listening though I don't care for that L.A. chorus sound. It's followed by a solo acoustic guitar rendition that's much more enjoyable for me.
The theme kicks off "Man Meets Girl" before the cue goes its own way, a lonely and melancholy direction.
"Hi-Fi I", "Hi-Fi II", "Off Scene Hi-Fi" and "Cocktail Hour" are classic early '60s Mancini source music cues, loungey, swinging or bluesy as the occasion requires. There's also the groovy and exotic "Navel Engagement (Turkish Combo)", whose title says it all.
Mancini could do a lot more than "Mancini", as he proved often enough in scores for thrillers and serious dramas. The Days of Wine and Roses, in addition to its beautiful and lush theme and light atmospheres, has its share of pensive, gloomy and menacing music as well. People who think of Mancini always being "Mancini" will be surprised by what "Get in the Tub" sounds like.
Also included are Mancini arrangements of "What Is This Thing Called Love?", "I Only Have Eyes for You" and "September in the Rain".
---