Rob Price
Gutbrain Records
rob + gutbrain.com = email
---
During an engagement in Bolton, Eng., I met Billington, the official hangman, who was convinced that I could not escape from the restraint he used to secure those he was about to execute.
Much to his astonishment, I succeeded in releasing myself, but he said the time consumed was more than sufficient to spring the trap and launch the doomed soul into eternity. Billington told me that he had hardened himseld to the demands of his office by killing rats with his teeth.
—Harry Houdini, Miracle Mongers and Their Methods: A Complete Exposé of the Modus Operandi of Fire Eaters, Heat Resisters, Poison Eaters, Venomous Reptile Defiers, Sword Swallowers, Human Ostriches, Strong Men, Etc., 1920
---
The 258th Soundtrack of the Week is Tokyo-a-Go-Go, a collection of Japanese movies made by Nikkatsu studios in the mid 1960s.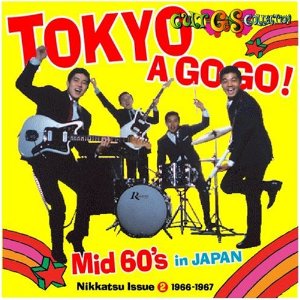 The first two songs are by The Spiders and have excellent guitar playing, somewhat similar in sound to Takeshi Terauchi's early stuff. These two tunes are from the movie Youth-a-Go-Go.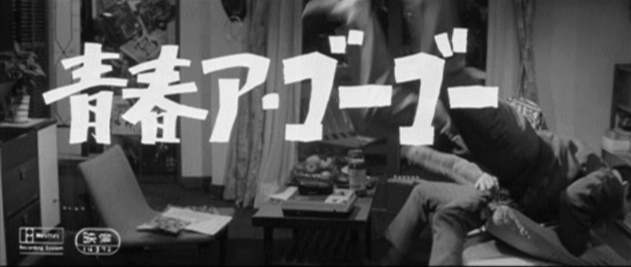 After that comes the classic vocal duet "Futari no Ginza", which means, I think, two people in Ginza. It's a great up-tempo romantic song, performed here by Ken Yamauchi and Masako Izumi, who star in the movie of the same name. You can listen to it, with scenes from the movie, here. It should be familiar to fans of The Ventures.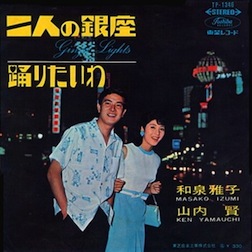 Yamauchi and Izumi sing the next song, too, "Tokyo Night", which is similar to "Futari no Ginza", though more driving and with a "Telstar"-style break.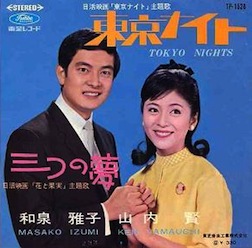 The next two songs, "Say Mama" and "Little Robby" are performed by Judy Ongg. She has a good band but I don't really like her voice.
The introductory sax sound on the next track, "Hokkaido Skies", is not a good sign, but Chiyo Okumura's voice is great and the song is a good one. I think The Ventures covered this one also. The sax player takes a nice solo so I guess the intro was just a bit shaky.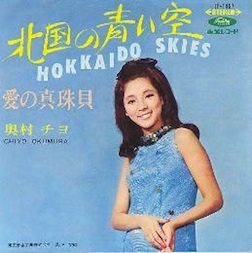 The next song is "Goodbye Mr. Tears" and actually has a Mexican folk song sound to it, which is curious. The name of the band is Young & Fresh, the same name as the band in Futari no Ginza. And the same band might have been in Seishun-a-Go-Go. I'd really like to see these movies someday.
Masako Izumi returns for the insanely chirpy "I Want To Dance" (which is how I translate the title "Odoritaiwa"). It's not for me. After that come The Bunny Girls with a really nice melodic number that's called something like "Let's Date".
"Together at Night" begins with some great bluesy electric guitar playing. Surprisingly, it slips into a smoky, laid-back feel with great singing from Shima Chinami.
"The Setting Sun Is Crying" by The Spiders starts off as a blistering instrumental before settling down unexpectedly into a melancholy mood.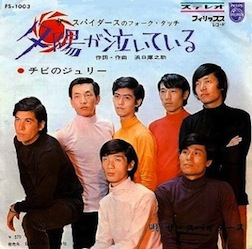 After this comes something like "Love's Misery", a howl of passionate pain in 12/8 with some old fashioned touches in the arrangement. The song after it is similar. Both are sung by Isao Bito.
After this come two songs the CD says are by Johnny Tillotson, "Roses Are Blooming" and, once again, "Goodbye Mr. Tears". I was doubting this but according to Wikipedia, Tillotson did appear in the movie Goodbye Mr. Tears "after his number 1 Japanese hit of the same name". So how did Johnny Tillotson end up singing, recording and releasing a song in Japanese?
Then it's "Futari no Ginza" time again, this time performed by Young & Fresh. This is followed by another Young & Fresh song, a ballad. Then comes a vocal version of "The Setting Sun Is Crying", apparently performed by a band called The Tonys.
"First Love" is another Young & Fresh song, similar to the others, a nice blend of surf, rock and romance.
Psychedelic rock and fuzz guitar show up for the penultimate song, "Ken's Rock" by Yamauchi Ken. The collection concludes with the Takagi Takeshi's "Tokyo-a-Go-Go", a mid-tempo rock number with surf touches. All in all, an excellent compilation.
---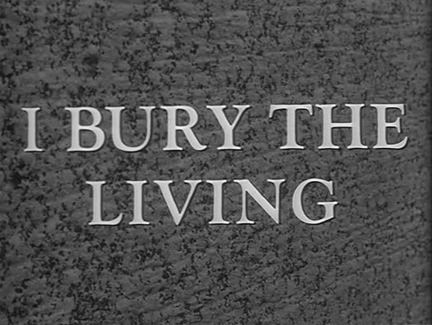 In I Bury the Living Richard Boone (of Have Gun Will Travel fame) plays Robert Kraft, the new manager of the town cemetery. In the office is a map of the graveyard with black pins in plots that are occupied by the dead and white pins in plots that are reserved for those still living.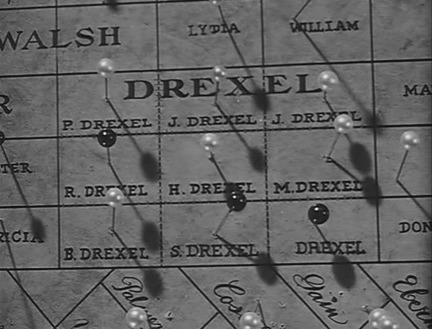 When a young couple buy plots for themeslves, Kraft puts black pins, not white ones, in the map. Within twenty-four hours, the two healthy young people are dead and Kraft finds the coinicidence disturbing.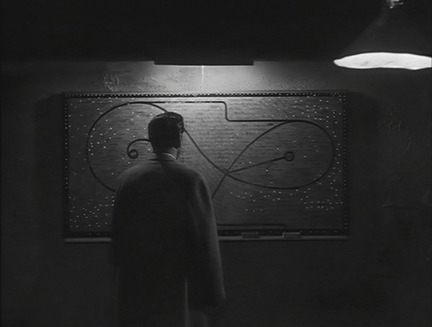 Is it a coincidence? Kraft replaces a white pin with a black one, and the man whose name is on the plot dies also. He repeats the experiment again and again, always with the same result, the death within twenty-four hours of the name speared by the black pin.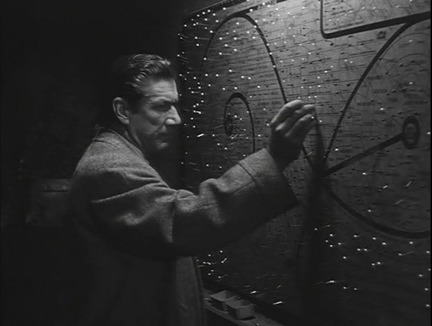 I was hoping that I Bury the Living would be a proto-Death Note but Kraft has no desire to take advantage of his power over death. (Later in the movie he decides to find out if he has power over life, also. Could he raise the dead by replacing a black pin with a white one?)
Despite some neat hallucinatory scenes in which the map appears to gaze malevolently at Kraft, the story doesn't intensify or live up to its title. It leads to a ludicrous and disappointing ending of the Scooby Doo variety.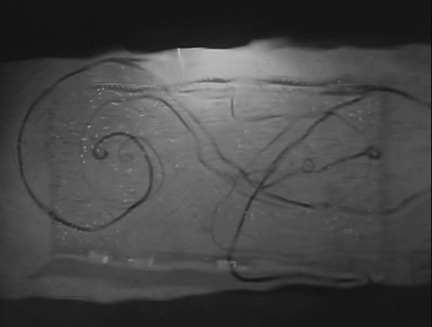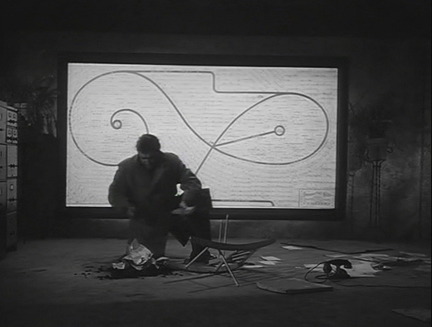 Still it's a neat idea and the first two-thirds or so are engaging enough for lazy matinee TV viewing.
---
My friend Pete Galub recently released one of the greatest records I have ever heard.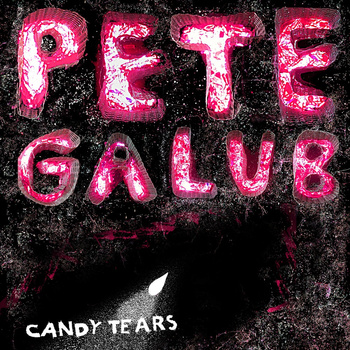 I'm not just saying this. As soon as the CD became available I bought five copies, even though Pete had already given me one. The design is by David Heatley, a great artist/musician and one of my favorite comics creators. I distributed them to friends I thought deserved them and will probably buy more for the same purpose.
Meanwhile, I encourage you to buy your own!
Buy it on iTunes, on Amazon or from CD Baby.
This is the record that Alice and I have wanted for a long time. In fact, one time we were driving back to the city from upstate New York and took the wrong exit because we were talking about how much we wanted Pete to finish mixing this record so we could hear it!
My favorite songs: "Plead the 5th Dimension", "Crying Time", "Feels All Over", "300 Days in July" and "Boat". That's more than half of the songs on the record. The remaining four are also great. Buy this record!
---
The 257th Soundtrack of the Week is Milano Rovente (Gang War in Milan) by Carlo Rustichelli.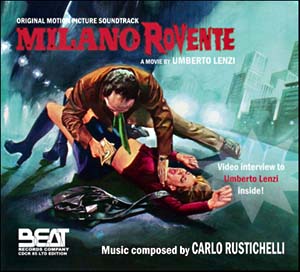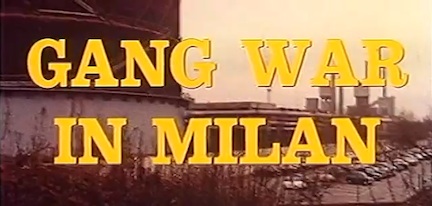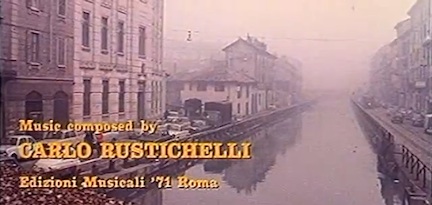 It begins with "From Sicily to Milan", a moody, sultry piece with the melody handled by saxophone, harpsichord, piano and orchestra. There's a gently swinging rhythm and the tune has a melancholy and pretty sound. It's the main theme and repeats in almost all of the other cues.
"Dramatic Discovery", for instance, starts with a sting and then brings back the main theme on sax against a suspenseful atmosphere. The next cue, "Weird Killer", is basically the same.
"Some Girls, Some Murders" is another take on the main theme, this time with hand percussion and sultry feel before settling into some dramatic underscore similar to the previous cues. Then an uptempo bass line sets the stage for a recapitulation of the theme, followed by more of the suspense music.
Fuzz guitar and organ introduce "Slow Sad End". The theme returns on a ghostly sounding electric keyboard, maybe a Farfisa. "Just a Bite" is a shake version of the theme with acid rock guitar soloing.
Cues that depart from the main theme include "Fly 747", a ridiculously upbeat, groovy big-band pop number. It's silly but endearing.
Of course there has to be a sappy love theme and you'll find it in the song "What Is This Love". "What is this love / that burns me so / that has me in / that has me in its spell?"
"Vitti' na Crozza" is a folk song, voice, guitar and accordion. c suspenseorcchest ur's work.
"Flic's Compromise" is effective action/tension music, a bit similar to Rustichelli's Blood and Black Lace score. The same motif is heard again in "Running and Hiding".
"Final Struggle" is a Morricone-like urgency cue and "Still Remembering" is a moving and dramatic return to the main theme.
---
2013 February 15 • Friday
My favorite headlines are not in The Amazing Dr. Clitterhouse (1938), but a couple of other familiar ones are.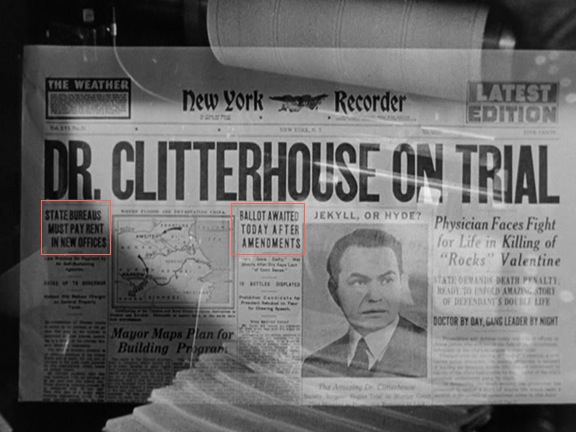 ---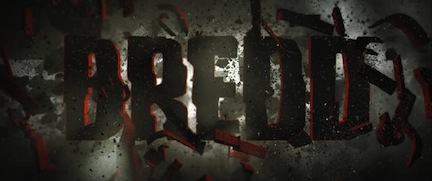 I enjoyed Dredd (2012). In some ways it reminded me of Soldier (1998), another unpretentious, well made and satisfying sci-fi action movie. It also shares some DNA with Escape from New York, Outland, RoboCop and The Raid: Redemption (and, no doubt, many others).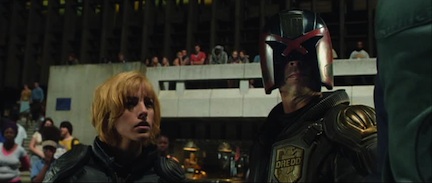 Dredd takes a telepathic mutant rookie on an assessment mission to see if she's got what it takes to be a judge.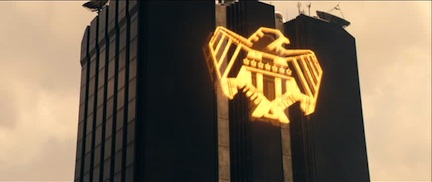 They get trapped in a 200-floor tenement building run by vicious female crime boss Ma-Ma, a futuristic Lady Scarface.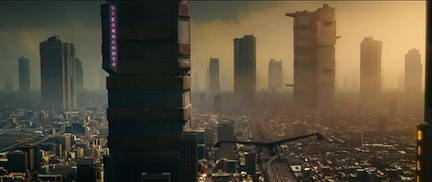 The performances are all really good, especially from the two heavyweights, Karl Urban (Dredd) and Lena Headey (Ma-Ma).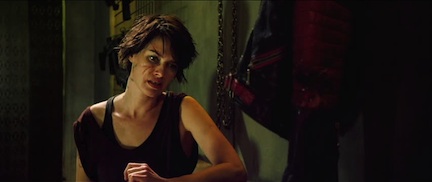 The special effects and action scenes are excellent, and the material is presented in a no-nonsense, matter-of-fact way that's is always refreshing. Nothing is made a big deal of. Everything just happens and you move on to the next thing. These people know how to make a genre movie.
There was only one thing that bothered me, which was at the end of the movie when the audience is presented with a crisis that doesn't seem like a crisis at all since we know that Dredd's gun has a stun setting. But that's a minor complaint. They wanted a special moment for the final confrontation and they made it happen.
I kind of wish I'd seen this in 3-D on the big screen! It's possible that I enjoyed it as much as I did because I never read the comic. I like the idea of "I, the Jury" becoming "I, the Judge" in post-apocalyptic wasteland America.
---
Napoli Violenta (Violent Naples), by Franco Micalizzi, is the 256th Soundtrack of the Week.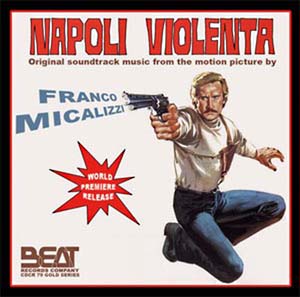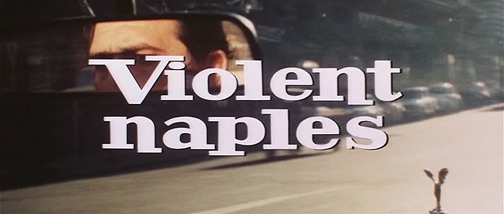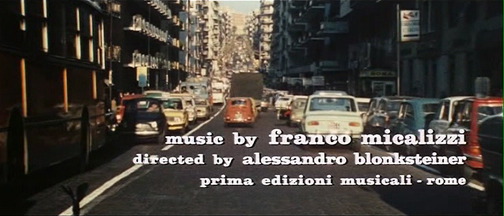 The first track, "Folk and Violence", establishes the main theme, a driving tune with horns and some touches of traditional Italian folk music. You hear it again, either the melody or the rhythmic intro (and sometimes both) in "Welcome to Napoli", "The Violence Face", "Naples' Alley", "The Garage of the Giant", "Rush for a Sign", "Betti's Investigation", "The Chase Over the Roofs", "Ten Minutes to One", "Get Down the Train", "Targeting a Killer", "The Price for a Fight", "Looking for Capuano", "Thus Ended the General" and "The Price Is Too High".
Obviously this is a score that gets a lot of mileage out of one theme. There are also a couple of songs, "Tira à Rezza o Piscatore", a Vegas lounge kind of number, and the pop/rock ballad "A Man Before Your Time" ("A friend is not a friend / Why do you feel alone / With a life to spend? / Your heart's in Napoli / Love to see the sun shine / You're just a neighbor's kid / A man before your time").
It's a nice song, reminds me of something but I'm not sure what at the moment. "While My Guitar Gently Weeps" is probably an influence.
The rest of the tracks are effective dramatic underscore of one sort or another. "Gennarino's Joke" makes use of both the main theme and "A Man Before Your Time."
I have to watch Violent Naples again. It was one of the first poliziotteschi movies I had ever seen and I remember it as being one of the best.
---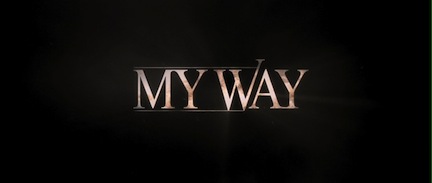 Mai Wei (My Way, 2011) is a well made war drama that seems to have only one very slender thread attaching it to a true story, despite its "based on a true story" claim.
Sohn Kee-Chung was a real person. When he competed in a marathon at the 1936 Berlin Olympics he became the first Korean ever to win a gold medal in an Olympic event. His story is interesting but My Way is not about him, though he has a cameo.
Sohn inspires Kim Jun-shik to train as a marathon runner and it's thanks to Sohn's intervention that Kim is allowed to run in a marathon with Japanese contenders, including his childhood rival Hasegawa Tatsuo.
Things don't go well and Kim ends up drafted into the Japanese army and sent to fight in Manchuria. An insanely nationalistic Hasegawa shows up there as his insane commanding officer and promptly orders suicide missions. Things continue to go downhill and we follow the characters to Siberia and Normandy.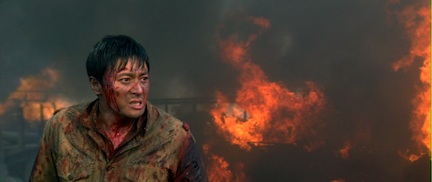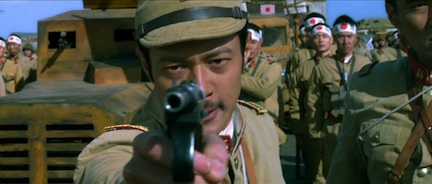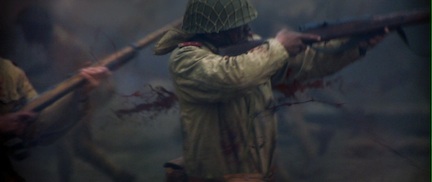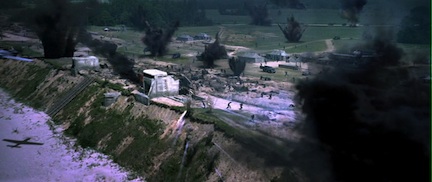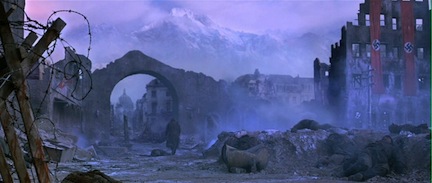 The story is basically about how the saintly Korean man transforms the hateful Japanese man, reversing strains of bigotry and violence. It works better than it should, due primarily to the excellent work of actors Jang Dong-gun and Odagiri Jo. Odagiri is particularly good in his demanding role and his committed performance makes believable the extreme development of Hasegawa's character.
The war scenes are also excellently staged and filmed, uncomfortably brutal and chaotic.
---
Melville House Publishing has, sort of, reprinted Harry Houdini's The Right Way To Do Wrong, a book about criminals and their methods first published in 1906.
I say sort of because this slim book (150 pages) contains selections from The Right Way To Do Wrong as well as selections from two other books, Magical Rope Ties and Escapes and Miracle Mongers and Their Methods (both 1920), and from Conjurers' Monthly Magazine (1906–1907).
An anecdote about female criminals could serve as the story idea for I Was an Adventuress (1940) or The Lady Eve (1941—I suspect it of being inspired by I Was an Adventuress).
The best pieces are Houdini's stories of his own life and career. These are probably from Conjurers'. It's easy to make an intelligent guess about where the contents originate, but it would have been nice if this volume simply told the reader where the selections were first published.
Some footnotes would have been helpful as well. Houdini makes a passing reference to "the Thaw trial", which I then read about on Wikipedia and found fascinating. Topical references such as these could be helpfully identified in the printed volume, though.
Melville House should be congratulated for bringing these writings to the public's attention once again. They make interesting reading and left me wanting more. A quick look at Google Books turned up scanned versions of some of the original books. The Right Way To Do Wrong is there, copied from the Harvard University library, and has really nice illustrations to accompany the text.
Only the edition pictured above, however, has an introduction by Teller, and that's worth reading too.
---
The 255th Soundtrack of the Week is Roma drogata: la polizia non può intervenire (Rome Junkie: The Police Cannot Interfere, a.k.a. Hallucination Trip) by Albert Verrecchia.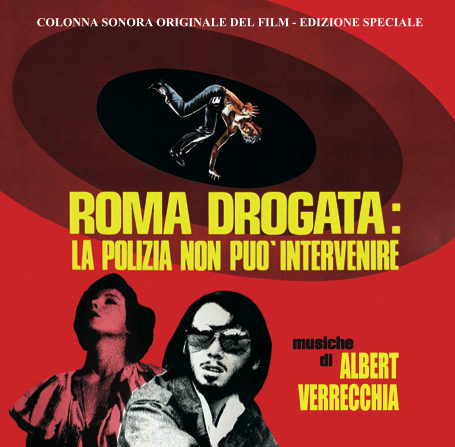 It opens with a song, presumably for the opening credits. It's kind of an acid hippy rock gospel number. The next track is a driving hard rock song with a guitar riff similar to The Kinks' "You Really Got Me". The only lyrics seem to be "Put it / Put it down".
After this comes another guitar rock piece using Bo Diddley's "I'm a Man" groove. This is followed by a trippy instrumental with bells and moaning organ. There's also a lot of interesting percussion. The next track continues the same mood.
After this comes something that's like a Sun Ra's "Love in Outer Space" interpreted by Balinese musicians: swirling arpeggios on a few different instruments, swaying bass line, electric guitar and organ playing with space.
Sequence 7 brings us back to more driving blues rock territory, with Hammond taking the lead as guitar, bass and drums lay down a rocking foundation. It's over seven minutes long, so there's time for the keyboard player and guitarist to take more than one solo.
The next piece is weird spacey improv-sounding stuff, mostly percussion but with some curious, almost industrial noises.
Then comes the return of the tune with the "I'm a Man" groove, but this time it goes on for more than nine minutes, so the players really stretch out.
Weird, disturbed vocals and children's music box/lullaby music with vibroslap and percussion sum up Sequence 10. Sequence 11 has strange moans and gasps by, it seems, the same female vocalist, but this time they're over a laid back, slightly funky rock groove.
Great, driving , African-influenced percussion ensemble kicks off the next track, which also has wah-wahed out keyboard (or is it guitar?) playing.
Sequence 13 has a definite groove but a creepy, dangerous feel to it. It's a bit like some of the quieter, more psychedelic stuff on early Black Sabbath records.
The next track is like a free-form druggy blues. Then the fifteenth sequence is thirty seconds of wailing distorted electric guitars. After this comes a reprise of the lullaby song but without vocals, a much more straightforward version.
Sequence 17 is a Jorma Kaukonen-like acoustic guitar solo. This is followed by organ and percussion sounding threatening and creepy before they switch into a kind of groove.
The album concludes with a reprise of the opening song but with singers only on the chorus, nobody doing verses.
---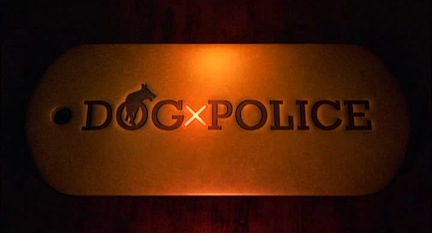 Dog x police: Junpaku no kizuna (Dog x Police: The K-9 Force, 2011) is similar to Violent Playground, only with dogs instead of kids and a serial bomber instead of a serial arsonist.
Hard-working cop Yusaku Hayakawa is punished instead of promoted for taking the initiative (which is typical of Japanese police movies and TV shows) and bumped to the security-dog unit. These are dogs that are trained to save lives and prevent crimes but it seems like they've never actually done anything because the necessary level of training has yet to be reached by them.
Hayakawa is completely out of his element in his new squad until he bonds with a white German Shephard named Shiro (which means "white" in Japanese). In an outrageous coincidence, Shiro is only alive because Hayakawa was present at his birth and saved him.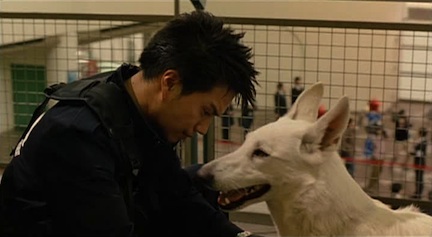 Shiro turns out to have an extraordinary sense of smell and is the only dog capable of locating the bomber's explosives in time. But the real story is of the love between Hayakawa and Shiro and how each becomes willing to sacrifice everything for the other.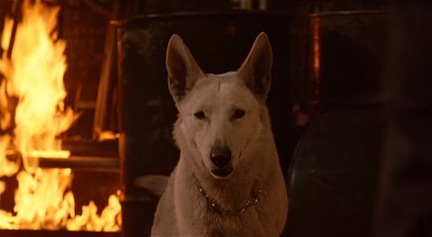 It's a bit like the Umizaru movies but with the focus on police dogs instead of coast guard rescue divers, and on a much, much lower budget. The script is predictable but the performances deliver it with conviction, the dogs are great and the human-canine bonding is touching.
---