2013 February 18 • Monday
The 257th Soundtrack of the Week is Milano Rovente (Gang War in Milan) by Carlo Rustichelli.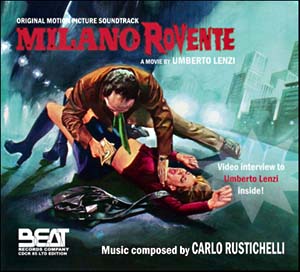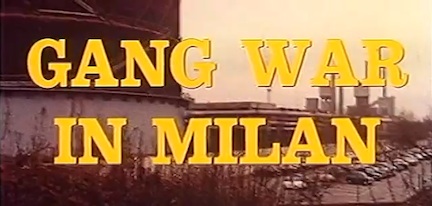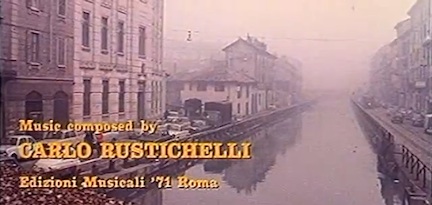 It begins with "From Sicily to Milan", a moody, sultry piece with the melody handled by saxophone, harpsichord, piano and orchestra. There's a gently swinging rhythm and the tune has a melancholy and pretty sound. It's the main theme and repeats in almost all of the other cues.
"Dramatic Discovery", for instance, starts with a sting and then brings back the main theme on sax against a suspenseful atmosphere. The next cue, "Weird Killer", is basically the same.
"Some Girls, Some Murders" is another take on the main theme, this time with hand percussion and sultry feel before settling into some dramatic underscore similar to the previous cues. Then an uptempo bass line sets the stage for a recapitulation of the theme, followed by more of the suspense music.
Fuzz guitar and organ introduce "Slow Sad End". The theme returns on a ghostly sounding electric keyboard, maybe a Farfisa. "Just a Bite" is a shake version of the theme with acid rock guitar soloing.
Cues that depart from the main theme include "Fly 747", a ridiculously upbeat, groovy big-band pop number. It's silly but endearing.
Of course there has to be a sappy love theme and you'll find it in the song "What Is This Love". "What is this love / that burns me so / that has me in / that has me in its spell?"
"Vitti' na Crozza" is a folk song, voice, guitar and accordion. c suspenseorcchest ur's work.
"Flic's Compromise" is effective action/tension music, a bit similar to Rustichelli's Blood and Black Lace score. The same motif is heard again in "Running and Hiding".
"Final Struggle" is a Morricone-like urgency cue and "Still Remembering" is a moving and dramatic return to the main theme.
---