Rob Price
Gutbrain Records
rob + gutbrain.com = email
---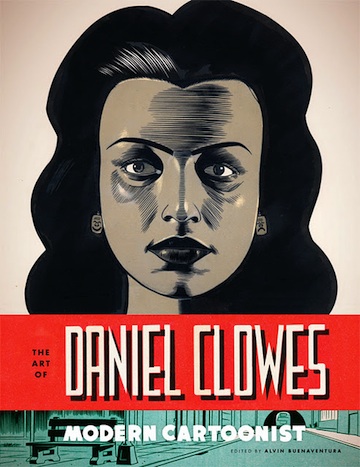 This book is kind of a mixed bag. I've been an admirer of Dan Clowes's work for a long time. I bought the first issue of Eightball when it came out. And what's great about this book is what Clowes himself brings to it, the reproductions of his work and his responses to Kristine McKenna's interview questions.
His work speaks for itself, as great art tends to do. In the interview Clowes appears intelligent, articulate, straightforward and unaffected. (Compare with Clowes's fake interview comic, printed as the cover for Number 233 of The Comics Journal, reprinted here on page 95.)
I was curious about his comment that "Lots of people are trying to do Great Graphic Novels right now and I hate them all. I'm just really disgusted by them". He goes on to say that he loves Chris Ware and Joe Sacco, so he doesn't mean them. So who does he mean? Did he hate Asterios Polyp?
The other parts of the book, consisting of pieces written about Clowes and his work, were less interesting to me. A few big names are brought on board: George Meyer, Chris Ware, Chip Kidd. Ware's contribution is typically generous and positive—has he ever said anything even slightly negative about anybody?—but distressingly overwritten.
Other pieces, which analyze what Clowes actually does in the medium, point in an intriguing direction but left me thinking that an Annotated Art of Daniel Clowes would be more useful.
This book is quite nice and well worth picking up, but I don't think it would be a good introduction for anybody not already familiar with Clowes, while those who do know Clowes's work would probably want more from a book such as this.
---
The 219th Soundtrack of the Week is I Miei Primi 50 Anni da Cantante e Compositore, a 6-CD set of work by Italian composer and singer Nico Fidenco.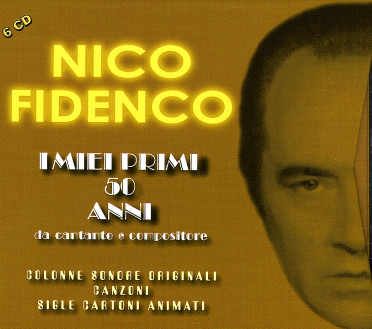 The first three CDs cover Fidenco's film work. The fourth disc is a disc of songs for movies and cartoons, mostly Fidenco's interpretations of other composers. The fifth and sixth discs focus on Fidenco the pop singer, a side of him that was new to me.
Many of the tracks on the first three CDs present short medleys of the main themes from Fidenco's film scores.
"Supercolpo da 7 miliardi", for example, is about four minutes long and begins with a groovy rock beat and fuzzy electric guitar before a segue into a tender and sensitive 3/4 section featuring harmonica. This is followed by another rocking section that features the electric guitar again, but this time with a slide. It's a bit reminiscent of some of John Barry's James Bond music.
"Agente Logan Missione Ypotron" is a great tune with an awesome backbeat, slinky slide guitar and organ. It was the 198th Soundtrack of the Week. "2+5 missione Hydra" contains almost all of the highlights from Fidenco's score for that movie (the 184th Soundtrack of the Week). The main theme sounds like the love child of "Thunderball" and "You'd Be So Nice To Come Home To", while another bit gives the same melody a "Rumble"-like setting. There's also a bossa version.
"Miziana", from the movie Sharaz, is here. A CD containing music Sharaz and Ragan was the seventieth Soundtrack of the Week. "El Che Guevara" is almost six and a half minutes long, and begins in a mood that's both martial and groovy, with guitar and wooden flute. The music becomes more dramatic and stirring with strings and chorus, leading to a big finish with horns, percussion, wailing vocies and organ.
"Monica's Love" from the movie La Ragazzina anticipates the scores Fidenco would provide the Emanuelle movies. There's great flute, harp and guitar playing. "Emanuelle's Theme" from Black Emanuelle (SotW #137) is here, of course, as are cuts from other films in the series.
"Sweet Living Thing" from Emanuelle nera: Orient reportage (a.k.a. Emanuelle in Bangkok, SotW #138) is pretty cheesy but has a great fuzz guitar break. I find it somehow irresistible. "Make Love on the Way", from Emanuelle e gli ultimo cannibali uses "Emanuelle's Theme" as a matrix for a new song, delivered here by a Shirley Bassey-like singer. There's also an instrumental version.
There are vocal and instrumental versions also of "Picture of Love", from Emanuelle — Perché violenza alle donne? (a.k.a. Emanuelle Around the World, SotW #140). I've always liked this song, which is part David Bowie, part cheese. Bizarrely, "Zombi holocaust", the theme from the movie of the same name, is also very similar to "Emanuelle's Theme".
"A Devious Man" was the theme song for a movie called Candido Erotico and is very similar to "Everybody's Talkin'", the hit song from Midnight Cowboy. "A Devious Man" is here in both vocal and instrumental versions, and the vocal version is the one that gets stuck in my head ("Measuring my dreams by the time they're taking / Measuring the time by dreaming").
Disc four has some Italian-language versions of movie hits like "Moon River" and "The World of Suzie Wong". It also has a bizarre synth cover of "Exodus" (SotW #80) with Italian vocals and a new wave/disco beat. Ernest Gold's melody is strong enough to survive almsot any transplantation, it seems.
The Italian version of "Johnny Guitar" is pretty great, but "Godzilla Gudzuki Godzilla", a Fidenco composition, is just deranged. The liner notes don't explain it, but perhaps it was the theme used for for Italian broadcasts of the late-'70s Godzilla cartoon. (I used to watch it!)
Almost all of the songs Fidenco sings on the last two discs were also written or co-written by him. Many of them have a 1950s American pop/rock and roll feel. "Legata a un granello di sabbia" is a dreamy tune, similar to "Blue Moon". "Ti ricordi" is a sunshine pop song with a cool and unusual keyboard sound.
"Con te sulla spiaggia" is similar to Nelson Riddle's famous "Lolita Ya Ya" and it also reminded me of some pop song from the same period that you often hear on oldies stations. I can't remember what it's called, though. "Good Bye" starts out sounding a bit like (what else?) "Emanuelle's Theme", but shifts to a different groove with different instrumentation.
---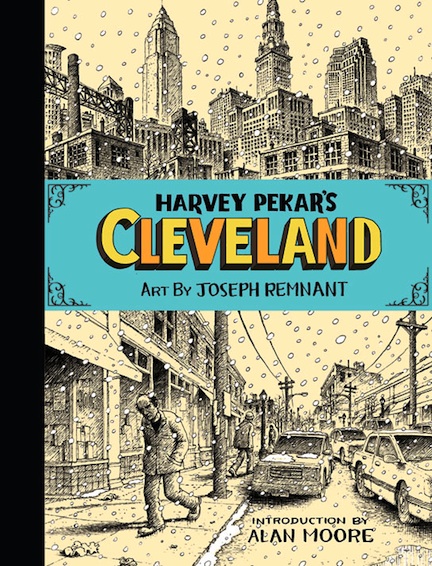 Harvey Pekar's Cleveland is no doubt the last full book we will ever have by the late writer, completed by artist Joseph Remnant after Pekar's death. There may be anthologies and collections of material still to come but this appears to be Pekar's final whole work.
It's also the best of the books from Pekar's later years, and certainly one of the best from the second half of his comics career. The original magazine-sized American Splendor comics remain brilliant and untouchable, decades later, at least up to the point where Pekar starts documenting his appearances on the Letterman show.
While great work continued to appear in its pages after that, the shift in focus brought stories that were less interesting. I watched Letterman. I already knew about Letterman. What I wanted was the texture of Harvey's life in Cleveland, the people and places that existed only there, and the moments witnessed only by Harvey. Harvey claimed he didn't care about Letterman but I really didn't care about Letterman and felt that reading about Letterman over and over again in Harvey's books was a waste of my time.
Letterman is mentioned in Harvey Pekar's Cleveland, provoking something between a yawn and an exasperated sigh from me. It's like the story of the two monks and how one of them carries a woman across the river, which bugs the other one until he finally explodes hours later and asks how the first monk could have carried the woman across the river like that and the first monk says, "I put that woman down hours ago. Why are you still carrying her?". I wish Harvey could have stopped carrying Letterman.
Harvey Pekar's Cleveland is conversational, occasionally repetitive, but still one of Harvey's best books. Especially valuable is the material about his second marriage. His first marriage remains something of a mystery but at least we have some details filled in about his second. This part of the book echoes one of the most affecting covers of the original American Splendor.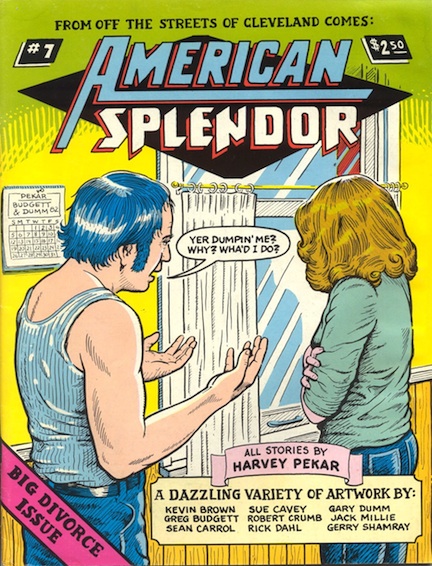 American Splendor #7 (1982)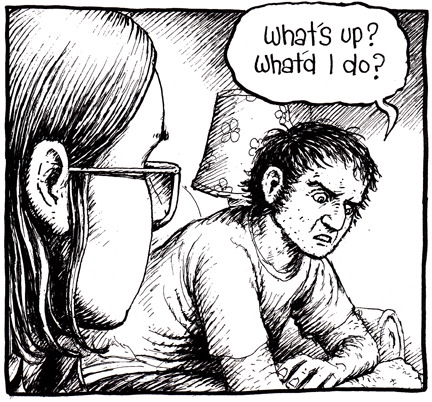 Harvey Pekar's Cleveland (2012)
It's really startling to read that Harvey apparently miscalculated how much his pension and social security payments would bring him in after he retired from his VA job. All through the years we've heard about how important his "flunky" file clerk job was to him, for the mental freedom but also for the security and benefits. It's depressing to read that those benefits didn't add up to enough to live on.
Maybe he should have quit and gambled on being a full-time writer. That's something Letterman suggested the first time Harvey appeared on Late Night. But maybe it just isn't done in Cleveland. As Jimi Izrael writes in "A Pal's Goodbye", the coda to Harvey Pekar's Cleveland (which also has an uninteresting introduction by Alan Moore), "if you try hard enough to bring the eyes and accolades from afar, well—you'll never live it down".
---
One of the nicest things about living in Park Slope is the quantity and quality of free books left on sidewalks and stoops. I've scored quite a few things: Durrell's Alexandria Quartet, a couple dozen Diabolik fumetti, a James Ellroy novel a friend had recommended to me just hours before I found it. And I was pretty happy to find this.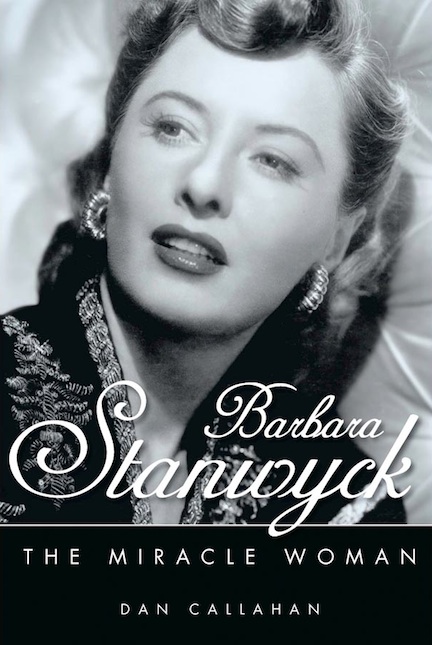 I love Barbara Stanwyck and this book is really for people who are already fans. Author Dan Callahan offers only the most essential biographical information and concentrates his attention on Stanwyck's work, treating her as the great and important artist she was, often (like many artists) superior to the films in which she appeared.
This focus allows Callahan to avoid gossip and myth-making but also proves once again the power of understatement. The little you read here of Stanywck's personal life is more than enough and, isolated from the usual recitation of Hollywood mischief- and merry-making, might haunt you for the rest of your life.
Barbara Stanwyck was born in Brooklyn, not far from where I write these words, in 1907. Her mother died two and a half years later, pregnant with a sixth child when she was knocked off a street car by a drunk passenger. Stanwyck's father, manual laborer, left the family two weeks after his wife's funeral to go work on the Panama Canal. He never came back. Stanwyck and her brother passed through a series of foster homes.
But she wasn't Barbara Stanwyck then. Her name was Ruby Stevens and she grew up tough. She became a chorus girl, then an actress, then went to Hollywood and became a movie star, one of the greatest of all time. (The strengths of Callahan's book are his persuasive and articulate advocacy of her ability and intelligence and articulate and convincing analysis of her performances.) By the time Stevens became Stanwyck and ended up in California she had burns on her chest from when somebody had put cigarettes out on her.
Dan Callahan really knows his stuff and while his writing occasionally slips into a loose, conversational style, this never grates but provides a nice balance to his detailed examinations of Stanywck's technique. His grasp on the movies and the people who made them is so assured that I wonder if it was a confused copyeditor who misspelled the title of The File on Thelma Jordon every time it appeared.
Of course it's exciting to read about films I haven't seen that Callahan insists contain some of Stanwyck's greates work, but it's perhaps even more exciting to learn new things about those movies I already know and love. Writing about No Man of Her Own (not to be confused with the 1932 Clark Gable/Carole Lombard movie of the same name), Callahan has this fascinating detail about the production.
Trying on Patrice's wedding ring, Helen [Stanwyck's character] looks into a mirror, and no sooner has Patrice insisted, "I couldn't have bad luck," then the mirror shatters (upsettingly, given the consistent relationship between on screen between Stanwyck and her mirrors), and the train flips all the way over.
The restroom set where Stanwyck played this scene with [Phyllis] Thaxter was built inside a steel wheel. [Director Mitchell] Leisen suspended a camera from a catwalk, and when the train was supposed to be hit, he rotated the wheel all the war around with both actresses inside doing their own stunts. The effect is unnervingly realistic in its violence.
This probably wasn't even a big deal for Barbara Stanwyck. Shooting a movie in 1931, she was thrown off her horse, which then fell on her and "kicked her in the spine, dislocating her coccyx. … Stanwyck insisted they finish the shot before her lefs stiffened. For two weeks, she worked during the day on Forbidden, then went to the hospital to spend the night in traction. In 1984, her terse comment on this accident was, 'It hurt. It still hurts.'"
---
The 218th Soundtrack of the Week is Ravagers, scored by Fred Karlin.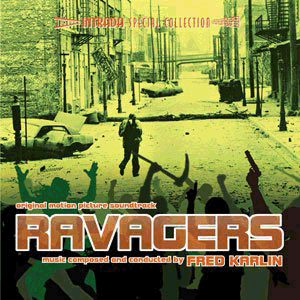 The first track, "Military Installation No. 1", is similar to certain John Barry or Ennio Morricone compositions, creating textures with strings and trumpet then adding woodwinds. There are oboe and flute statements and harp-like nylon-string guitar playing. It has a peacheful mood but ends with slight dissonance.
Then comes "Ravagers Attack Falk", which has cymbalom playing with some choppy strings. What happens melodically is a bit similar to the theme for The Six Million Dollar Man.
Melodic percussion and deft acoustic guitar playing give way to full orchestral expansion of these moods in the next track, "Miriam Dead". There are plaintive cello solos.
"Falk Kills" starts with a blast, a sythesizer backed by orchestra. The cymbalom returns with a driving rhythm, drops out, comes back in, drops out again. In places it sounds a bit like music from the Star Trek movies and I thought I heard something like a blaster beam in there.
"New Home" begins with a wistful, pretty melody and an instrument that reminded me of the Ondes Martenot. The melodic line from "Ravagers Attack Falk" comes back. "Cabin" starts with buzzing strings and then a continuation of the "New Home" mood with tasteful and impressive guitar work.
Electronics, ominous strings, cymbalom and wooden flute create a mood of tension and danger for "Military Installation No. 2". This relaxes, then trumpet comes in, laid back but with occasional martial snare statements.
Bursts of action music and the return of the theme heard first in "Ravagers Attack Falk" define "Ravagers in Pursuit" while a more ethereal mood introduces "Ravagers Kill". The thing that makes me think of the Ondes Martenot is used again, and then there's a fugue-like passage for strings. Then it alternates between bursts of dramatic music and wooden flute solo.
"Ravagers Inside House" is suspenseful underscore with subtle electronics and percussion. "Ravagers Attack House" is driving action music that sounds appropriate for a siege or battle scene. It mellows out near the end.
An urgent-sounding triangle leads "The Ship" and the fugue-like theme from "Ravagers Kill" comes back. It ends with electronics and cello voices.
"The Fish" sounds a bit like John Barry's "Wednesday's Child" and features sensitive guitar and flute playing. It develops into an optimistic, gentle sort of piece.
Cymbalom and chopping strings suggest danger for "Ravagers Attack Ship". Again I thought of John Barry, possibly his music for the Fort Knox raid in Goldfinger. There's a recapitulation of the theme first heard in "Ravagers Attack Falk".
"End Credits" winds down with the main theme again and builds to a powerful climax.
Following this there are three tracks of source music. "Folk Dance" is cheerful music for guitar, percussion, winds and fiddle. "Solo Piano" sounds like a beat-up old upright playing a sad, bluesy tune. And "Polka Dot Rag" sounds like you'd expect, especially if you expect accordions.
---
Joey Baron is still the greatest. I saw him last week at Birdland with Steve Kuhn and Steve Swallow.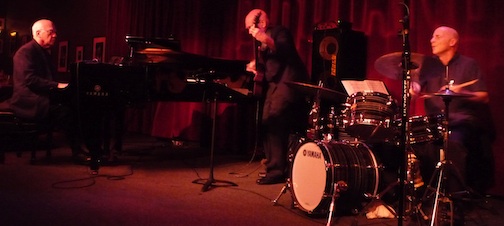 It's inspiring how present he is and how much energy and sensitivity he brings to every moment.
---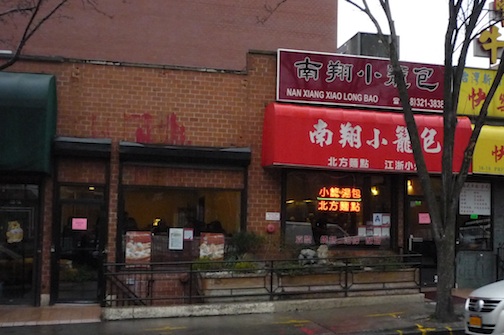 That's a picture of a Shanghai restaurant in Flushing. It's called Nan Xiang Xiao Long Bao and Dexter and I have been going there every week or two for over a year.
Xiaolongbao is what we call soup dumplings, though they're identified on the menu here as steamed pork buns. Nanxiang is apparently a suburb of Shanghai where xiaolongbao were invented. So if you've got a restaurant called Nan Xian Xiao Long Bao (Nanxiang xiaolongbao), you can guess what they want to be known for.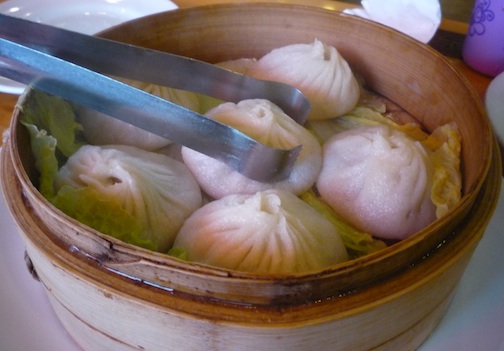 The soup dumplings there are among the best food I've ever had in my life. I crave them. I would want them as part of my last meal.
(Dexter and I went to Joe's Shanghai in Manhattan Chinatown to try their soup dumplings and we found Joe's Shanghai to be pathetic in comparison. I never want to go there again.)
Dexter's dish of choice is the Shanghai Stir-Fried Udon, which is also delicious.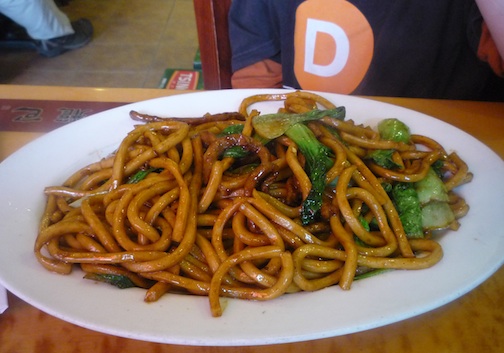 It is, as you can see, stir-fried udon, with pork and bok choy. I eat all the bok choy since Dexter won't eat anything green. You can also get a version of this dish with seafood instead of pork.
Sometimes just an order of the steamed pork buns is enough for me, but I often get Crispy Noodles with Shredded Chicken.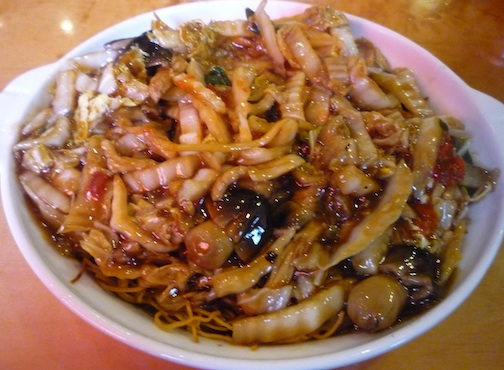 This dish tastes best to me with some hot chili paste added. The noodles appear to start raw and get cooked by the chicken, mushrooms and cabbage on top. It's too hot for me to eat when it first arrives and by the time I'm getting into it, the noodles have begun to soften.
This is one of the perfect meals you can have in New York City. The total for these three dishes is about $21.
---
Concluding this series of Japanese television music, the 217th Soundtrack of the Week is 80's Television's Hits.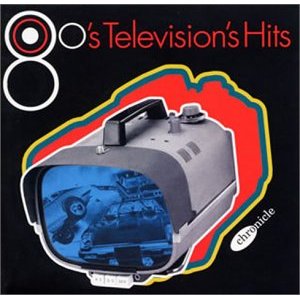 The first track is the theme from Wonderful Guys. It starts with engine noises, screeching tires and car crashes. These sounds pop up throughout the instrumental theme, which is classic late '70s/early '80s TV action music with a wailing fusion guitar solo.
Next is the theme song for Signpost of the Wind a relaxed, funk/disco ballad with laid back male vocals and a breezy synth sound that matches the title. After that is the music for Star Parade, song by a woman with a raw, driving blues voice. The music is inbetween "Night Train" and mid-century American rock and roll and pop.
The next song is called something like "A True Sad Story" and is the theme song to a classic Japanese drama show, Sailor Suit and Machine Gun. It's about a teenage girl still in high school who, because of the rules of succession, becomes the boss of a yakuza gang. It's famous for a scene where she first uses the machine gun and then says, in a dreamy voice, "Cool". You can see that scene and hear the song in this trailer for the show.
After that comes "Sunset Serenade", a gentle, almost lullaby-like song that sweels into orchestral pop grandeur for the chorus. It sounds like it might be based on Pachelbel's Canon in D. This is followed by something called "Weekend Love" which reminds me of Luther Vandross's "I'd Rather". The next song is called something "Drifting Love" and is more spoken than sung by the female vocalist until the big chorus which uses castanets.
"Take Care of My Love" has a Steely Dan feel to it. I don't know what show it was used for but singer Yasuhiro Suzuki released it as a single in 1983 and, according to Wikipedia, his blood type is B. Mizue Takada's "Looking for True Love", the next song on the CD, also came out as a single in 1983. She has a pognant, breathy voice. You can hear it here.
The next song, delivered by a raspy-voiced male vocalist, is called "Human Camel" and is apparently the theme to a teen drama called something like Scattered Youth.
Things get upbeat again with this, which Google translates as "Swimming Crazy Ship". The next piece, "Nostradamus Private School Song", begins with church organ and a hymn-like vocal chorus before exploding into a goofy, uptempo piece sung by none other that Beat Takeshi, a.k.a. Takeshi Kitano!
Then there's a cheesy piano ballad which sounds like what you'd expect from a song called "Falling in Love". After this comes a Huey Lewis-like blast of bubbly pop brightness, called something like "Pakkun Egg! Eggs Falling from the Sky!". This is what the single looked like: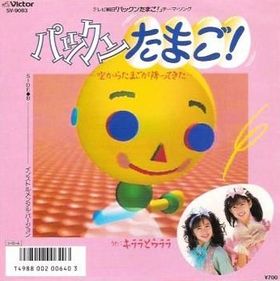 The next song, which is called something like "Please Don't Be Shy", is a nice, melodic piece with limpid female vocals. After that comes "Show Me", whose '80s dance fever assault will knock you out of your chair after the delicate mood of "Please Don't Be Shy" (or whatever it's called).
"Hide and Seek with the Wind" is a gentle melody given a childlike, innocent vocal delivery. Then there's a tango-like song called "Windmill of Love" and, finally, "Lullaby of the Virgin", a wistful, romantic song.
---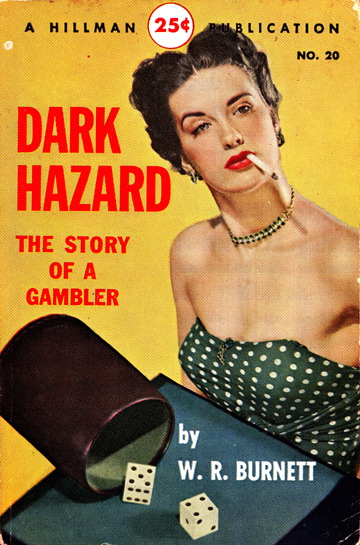 This book was great, despite occasional racist language, typical of the period, alas. (This is a 1949 paperback edition of a 1933 novel.) The story wasn't at all what I expected. Here's what the back cover tells you.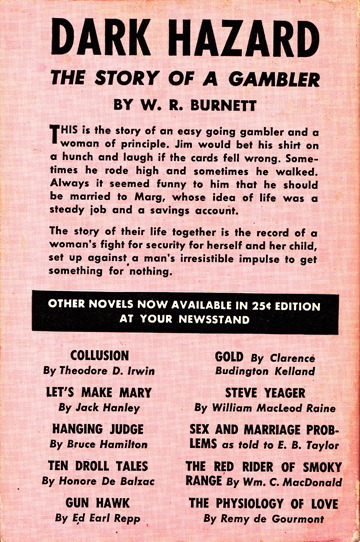 That's pretty accurate as far as it goes. But the really interesting part of it is that Dark Hazard is the name of a dog, and most of the gambling that happens in the book takes place at dog racing tracks.
The story begins in Chicago, 1928. where Jim is working as a night clerk in a shabby apartment hotel, a job that W. R. Burnett once had as well. The action then moves to California, 1929, and then finally to Ohio, 1932.
Jim and Marg are barely getting by in Chicago and Marg's family back in Ohio has money problems. Jim loses his job, wins three thousand dollars at roulette and then gets a job at a dog racing track in California.
In California Jim falls under the spell of the dog Dark Hazard, who doesn't look like a champion but streaks by every other dog on the track time and time again. Marg struggles to tolerate the world of gamblers that provides them with their livelihood but Jim's childlike obsession with Dark Hazard derails their marriage after Marg becomes pregnant. Marg returns to her Ohio hometown where, three years later, she's confronted by a bottomed-out Jim who wants to start again.
The theme that runs through each of these three parts (Chicago, California, Ohio) is one of people struggling to suppress their nature, to be not themselves but somebody others want them to be. Jim is trying to live in Marg's world and Marg is trying to live in Jim's world but it's an impossible fit for both of them. Dark Hazard, a creature who gives itself free rein and lets its drive take it as far and as fast as it can go, is something of a symbol of unfettered nature and pure will.
Dark Hazard is surprisingly touching and absorbing, and very well written. One of the impressive qualities of the book is how well drawn the characters are. They are all human, imperfect and sympathetic. There are no villains, no heroes. Even Dark Hazard turns out to be a real creature, not a mere symbol, in the end—and a sweet, friendly, animal as well.
This edition has many typos and perhaps there's one in the first line, which would explain the run-on sentence: "The clock above the switchboard struck midnight slowly, each chime was preceded by a faint, weary, premonitory whir, then the works buzzed for a moment after the final chime and went on ticking".
---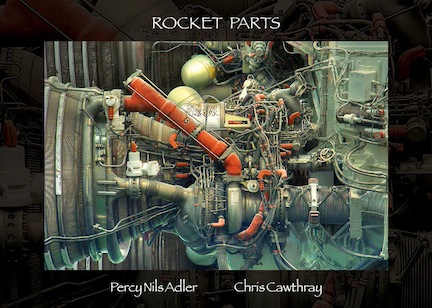 This is a great record! You can buy it here.
It's instrumental guitar/drum duets but it doesn't sound like anything else I've ever heard. Parts of it reminded me of Tom Verlaine's instrumental records (Warm and Cool and Around) but it really has its own thing going on.
There are ten tracks and the music can be intense and rocking, gentle and ethereal. It's all recorded live but sounds too complex to be totally live. This has something to do with the fact that Percy uses three amps with different effects and switches between them and blends them while playing. (Or something like that. I think that's what Chris told me.)
It's really cool. Get it!
---
Here's 70's Television's Hits Vol. 2, the 216th Soundtrack of the Week.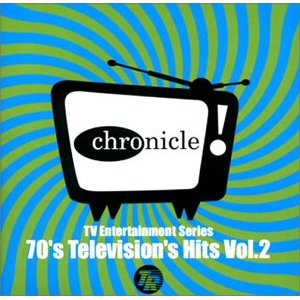 First up is "Thank You Song", a combination of surf and marching bad with a great electric guitar sound and an energetic female vocalist. Sounds like there's a Farfisa in there too. After this it's the theme from Let's Say Farewell with Tears, a country-style song with smooth horn touches, pedal steel guitar and harmonica. You can hear it here.
The third track is the theme for Two People's World, a drama about a married couple. It's a mid-tempo romantica song with strings and various easy-listening, almost Muzak-like touches. It has a recitation bit at the end. When I Woke Up Everything Was Fine comes next, a heart song performed in an atmosphere of acoustic guitar, electric bass, piano, drums, strings and what sounds like the "whistling" setting on a synthesizer.
Up next is Lovers of the Sun, presumable the theme for a TV show of the same name. It's pretty rocking action music with some good guitar playing and a male vocalist who seems to want to avoid any kind of swing. The sixth track is the theme for Jun Guts, a high-school baseball drama. You can see the opening credits, with the theme, here. I think it looks kind of cool and I have no interest in sports. The song sounds like somebody's national anthem with some 1970s musical ingredients thrown in.
By all means watch the opening credits for the next show on the CD, Are You Okay, Beautiful Women?. It's really great, with beautiful animation and a very chipper song. After that comes the theme for Where Is Youth?, which begins with a wistful trumpet solo and features a sensitive male voice singing over gentle percussion and guitar.
Ken of the Cake Shop has a child-like bouncy theme song, which sounds like it might actually be sung by a child. I'm not sure how to translate the title of the next song. Google has come up with several ideas for the name of this moody piece which I would say is in 6/8 or 12/8 and quite stirring, with lovely, understated, female vocals. All the translations agree that the word "ear" is in the title, but I could have told you that.
That moody number is followed by the ridiculously poppy theme song for Ping Pong Gymnastics, which has apparently found a secure place in Japanese popular culture, as evidenced by Morning Musume's recent cover of this. They can't touch the original, though, which has much better production values.
The next show, Decide! Finish, has a breathy female vocalist singing an engaging melody that reminded me of songs from yakuza movies. Apparently it's a sports drama about women's gymnastics. And so I suspect that the next song, the theme from Red Shoes, is a ballet drama. The lovely, dramatic music quotes "Swan Lake" and features harp and piano.
After that it's the theme for Ra Ra Ra Youth, in which "Yoko & Kumiko" sing about happiness in a minor key before switching to a major-key disco chorus. There's an organ solo that sounds like it's played on the Yankee Stadium organ. This is followed by But Something Is Different, whose theme is kind of a folk-pop song done in the style of The Eagles.
The sixteenth song is the theme for A Beautiful Morning Will Come. That's how I translated the title, anyway. A bright, airy female voice sings cheerful-sounding lyrics over an interesting arrangement of instruments, featuring wooden flutes. Hear it for yourself. Next up is Beautiful Summer, a beautiful, sad song in 3/4 with a wonderful performance from singer Ryoko Moriyama. Here it is.
Surf guitar returns for the Planet of the Apes Japanese TV spin-off, Army of the Apes. There are also some weird keyboard sounds for a stomp sectino that sounds a bit like music from masked rider shows and Gamera movies. You can give it a listen here.
The theme for what Google translates as Bayashi Festival Can Be Heard took me by surprise, sounding like some kind of Barry White or Stevie Wonder song or something like that. It really sounds familiar and I can't remember what it seems to be based on. There are some interesting guitar sounds in there, too. The show appears to be a drama about a professional cyclist who gets injured in a race and ends up working in a retirement home. e , though this sheet music for it puts it in 4/4.
The great Ryoko Moriyama returns to sing the theme for My Song Festival. There's nice use of a harpsichord or something that sounds like one. Finally, there's Our Festival, which is another one that reminds me of some big pop song that I've heard a hundred times but can't place right now. It's the beginning bit with the guitars that makes me think of it. The track on the CD is instrumental and performed by a band called Transam. This link will take you to the exact same recording but with a vocal track on top.
---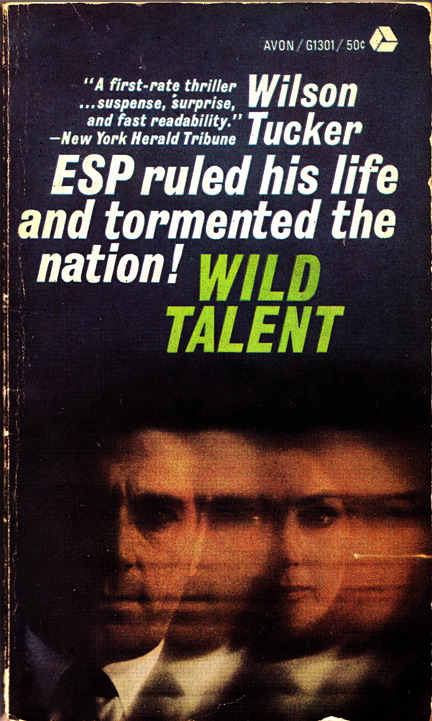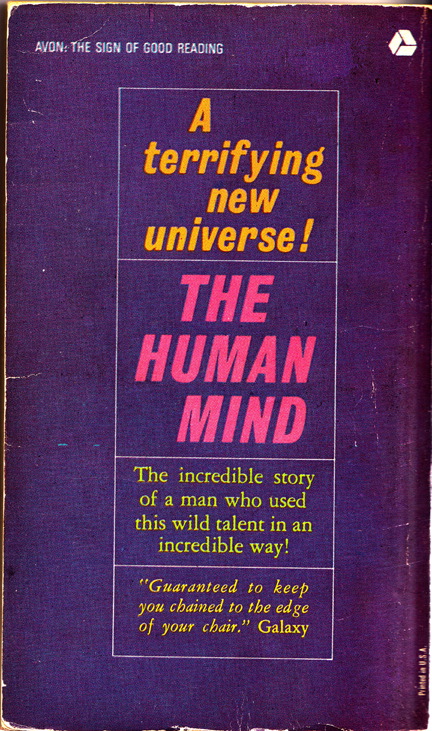 This is a 1966 paperback reprint of a 1954 sci-fi novel. Like many of these books, it's on the short side, only 168 pages. The whole thing could have been printed in a single fiction magazine, as many novels used to be.
It's about a man who discovers that he's telepathic and, being somewhat young and naïve, fails to keep this fact hidden. The government snaps him up and puts him to work as a human receiver for spies. Distance is no problem for his abilities, so an agent on the other side of the world transmits information to the telepath as soon as information becomes known.
A nice wrinkle is that the telepath's boss is basically evil and is exploiting this arrangement to increase and consolidate his own power. Our telepathic hero realizes this and sensibly keeps secret the fact that he has also mastered telekinesis.
It's an engaging book but it doesn't get up to much. It's the story of a person who has incredible, godlike powers but doesn't really use them. He does his spy job and eventually uses his powers to get revenge, but he never expresses any interest or curiosity in what else he could do.
There's some light discussion of whether he represents a new development in the evolution of the species but not much exploration of that or other ideas. It's mostly a book about somebody sitting in a house thinking and listening to other people's thoughts.
Still, it's something of a precursor to movies like ESPY and Scanners. I don't remember A. E. Van Voght's Slan (1940) too well, having read it a long time ago, but I think it did a lot more with the same basic idea.
The first line is "The microphones were dead, had been disconnected for many days".
---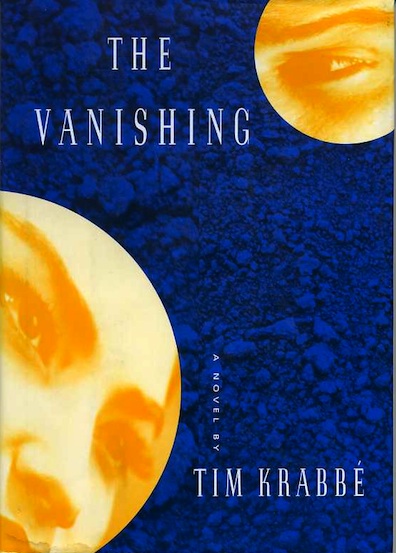 The Dutch/French film of this book is a masterpiece of horror. The book itself, a mere 108 pages, is also excellent. Both book and movie have their unique strengths. The movie is better at involving the viewer in the horror of the story. It seems more real than the book, which has a dreamlike quality that makes it seem less dangerous, more distant.
But the book lets you get inside the characters' head, giving you knowledge not just of what they think but of how they think. This is particularly effective when it comes to the villain of the piece, one of the most convincing and most terrifying psychopaths in all of fiction.
The story is similar. A young couple stop at a gas station and one of them disappears, vanishes without a trace. Years pass and the man can't forget the woman. He would do anything to find out what happened. This leads up to the terrifying lines, "Now he knew. It was too awful to know".
I'd like to read more of Krabbé. The writing is perfect and of a very high quality, even in English translation. The two main characters are reflections of each other in eerie and mysterious ways, as doomed by and drawn to each other as Shade and Kinbote in Pale Fire.
The first line is "Smooth as spaceships, the cars full of tourists moved south down the long, wide turnpike". The reference to spaceships is significant in that it foreshadows a thread running through the narrative, a dream about flying through the universe trapped in a golden egg. (The Golden Egg is the book's original title.)
---