2012 May 28 • Monday
The 219th Soundtrack of the Week is I Miei Primi 50 Anni da Cantante e Compositore, a 6-CD set of work by Italian composer and singer Nico Fidenco.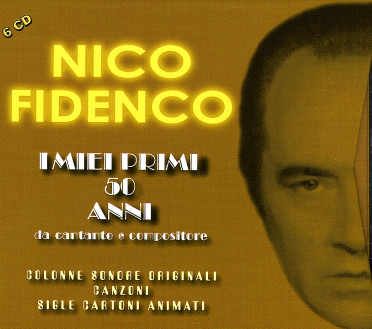 The first three CDs cover Fidenco's film work. The fourth disc is a disc of songs for movies and cartoons, mostly Fidenco's interpretations of other composers. The fifth and sixth discs focus on Fidenco the pop singer, a side of him that was new to me.
Many of the tracks on the first three CDs present short medleys of the main themes from Fidenco's film scores.
"Supercolpo da 7 miliardi", for example, is about four minutes long and begins with a groovy rock beat and fuzzy electric guitar before a segue into a tender and sensitive 3/4 section featuring harmonica. This is followed by another rocking section that features the electric guitar again, but this time with a slide. It's a bit reminiscent of some of John Barry's James Bond music.
"Agente Logan Missione Ypotron" is a great tune with an awesome backbeat, slinky slide guitar and organ. It was the 198th Soundtrack of the Week. "2+5 missione Hydra" contains almost all of the highlights from Fidenco's score for that movie (the 184th Soundtrack of the Week). The main theme sounds like the love child of "Thunderball" and "You'd Be So Nice To Come Home To", while another bit gives the same melody a "Rumble"-like setting. There's also a bossa version.
"Miziana", from the movie Sharaz, is here. A CD containing music Sharaz and Ragan was the seventieth Soundtrack of the Week. "El Che Guevara" is almost six and a half minutes long, and begins in a mood that's both martial and groovy, with guitar and wooden flute. The music becomes more dramatic and stirring with strings and chorus, leading to a big finish with horns, percussion, wailing vocies and organ.
"Monica's Love" from the movie La Ragazzina anticipates the scores Fidenco would provide the Emanuelle movies. There's great flute, harp and guitar playing. "Emanuelle's Theme" from Black Emanuelle (SotW #137) is here, of course, as are cuts from other films in the series.
"Sweet Living Thing" from Emanuelle nera: Orient reportage (a.k.a. Emanuelle in Bangkok, SotW #138) is pretty cheesy but has a great fuzz guitar break. I find it somehow irresistible. "Make Love on the Way", from Emanuelle e gli ultimo cannibali uses "Emanuelle's Theme" as a matrix for a new song, delivered here by a Shirley Bassey-like singer. There's also an instrumental version.
There are vocal and instrumental versions also of "Picture of Love", from Emanuelle — Perché violenza alle donne? (a.k.a. Emanuelle Around the World, SotW #140). I've always liked this song, which is part David Bowie, part cheese. Bizarrely, "Zombi holocaust", the theme from the movie of the same name, is also very similar to "Emanuelle's Theme".
"A Devious Man" was the theme song for a movie called Candido Erotico and is very similar to "Everybody's Talkin'", the hit song from Midnight Cowboy. "A Devious Man" is here in both vocal and instrumental versions, and the vocal version is the one that gets stuck in my head ("Measuring my dreams by the time they're taking / Measuring the time by dreaming").
Disc four has some Italian-language versions of movie hits like "Moon River" and "The World of Suzie Wong". It also has a bizarre synth cover of "Exodus" (SotW #80) with Italian vocals and a new wave/disco beat. Ernest Gold's melody is strong enough to survive almsot any transplantation, it seems.
The Italian version of "Johnny Guitar" is pretty great, but "Godzilla Gudzuki Godzilla", a Fidenco composition, is just deranged. The liner notes don't explain it, but perhaps it was the theme used for for Italian broadcasts of the late-'70s Godzilla cartoon. (I used to watch it!)
Almost all of the songs Fidenco sings on the last two discs were also written or co-written by him. Many of them have a 1950s American pop/rock and roll feel. "Legata a un granello di sabbia" is a dreamy tune, similar to "Blue Moon". "Ti ricordi" is a sunshine pop song with a cool and unusual keyboard sound.
"Con te sulla spiaggia" is similar to Nelson Riddle's famous "Lolita Ya Ya" and it also reminded me of some pop song from the same period that you often hear on oldies stations. I can't remember what it's called, though. "Good Bye" starts out sounding a bit like (what else?) "Emanuelle's Theme", but shifts to a different groove with different instrumentation.
---