Rob Price
Gutbrain Records
rob + gutbrain.com = email
---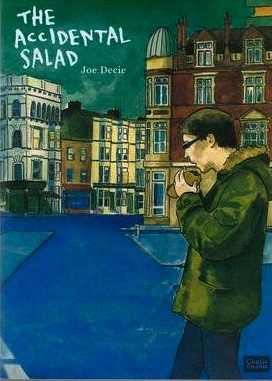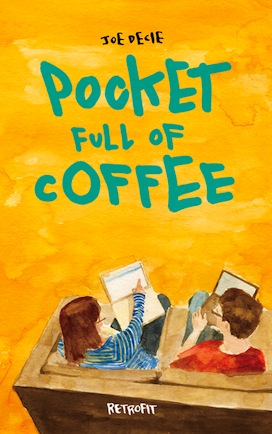 Most, maybe all of the comics in these books are on-line at Joe Decie's site, but I liked them so much I bought the books anyway. I love his art and I can admire it more on the page than on the screen.
---
Bear Family just put out another Bonnie Guitar CD, Intimate Session.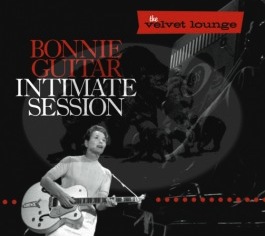 Like By the Fireside, the previous "Velvet Lounge" Bonnie Guitar CD from Bear Family, Intimate Session is only about half an hour long, so I don't understand why both records couldn't be on one CD.
Of course Intimate Session is very different. While By the Firesidewas a solo record, just Bonnie with no other musicians, Intimate Session has her playing with three other guitarists, string section, rhythm section and background vocalists.
The music is excellent and the liner notes include lyrics as well as excerpts from interviews with Bonnie Guitar. I'm still hoping Bear Family will release a box set of her work.
---
Was there really a recent remake of Straw Dogs? Let's not talk about it. Jerry Fielding's score for the original Straw Dogs is the 210th Soundtrack of the Week.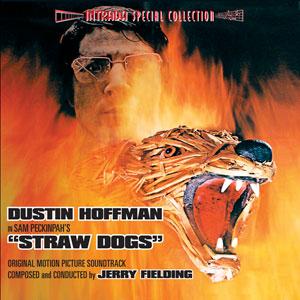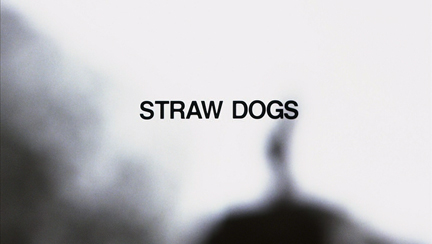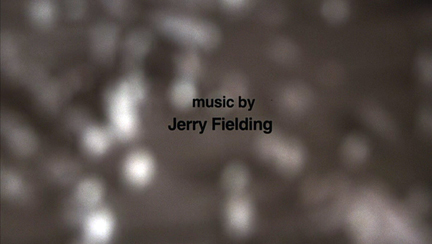 It begins with a "Prologue" for a small brass section that, in its one minute and eleven seconds, manages to be serene, eerie, dissonant and triumphant.
"Amy's Noise" is about a minute of pop funk that could easily have been the music for the opening credits of a TV crimefighter show. It's pretty awesome. Great sax solo. I guess this is source music coming out of a radio or something in the movie. It doesn't have a proper ending but just dies.
"Math Trick; Playing with the Help; Dinner Time" is for strings and reeds and has kind of a modern chamber music sound. Then it goes into a playful and folksy mood driven by violins.
"Peeping Toms" is quiet and pensive at first, then becomes spiky and urgent as subtle percussion joins the strings. The use of the harp is particularly nice. There's more sprightly violin playing and an startling note of tension at the end.
"Don't Play Games; Window Display" takes the music in a more somber direction, suggesting the isolation of the main characters and the increasing tension and danger around them.
"Dead Cat" is a reprise of the familiar violin figure but is heard sadly as well as happily here. There's also a musical accompaniment for the shock of finding the dead cat.
"The Man Trap" begins with a long sustained note played by the strings. Harp comes in after about twenty seconds and the strings move their note around a bit while the harp plays a sparse and spooky line. The reeds come in with a line that echoes what the harp played. It's a brilliant creation of an uneasy atmosphere.
"Did I Catch You Off Guard?" is a short piece that's similarly atmopsheric but denser and more propulsive. "The Hunting Party" returns to the ideas in "Prologue" but expands them and adds more instruments. The violin motif also returns.
"The Infamous Appassionata" is about eight minutes long. It starts with frightened string section soon followed by a loud and lush run on the piano. Unsettling percussion and horns join in as the orchestra plays a Herrmannesque repeating figure in the background. There's an uncanny weeping sound created by several of the instruments. The "Prologue" theme is heard again.
"Suffering Amy" is a short, tender piece that ends with a suggestion of trauma. "Trencher's Farm" starts with an abrupt burst from the ensemble, then brings back the violin theme. Probably this music is somehow like Copland or Ives. I wouldn't know.
"The Wakely Arms; Janice Hedden's Death" begins with a toe-tapping funky pop tune that has some great flute and organ playing. The last half a minute or so is music to kill by.
The inside of the piano gets played in the beginning of "Death of the Major; Shotgun; David vs. Charley". Then strings and snare take over, then harp, then strings and snare again.
"I Got 'Em All; David vs. Riddaway" begins with an expansion of the "Prologue" but shifts abruptly into urgent action music about halfway through. There's a great staccato piano and drums section.
Finally, "Epilogue" is a recapitulation of the "Prologue" but fleshed out with strings.
---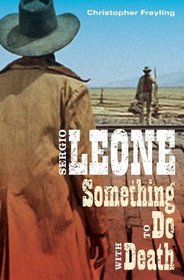 Christopher Frayling's Sergio Leone: Something To Do with Death is one of the best film books I've ever read. It combines Leone's life story with a meticulous examination of his films and influences. It's the sort of book that is so thoroughly researched and solidly constructed that it makes most other biographies I've read look slapdash by comparison. (Some of them really are slapdash, of course.)
There's more about the movies than the man and while Frayling is certainly sympathetic to Leone, as well as being a great admirer of his work, Leone himself comes across as alternatingly childlike and childish.
Frayling was one of the first critics to take Leone's movies seriously—Graham Greene was another—and he is excellent on the films, pointing out the recurring theme of circularity and suggesting that at the end of The Good, the Bad and the Ugly, Clint Eastwood rides off to the town in A Fistful of Dollars, thus beginning the trilogy again. (This would explain why Clint Eastwood finds, in the third film, the poncho that he wears in the first two, something that has always puzzled me.)
Frayling writes extremely well about Ennio Morricone's music also. And I was startled to learn that it took Leone so long to realize Once Upon a Time in America that Morricone had composed the score seven years before shooting began!
This leads to a touching comment from Morricone regarding Leone's unrealized idea for a movie about the siege of Leningrad. Leone spent the last years of his life working toward this goal, which would presumably have satisfied his longstanding dream of remaking Gone With the Wind. Morricone notes that for the first time in their long relationship, they didn't discuss the score while Leone was trying to get the movie off the ground, and this was probably because Leone didn't believe he would live to make Leningrad.
Leone died quickly and quietly, at the age of 60, while watching I Want To Live! on television.
Frayling's original manuscript of this book was apparently more than half a million words long. He mentions, in an introduction to this 2012 edition—the first edition was published in 2000 and was J. G. Ballard's "book of the year"—that he might be tempted to release his original "director's cut" of the book.
I hope he does. It would be very appropriate, very much in the spirit of Leone.
And it might explain why Robert Mitchum's name is in the index of this book but nowhere else.
---
Spotted this recently, probably at the post office.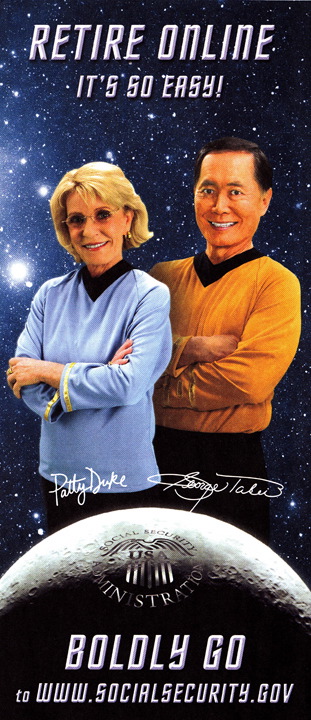 It goes with these Star Trek-themed Social Security PSAs.
Patty Duke never had anything to do with Star Trek, though, did she?
Oh, and perhaps you're wondering how George Takei's signature there compares with his signature in the closing credits of Star Trek VI: The Undiscovered Country.
Allow me. This is what the internet is for.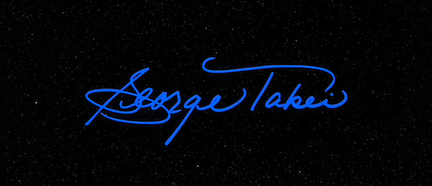 ---
The 209th Soundtrack of the Week is a Carlo Savina double feature: Malenka, la nipote del vampiro and I diabolici convegni.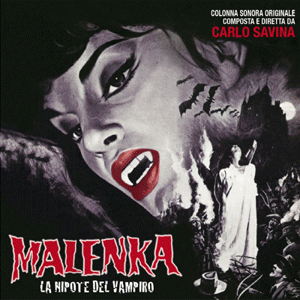 Imagine if Henry Mancini had got an assignment to score Dark Shadows with a small combo of organ, guitar, percussion and a handful of other instruments and had to use a melody similar to his "Slow, Hot Wind" as the main theme. That's what the Malenka, la nipote del vampiro score is like.
The tracks all called "Malenka, la nipote del vampiro seq. 1" and "seq. 2" and so on. The first is the vocal version of the theme, with lyrics like "In my dreams / Someone speaks / Can't resist / The sound / Which draws me / Deep down into the night".
This tune is exploited for surprisingly few cues. Most of the other music is eerie, atmospheric music that makes great use of pipe organ and percussion. Many of them open with a dramatic sting and then create a mood of dread and suspense.
Sometimes there's an unexpected groove or some other flavor you wouldn't have anticipated.
Listening to the CD has made me very eager to see the movie!
I diabolici convegni begins with "I diabolici convegni seq. 1", a moody and romantic theme played by violin with lots of reverb on it. Then there's apowerful organ feature.
This is followed by an unexpectedly groovy and laid-back "shake" called "My Wonderful Day". Organ again plays a prominent role. Just under a minute in, it speeds up and a vocalist comes in with lyrics along the lines of you're in my heart and mind and something about flowers that grow and the moon and the sky seems a lot to ask when I've spent this wonderful day with you. It slows down again at the end.
After that comes "seq. 2", nearly seven minutes of solo organ! "Seq. 3" is a short arrangement of "My Wonderful Day" with lounge jazz organ solos.
"Seq. 4" brings back the reverb violin and organ from the first sequence and mixes them with a spookier atmosphere.
"Seq. 5" is a sultry lounge piece that builds on the "My Wonderful Day" theme. "Seq. 6" is very quiet and very cloudy, building to a gentle resolution at the end.
Finally, "seq. 7" sounds at first like something you'd hear in The Prisoner, then reprises "seq. 3", then shifts into a bongo/organ break, then a piano spotlight, followed by solo church organ, which is then joined by percussion for the conclusion.
Fantastic music, one of my favorite Carlo Savina CDs!
---
"One way of looking at it is that it was just an unfortunate by-product of Hurricane Edna."
That's the first line of Helen DeWitt's Lightning Rods, a brilliant American satire. There aren't too many satires these days. I have trouble thinking of any, let alone good ones. Parody or teasing is much more common.
Lightning Rods is funny and sharp without being vicious. It's about a bottoming-out (pun intended for those who've read the book) salesman named Joe who, in the midst of a recurring sexual fantasy, realizes that the way to stop sexual harrassment in the workplace is to offer anonymous sex on demand for those men most "at risk" of sexually harrassing female employees.
Once Joe gets his foot in the door, the idea takes off. It's a huge success and has obvious value outside the business world: the FBI wants Joe's "lightning rods" in the offices of elected politicians and the big religions want them in their churches.
You'll have to discover the details of Joe's service for yourselves. But if you like, say, the original BBC The Office and Donald E. Westlake's comic crime novels, you'll probably enjoy Lightning Rods, which has a tone that's reminiscent of both. And Dewitt's poker-faced lampooning of the inanities of blinkered American business-speak and its endless capacity for rationalization is brilliantly sustained throughout.
---
There are several pictures of Joey Baron and Robyn Schulkowsky online, even at least one concert poster, but I couldn't find an image for the cover of their excellent CD, Dinosaur Dances. So I scanned my copy.
For those of you who have this disc and want the cover art for your iPod or whatever, here it is.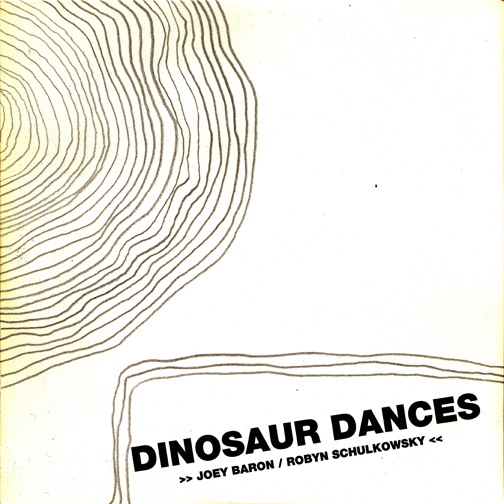 Back cover, too, just for the hell of it.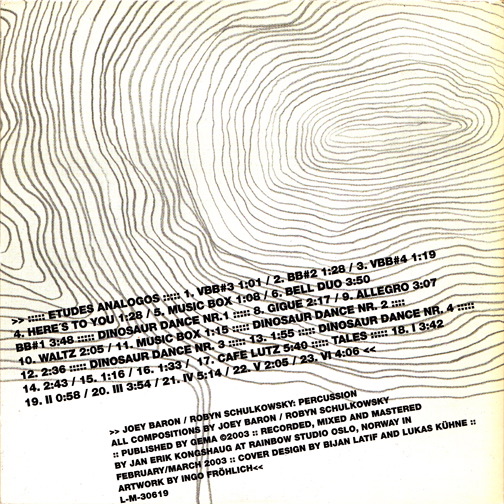 If you don't already have this record, buy it here.
---
The 208th Soundtrack of the Week is a Waldo De Los Rios double feature: A Town Called Hell and Savage Pampas.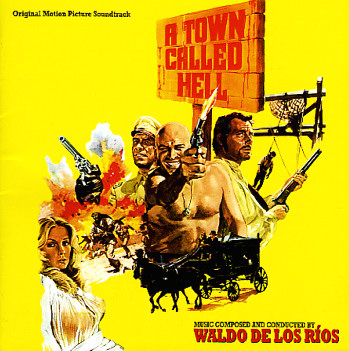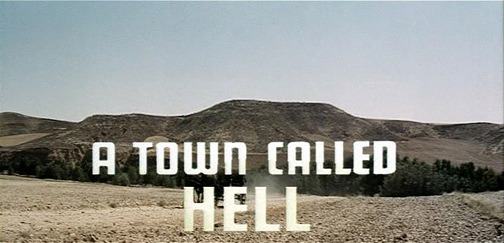 After a brief "Prologue" of marching snare and other percussion, A Town Called Hell hits us with "The Attack", a heavy, off-kilter piece that shows Waldo De Los Rios's genius with the rhythm section. Pipe organ is used to great effect, as well. About halfway through it becomes an urgently driving piece not too far removed from spaghetti western music.
Then there's the "Main Title", which has a wordless men's choir singing over a guitar that sounds a bit like a jaw harp. Various accents are provided by—what? Electric bass guitar and/or piano? Not sure, but Morricone's influence seems to show here.
"Arrival at Bastarda" had me wondering who else does such magic with percussion as Waldo De Los Rios. Toru Takemitsu, perhaps. There are many similarly impressive percussion-dominated cues in this score.
"The Priest" is a pretty but apprehensive piece that features the guitar at first and then goes into a suspense mood for orchestra.
The guitar part is reprised for "The Recurrent Nightmare" and the same theme is heard again, played by different instruments, in "The Tomb/The Photographs".
"Don Carlos" sounds a bit like what you might get if Charles Ives had scored an episode of The Avengers.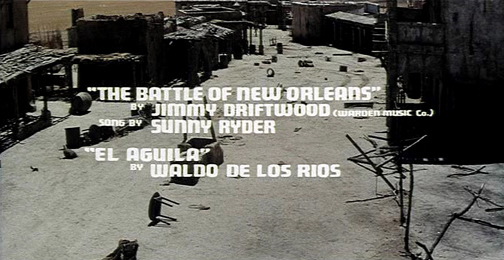 It ends with "El Aguila", a rousing Spanish-language song with martial snare playing.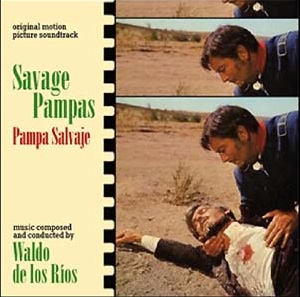 Savage Pampas begins with an infectiously rhythmic "Overture and Main Titles" as hand percussion and a feedback-like string section lead us into a swinging 12/8 melody.
At first you hear percussion and strings but eventually a chorus and wind instruments join in. Then it takes a turn for the ethereal as Spanish guitar, harp and an airy-sounding string section change the mood.
It gets spooky after that, then returns to a more sober version of the main theme. It ends as it begins, with the 12/8 percussion frenzy supporting the aggressive main theme.
"The Militia"starts out with trumpet and snare but returns to the lush arrangement of the main theme for a while. The tension between the two moods is explored throughout this long piece as the percussion and the trumpets compete for the listeners' attention.
The sky and wind are suggested by "The Landscape", which features the flute and the guitar.
A pretty heavy groove kicks off the "The Ranqueles Indians". Flutes take up a melody but everything is swamped by orchestral bombast, which in turn gives way to a percussion-dominated atmosphere of suspense. A tribal-sounding chorus takes it out.
No surprise to hear the solo acoustic guitar introduce "The Love", a tender variation on the main theme. Some really interesting percussion on this one. Sounds like the inside of an detuned harpsichord. There's another passage of suspense or menace, then a song version of the theme for voice and guitar.
At more than eleven and a half minutes, "The Violence and Finale" is the longest cue in this score. The violence part is brought to life with stabbing orchestral figures. This gives way to another cool percussion groove and a surprisingly breezy melody that nonetheless has some harmonic tension. The finale is a reprise of the overture/main title.
I suppose those tracks were the album release. They're followed on the CD by the original film versions of "Overture" and "The Landscape", as well as two demo versions of the theme.
---
Thanks to everybody who came to the Richard Lainhart Memorial at Roulette last Sunday.
It was very moving, with great performances and heartfelt tributes.
You can get a pdf of the program here.
---
I wonder if J. G. Ballard ever saw Robinson Crusoe on Mars. Concrete Island, Ballard's follow-up to Crash, is another transposition of the basic story.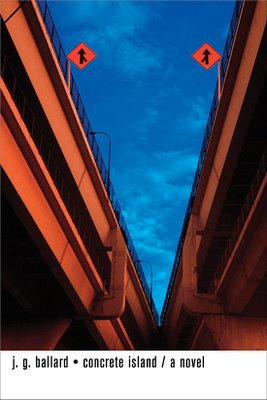 Like the protagonist of Crash, Concrete Island's Robert Maitland is an adulterous middle-class professional whose life is changed by a car accident. Maitland's car leaves the road and ends up on "a small traffic island, some two hundred yards long and triangular in shape, that lay in the waste ground between three converging motorway routes".
Steep embankments lead up to the roads from the island. Maitland immediately climbs one to signal a passing car for help, but the density and speed of the traffic prevent cars from stopping. Maitland is injured by a passing sports car and falls back down the embankment, unable to climb back up.
Part of Ballard's genius is in making this bizarre and unlikely situation—stranded on a concrete island in the middle of a highway—into a believable story. Once Maitland is too injured and weak to climb the embankment again, the novel addresses the problems of the castaway: food, water, shelter.
And like Robinson Crusoe, Maitland finds, to his shock, that he's not alone on the island.
Concrete Island is great, very absorbing, one of Ballard's best. It's the dessert after the large dinner of Crash.
---
Van Cleave's score for Robinson Crusoe on Mars is the 207th Soundtrack of the Week.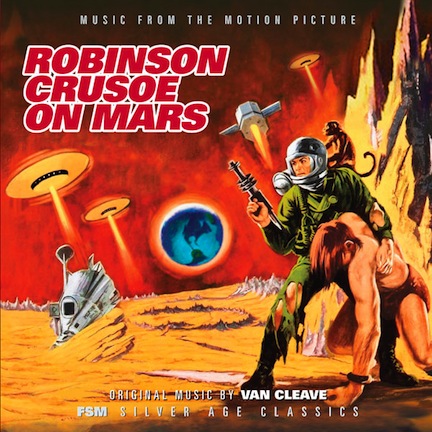 It's heartbreaking that Film Score Monthly will cease to produce CDs this year. They have five or six to go until they release their 250th title, after which they're calling it quits. Who else will put out records like this?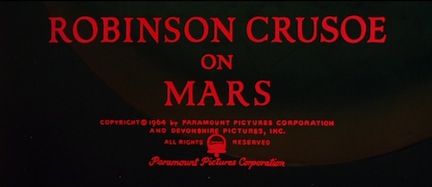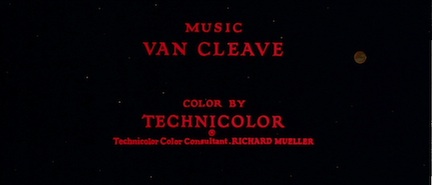 The record begins with some straightforward dramatic music but soon becomes haunting, eerie and strange with "Martian Night" and "Search for Shelter". At times the music recalls Bernard Herrmann's scores for films such as Journey to the Center of the Earth.
"Search for Partner" is, except for one brief moment of false hope, devastatingly sad, as is the corresponding moment in the film.
Van Cleave's rich and unusual orchestrations give the score a thick, colorful texture throughout, but are most rewarding in cues such as "Homeward Trek / Return to the Cave", "Lonely Lights", "Water Hazard" and "Snow Storm".
At the end of the disc are some bonus tracks, some easy listening music that the main character plays on his tape recorder, three bagpipe renditions of "Dixie" and an organ performance to accompany a reading of Psalm 23.
Robinson Crusoe on Mars is an interesting movie that presents a mostly uncompromising and realistic portrait of a castaway struggling for survival. Loneliness, frustration and endurance are the main themes. The story is mapped on Defoe's Robinson Crusoe, and Defoe receives a screen credit.
I'm lucky enough to have seen it on the big screen when I was a teenager, at the Boston Science Fiction Film Marathon.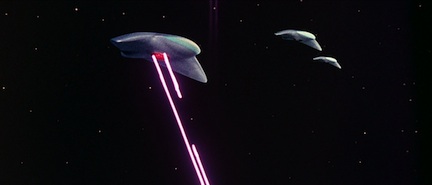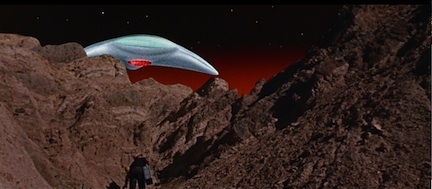 The audience was delighted to see Adam West, who has a few scenes.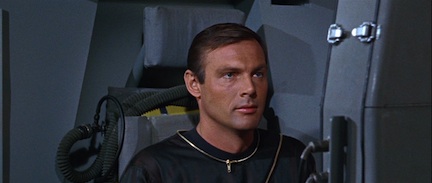 The special effects are excellent and it's a great adventure movie.
---
This might be the first time I've read a book of letters from cover to cover.
Sophie Ratcliffe has done a wonderful job of arranging, annotating and introducing the letters so that they tell the story of a life almost as well as a biography would do. It's one of the most absorbing books I've ever read, though I suppose you have to be a Wodehouse fan for it to have this effect.
Most of Wodehouse's humor goes into his fiction. His letters aren't especially funny, though there are amusing turns of phrase and anecdotes. (One such story, about H. G. Wells, finds its way into a Jeeves novel.)
What comes across most clearly is Wodehouse's character, a man of his time, certainly, but an impressively honest, sincere and scrupulous person, unusually so, I would guess. His devotion to his friends and family and love of animals are equalled only by his work ethic and value of fair play.
This, of course, is why he walked into the biggest mistake of his life, speaking on the radio from Nazi Germany while a prisoner of war. He meant only to respond to the numerous letters he had received from friends and fans who were concerned about his welfare. He was not able to write back, so thought there would be nothing wrong in broadcasting a few messages. He had no idea that such an action could have had propaganda value for the Nazis and, had he known, nothing could have persuaded him to do it.
If you've read, say, ten books by P. G. Wodehouse in your life, you'll probably want to read this.
---