2012 March 19 • Monday
The 209th Soundtrack of the Week is a Carlo Savina double feature: Malenka, la nipote del vampiro and I diabolici convegni.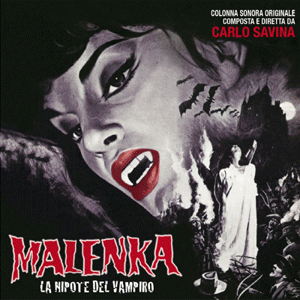 Imagine if Henry Mancini had got an assignment to score Dark Shadows with a small combo of organ, guitar, percussion and a handful of other instruments and had to use a melody similar to his "Slow, Hot Wind" as the main theme. That's what the Malenka, la nipote del vampiro score is like.
The tracks all called "Malenka, la nipote del vampiro seq. 1" and "seq. 2" and so on. The first is the vocal version of the theme, with lyrics like "In my dreams / Someone speaks / Can't resist / The sound / Which draws me / Deep down into the night".
This tune is exploited for surprisingly few cues. Most of the other music is eerie, atmospheric music that makes great use of pipe organ and percussion. Many of them open with a dramatic sting and then create a mood of dread and suspense.
Sometimes there's an unexpected groove or some other flavor you wouldn't have anticipated.
Listening to the CD has made me very eager to see the movie!
I diabolici convegni begins with "I diabolici convegni seq. 1", a moody and romantic theme played by violin with lots of reverb on it. Then there's apowerful organ feature.
This is followed by an unexpectedly groovy and laid-back "shake" called "My Wonderful Day". Organ again plays a prominent role. Just under a minute in, it speeds up and a vocalist comes in with lyrics along the lines of you're in my heart and mind and something about flowers that grow and the moon and the sky seems a lot to ask when I've spent this wonderful day with you. It slows down again at the end.
After that comes "seq. 2", nearly seven minutes of solo organ! "Seq. 3" is a short arrangement of "My Wonderful Day" with lounge jazz organ solos.
"Seq. 4" brings back the reverb violin and organ from the first sequence and mixes them with a spookier atmosphere.
"Seq. 5" is a sultry lounge piece that builds on the "My Wonderful Day" theme. "Seq. 6" is very quiet and very cloudy, building to a gentle resolution at the end.
Finally, "seq. 7" sounds at first like something you'd hear in The Prisoner, then reprises "seq. 3", then shifts into a bongo/organ break, then a piano spotlight, followed by solo church organ, which is then joined by percussion for the conclusion.
Fantastic music, one of my favorite Carlo Savina CDs!
---