The 128th Soundtrack of the Week is Jerry Fielding's music for The Big Sleep.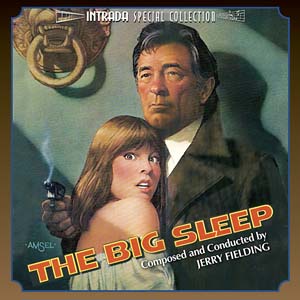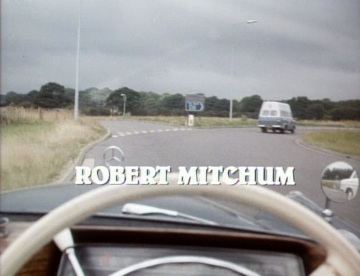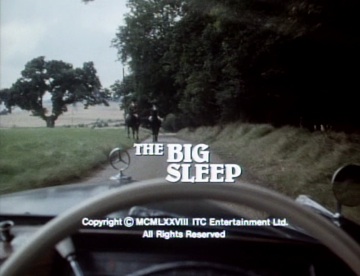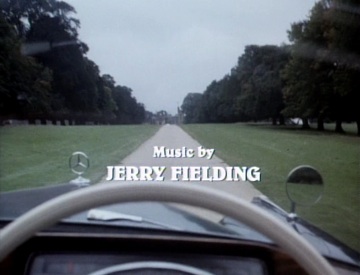 This was Mitchum's second outing as Philip Marlowe, the first being Farewell, My Lovely, whose David Shire score was our 28th Soundtrack of the Week.
While Farewell, My Lovely took place in the '40s, The Big Sleep moved the action to present-day London. Jerry Fielding's main title has a '70s jazz groove and a mixture of electric and acoustic instruments, at times sounding like cues from The Bionic Woman (for which Fielding also wrote music, including its great theme).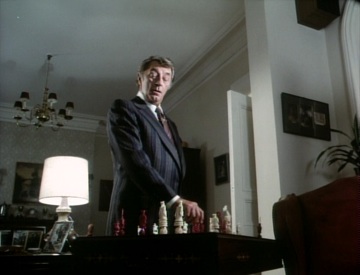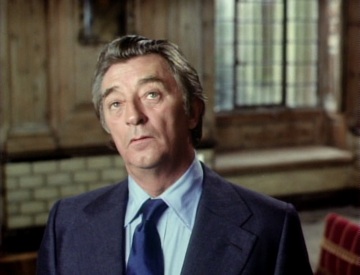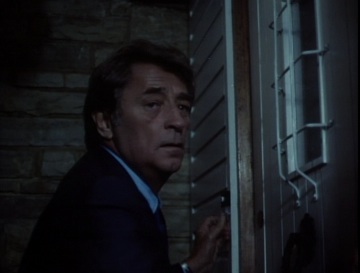 There's an appropriately elegiac and melancholy tone to much of the music. Apparently Fielding, like Marlowe, was feeling tired and despondent, having just had a heart attack. Bits and pieces that reminded me of Fielding's Bionic Woman music appear here and there and the liner notes to the Film Score Monthly CD mention references to other Fielding scores such as Straw Dogs, The Killer Elite, The Nightcomers and The Enforcer.
"Brody Takes a Bullet/Where Is It?/Tailing Marlowe" begins with a dramatic atmosphere, moves to a very fast piano bit that's like a hopped-up mutation of Bernard Herrmann's The Day the Earth Stood Still piano lines, then moves into a classic '70s funk electric bass guitar line complete with triangle and a doubled electric guitar line.
"Late Night" is a susprisingly tender cue and the crazed piano and funky bass line return in the beginning of "The Man with the Gray Car/Here's to the Truth, Harry". The second half has the score's other personality, eerie intervals followed by divebombing strings and crashing piano.
"The Truth" begins with a melancholy piano section and ends with angular, tense string lines. The "End Title" reprises the main title music. I haven't seen this movie in almost thirty years and I have no memory of it at all. It's not supposed to be that good but the music is great.
---
A short, flyweight Irishman came up to Mitchum and poked him in the ribs with a pencil.
"Hey, movie star," he said, "give me your autograph. It's for me wife."
Mitchum said, "Look at the leprechaun," and told him to wait until he had finished his drink. "But, he didn't want to wait and told me so."
Mitchum took the man's paper and pencil and wrote, "FUCK YOU," signed it "KIRK DOUGLAS" and handed it back.
—Lee Server, Robert Mitchum: "Baby, I Don't Care"
---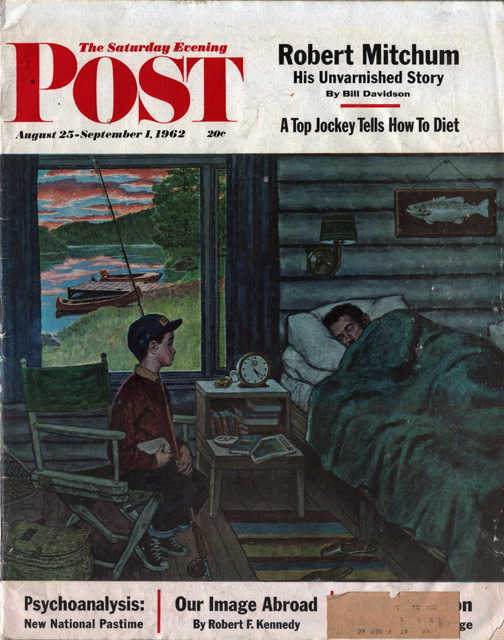 48 years ago, Mitchum made the cover of The Saturday Evening Post. The article inside, by Bill Davidson, promises "An exclusive account of the turbulent career of Hollywood's rugged nonconformist". It covers the basic biographical information. Mitchum's mother was from Norway, his father worked for the railroad and was crushed to death between two cars about two years after Mitchum was born. School didn't work out so Mitchum took to being a hobo, was arrested for vagrancy in Georgia, escaped from a chain gang and worked various jobs: coal miner, dishwasher, ditch digger.
He drifted into acting and The Story of G.I. Joe made him a star and got him his only nomination for an Academy Award. He was famously busted for marijuana use and possession and the Post article devotes many of its column inches to this episode.
Mitchum's general outrageousness takes up a lot of the remaining space. Bill Davidson writes that "He told me he subscribes to the policy of the late Humphrey Bogart, who said, 'I don't care what it is. Just be against it.' In this vein Mitchum recently replied to a woman who asked him to contribute to the S.P.C.A., 'Don't you think all dogs should be shot?'"
And then there are the contradictions. Mitchum is sensitive and shy; he writes poetry. A large number of his co-workers, thespians and directors, praise his generosity and professionalism.
This is what makes Mitchum fascinating, the paradoxes and contradictions. Pauline Kael once said that he had a gut that was an honorary chest—and Mitchum is all stomach and heart, all at the same time.
There are some good photos in the Saturday Evening Post article.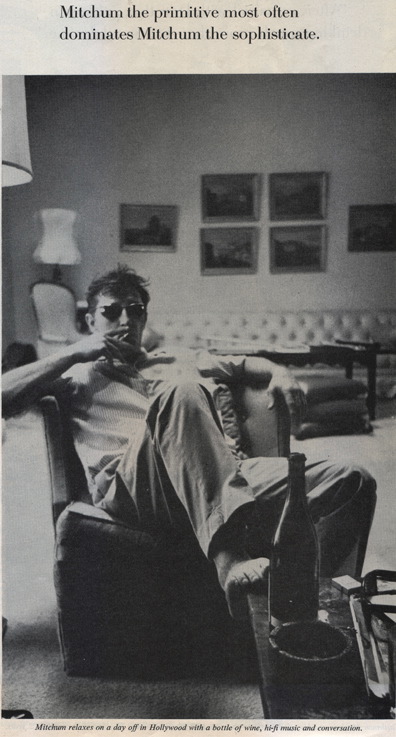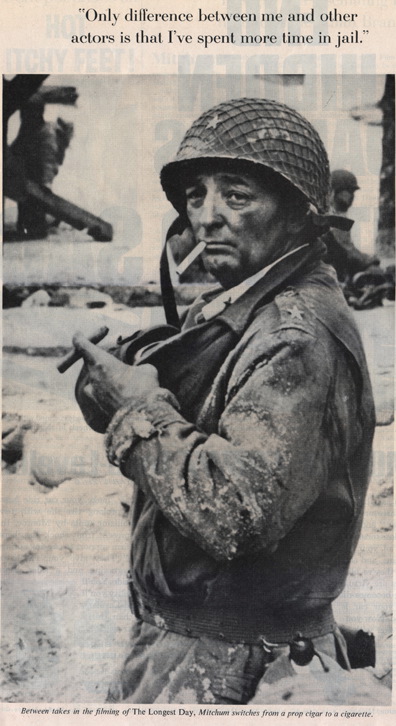 Tomorrow's my birthday, so here's a random Mitchum thing, an autographed owl card with an August 26 date on it.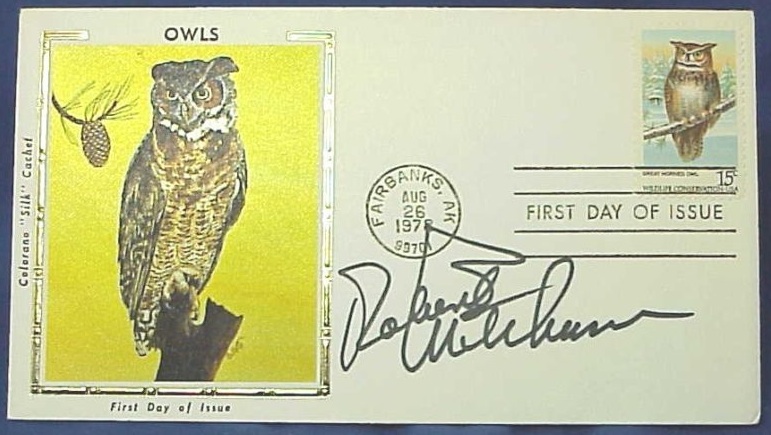 ---
The 127th Soundtrack of the Week is Bronislau Kaper's Home from the Hill.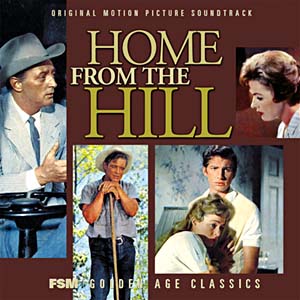 Robert Mitchum plays an incredibly macho Texas patriarch who has forced himself on practically every woman in town while his wife, disgusted by his animal nature, won't let him touch her. He has two sons, a sissy who's been raised by his wife, and an illegitmate woodsman who lives in a shack in the woods.
With its concentration on masculinity, sex, violence and rape, and with a crucial scene of the mama's boy being taken on a bogus "snipe hunt", Home from the Hill might have informed Sam Peckinpah's Straw Dogs.
A lot of the movie is hard to take today but it's not bad, mostly because of Vincente Minnelli's typically assured direction, Milton Krasner's excellent camerawork, Bronislau Kaper's rich score and, of course, Mitchum's performance, the center of the movie's gravity.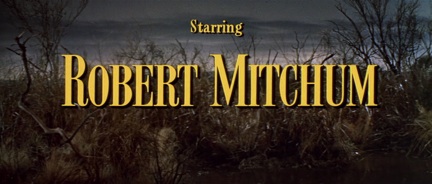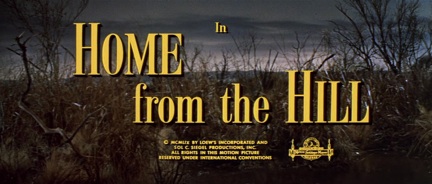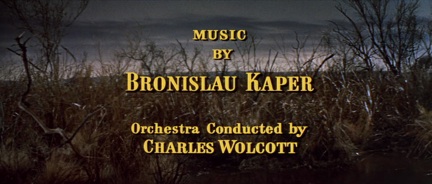 One of the indications of Mitchum's greatness is the inability to imagine another actor playing a Mitchum role as successfully. Any other actor in Home from the Hill would seem absurd. But when Mitchum sits in his den—"a man's room", as he calls it—and lectures his son on manliness, he pulls it off as nobody else could have done.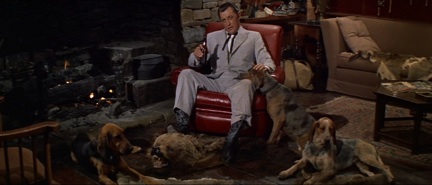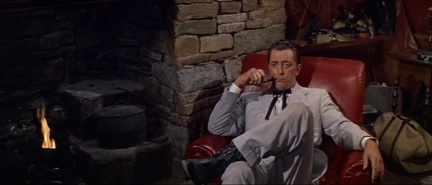 George Peppard plays the illegitimate son.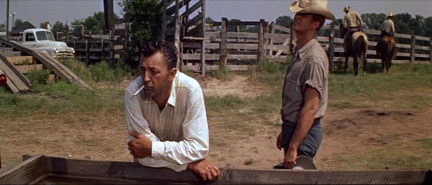 Peppard had come out to Hollywood after a background in the New York theatre scene and Lee Strasberg's famous Actor's Studio. As author Lee Server recounts in his Mitchum biography, Baby, I Don't Care, Peppard asked Mitchum if he had "'studied the Stanislavsky method'".
"'No,' said Mitchum, 'but I've studied the Smirnoff method.'"
The music creates sumptuous American heartland atmospheres as well as stirring dramatic and emotional moods. As the liner notes for this Film Score Monthly release note (quoting Tony Thomas's book Music for the Movies), Peppard once gave Kaper credit for praise his acting received, saying that all he did in a celebrated scene was "walk and stare straight ahead. All the acting was done by Kape".
Its a beautiful score, with action, mystery, drama, tension, lyricism and even a couple of pop versions of the Main Title, source music for a scene with a juke box.
---
Here's something for our French readers, the first interview with "Bob Mitchum" since his marijuana arrest ("arrestation pour usage de stupefiants").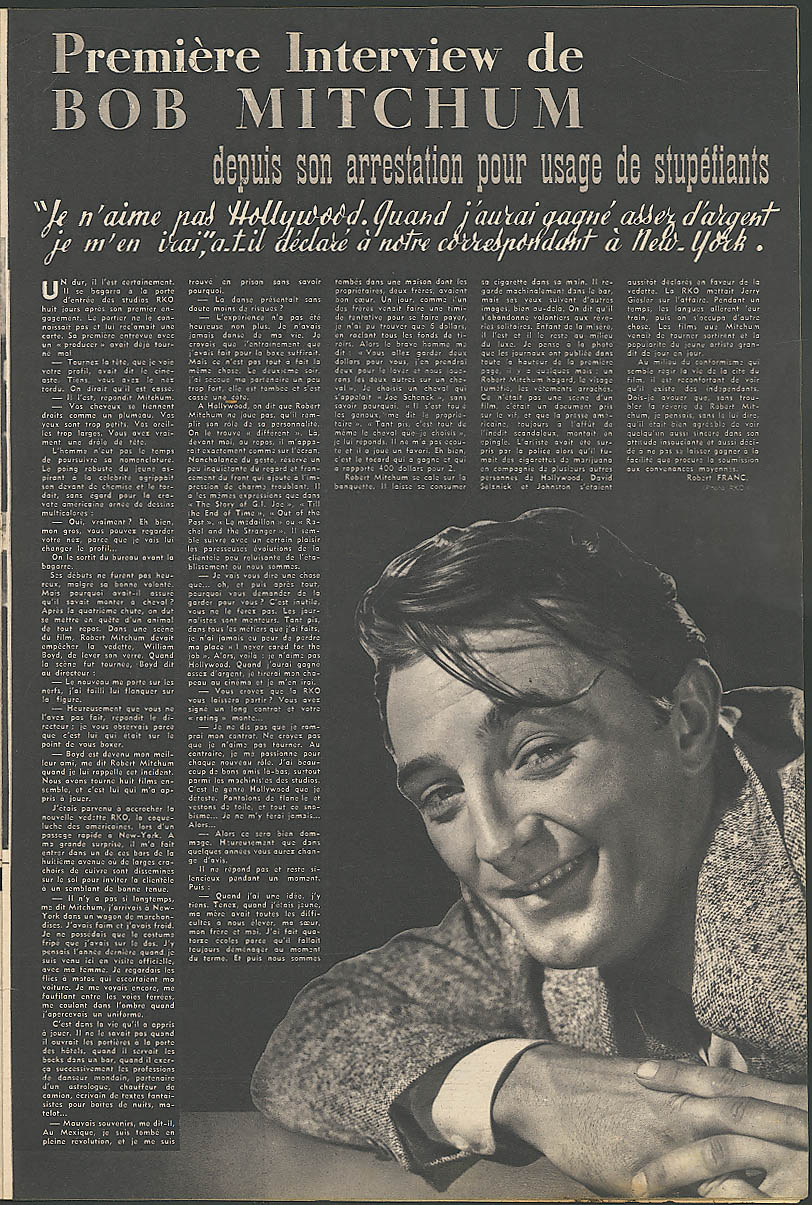 ---
Here are some miscellaneous Mitchum items.
The cover of Man's Magazine, December, 1964, with "Hollywood Bum: Brawling Life of Chain-Gang Grad Robert Mitchum".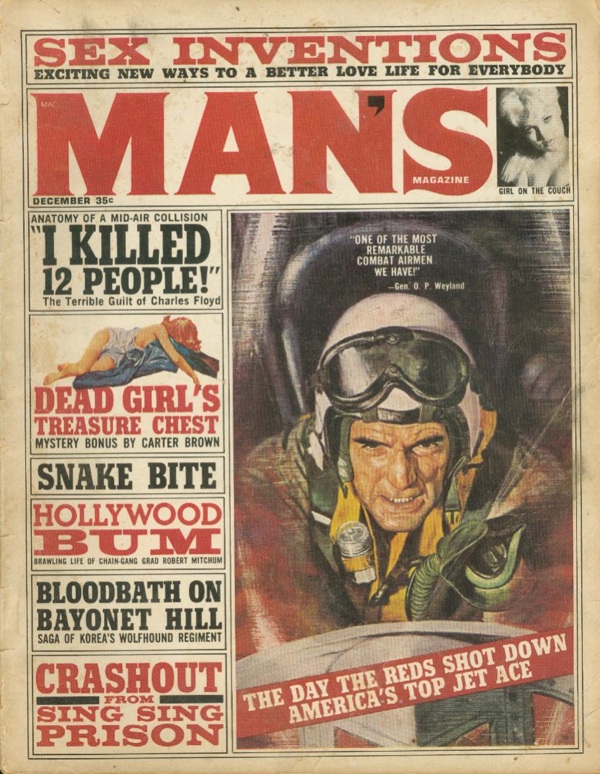 A "swatch of material … cut from an authentic item personally worn by Robert Mitchum".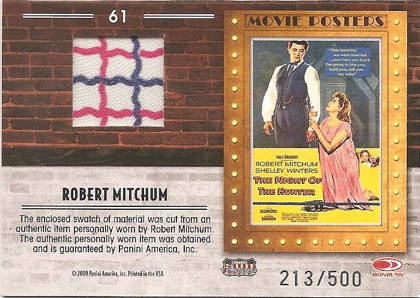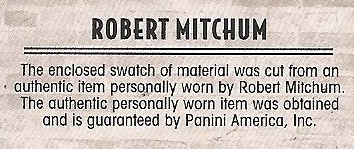 A Robert Mitchum pin.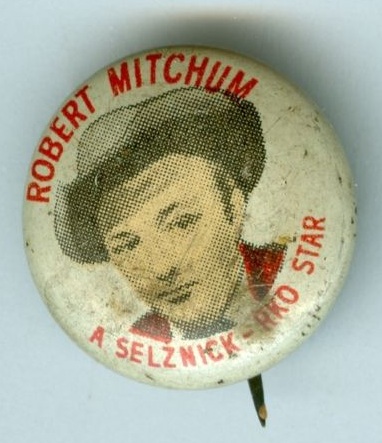 A cigar band.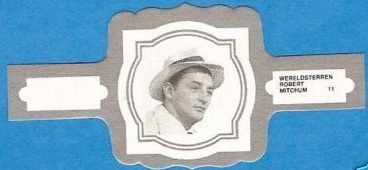 Stamps.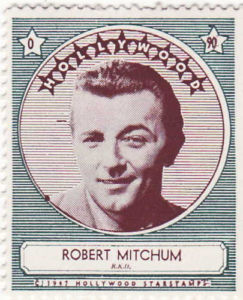 ---
The 126th Soundtrack of the Week is Lalo Schifrin's music for The Wrath of God.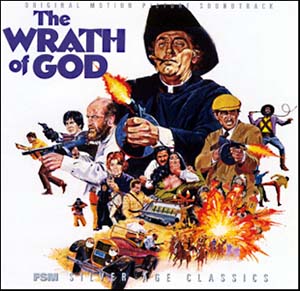 Mitchum is a priest with a machine gun. What else do you need to know?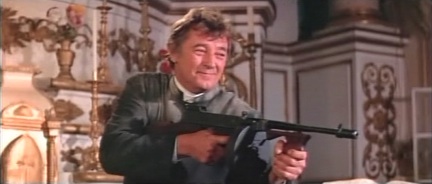 This is another American western that draws inspiration from spaghetti westerns, so the machine gun is probably borrowed from Django. (You can see the Django machine gun scene in The Harder They Come.)
The Wrath of God also has a Mission: Impossible sort of story as Mitchum becomes the leader of a team that must infiltrate a fortress and destroy the local dictator. Who better to score it than Lalo Schifrin, composer of the Mission: Impossible theme (and much of the other music)?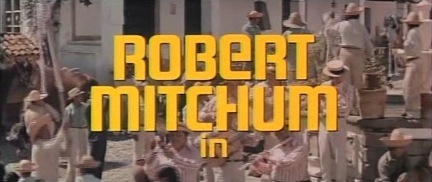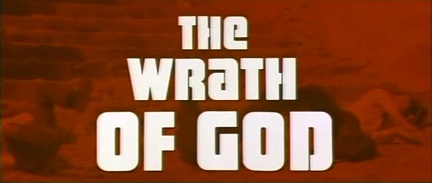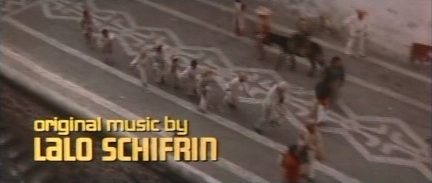 Quite a bit of the music reminds me of Schifrin's Mission: Impossible scoring.
The first several tracks on the CD are swinging Latin American-derived pieces. The music takes a turn with "El Viaje/Cordona", which begins with a haunting 6/8 melody and segues into driving action/suspense music. "Capturados/Presidio" continues the tension.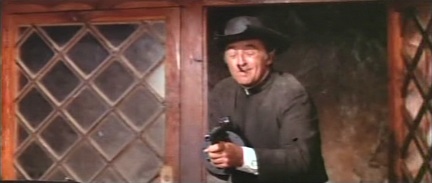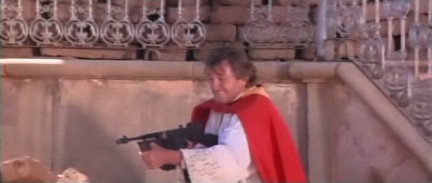 The music continues in this vein with several rewarding digressions. There's a Herrmannesque harp part in "I Wish I Had a Lot of Things", great guitar work throughout (including a great solo guitar piece performed by Tommy Tedesco), and interesting use of the cimbalom, one of my favorite instruments.
This is one of Schifrin's best scores, one that I enjoy hearing again and again.
---
You can see Robert Mitchum on What's My Line? here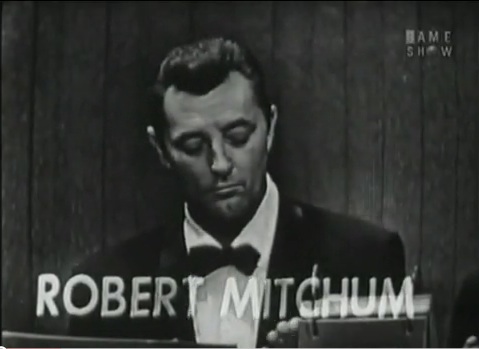 and here.
---
Here's Robert Mitchum on the cover of Screen Songs magazine.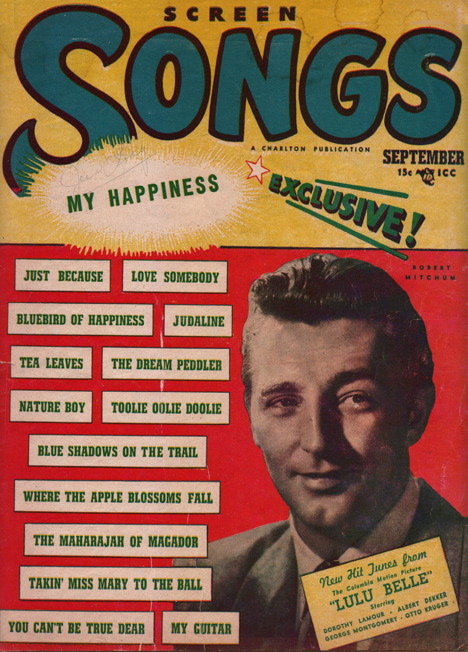 But why? He isn't mentioned anywhere inside and none of these songs is from any of his movies.
Probably the reason is because this is from 1948, the year that Rachel and the Stranger came out. Mitchum sings several songs in that movie and RKO thought they might get some action going with Mitchum the singer.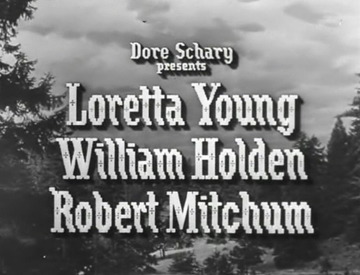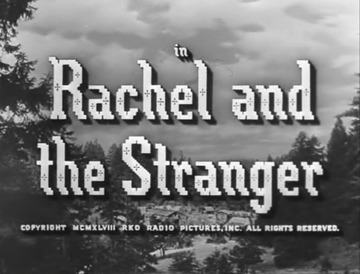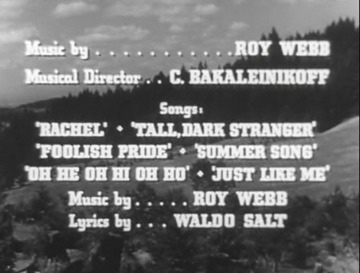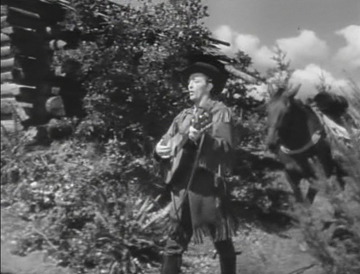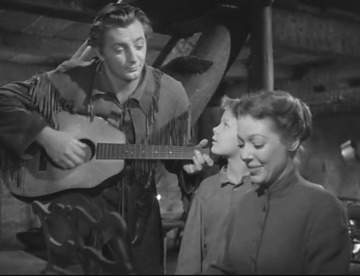 The studio must have been pleased by his singing since Mitchum re-recorded the Rachel and the Stranger songs for a release on 78.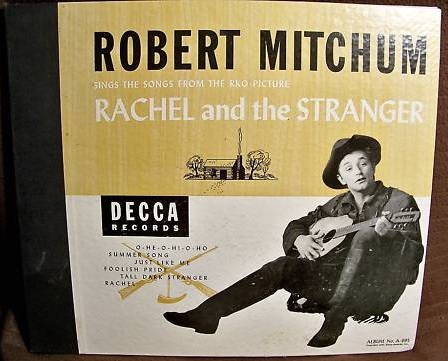 You can hear those six songs on Bear Family's Tall Dark Stranger CD. ("Tall Dark Stranger" was the original title for Rachel and the Stranger, as well as the name of one of the songs.)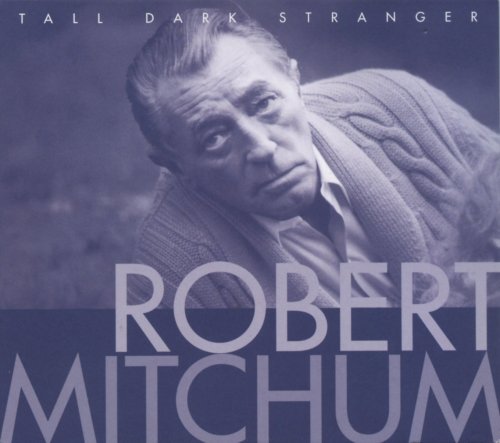 I get the chorus from "O He, O Hi, O Ho" stuck in my head. "Tall Dark Stranger" has a good chorus too.
Also on the CD are seven demos of Mitchum singing mostly standards with a jazz piano trio. They do "I'm Confessin'", "I Get a Kick Out of You", "What Is This Thing Called Love", "Dream a Little Dream With Me", "Roving Gambler" and "Blue Skies".
The last two songs on the CD are the theme from Young Billy Young, opening and closing credits versions.
Mitchum sang "Little Ole Wine Drinker Me" on Michael Parkinson's show in 1972.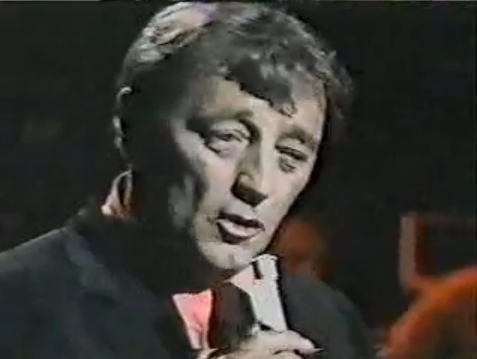 ---
The 125th Soundtrack of the Week is Young Billy Young, music composed and conducted by Shelly Manne.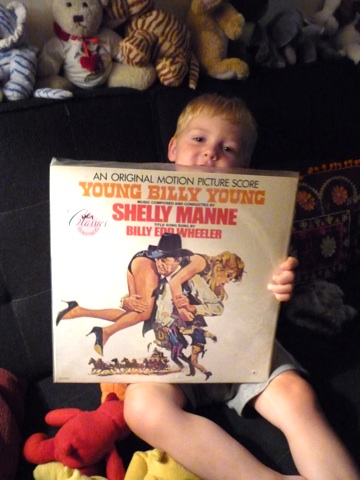 "Young Billy Young (Main Title)" begins with an infectiously groovy intro for guitar, harmonica, bass and drums. Then it switches gears very quickly into a different kind of groove, much more laid back but still intense. Billy Edd Wheeler sings the title song, which has lyrics by Ernie Sheldon.
"Mexican Soldiers" starts off sounding like some of Lalo Schifrin's Mission: Impossible music. The main title theme comes in over very impressive snare drum work, presumably courtesy of the composer. There's some great Hammond B3 playing also.
The third cue, "Kane's Vision", is mostly dreamy, atmospheric percussion ensemble with a bit of guitar, piano and bass. It's a collection of quiet sounds, sparsely assembled. I heard chimes, cymbals, the inside of the piano, perhaps castanets and waterphone.
After that comes "Stagecoach Stomp", a feature for the bass player. I wonder if it was Monty Budwig. Again an interesting assortment of percussion instruments, this time augmented by jaw harp, creates an interesting musical space. The bass takes care of the rhythmic pulse while the drums play mostly melodically, often in unison with a glockenspiel or something. There's a banjo break also.
"Lily and Kane (Love Theme)" features the guitarist again, and is a sensitive ballad, as you'd expect, with Spanish or Mexican guitar influences.
"The Train (Pup Tent)" is the first cut on Side Two. It starts out as pure suspense with droning bass, shaker and guitar. The snare drum, jaw harp and harmonica come in with the main title theme and the guitarist takes a great solo. Again, Manne's drumming is exceptional, as is the way he comes up with several shifting rhythic ideas for a relatively short cue.
"Jail Surrounded" begins as a sort of off-kilter jazz piece with incredible bass playing. It goes through a number of changes. There's electric guitar with very intense tremolo. At almost four minutes, it's the second longest piece on the record (after the main title) and a brilliant composition.
"Quicksand" has some long lines for horns punctuated by timpani. The timpani and the bass end up collaborating while other instruments build tension. Eventually the band relaxes into a variation on the main title theme, with banjo playing a prominent part. Then they quicken the pace for a sort of hoedown version with a beaten-up old piano getting its keys pounded again.
The bass introduces "Boone Done In" and is soon joined by the electric guitar again, again with the tremolo. The mood alternates between tension and playful riffs on the main theme. The Hammond organ reappears also.
The last track is "Young Billy Young (Reprise)", just the vocal part without the intro.
This is a really great record and not, as far as I know, available on CD. There's no information about the musicians, though I suppose it must be Shelly Manne on drums. I'd be surprised to learn it's not Monty Budwig on bass.
While I've had this record for about fifteen years, I saw the movie for the first time a couple of months ago.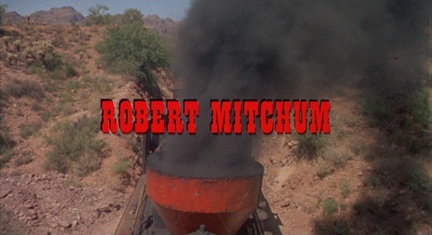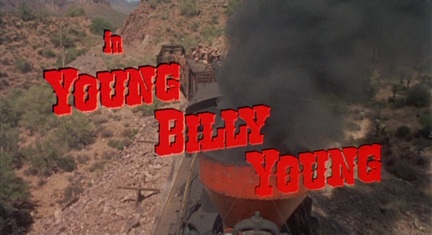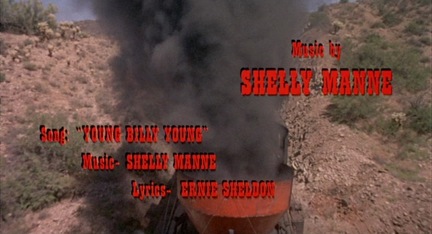 It's basically a post-Leone upgrade of an earlier Mitchum movie, Man with the Gun. Once again Mitchum is a town tamer with a tortured past and an attraction to a local woman of ill repute. Like many a spaghetti western, and like the considerably more compelling Mitchum western Pursued (a masterpiece whose Max Steiner score was the tenth Soundtrack of the Week), Young Billy Young features flashbacks of its hero's traumatic past.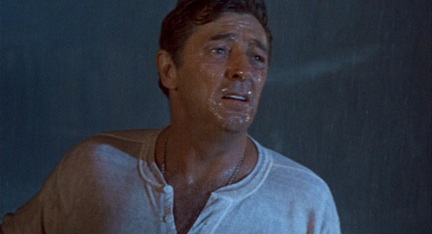 It's a decent movie but nothing special. Man with the Gun was better.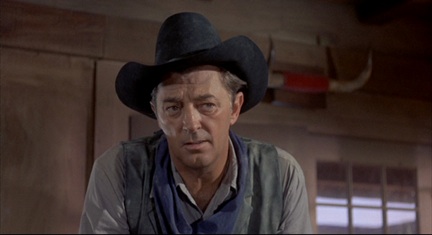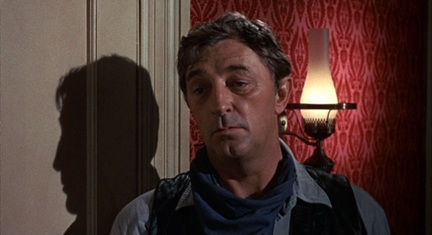 Shelly Manne's score is excellent, though, and sounds like it was influenced by Morricone's spaghetti western music, just as Young Billy Young was probably influenced by Once Upon a Time in the West.
I think the record might be a re-recording of the music for the album release. Robert Mitchum sings the theme song in the movie but not on the record.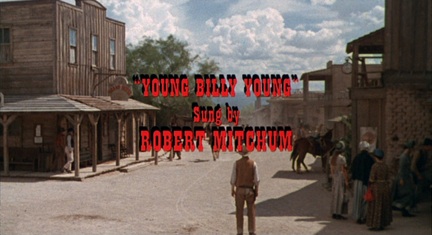 Mitchum's recordings of the theme (one for the opening credits and a reprise for the end credits) can be found on the Bear Family CD Tall Dark Stranger.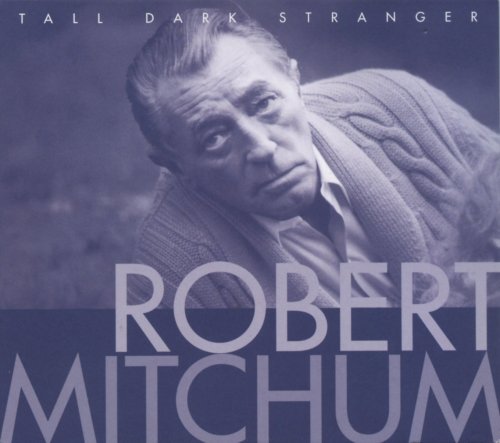 ---
Happy birthday, Robert Mitchum!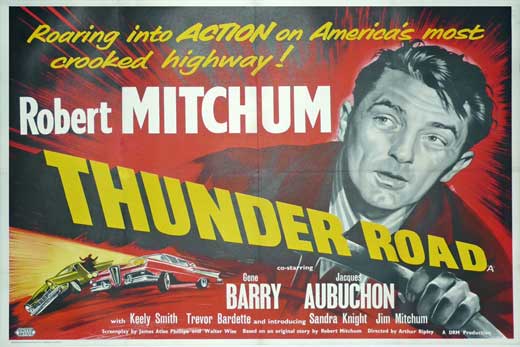 One South Carolina operator split his films between X-rated soft porn and religious-type material sich as The Robe, The Sign of the Cross and The Ten Commandments. Anything with Elvis Presley was also a guaranteed big draw. Owner Terry Holman said:
The Pentecostals will line up for Pat Boone's "The Cross and the Switchblade" and anything with an Art Linkletter voice-over. But then there's a lot of folks down here who would just as soon see what Linda Lovelace is doing, too. You want to know the best drive-in movie ever made? Thunder Road. Don't ask me why. Maybe it's the chases, maybe it's Robert Mitchum. But it's a doorbuster. I could bring it in tomorrow and I'd be packed.
—Kerry Segrave, Drive-In Theaters: A History from Their Inception in 1933, 1992
---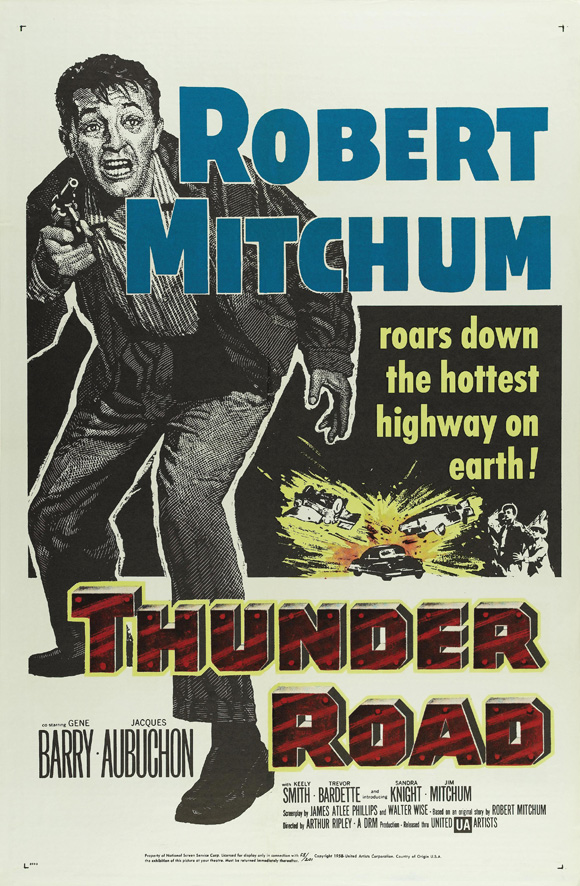 Thunder Road was Robert Mitchum's movie. He starred in it, came up with the story, co-wrote the theme song and co-produced it. He denied being in any great movies but said only about Thunder Road that it was his fault it wasn't great—he wasn't responsible for the failings of any other pictures.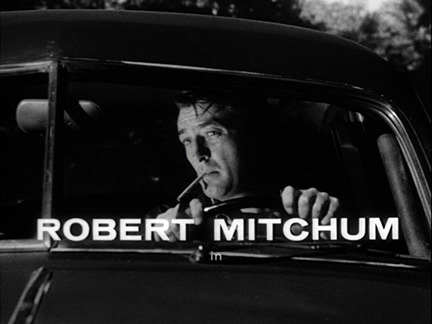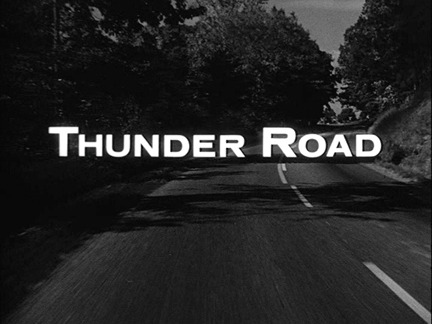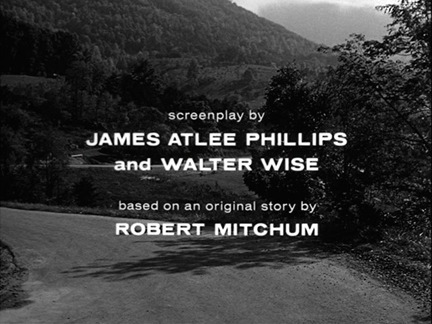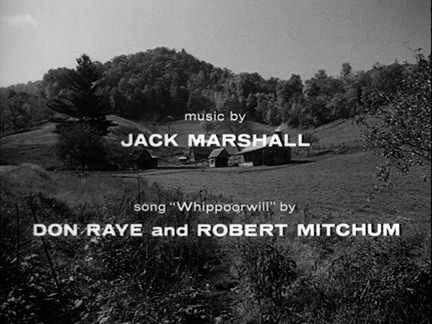 Mitchum plays a moonshine transporter pursued by Treasury agents and menaced by gangsters. He's also a war veteran who isn't afraid to take insane, death-defying risks with his car.
One of his cars has an oil slick device, six years before James Bond's in Goldfinger. (The movie came out in 1964, the novel in 1959. I can't remember if the oil slick is in the book, but Thunder Road still would have come first.)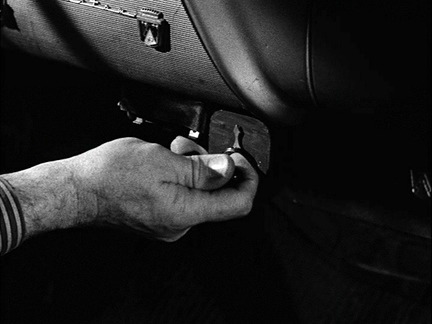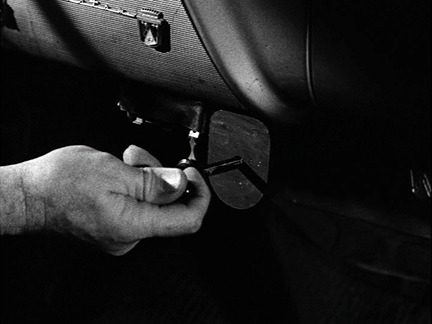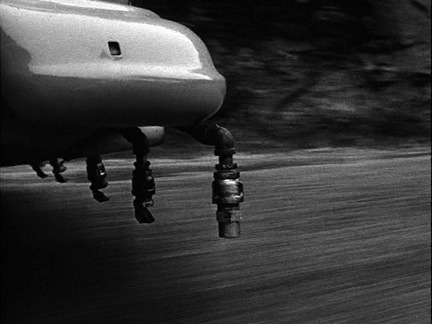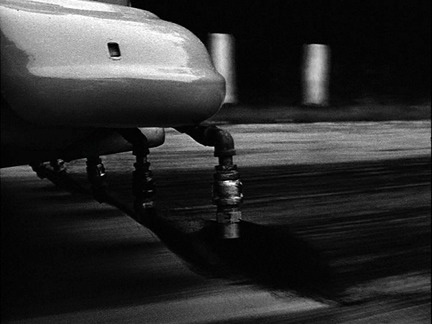 When the syndicate boss threatens Mitchum and asks him, "How rough do you want it?", this is Mitchum's reply.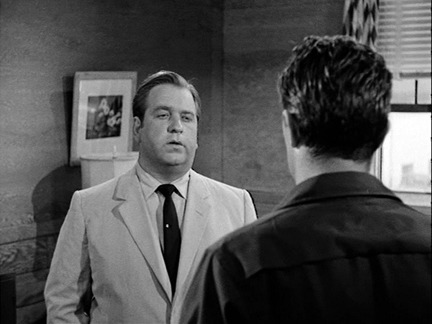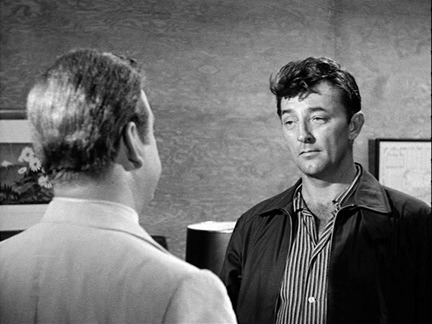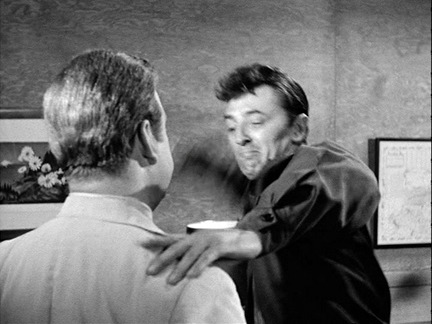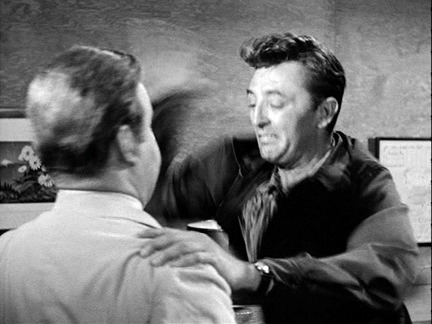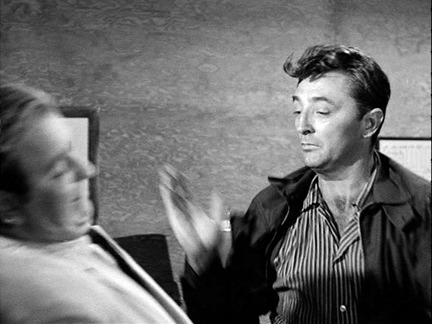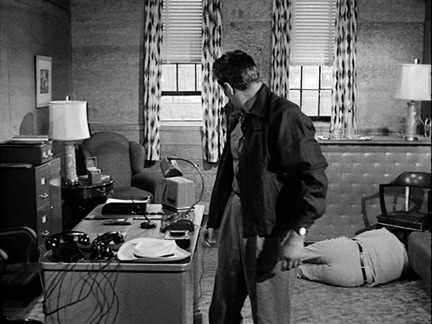 Mitchum's best move, though (and perhaps James Bond isn't quite rough enough for this one), is in this scene, where he's racing neck and neck with a gangster who's trying to run him off the road. Mitchum wins by flicking his cigarette into the guy's face.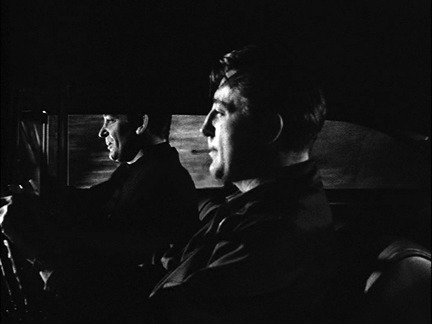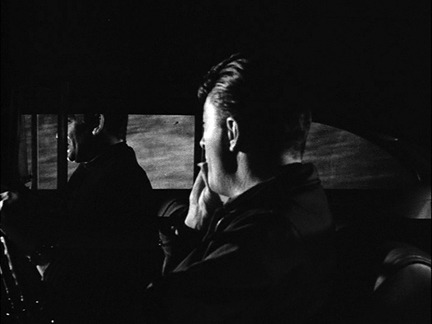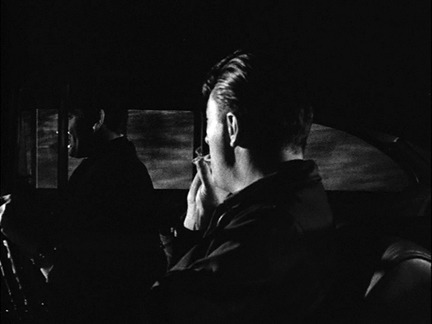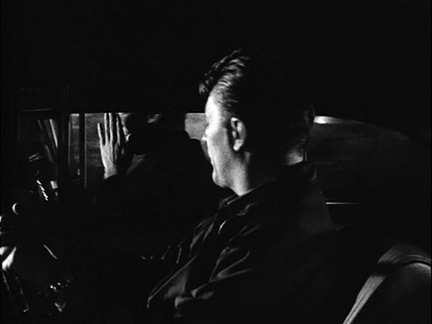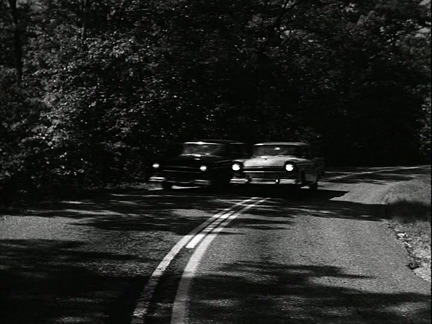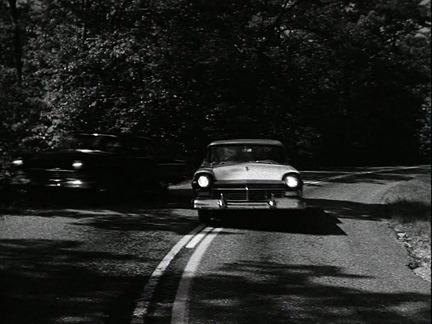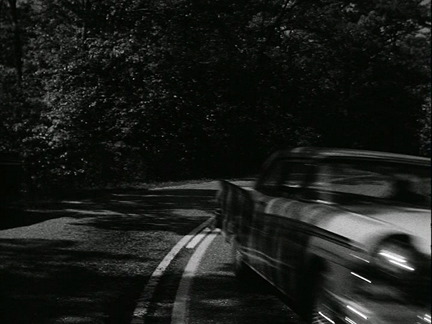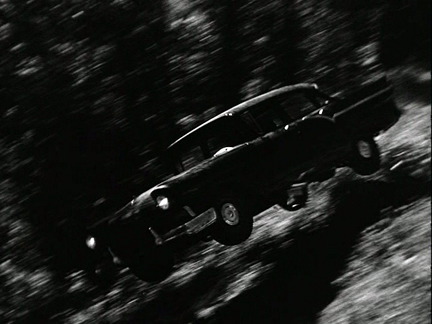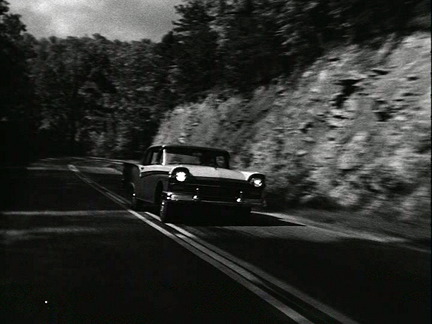 Mitchum's "Ballad of Thunder Road" was performed by Randy Sparks in the movie, but a single version, with Mitchum singing it, spent 21 weeks on the Billboard Hot 100 chart. Another recording of it, with reverby electric guitar, came out in the late '60s. You can hear both versions on Bear Family's That Man CD.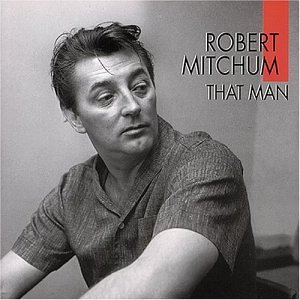 Also included in the CD is the material from Mitchum's 1956 album of Calypso songs.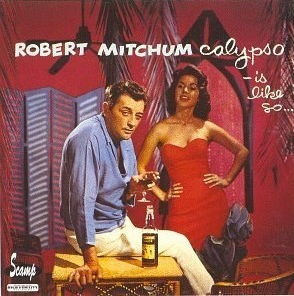 Thunder Road was popular enough to make it onto this hot rod album.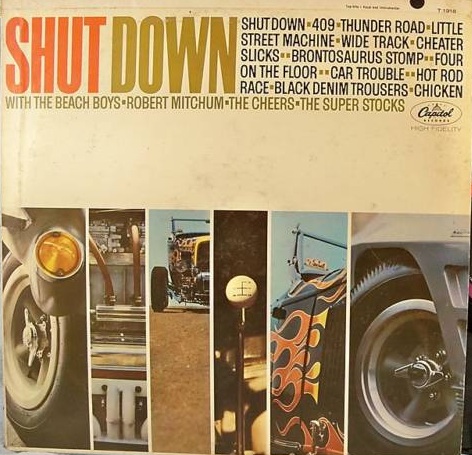 It might be why he made the cover of Dig magazine (for teenagers only!). Son Jim Mitchum played Robert Mitchum's younger brother in Thunder Road.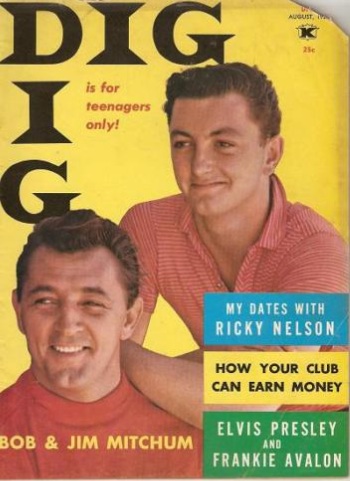 And Mitchum was cool enough and musical enough to be on the front cover of this Chico Arnez record.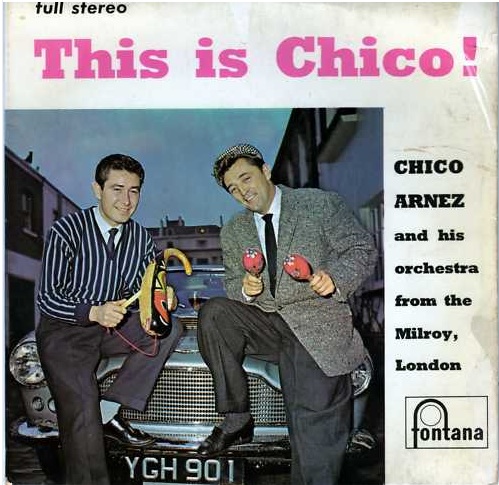 He's not on the record or anything. The text on the back cover explains that Robert Mitchum is just one of many stars who like to hang out at the Milroy and hear Chico play.
---
This month we celebrate Robert Mitchum (August 6, 1917 – July 1, 1997)!
We'll begin with Bernard Herrmann's score for Cape Fear, the 124th Soundtrack of the Week.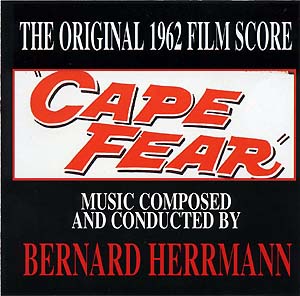 This is one of Robert Mitchum's best movies and one of Bernard Herrmann's greatest scores.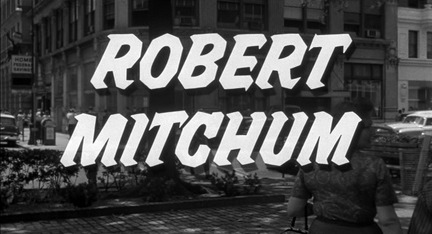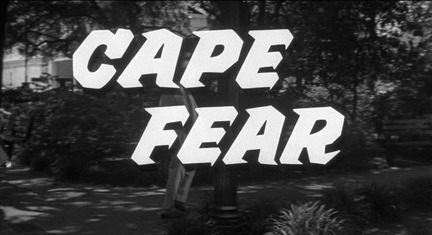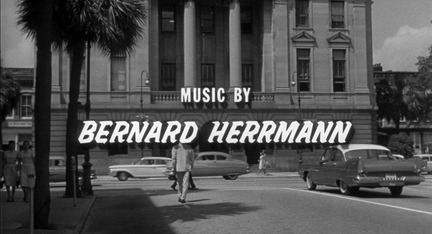 It begins with trombones playing two four-note descending lines. In an interesting coincidence, a very similar four-note descending line can be heard in the other Robert Mitchum movie that Herrmann scored, White Witch Doctor. While it's part of a love theme there, here it's pure menace, as remorseless and unyielding as brass.
The rest of the music is pure Herrmann. There's a breathy and light-hearted bit for flute that's similar to a cue from North by Northwest. There's another bit that's uncannily like John Williams's famous theme for Jaws.
The moods of tension and suspense alternate with dreamy and watery atmospheres and some of Herrmann's most stirring action writing.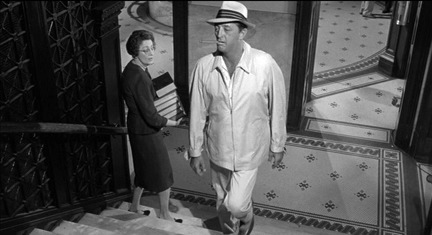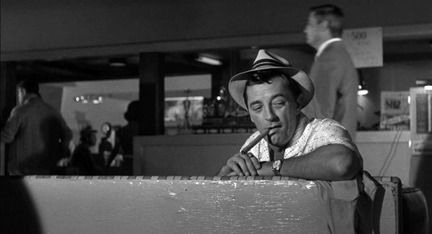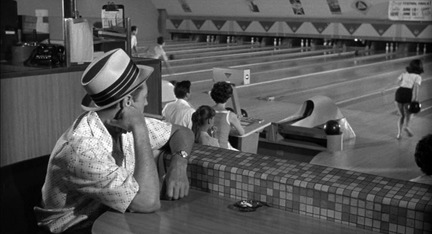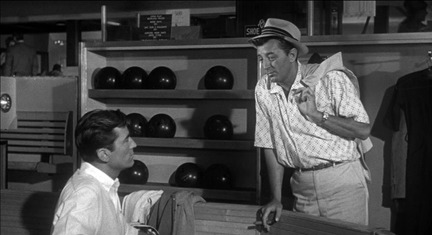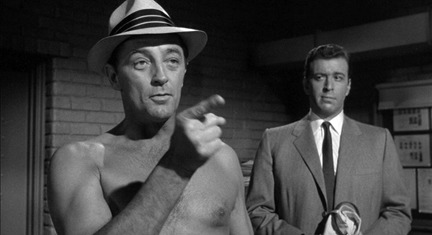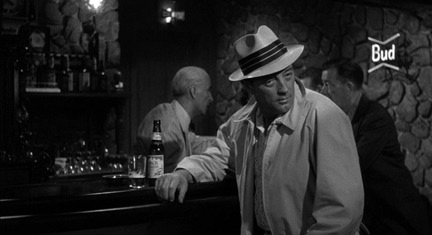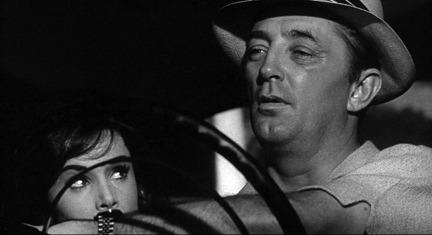 Strangely, there doesn't seem to be an official release of this music. The CD I have is from Germany and is, I think, a bootleg.
But when Martin Scorsese remade Cape Fear in 1991, Elmer Bernstein was brought in to arrange and adapt Herrmann's original score for the new movie. This CD, a beautiful stereo recording, is official and easily found.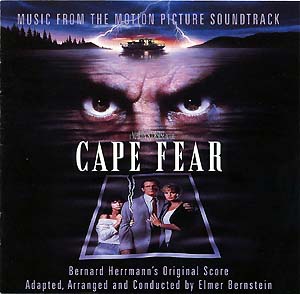 Nobody could have done a better job than Bernstein, a colleague and admirer of Herrmann who had already conducted re-recordings of some Herrmann scores. I read somewhere that Bernstein also used some of Herrmann's rejected Torn Curtain score in the Cape Fear remake.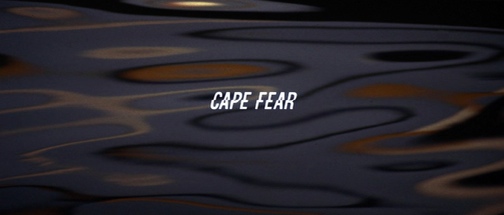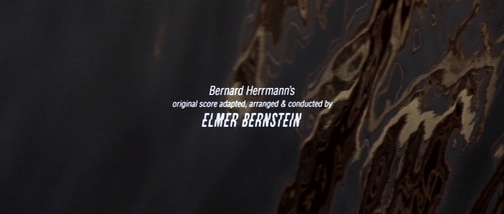 Robert Mitchum was also brought back for a cameo (as was his original co-star Gregory Peck).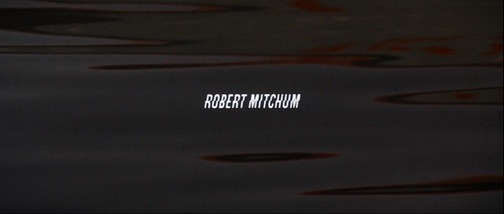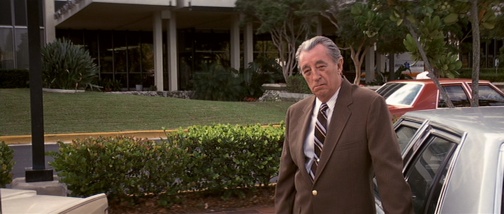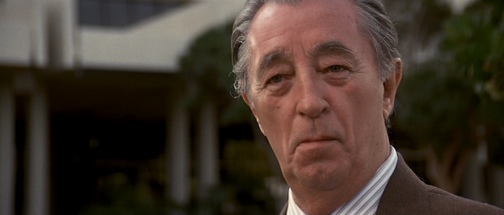 The opening credits were designed by Saul Bass, who also did the opening credits for Vertigo, Psycho and North by Northwest.
The remake is nowhere near as good as the original. It works better as a comedy than as a thriller, which I don't believe was Scorsese's intention.
The way the music is used demonstrates one way the movies are different. Herrmann's original score comes blasting out with its main theme. Bernstein's arrangement builds up to it. While Bernstein's arrangements are beautiful and make for great listening, this emphasis on build-up is what ruins the remake. The original Cape Fear just got down to business while the remake spends a lot of time goofing off.
Herrmann's Cape Fear music was also used in the "Cape Feare" episode of The Simpsons, since which it's become the theme music for the Sideshow Bob character .
---