2010 August 09 • Monday
The 125th Soundtrack of the Week is Young Billy Young, music composed and conducted by Shelly Manne.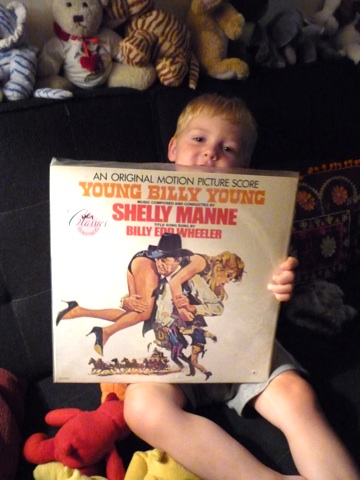 "Young Billy Young (Main Title)" begins with an infectiously groovy intro for guitar, harmonica, bass and drums. Then it switches gears very quickly into a different kind of groove, much more laid back but still intense. Billy Edd Wheeler sings the title song, which has lyrics by Ernie Sheldon.
"Mexican Soldiers" starts off sounding like some of Lalo Schifrin's Mission: Impossible music. The main title theme comes in over very impressive snare drum work, presumably courtesy of the composer. There's some great Hammond B3 playing also.
The third cue, "Kane's Vision", is mostly dreamy, atmospheric percussion ensemble with a bit of guitar, piano and bass. It's a collection of quiet sounds, sparsely assembled. I heard chimes, cymbals, the inside of the piano, perhaps castanets and waterphone.
After that comes "Stagecoach Stomp", a feature for the bass player. I wonder if it was Monty Budwig. Again an interesting assortment of percussion instruments, this time augmented by jaw harp, creates an interesting musical space. The bass takes care of the rhythmic pulse while the drums play mostly melodically, often in unison with a glockenspiel or something. There's a banjo break also.
"Lily and Kane (Love Theme)" features the guitarist again, and is a sensitive ballad, as you'd expect, with Spanish or Mexican guitar influences.
"The Train (Pup Tent)" is the first cut on Side Two. It starts out as pure suspense with droning bass, shaker and guitar. The snare drum, jaw harp and harmonica come in with the main