---
Friday, 07 December 2007, 9:23 pm
Dexter Bierhorst Price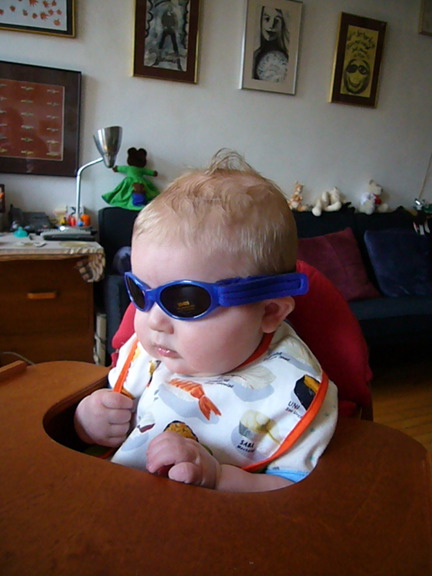 Now you can hear part two [not any more — removed for space reasons] of the "Rob Price" edition of Jim Reil's radio program, "Now's the Time". It features music from At Sunset and Get Lost as well as the Cawthray/Price/Zankowski recording (download available from iTunes and Amazon) and an unreleased track from the At Sunset sessions, a recording of Jim Hall's "The Crab" (special thanks to Patrick Carayannis for helping me with that tune).
---
I love reference books, particularly very specific ones. That's why I had to buy the Drive-In Theaters book as soon as I saw it. It took me about ten years to get around to reading it, though.
Here's one that's not meant to be read, merely consulted as required, a true reference book: Stuart Galbraith IV's The Toho Studios Story: A History and Complete Filmography. The website says "Not Yet Published" but I received my copy yesterday.
---
The ninth Soundtrack of the Week is this compilation, Jazz en el Cine Negro Español 1958–1964.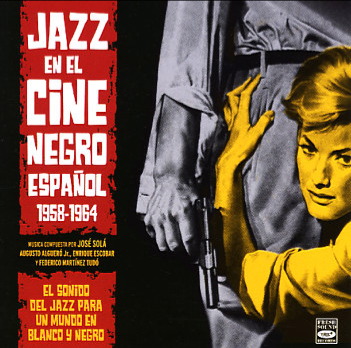 Most of the music is composed by José Sola. There are some sound effects and dialogue included, so perhaps isolated music tracks no longer exist. I really enjoy listening to it, though.
It reminds me a bit of some of Elmer Bernstein's work for Johnny Staccato (coming to CD soon!) and The Man with the Golden Arm, also Johnny Dankworth's cues for the Honor Blackman era of The Avengers, also some of John Barry's Bond and Beat Girl music. Sometimes it evokes the atmosphere of Nikkatsu "mood action" movies from the '60s.
---
Last night I finished reading Kerry Segrave's Drive-In Theaters: A History from Their Inception in 1933. After I finished it, I couldn't sleep and lay awake until about 4:00, filled with dread and anxiety for some reason. Perhaps it had something to do with this photo (reproduced in the book) of Charlton Heston as Moses on a drive-in screen in Utah.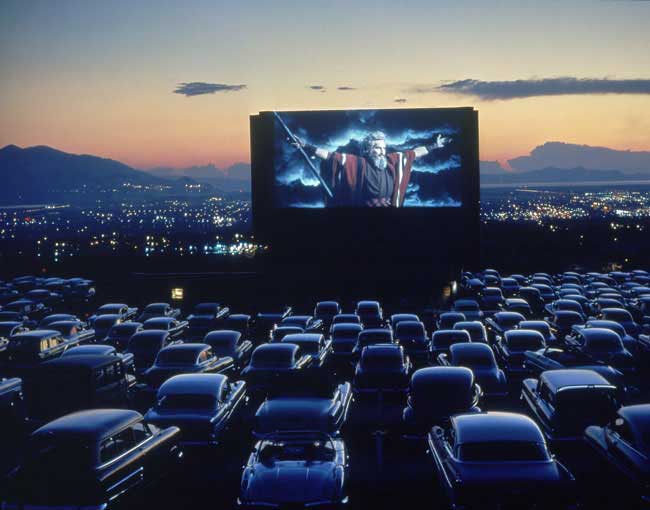 The whole time I was trying to fall asleep I had Ennio Morricone's music for The Battle of Algiers (a Pentagon favorite) stuck in my head. It's not soothing. At one point I managed to trick my brain into playing some sappy Morricone love theme instead. It worked for a few minutes but then we were back to the Algiers march. When I finally did fall asleep, I had nightmares about zombies.
Apparently there was a drive-in in the Bronx, from 1949 to 1983. During the golden age of the drive-in, many places offered free bottle-warming services for people who came with infants. At some drive-ins you could drop off your laundry on the way in and pick it up on the way out, after the movie. At some drive-ins, employees would do your grocery shopping for you while you enjoyed the show. Playgrounds and dance floors with live music were common.
The first of a very few European drive-ins was in Rome and opened on August 19, 1957. I would have liked to go to that one! It was called Drive-In Cine and offered espresso at the concession stand along with soda, popcorn, hot dogs and other typical American fare. It's capacity was 750 cars and 250 scooters.
---
The eighth Soundtrack of the Week is La Morte Ha Fatto l'Uovo (Death Laid an Egg). The movie is a giallo about murder at a poultry farm.
The movie is pretty weird (click here for a review) and the music is also very strange, a combination of some abrasive twentieth-century classical sounds with folk and Spanish guitar elements. It's bizarre and sometimes difficult listening.
---
Among the mp3s Lucio Menegon has posted on his Kingtone site is one of Lucio, David Grollman and me, improvising violently at Otto's Shrunken Head, a tiki bar in the East Village.
Check it out! This is the trio that will soon be playing a few shows out west, as detailed above [not any more].
---
Sometimes I wish I lived in San Francisco. Mr. Dorgon is there, of course, as are Borderlands and Kayo Books, the carne asada super burrito at Taqueria Cancun (the one on Mission and 18th), The Toronado, Amoeba Music, etc.
There's also the Castro Theatre, a genuine movie palace which will soon be showing a series of films scored by John Barry! Now that is cool!
Then in July the Castro is showing five "Animals Attacking Humans" movies in one day, including the awesome Phase IV, directed by Saul Bass, famous for film credit sequences (Vertigo, The Man with the Golden Arm) and for storyboarding the shower scene in Psycho.
---
The seventh Soundtrack of the Week is Onna no Keisatsu (Women's Police or Policewomen or something like that). The highlights are the songs performed by Mina Aoe.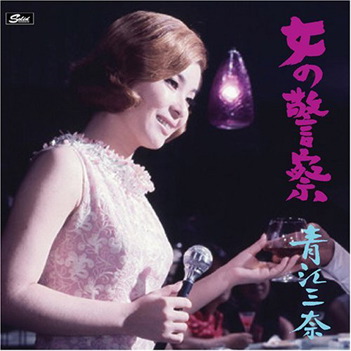 I love her voice! I believe the music was composed by Masahiko Sato.
---
I just found out that Jimmy Giuffre died (on April 24th).
Giuffre's "Two for Timbuctu (One Way)", which is on the Jimmy Giuffre In Person album, was my model for "Mouse Game". (During the At Sunset sessions we also recorded an interpretation of Jim Hall's "The Crab", from the same album. This is so far unreleased though Jim Reil may play it on his May 15th radio show.)
All of Giuffre's small-ensemble recordings from the late '50s and early '60s are great. The trios with Jim Hall are my favorites.
---
Martin Bisi took down all the record covers on his studio wall and had a friend film it while he commented on each one. Here's a link to Part 1 of 5. At Sunset ("great record," says Martin) is at the beginning of Part 3.
I remember that the Combination No. 10 CD cover was up there at some point but I don't know if I Really Do Not See The Signal made it onto the wall. The Dim Sum Clip Job CD cover was up there too but last time I was at his studio Martin told me it had fallen down and he didn't know where it was.
---
This is exciting: Sunday Press will publish a second Little Nemo in Slumberland book in July! I can't wait!
---