---
Wednesday, 16 May 2007
Last December William Stromberg, Anna Bonn and John Morgan announced that they would continue re-recording film soundtracks for the Marco Polo/Naxos label but also release re-recordings on their own label, Tribute Film Classics, so that we can hear even more music.
William Stromberg has already conducted the Moscow Symphony Orchestra for terrific re-recordings of some great Bernard Herrmann soundtracks. The Egyptian comes to mind, as well as Garden of Evil, The Snows of Kiliminjaro, Five Fingers.
This was very good news. Even better news is that they have completed recording the music for the first two Tribute Film Classics CDs, Bernard Herrmann's scores for Mysterious Island, Fahrenheit 451 and the Twilight Zone episode "Walking Distance".
Producer John Morgan posted this comment to the Bernard Herrmann Society website: "FAHRENHEIT 451 was a revelation. There were so many cues that were truncated, not to mention the ones that were dropped, it was like experiencing a brand new Herrmann score. The string section was marvelous and we were able to get that warm, intimate sound so dear to Herrmann. I can say that every harp note is clearly recorded, and I must also say, Bill really kept those pesky fire trucks moving at a pace that suggest[ed] they were going to put out fires instead of starting them."
I am very excited by all of this. You can see and hear a little bit of the rehearsals for these re-recordings here.
In even more good news, the Criterion Collection has released Jean-Pierre Melville's Army of Shadows on DVD. It came out yesterday. It's a great movie by a great filmmaker.
---
You can see pictures from the 2nd Annual Boise Experimental Music Festival here. Pictures of David and me are here.
---
I've been reading and enjoying a book by William Tenn. I think I bought it at Borderlands in San Francisco when I was there recently. Of course, the NESFA has reprinted his complete science fiction as well as a volume of essays. You can read some of them on-line. This one, about The War of the Worlds, is quite interesting.
---
We have returned safely from what Lucio Menegon dubbed the "User Error" tour. (See Lucio Loud for more information.) David Grollman and I played in San Francisco, then hit the road with Lucio. The Rob & David duo and Lucio solo experiences shared bills in Portland and Seattle then landed at the 2nd Annual Boise Experimental Music Festival.
David and I played as a duo on Friday and then as a trio on Saturday with comrade Lucio Menegon! Lucio played as a duo with Joe Rut — Lumper/Splitter is what this is called when it happens — and in a trio with Joe and Krispen Hartung, the fellow who put the festival together.
Everything was really great. David and I were a little sad to see it end. Touring with Lucio was great and we must do it again!
Here are photos, all taken by me unless otherwise noted.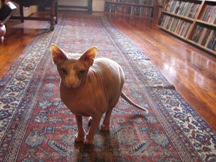 Ripley, store cat (a Sphynx!) at Borderlands in San Francisco. I bought a great book there, Ella Scrymsour's Shiela Crerar, Psychic Investigator.

David and I play at the Musicians' Union in SF. (Photo by Mr. Dorgon.)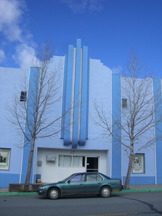 Sylvia Massy Shivy's incredible recording studio, Radiostar, in Weed, California. I must make a record there someday.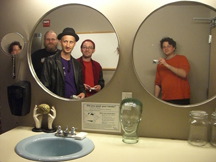 Backstage at the Someday Lounge in Portland.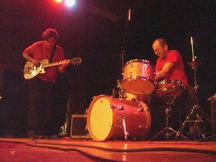 Onstage at the Someday Lounge. (Photo by Lucio Menegon.)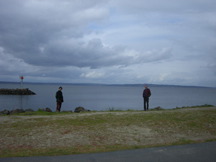 Seattle.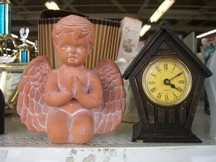 Seattle.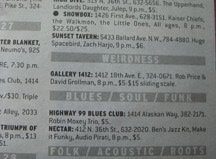 Can you read this? David and I are listed under "Weirdness", as opposed to "Blues/Soul/Funk" or "Folk/Acoustic/Roots".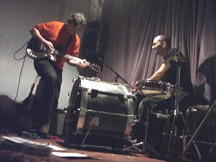 Seattle. (Photo by Lucio Menegon.)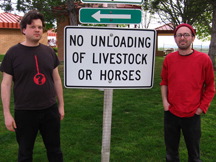 Somewhere in between Seattle and Boise. (Photo by Lucio Menegon.)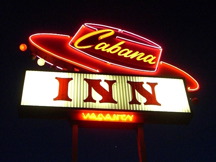 Boise.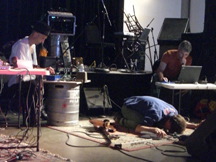 Lumper/Splitter with Krispen Hartung.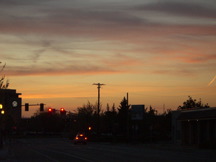 Boise.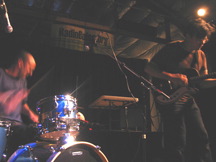 Boise. (Photo by Lucio Menegon.)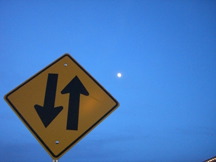 Boise.
---