---
Sluggard that I am, I only made it to the Film Forum's Mikio Naruse retrospective on its last day. I wish I hadn't missed so much. The movie I saw, Scattered Clouds, his last film, was beautiful and extraordinarily moving. The soundtrack was by Toru Takemitsu, one of my favorite composers. The male lead was Yuzo Kayama, who made some great surf-guitar records in the '60s.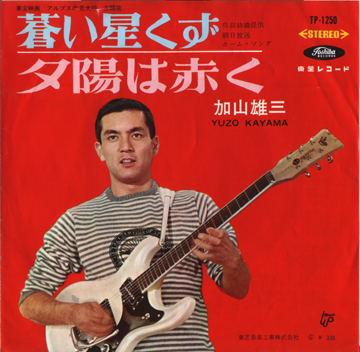 In other news, here is an mp3 of "Escape Attempt", one of several unreleased pieces from my March 2004 recording session with Ellery Eskelin, Trevor Dunn and Joey Baron. In addition to the music on At Sunset, we recorded nine originals, including "Escape Attempt", plus interpretations of Jim Hall's "The Crab" and Billy Strayhorn's "Absinthe". Everything has been mixed but not mastered.
As long as you're downloading mp3s, let me recommend Chris Cawthray's newest recording. He's a great drummer and composer, based in Toronto. Check out his website and his music.
For those of you in the NYC area, photographer Scott Friedlander is showing work from his Visions of the Southwest Session One at both Tea Lounge locations in Brooklyn's Park Slope neighborhood. Check it out!
---
The Daily Howler, a media-analysis web site, is one of my favorites. Yesterday, they remarked that "pseudo-cons" offer the "dumbest possible pitches" while their supposed opponents "pretend not to notice". The Howler gave its favorite example: "When we lower the tax rates, we bring in more revenue".
Yes, I do vaguely recall early instruction which touched on this. It was something along the lines of: I have four apples. I take one away. Now how many apples do I have?
During Bush's first term I heard the word Orwellian a lot. This is understandable since the current administration's philosophies and policies are so sympathetic to those of the rulers in Nineteen Eighty-Four. I haven't heard it much lately, though.
This observation about taxes suggests an addition to Nineteen Eighty-Four's well known precepts of doublethink.
WAR IS PEACE
FREEDOM IS SLAVERY
IGNORANCE IS STRENGTH
SUBTRACTION IS ADDITION
It's worth remembering that math is well within the jurisdiction of the dictators in Nineteen Eighty-Four. In the horrific climax of that novel Winston Smith is forced to recognize that 2 and 2 make 5.
---
Wednesday, 02 November 2005
Yesterday I received in the mail something truly wonderful, a new reprinting — I hope it's the first volume of a complete collection — of Winsor McCay's Little Nemo in Slumberland comics, from Sunday Press.
The entire run of this comic strip has been reprinted before, by Fantagraphics and also by Evergreen (Taschen). What makes the Sunday Press volume so fantastic is that it comes as close as possible to the original paper stock, colors and, best of all, size.
Here's a photo of one of the old Little Nemo collections next to the new one. I've included a 12-inch ruler so you can get an idea of the sizes. At 16" x 21", the Sunday Press edition towers over those that came before.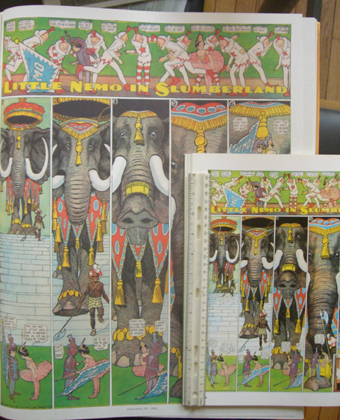 ---