2023 March 10 • Friday
Driven, James Sallis's sequel to Drive is, well… we found it mostly to be regrettable here at Gutbrain Headquarters.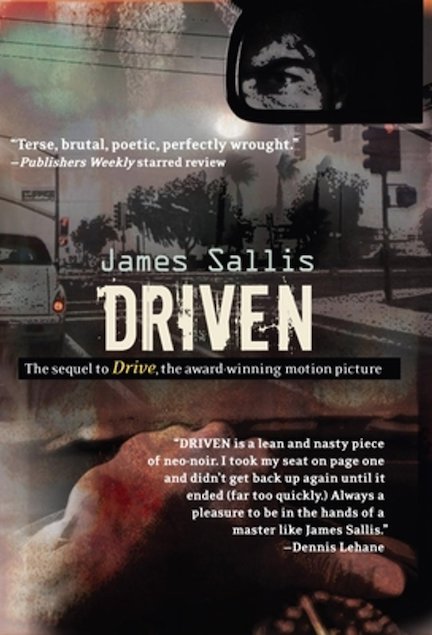 We can no longer remember where we read that stories of this sort, whether they were books or movies or whatever, were "fantasies of male competence", but the phrase has haunted us. We think its a useful and accurate observation and that a fantasy of male competence isn't fundamentally good or bad. It depends on what kind of fantasy and where it takes us. Driven is actually embarrassing in its promotion of Driver to a superman type. The book is quite short, as was Drive, but it's essentially plotless, taking an extremely long time to explain why people keep showing up trying to kill Driver. Not that it matterts. In scene after scene after scene Driver immediately gains the upper hand and dominates or destroys every assailant. It doesn't take long for the lack of tension to become monotonous, especially since we have no idea what the stakes are or who's behind all the attacks and for what reason. And this is a book that's only 147 pages long. With a lot of space on a lot of those pages. Eventually you do find out why this is happening and it might be a candidate for the anticlimax hall of fame. And getting there is about as exciting as playing a video game with cheat codes enabled, so that nothing can hurt you and you have infinite powers. Driver also has superman friends who know everything, can do everything, are always in the right place at the right time. All of the character give big speeches that don't sound anything like the way people actually talk and while the writing style in Drive went right up to the "too flowery, too literary" line, Driven is across that line pretty much all the time. Often the cadences seem to be reaching for the assured smoothness of Donald Westlake and there's one sentence in particular—"Driver thinking back to what Felix said, they know more about me than anyone should, as waiters lowered plates and platters onto the table—that's so clearly Elmore Leonard's style that you might wonder if Sallis owes money to his estate.

And there are several times when characters appeared to be acting as mouthpieces for the author's deep thoughts and opinions and observations. Not necessarily a bad thing but it's usually overdone and forced. The two Robert Heinlein books we read had that going on, or so we thought, and you'll find that here, too.

Drive was good and entertaining but in retrospect seems to have been something that Sallis got away with. He should have quite while he was ahead. The second book just seemed like a mistake to us and actually ended up lowering our opinion of the first book. Collateral damage.

The first line is "They came for him just after 11:00 on a Saturday morning, two of them".
---