2023 March 06 • Monday
Time to listen to some scores by jazz musicians. We'll start with the extraordinary bassist Stanley Clarke and his music for Bleeding Hearts, the 768th Soundtrack of the Week.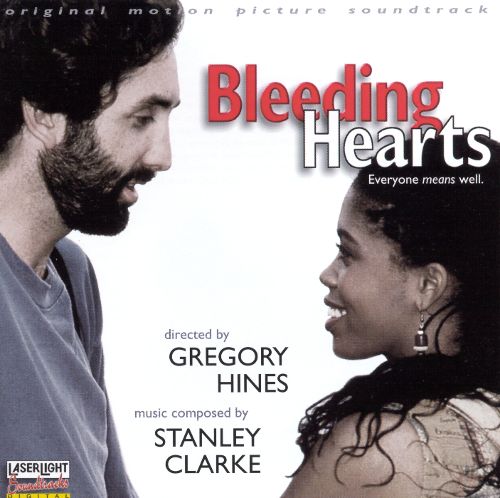 The main title theme is a sweet piece with really nice acoustic guitar playing, swaying and soulful and somewhat love theme-sounding. The energy perks up for "Un Hombre Feliz", a gently bopping number that suggests light, cheerful productivity of some sort, even if it's just someone walking down the street. Piano kicks off the wistful and romantic "La Cancion De Sofia (Primera Parte)", with strings coming in for extra feeling and a bit of a Love Story feel to it. "Shearwater" starts with sounds of thunder in the distance before revealing itself to be another feature for acoustic guitar, again playing a very soulful, romantic tune. There has to be some kind of conflict in this movie and the first hint of dramatic intrigue comes in the short cue "L'Air Dans Sa Cheveaux", with piano and strings suggesting some sort of possible tension. Things get breezy and lyrical again for "In Another Way", another instrumental love song-sounding piece with acoustic guitar as the primary voice. After that we hear a bona fide jazz rhythm that wouldn't be out of place in early-1960s Miles Davis. But "In Another Way" changes gears quickly to a more dramatic underscore setting with strings. Something like an electro-Latin-r&b-jazz groove defines the gently grooving "Complicado", which alternates between syncopated piano and lyrical strings. The bass finally gets some prominence in "Almost", filling in some spaces between guitar playing with some round, low tones. Wow, then it's a straight-up acid jazz funk fusion number, "Use the Whip". It's pretty awesome and presumably source music since you can hear crowd noises. The main title theme gets reprised, more slowly, for "Goodbye" while "Flavor" is similar to but distinct from "In Another Way". "Theme" is likewise similar to but different from "La Cancion De Sofia (Primera Parte)". Maybe it's the second part?

Following this is another rare mooment of what might be conflict or danger, the mostly ominous-sounding "Malo", which features some electric bass guitar playing.

Then there's a long vocal number that's kind of a jazz funk gospel soul song called "Walktall", with call and response lyrics between a female vocalist and back-up singers. The gist is about "walking tall through the valley of the shadow".

The title theme returns for "Oh, Hello Again" and the possible menace returns for "Countdown".

"The Park" starts out as similar to "Theme" before becoming a somewhat dreamy piece for the ensemble and "I'll Never See You Again!" is also similar to "La Cancion De Sofia (Primera Parte)" but with emphasis on the bass.

The guitar and bass both get featured in "Tree", starting as a duet before drums come in and propel them forward with a relaxed and infectious groove.

"Jazz Tune" is, believe it or not, a jazz tine, mid-tempo swing piano trio.

Then we get a blues rock song with a male vocalist and a dobro player in "Is It Wrong?", which also has some countryish elements.

And then we wrap things up with "Final Theme", a melancholy piece for piano and electric bass with a resonant and tender atmosphere.
---