2023 February 20 • Monday
There's nothing as relaxing and rewarding as US politics, right? We all need a spa day so Jerry Fielding's music for Advise and Consent is the 766th Soundtrack of the Week.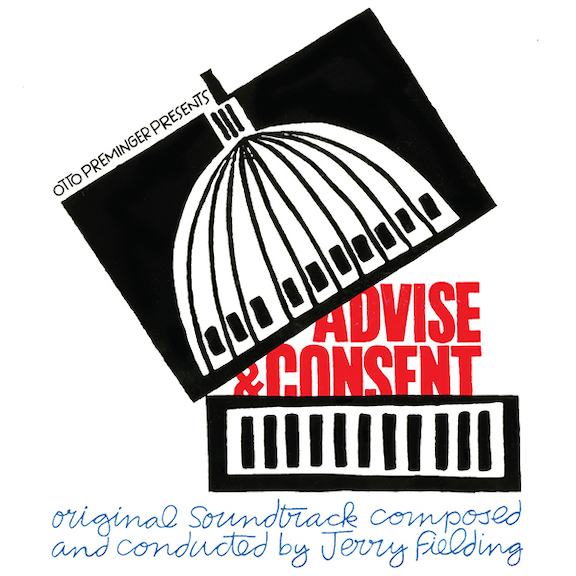 It actually starts in a very soothing way, with the title track, a dreamy, lush, late-night jazz orchestra piece featuring muted trombone. Less jazzy, less dreamy but still richly textured and gorgeous is "Dolly's Interlude", which creates atmospheres of drama and romance. Things get a little more restless in "Lonely Corridors", with the orchestra sounding pensive at times and the muted trombone less swinging. Just when the loneliness of the corridors might get to you, though, the strings will flow in and then just as gracefully bow out for woodwinds to balance their watery sounds with breeziness. When you see a cue called "Samba Set" on a soundtrack of this vintage, you think you know what to expect and you're always right. Sure enough, this is a peppy and percolating samba tune from a jazz ensemble complete with bongos. "Nocturne" sounds like a love theme and Fielding handles it with aplomb. If the studio had wanted something as moving as similar efforts by Bernstein or Goldsmith or Mancini, they got it. A surprisingly varied suite of jazz-inflected cues comes next. "Invitation" is surprisngly mercurial and has a number of unusual twists and turns. This is the kind of cue that we always think would be amazingly successful as part of a concert program and we are certain that it has never happened. Sooner or later there had to be some big, brassy, "patriotic" music and here it is in "Washington Scene". At least that's how it starts. After a bit of that it segues into a velvety string feature. After that we get "Young Illusion", a piece that starts out childlike and playful but then gets cool and cloudy before resolving into a more positive atmosphere. The brisk and light piano-led jazz ensemble of "Society" will make you forget any of the anxiety that might be lingering from the last cue. This sounds like it's for a dance scene. Then it's time for the love and romance trwatment in "Heartbreak", which doesn't sound very sad although it is emotional and achingly lyrical. Another mini-suite, though much less jazzy, is next up, the wonderfully strange "Politely Political", which zooms through several different musical ideas, with the most powerful being the otherworldly reverberating whistling part. Judging by the harmonies on offer, the "Premonition" referred to in the next cue's title isn't an especially comforting one. The strins offer some comfort but are almost immediately swept away by more threatening action by the rest of the ensemble.

Finally there's "Adjournment" and it sounds like things worked out after all. It's a triumphant conclusion with big, bright major chords and brass instruments aiming for the rafters.
---