2023 February 13 • Monday
Here's a Nino Rota score that we never hear anyone talk about: the movie is called Hurricane and the music is our 765th Soundtrack of the Week.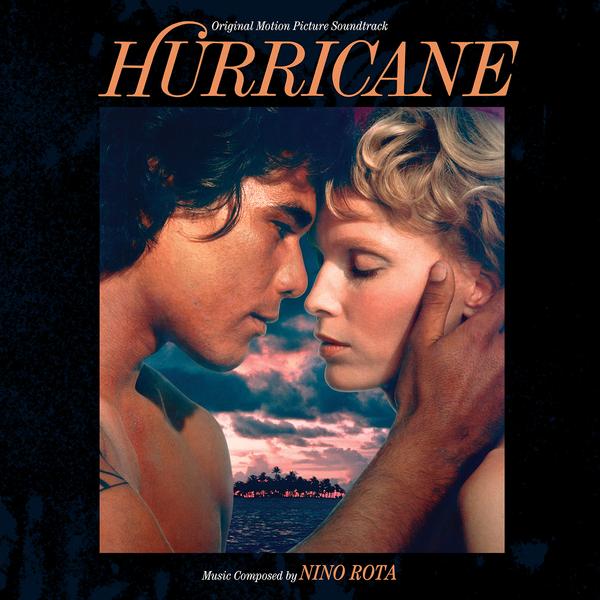 The "Main Title" is beautiful, starting with acoustic guitar in 6/8, soon joined by whistling and flute playing a melody that's not too far away from Godfather territory. Then Hawaiian slide guitar comes in for an island feel before making way for a tonal shift to a more dramatic mood with woodwinds as the featured instruments. Then there's a short and delicate duet for nylon-string guitars, or possible one nylone and one steel, "Guitar from the Quayside". It's gentle and lovely. The main theme returns for "Katopua", this time on wooden flute with sensitive backing by guitar and orchestra. It starts sparsely but gradually becomes more lush, with a beautiful violin spotlight and a concluding air of mystery. "Coronation Percussion" is a short hand-percussion only track that's mesmerizing. After that comes some old-timey jazz swing, complete with banjo, for "Pago-Pago Jazz". Perhaps this movie takes place in the 1920s or '30s. Perhaps it's a remake of the hit movie of the same name that came out in the 1930s and was, if memory serves, directed by John Ford. It almost certainly is but sometimes opening web browsers ruins our day and we don't want to risk it right now. Another tribal groove comes next, a deeper and more enticing one than in "Coronation Percussion", this time with some exotica additions from the orchestra. The main theme returns on violin for "Love in Blossom", which also becomes a Hawaiian slide-guitar feature and then orchestral dramatic underscore. Hawaiian guitar gets its own chance to take on the main theme melody at the top of "Joy of Love in Alava", and it does it beautifully. The orchestra comes in with some low and menacing tones, musical storm clouds, so there must be more than joy going on here. This is followed by a heavenly-sounding vocal choir. "Delusion" starts with wooden flute playing the love theme. It's lyrical and stirring. Oboe and other instruments come in to create a more populated sound environment that still has a lot of space. When the strings eventually appear, the feeling is lush and romantic but again turns to sounds of tension and suspense. Hand percussion starts off the grim groove of "Moana's Death", with marimba and brass giving the piece a dangerous shape. The pulse starts pounding for the urgent and driving "Matangi's Escape", which certainly sounds like an action cue. It's got a great rhythm foundation from the percussion section. The love theme gets an official name: "Matangi's Love Theme". Here it's presented on vibes or xylophone with marimba backing, simple yet devastatingly effective. More old-timey swing jazz comes next for "Jazz in Dockland", very similar to the other such track.

Just the standard orchestra plays for "Matangi and Charlotte's Escape", no wooden flute or guitar features. It's lyrical but pensive, sustaining a mood of peril that continues in the next cue, "Bruckner's Death", which adds urgency to the violin part.

Then there's the "End Title", a reprise of the main theme but with the unexpected flourish of either some kind of electronic instrument or unusual-sounding percussion or other acoustic instrument. The melody is handled by the choir this time.
---