2023 February 06 • Monday
The 764th Soundtrack of the Week Pete Knutsen's music for Carl Gustav, the Gang and the Parking Bandits.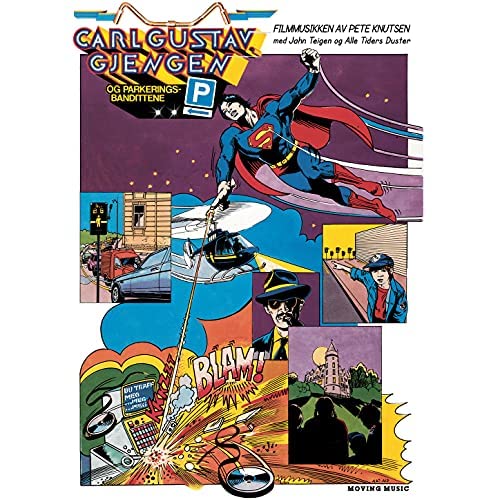 The "Opening" is a harshly bright and peppy major key synth number with an electric guitar solo. The mood changes drastically for the next track, "Machines", which has a slow pounding drum part creating a feeling of suspense while piano plays a slow and stately line that's echoed and embroidered by electronic keyboards. Synth and guitar play ethereal arpeggiated figures for "Dream of the Hero" until such time as an electric guitar solo takes over. Then there's a dramatic unexpected chord and synth solo takes it from there. Things get peppy and energetic again for "Run Friends Run", a triumphant rock vocal number. After this comes an instrumental version of the same song, now known as "Carl Gustav's Theme". "Playground Destroyed" is an atmospheric and interesting cue, which synth and guitar leaving lots of space while playing both lyrically and rhythmically. A similar mood continues in the next track, "Men in Black Suits", though with just synth playing a less aggressively over the rhythm section. "Suspence" and "A Solution" are extremely similar short cues with a back beat and a strong and gradually building guitar and synth line. No surprise that "Theme Jam" is a loose take on "Carl Gustav's Theme", done with a lively rock piano trio. A big shift in sound and energy comes next with Alle Tiders Duster's "Kvernen", a great song that would have fit right in with that late '70s NYC art rock punk whatever scene if they were singing in English. Then we're on the dance floor for a lean and mean disco funk tune, "Arcadehall". "The Castle" is a very short synth cue, nicely expressive and effective. Drums lay down the latest of many excellent rhythm parts for synths to sort of warble over in "Entry", while a more straightforward beat lets the keyboards make some weirder noises in "Dark Corridor" and "Captive". "Escape" is a 7-second synth clarion call that leads into rock synth ballad "Car After Car The End". The record concludes with "False Waltz", presumably source music. It sounds like a deranged carousel and it's not a waltz.
---