Wow, this Great Themes from Hit Films record by Enoch Light and His Orchestra is a lot better than I thought it would be. It's our 763rd Soundtrack of the Week.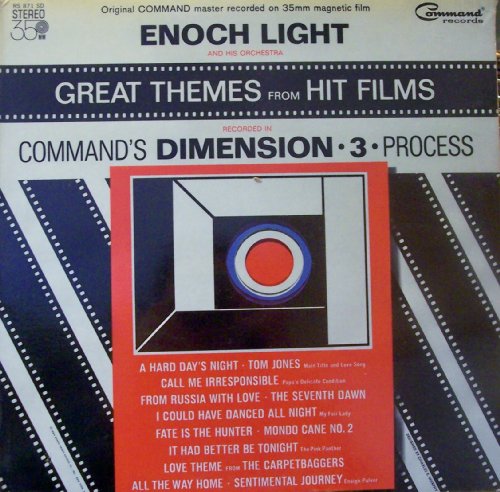 It starts with a really interesting arrangement of "From Russia with Love", which has a great sense of depth and space, wide-ranging orchestral colors and numerous pleasant surprises.
Next is "A Hard Day's Night", which has great energy and a terrific blending of string and wind sections with electric guitar and drums. It would be nice to know who's on this record. The liner notes mention a few musicians but not, for instance, the guitarists.
"Call Me Irresponsible" starts with guitar on the melody before the orchestra comes in with a lush string arrangement.
Sprightly harpsichord courtesy of Dick Hyman kicks of the "Main Theme and Love Theme" from Tom Jones. The first bit is a cute and cheerful number that's not quite as satisfying as most tunes on the record. Maybe you had to be there. The love theme is nicely melodic and lyrical, though.
Jerry Goldsmith's Fate Is the Hunter theme, on the other hand, is a gorgeous piece of music presented superbly here. Listening to it makes me want to go watch the movie again.
The A side closes with "I Could Have Danced All Night", which gets off to a great start with muted staccato guitar and bongos. Flute comes in with the melody, soon joined by other winds. About halfway through it veers into a hard and heavy swing groove before returning to the airier setting it started with. It's a really nice version that manages to make this very familiar song sound new.
Side B opens with "Mondo Cane No. 2", an energetic piece that's given almos a spaghetti western feel with strummed guitar and lots of percussion. The melody occasionally gets dangerously close to "Moon River" and there's a nice accordion break.
The theme from The Seventh Dawn starts out very dramatically with a blast of sound, and then brings in some spacy electronic textures. But it ends up being a sweet, almost pastoral piece of score with definite love-theme tendencies.
"All the Way Home" is also a laidback, romantic piece with some giant swells from the orchestra swamping the sweet melody.
"It Had Better Be Tonight", from Henry Mancini's score for The Pink Panther, has always been one of our favorite numbers. We hope that the original soundtrack recording for that movie might get released someday. And A Shot in the Dark, too, of course. Light's version is definitely different but absolutely right on, keeping the sway and stirring melodicism of the original while having a lot fun with the potentials for rhythmic variation.
Next is the "Love Theme from The Carpetbaggers", a beautiful melody with a gently lilting feel to the arrangement and a lovely piano feature.
Then the record finished with "Sentimental Journey", another very familiar song. It starts out bold and brassy but immediately shifts to just percussion and flute. Electric guitar and other instruments drop in and then it settles into a mixture of these moods with some really interesting blends of sounds.
All in all, a pleasant surprise!
---