The 761st Soundtrack of the Week is a bit unusual. It's not even clear what it's called. At first I thought that Action Thrillers!!! was the most likely title but upon further inspection it seems that James Bond Thrillers!!! is probably how we should refer to it.
Also, whose record is it? It's got four pieces of music from James Bond movies and then six originals with titles intended to make you think that they're also from James Bond movies, although they are not.
These tracks have a composer credit of either R. Lowden or J. Kuhn. Aside from credits for Recording Director (D. L. Miller) and Cover Design (Chic Laganella), no other names are given.
The two paragraphs of text on the back of the record state that the recorded performances are by "The Zero-Zero Seven Band from London".
Well, whatever.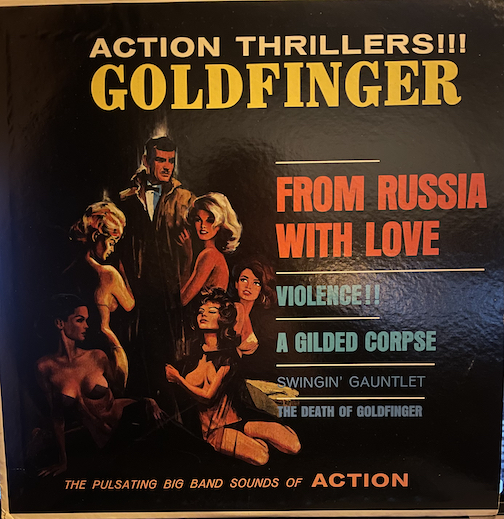 The record begins with the theme from Goldfinger, in a surprisingly tough and energetic rendition that actually varies the mood and intensity quite a bit. The guitar sound is cheaper than Vic Flick's inimitable tone but alto sax is the real star here, actively improvising with enviable tone and creativity. The theme itself actually incorporates another cue from the movie to add another element of interest.
Next is Lowden's "Violence!", an upbeat bit of big band crime jazz with wailing horns, more excellent alto soloing, an electric guitar solo and even a bit of organ or electric piano.
Lionel Bart's theme for From Russia with Love follows and it's really good. It's scaled down to smaller combo for the most part and given kind of a lounge exotica groove with lots of input from the electric guitar and considerable support from organ. About halfway through it unexpectedly shifts to a big band swing arrangement with another great alto sax solo. It certainly seems as though quite a bit of thought went into this recording.
Despite the title, "Blues for Dr. No" is another original piece, this one by Kuhn. It starts with a bunch of gunshot sounds that are almost vaguely rhythmic and when the piece itself starts it turns out to be like a Dixieland or New Orleans sort of jazz number. Surprise!
Side A finishes with another original composition with an intentionally misleading title: "Pussy Galore Meets Bond" by Lowden. This one is an intriguingly bluesy and swaying light jazz suspense number that alternates some airy and tiptoe-ing passages with louder, thicker big-band passages. The agreeably skronky electric guitar can be heard plonking away in the background and there's another great saxophone solo.
The B side kicks off with "James Bond Theme", credited here to John Barry although it's now definitively proven that it is in fact a Monty Norman composition. Since Mr. Barry's arrangement of it was so incredibly important to the success of this piece (and to the franchise in general), it seems like he should have been given a co-composer credit or some kind of compensation for what he brought to it. (Guitarist Vic Flick also contributed at least one crucial idea, lowering the famous guitar riff by an octave or two.)
It's not to be, of course. Presumably because there's just too much money involved. In any event, this read of this famous piece of music is faithful to the original although the guitar sound is somewhat more menacing, with its guitar rock tone, and the horns slide some notes around to give it a slightly unbuttoned feel. I guess the mood could be described as slightly intoxicated. With a cutting guitar break and a nimble and relaxed alto sax solo, it's an unqualified success.
"'M' Joins the Hunt" is the next original, this one by Kuhn. The title is a little baffling in that I can't remember any Bond book or movie that could have included such an idea, particularly in the late '60s, when this appears to have been recorded. Anyway, it begins with gunshot sounds, as did the previous Kuhn contribution. This one is a piano feature, with a bluesy swing to it and generally easygoing and midtempo, a very nice jazzy number with terrific tenor sax and trumpet playing.
Then we get one more from Lowden, "A Gilded Corpse", whose title connects directly to Goldfinger. The piece itself has some similarities to the From Russia with Love theme as well as the "James Bond Theme". It's a fairly straightforward big band swing piece with xylophone or marimba adding unexpected color. There's also a wailing organ solo. I think you can also hear the influence of Henry Mancini here.
Kuhn gets one more piece, "Warm and Deadly", a title that could be dropped into almost anything. Instead of opening with gunshot sounds, this one opens with what sounds like cocktail party chatter or something similar. This kind of intro must be Kuhn's signature, whoever Kuhn is. A late-night saloon feel, very "One for My Baby", with a tinge of New Orleans jazz/blues, is what you get here. The piano gets the spotlight up front and the horn section plays with dynamics in some interesting ways. There's also a trombone solo and a clarinet solo.
The record ends on "Death of Goldfinger", actually from the movie. This is actually a more faithful version of the theme than the purported "theme" that opens the record. Flute takes the melody, there's a great alto sax solo (again), nice organ playing, a lovely smooth feel to it.
It's an interesting and satisfying record. Not to mention a mysterious one. I'd love to know more, or indeed anything, about its making.
---