Happy New Year!
Let's start out with one of our favorite people: H. Jon Benjamin! Believe it or not, the 759th Soundtrack of the Week is his record The Soundtrack Collection, a sequel to his Jazz Daredevil album.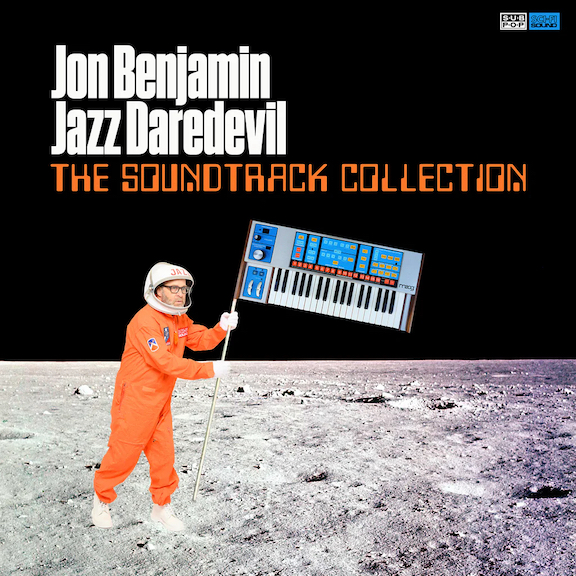 It's on this transparent orange marbled vinyl!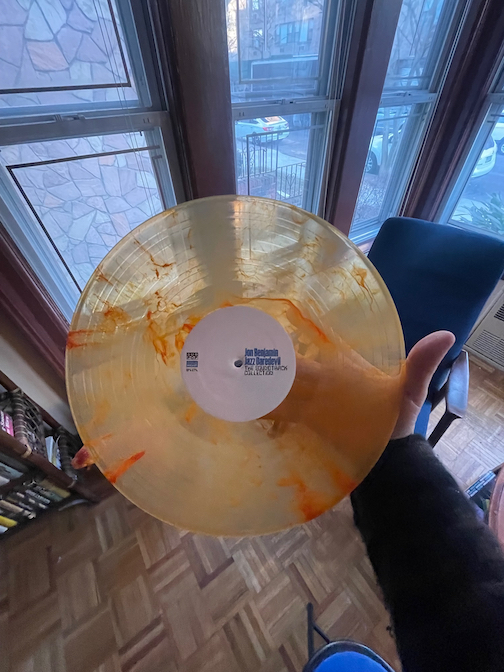 And it also comes with sheet music for the Chariots of Fire theme!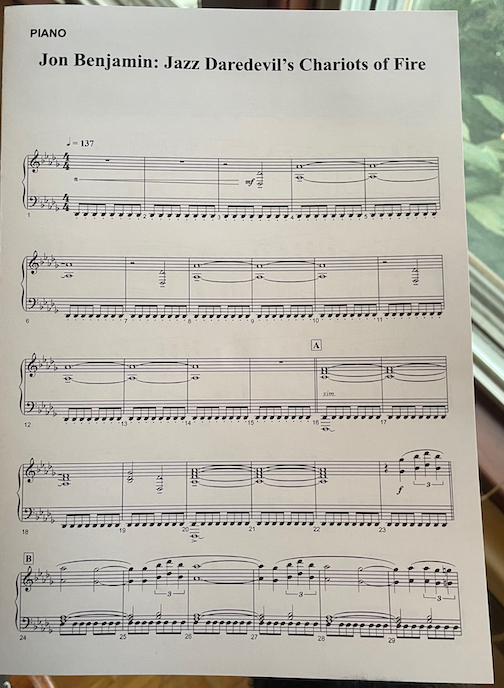 H. Jon Benjamin's previous "Jazz Daredevil" record was a jazz piano trio outing, as I recall, with the novelty that Benjamin had no experience or skill or, I guess, particular talent or aptitude for playing the piano.
So, a daredevil act or just a joke or a novelty record. But I seem to remember that it was actually kind of good, which might indicate how important a rhythm section's contribution can be.
For this second record Benjamin is doing movie music and playing Moog.
I'm not sure who the other musicians are but the first track, "Danger Zone (Theme from Top Gun)", does include Kenny Loggins and immediately clues listeners in as to what the nature of this record is.
It begins with a straight rendition of "Danger Zone", with Jon Benjamin singing the lyrics and is soon interuppted by Mr. Loggins in the studio booth, complaining that the whole thing sucks, especially Benjamin's vocals. They have some entertaining back and forth chat and then that's that.
Next up is "Also Sprach Zarathustra (Theme from 2001: A Space Odyssey)", in which a very faithful orchestral backing is more or less disgraced by Benjamin's amusing abuse of the Moog.
I laughed out loud during the Chariots of Fire theme as Benjamin takes stabs at this extremely familiar theme and misses notes quite often. And of course that's the point.
"Axel F (Theme from Beverly Hills Cop)" gets the same treatment but is even funnier. The contrast between the backing tracks and Benjamin's keyboard playing is really amusing.
None of this is likely to prepare you for the absolute slaughter of "In the Mood", whose inclusion here can perhaps be justified as being from The Glen Miller Story or some such thing. After an incredibly destructive start, Benjamin actually comes close to creating a good, original number. Don't worry, though. It doesn't last.
I guess the theme from Love Story had to be on here. It's like shooting fish in a barrel, isn't it? Just when you think the track you just heard is the funniest and most ruinous one, the stakes inevitably get raised with the next one. Is this actually… good? I guess probably not but… it's actually better than a lot of stuff it's worse than, if you know what I mean.
But then things get serious. Everyone's favorite grim 5/4 horror movie theme. Yes, it had to be Halloween. Benjamin murders it immediately and keeps slashing away at it even after it's dead. Is this the funniest one? They're all really funnty.
Okay, "Theme from Miami Vice", why not? Let's get this over with. It starts straight but when that other shoe falls it goes right through the floor and drags the whole building down with it. The only thing this record is missing is a warning label.
Then we wrap up with "Duelin' Moogs", as in the dueling banjos from Deliverance. And guess what? The first Moog player can play and the second player is Jon Benjamin. Which means that the response never matches the call. I think it's hilarious.
---