Rob Price
Gutbrain Records
rob + gutbrain.com = email
---
The 767th Soundtrack of the Week is Oneohtrix Point Never's music for the movie Good Time.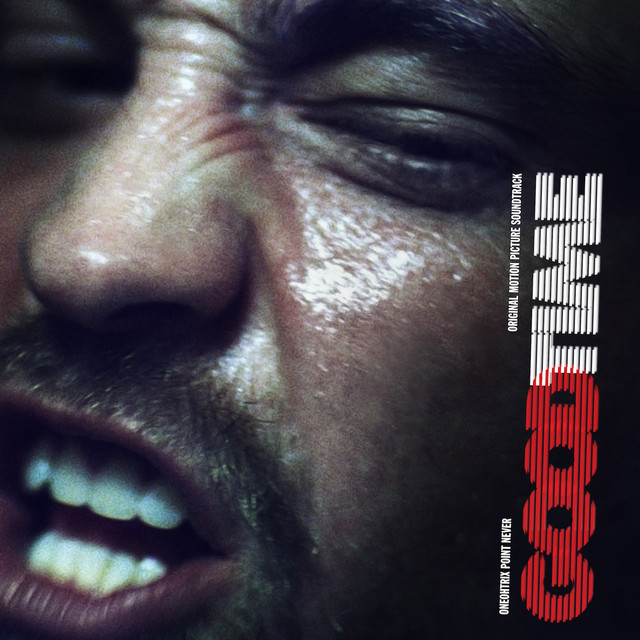 The title track starts with some cloudy electronic textures, brings in some pulses and builds intensity, culminating in a strong synth part that has elements of keyboard and guitar to it. The next track, "Bail Bonds", starts with some dialogue from the movie before dropping the hammer on an intense track, a rhythmic slab of electronic layers and lines. "6th Floor" explores the possibilties of echoing percussion and also has a bit of dialogue from the movie. The music would be better of without it. There are more intense rhythms and layers in the beginning of "Hospital Escape/Access-A-Ride". We had trouble trying to figure out what time signature it might be in. About halfway through it gets much more ethereal and atmospheric and then has some wailing and warbling synth lines in 4/4 time. More dialogue from the movie starts out "Ray Wakes Up" but the cue itself is large and spacious and rich, all electronic clouds. The rhythmic pulse for "Entry to White Castle" is surprisingly chirpy. There are some long low tones and other electronic elements of a groove that create a pillowy palette for melodic electronic statements. The synth sounds that open "Flashback" are kind of classic 1980s dread and danger sounds. A cool groove kicks in and the melody has an almost exotica sound to it. About halfway through it shifts to a different rhythmic setting and more of a low-res loopy sound. "Adventurers" is hard to define. It's more amorphous, more sonic, more textural. More electronic clouds, I guess. There's an urgent pulse and melodic line that immediately grabs you in "Romance Apocalypse". This one would also fit nicely into a 1980s action movie or video game. It's always promising when there's a cue called "The Acid Hits". It's more techno/house than groovy/trippy, with swirling electronic layers and at time pulsating rhythm tracks. Things go up in intensity for "Leaving the Park", which continues in the same vein of many of the cues, which share a common ground of harmonic shape and rhythm, but lets loose a bit with the solo electronic instrument voice, whatever it is. There's a very different feel and power to "Connie", a relentless and dense pounder of a track that still has considerable feeling and suggestions of romance and mystery.

The record concludes with "The Pure and the Damned", something totally different, a moody and tenebrous piano-driven number enhanced by electronic support and lyrics sung by none other than Iggy Pop.
---
2023 February 24 • Friday

Happy birthday!!!

'Twas in Quimby's Chicago that we first encountered the dizzingly gratifying zine Popular Pandemics, a retro-styled publication with futuristic cover dates that satirizes our various states of insanity.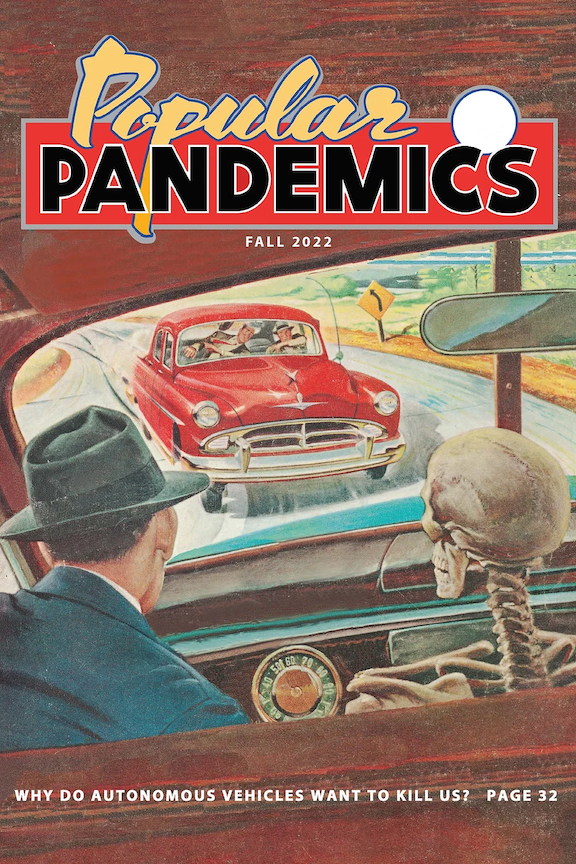 It appears to be the work of one Robert Rucker, flying solo but making use of graphics and layouts from mid-twentieth century magazines. So of course we love it.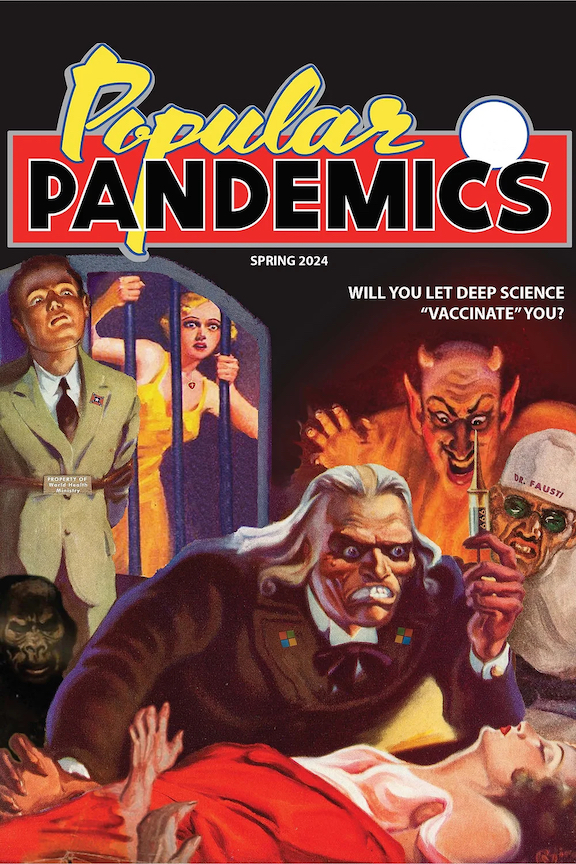 Each issue is meticulously crafted with almost too much detail to appreciate. There's even a classified ads section with some wonderfully strange listings: "OPIOIDS! There's still time to get in on the craze that's destroying the nation" and "BARBED WIRE phone chargers" and "MAKE YOUR LIFE INTERESTING with imported malware from China. Click here".

Penn Jillette is also a fan and notes that "they are objects you need to hold to appreciate". We agree! Buy them here!
---
2023 February 22 • Wednesday
Covid is bad enough but pretty early on in the whole process we gloomily contemplated the Covid novels and movies that would be coming. They might never stop.
But an autobiographical Covid graphic novel is a different matter. Coincidentally, David Collier's new book is not such a thing, not really, despite being called Winter of Our Pandemic.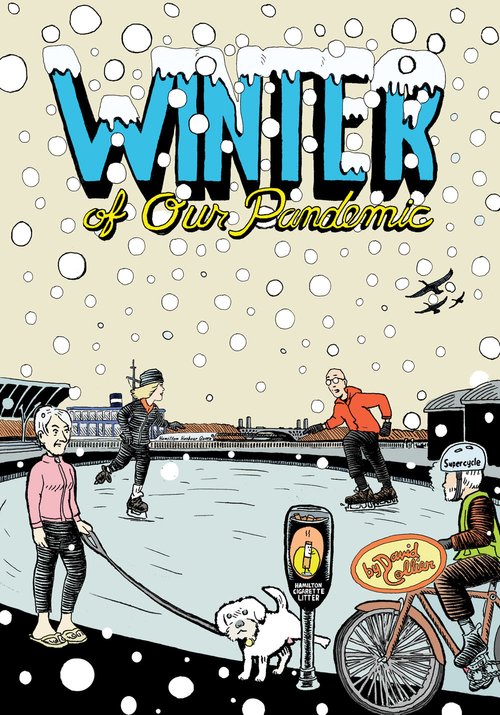 Certainly it contains some comics reportage about Covid as viewed from the perspective of Collier and his family. But really this is just the new David Collier book: a mixture of history, reminiscence, thoughts about art and life, a zeal for the mechanisms of humanity, compassion for others and thoughts about politics and art. It even includes a meeting with Charles Schulz! Who would have thought that the creator of Snoopy would get second billing to a virus?

We're big fans of Collier here and his new book is very satisfying. We recommend it!
---
2023 February 20 • Monday
There's nothing as relaxing and rewarding as US politics, right? We all need a spa day so Jerry Fielding's music for Advise and Consent is the 766th Soundtrack of the Week.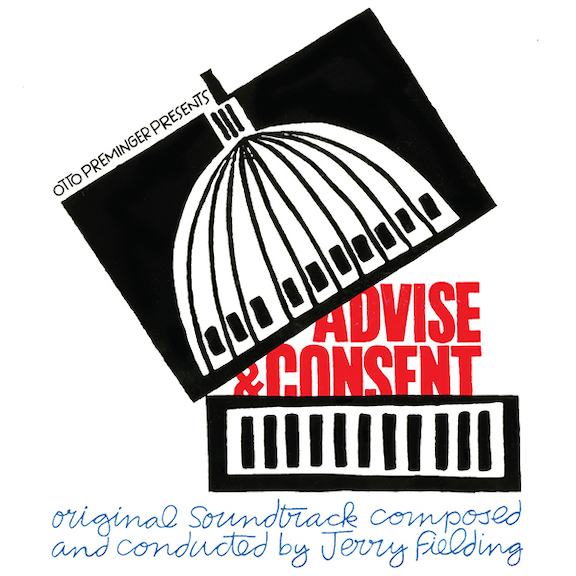 It actually starts in a very soothing way, with the title track, a dreamy, lush, late-night jazz orchestra piece featuring muted trombone. Less jazzy, less dreamy but still richly textured and gorgeous is "Dolly's Interlude", which creates atmospheres of drama and romance. Things get a little more restless in "Lonely Corridors", with the orchestra sounding pensive at times and the muted trombone less swinging. Just when the loneliness of the corridors might get to you, though, the strings will flow in and then just as gracefully bow out for woodwinds to balance their watery sounds with breeziness. When you see a cue called "Samba Set" on a soundtrack of this vintage, you think you know what to expect and you're always right. Sure enough, this is a peppy and percolating samba tune from a jazz ensemble complete with bongos. "Nocturne" sounds like a love theme and Fielding handles it with aplomb. If the studio had wanted something as moving as similar efforts by Bernstein or Goldsmith or Mancini, they got it. A surprisingly varied suite of jazz-inflected cues comes next. "Invitation" is surprisngly mercurial and has a number of unusual twists and turns. This is the kind of cue that we always think would be amazingly successful as part of a concert program and we are certain that it has never happened. Sooner or later there had to be some big, brassy, "patriotic" music and here it is in "Washington Scene". At least that's how it starts. After a bit of that it segues into a velvety string feature. After that we get "Young Illusion", a piece that starts out childlike and playful but then gets cool and cloudy before resolving into a more positive atmosphere. The brisk and light piano-led jazz ensemble of "Society" will make you forget any of the anxiety that might be lingering from the last cue. This sounds like it's for a dance scene. Then it's time for the love and romance trwatment in "Heartbreak", which doesn't sound very sad although it is emotional and achingly lyrical. Another mini-suite, though much less jazzy, is next up, the wonderfully strange "Politely Political", which zooms through several different musical ideas, with the most powerful being the otherworldly reverberating whistling part. Judging by the harmonies on offer, the "Premonition" referred to in the next cue's title isn't an especially comforting one. The strins offer some comfort but are almost immediately swept away by more threatening action by the rest of the ensemble.

Finally there's "Adjournment" and it sounds like things worked out after all. It's a triumphant conclusion with big, bright major chords and brass instruments aiming for the rafters.
---
2023 February 17 • Friday
Claire Daly is an amazing baritone saxophonist, with whom I've had the privilege of making music for a few years now. Napoleon Solo is a human beatbox. Together they are The Honorable Hustlers and they've made a record called Out of Compliance.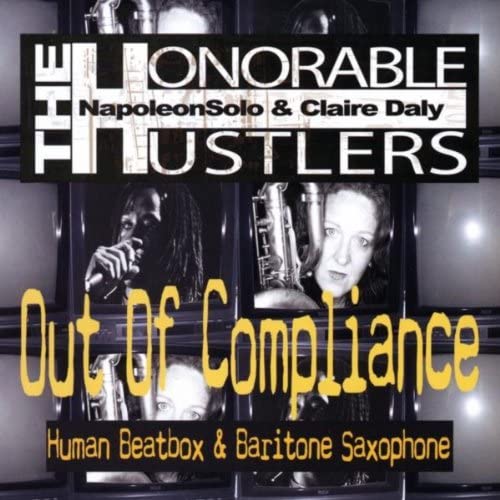 If you're wondering what such a thing might sound like, it's not actually difficult to imagine. It's similar to baritone sax and drums duets, except the drummer is a human beatbox. While all the pieces are improvised, Claire told me that she and Napoleon discussed concepts for the different tracks. Free as it is, it always swings and Daly's playing around with the melody of "My Heart Belongs to Daddy" in the beginning and ending of the album creates a sense of a cycle's conluding. You should listen to this right now! It's available for purchase and/or streaming all over the place!
---
2023 February 15 • Wednesday
Rona Jaffe's The Best of Everything has been on our reading list for years. We just got around to it and loved it.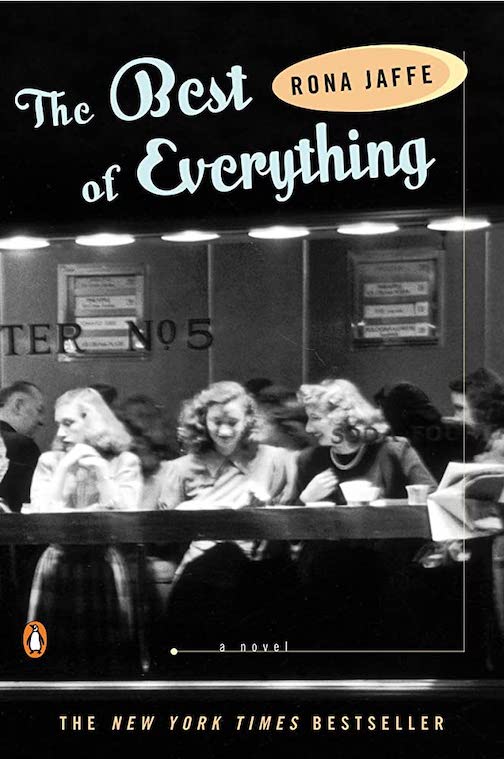 It's been years since we saw the movie but hope to revisit it soon. In season one of Mad Men Don Draper is reading The Best of Everything and remarks that it's much "dirtier" than the movie. That was probably a period-appropriate moment. Certainly the book is franker than you might expect from a mainstream novel published in 1958. There's a lot of sex as well as a steady current of sexual harrassment and sexual assault, not to mention sexism.

Abortion is dealt with explicitly, taking up a substantial portion of the book. Masturbation is referred to in "if you know, you know" language and homosexuality is observed on the periphery of the characters' lives.

The story's main character is Caroline Binder, who gets a job at a publishing company that primarily does more or less disposable magazines and paperback books. Drugstore rack variety: I was thinking Gold Medal and Rona Jaffe actually worked at Fawcett, so that's about right. She and her protagonist are both Radcliffe graduates as well.

Binder is finding a new life for herself after her engagement to Eddie fell apart, Eddie having met someone else on a trip to Europe. He marries her and Caroline goes to New York.

Caroline has two journeys, one professional and one personal, as her intelligence and creativity find an outlet in the world of publishing and as she explores love and romance with a few men of varying suitability. She still has feelings for Eddie that have to be reckoned with.

While Caroline is aware of her potential and comfortable with ambition, the other women are fair representatives of other realities and self-perceptions: a divorced single mother, an aspiring actress, a naive small-town transplant and a conventional and complacent bride-to-be.

With the exception of the bride-to-be, the other women have to go through hell before finding a life they can live with. And in all cases the hell is the way men treat women in general and them in particular.

It's a fast-paced and absorbing book and also a great New York City novel. Even though the city of the 1950s is almost completely gone, Jaffe writes it so vividly that you'll feel like you're there when you're reading the book and wish that you were there when you're not.

The Best of Everything is perhaps the female counterpoint to The Man in the Gray Flannel Suit, just as Gidget is perhaps the female counterpoint to The Catcher in the Rye. Indeed, there are at least three men in gray flannel suits in The Best of Everything.

As abosrbing as the story is, it's the high quality of the writing that makes it such a pleasure to read. Jaffe is subtle and precise and often funny, crucially so, because the with and humor make the pain and terror palpable and serious. While this is almost certainly her most famous book, we'll be keeping an eye out for others. The first line is "You see them every morning at a quarter to nine, rushing out of the maw of the subway tunnel, filing out of Grand Central Station, crossing Lexington and Park and Madison and Fifth avenues, the hundreds and hundreds of girls".
---
2023 February 13 • Monday
Here's a Nino Rota score that we never hear anyone talk about: the movie is called Hurricane and the music is our 765th Soundtrack of the Week.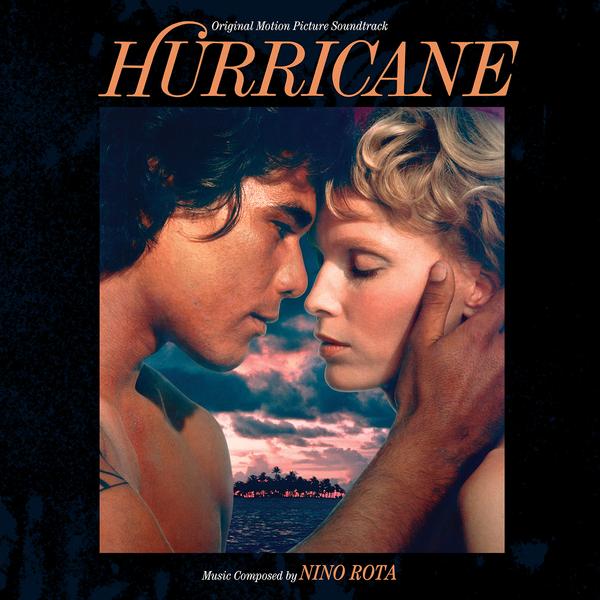 The "Main Title" is beautiful, starting with acoustic guitar in 6/8, soon joined by whistling and flute playing a melody that's not too far away from Godfather territory. Then Hawaiian slide guitar comes in for an island feel before making way for a tonal shift to a more dramatic mood with woodwinds as the featured instruments. Then there's a short and delicate duet for nylon-string guitars, or possible one nylone and one steel, "Guitar from the Quayside". It's gentle and lovely. The main theme returns for "Katopua", this time on wooden flute with sensitive backing by guitar and orchestra. It starts sparsely but gradually becomes more lush, with a beautiful violin spotlight and a concluding air of mystery. "Coronation Percussion" is a short hand-percussion only track that's mesmerizing. After that comes some old-timey jazz swing, complete with banjo, for "Pago-Pago Jazz". Perhaps this movie takes place in the 1920s or '30s. Perhaps it's a remake of the hit movie of the same name that came out in the 1930s and was, if memory serves, directed by John Ford. It almost certainly is but sometimes opening web browsers ruins our day and we don't want to risk it right now. Another tribal groove comes next, a deeper and more enticing one than in "Coronation Percussion", this time with some exotica additions from the orchestra. The main theme returns on violin for "Love in Blossom", which also becomes a Hawaiian slide-guitar feature and then orchestral dramatic underscore. Hawaiian guitar gets its own chance to take on the main theme melody at the top of "Joy of Love in Alava", and it does it beautifully. The orchestra comes in with some low and menacing tones, musical storm clouds, so there must be more than joy going on here. This is followed by a heavenly-sounding vocal choir. "Delusion" starts with wooden flute playing the love theme. It's lyrical and stirring. Oboe and other instruments come in to create a more populated sound environment that still has a lot of space. When the strings eventually appear, the feeling is lush and romantic but again turns to sounds of tension and suspense. Hand percussion starts off the grim groove of "Moana's Death", with marimba and brass giving the piece a dangerous shape. The pulse starts pounding for the urgent and driving "Matangi's Escape", which certainly sounds like an action cue. It's got a great rhythm foundation from the percussion section. The love theme gets an official name: "Matangi's Love Theme". Here it's presented on vibes or xylophone with marimba backing, simple yet devastatingly effective. More old-timey swing jazz comes next for "Jazz in Dockland", very similar to the other such track.

Just the standard orchestra plays for "Matangi and Charlotte's Escape", no wooden flute or guitar features. It's lyrical but pensive, sustaining a mood of peril that continues in the next cue, "Bruckner's Death", which adds urgency to the violin part.

Then there's the "End Title", a reprise of the main theme but with the unexpected flourish of either some kind of electronic instrument or unusual-sounding percussion or other acoustic instrument. The melody is handled by the choir this time.
---
2023 February 10 • Friday
Vancouver has an impressive number of book stores and breweries. We only went to one comic book shop when we were there last weekend. It was 8th Dimension Comics and we found this cool mini-comic there, the third issue of Do Not Pet, a series about service dogs written by Joe Biel and illustrated by Gerta Oparaku.
It's a fascinating account of Biel's training a rescue dog named Ruby to be his service dog. She would be his medical alert dog, which is a kind of service dog we hadn't heard of before. Biel has a condition that makes it difficult for his brain to regulate blood glucose. This means that his glucose levels will drop and he'll pass out. It isn't safe for him to leave his house by himself. Ruby, though, can tell, just through her incredible canine sense of smell, when he's about twenty minutes away from this happening.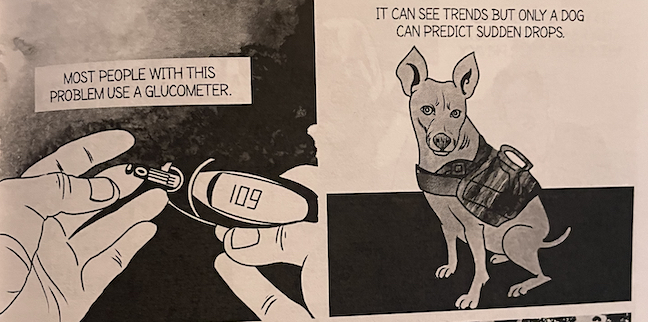 Of course she can tell when this is happening to anybody, and Biel occasionally tells strangers on the streets that their glucose is dropping, with varied results. Some people feel like this is an invasion of their privacy and get angry. You can get this terrific comic here at Microcosm Publishing.
---
2023 February 06 • Monday
The 764th Soundtrack of the Week Pete Knutsen's music for Carl Gustav, the Gang and the Parking Bandits.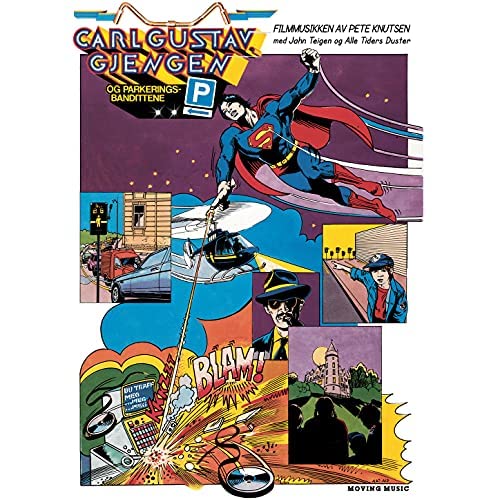 The "Opening" is a harshly bright and peppy major key synth number with an electric guitar solo. The mood changes drastically for the next track, "Machines", which has a slow pounding drum part creating a feeling of suspense while piano plays a slow and stately line that's echoed and embroidered by electronic keyboards. Synth and guitar play ethereal arpeggiated figures for "Dream of the Hero" until such time as an electric guitar solo takes over. Then there's a dramatic unexpected chord and synth solo takes it from there. Things get peppy and energetic again for "Run Friends Run", a triumphant rock vocal number. After this comes an instrumental version of the same song, now known as "Carl Gustav's Theme". "Playground Destroyed" is an atmospheric and interesting cue, which synth and guitar leaving lots of space while playing both lyrically and rhythmically. A similar mood continues in the next track, "Men in Black Suits", though with just synth playing a less aggressively over the rhythm section. "Suspence" and "A Solution" are extremely similar short cues with a back beat and a strong and gradually building guitar and synth line. No surprise that "Theme Jam" is a loose take on "Carl Gustav's Theme", done with a lively rock piano trio. A big shift in sound and energy comes next with Alle Tiders Duster's "Kvernen", a great song that would have fit right in with that late '70s NYC art rock punk whatever scene if they were singing in English. Then we're on the dance floor for a lean and mean disco funk tune, "Arcadehall". "The Castle" is a very short synth cue, nicely expressive and effective. Drums lay down the latest of many excellent rhythm parts for synths to sort of warble over in "Entry", while a more straightforward beat lets the keyboards make some weirder noises in "Dark Corridor" and "Captive". "Escape" is a 7-second synth clarion call that leads into rock synth ballad "Car After Car The End". The record concludes with "False Waltz", presumably source music. It sounds like a deranged carousel and it's not a waltz.
---
2023 February 03 • Friday
Andrew Neiderman's Brainchild shares with Celia Dale's A Helping Hand the idea of home nurse as homicidal sadist, a plot that Stephen King would also put a spin on in Misery. All of these books are significantly different, though, and Neiderman's is an exploration of a mad scientist premise, with the mad scientist being an 18-year-old girl, a senior in high school.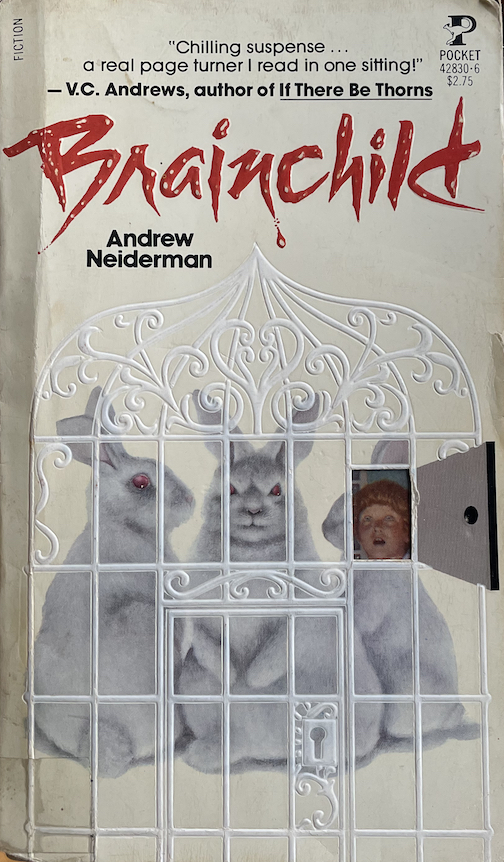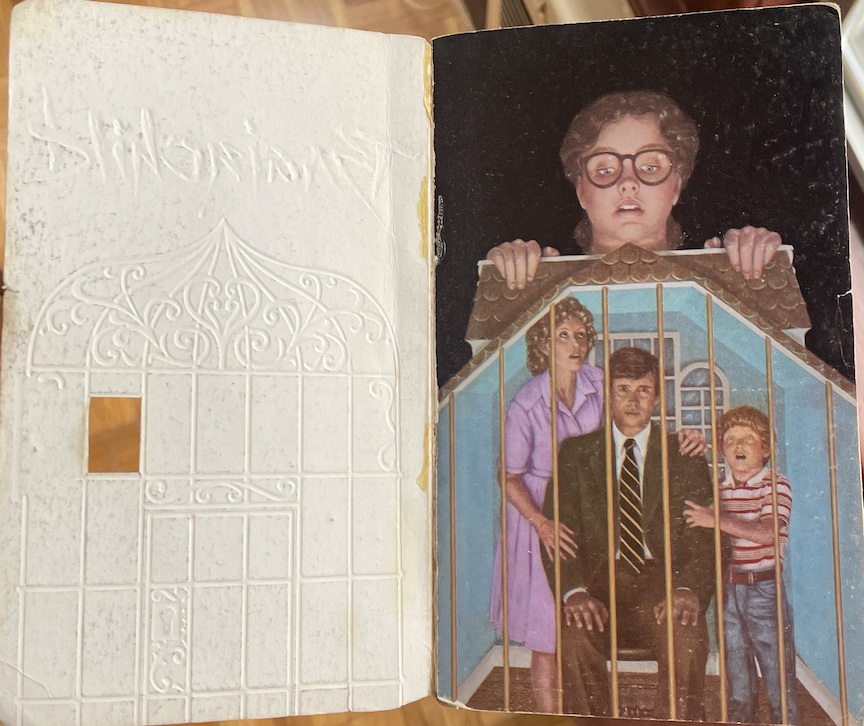 Lois Wilson is a science prodigy and a genius. What she's really interested in is behavioral science: predicting what people will do and then, of course, controlling what people will do. Sure, she starts out with rats and such, but that's boring and limited. She creates opportunities for human experiments, first by getting two classmates, a boy and a girl, to come over and see if they can control sexual impulses by taking the mystery out of their own nude bodies. When the other kids' parents find out about this, the experiment gets shut down. Lois also suffers a humiliating defeat when she tries out for the lead role in her high school play: a production of The Effect of Gamma Rays on Man-in-the-Moon Marigolds, a play she knows an cares about deeply. Her audition doesn't go well. So it's back to science. Among other academic triumphs, she's allowed to take classes at the local college from a brilliant science professor that she knows and admires. Kevin McShane is immediately impressed and inspired by his new young student and, in time, a little intimidated, too, as he realizes that he might not be able to keep up with her. Meanwhile, at home, Lois is programming her little brother to hate and distrust their parents, particularly their mother, manipulating their mother into having a dependency on drugs and alcohol and, finally, destabilizing their parents' relationship to the point where their father has a stroke. And has to be cared for at home.

By Lois. Since mom has been effectively sidelined and is even kept drugged against her will.

Now Lois has a perfect controlled environment and a helpless human subject.

It's a pretty horrifying situation and Neiderman presents it in fairly matter-of-fact prose, simply letting events play out and describing them in vivid yet understated writing.

This is the kind of book that I would expect Grady Hendrix to write about in his always amusing newsletters. Who knows, maybe he already has?

It's probably not quite bonkers or special enough to be a Paperback from Hell, but it was worth reading.

Thanks once again to Toronto's Little Ghosts horror book store and coffeeshop, where we picked up this volume last month.

The first line is "Billy Wilson squinted as he studied the small white laboratory rat in the glass cage".
---
2023 February 01 • Wednesday
Foyles bookshop in London has always rewarded our visits. Not only is it thrillingly well stocked, but it frequently offers up authors that, we fear, otherwise might not have come to our attention. The most recent example is Celia Dale, whose book A Helping Hand caught our eye. It was in a brand new paperback edition with an intriguing "The queen of suburban horror" from The Times on the front. That turned out to be quite apt, as was Ruth Rendell's "quiet, clever, subtle — and terrifying". Those are indeed the words.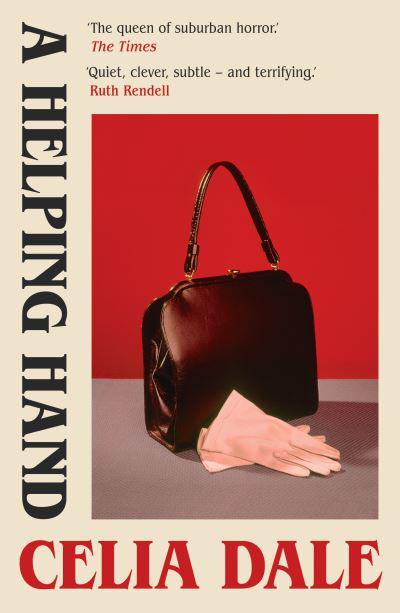 Josh and Maisie Evans are unremarkable, unattractive, middle-aged Brits who live in a squalid part of London. Dale paints the picture so vividly and precisely that you might start reading faster just to get away from it: "But the new roads which served no purpose but to lace one road to another, and all of them eventually to the arterial road, were edged with bungalows, each different from the other yet all without individuality, flat to the ground, centred in grass and lobelia, each with its own television aerial. Their inhabitants were mostly middle-aged or old. There were no children.

The land that stretched around them was as featureless as themselves: fields of drab vegetables, sports grounds belonging to some nearby factory, a rubbish tip, a display ground for caravans, or just ground — stony, sparsely grassed, scattered with coltsfoot and shepherd's purse, bounded by slack wire. And beyond it, flatter than the sea, flatter certainly than the Sahara, the unseen, omnipresent, vast void of the airport.


This description carries considerable impact in the book, appearing after a significant chunk of time is spent with the Evanses in sunny coastal Italy. They're on vacation but also looking for someone to be their next victim. They like to lend a helping hand, you see, to old women who live isolated lives but have some money to speak of in some combination of savings, pension and inheritance. They take them in as their Paying Guest and slowly, sadistically, insidiously kill them — but only after a slow murder of their spirit and intelligence. Maisie Evans used to be a nurse and Dale lets that fact, remarked often by both Evanses, speak for itself. At no point is it said that poison or drugs are employed, or that Mrs. Evans knows how to destroy a body simply by isolating, confining and controlling it. But the reader will certainly have that impression. Mr. Evans is disgustingly lusty and perverse. Inappropriate sexual impulses and fantasies dominate his thoughts and the occasions when he acts on them are stomach-churning. Into their web falls elderly widow Cynthia Fingal and, a little later, another character who provides a shocking contrast to the placid drama of Mrs. Fingal's gradual, inexorable, inhumane and all too believable destruction. Dale is one of those writers whose every sentence has something to admire. And few can equal the precision with which she indicates how unpleasant people can be behind their masks, using the deftest and most minimal touches to direct our attention to deceit, manipulation and madness. At some point in reading this novel you might start to experience serious anxiety about how it's going to end. You should. The first line is "Mrs Maisie Evans came into the lounge, pulling down the cuffs of her cardigan".
---