Rob Price
Gutbrain Records
rob + gutbrain.com = email
---
Wow, this Great Themes from Hit Films record by Enoch Light and His Orchestra is a lot better than I thought it would be. It's our 763rd Soundtrack of the Week.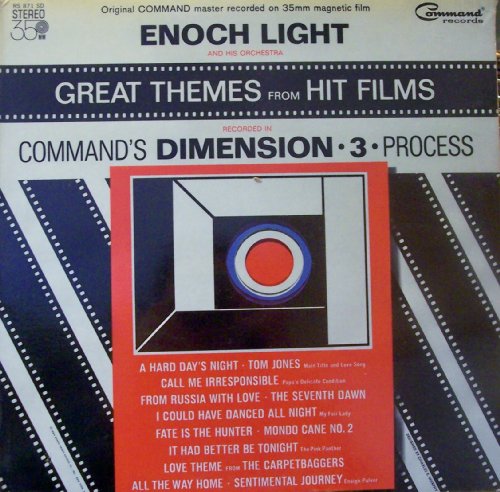 It starts with a really interesting arrangement of "From Russia with Love", which has a great sense of depth and space, wide-ranging orchestral colors and numerous pleasant surprises.
Next is "A Hard Day's Night", which has great energy and a terrific blending of string and wind sections with electric guitar and drums. It would be nice to know who's on this record. The liner notes mention a few musicians but not, for instance, the guitarists.
"Call Me Irresponsible" starts with guitar on the melody before the orchestra comes in with a lush string arrangement.
Sprightly harpsichord courtesy of Dick Hyman kicks of the "Main Theme and Love Theme" from Tom Jones. The first bit is a cute and cheerful number that's not quite as satisfying as most tunes on the record. Maybe you had to be there. The love theme is nicely melodic and lyrical, though.
Jerry Goldsmith's Fate Is the Hunter theme, on the other hand, is a gorgeous piece of music presented superbly here. Listening to it makes me want to go watch the movie again.
The A side closes with "I Could Have Danced All Night", which gets off to a great start with muted staccato guitar and bongos. Flute comes in with the melody, soon joined by other winds. About halfway through it veers into a hard and heavy swing groove before returning to the airier setting it started with. It's a really nice version that manages to make this very familiar song sound new.
Side B opens with "Mondo Cane No. 2", an energetic piece that's given almos a spaghetti western feel with strummed guitar and lots of percussion. The melody occasionally gets dangerously close to "Moon River" and there's a nice accordion break.
The theme from The Seventh Dawn starts out very dramatically with a blast of sound, and then brings in some spacy electronic textures. But it ends up being a sweet, almost pastoral piece of score with definite love-theme tendencies.
"All the Way Home" is also a laidback, romantic piece with some giant swells from the orchestra swamping the sweet melody.
"It Had Better Be Tonight", from Henry Mancini's score for The Pink Panther, has always been one of our favorite numbers. We hope that the original soundtrack recording for that movie might get released someday. And A Shot in the Dark, too, of course. Light's version is definitely different but absolutely right on, keeping the sway and stirring melodicism of the original while having a lot fun with the potentials for rhythmic variation.
Next is the "Love Theme from The Carpetbaggers", a beautiful melody with a gently lilting feel to the arrangement and a lovely piano feature.
Then the record finished with "Sentimental Journey", another very familiar song. It starts out bold and brassy but immediately shifts to just percussion and flute. Electric guitar and other instruments drop in and then it settles into a mixture of these moods with some really interesting blends of sounds.
All in all, a pleasant surprise!
---
2023 January 23 • Monday
Continuing with a brief survey of random movie music collections, the 762nd Soundtrack of the Week is Cinema by The Knightsbridge Strings.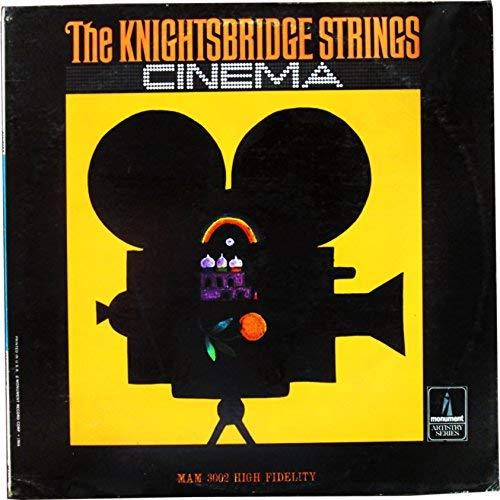 This record consists of songs that were featured in movies, quite a large category. Some of them can be immediately connected to the relevant title ("Laura", "As Time Goes By", "Somewhere Over the Rainbow") while others are not so obvious, at least to us.
Having given the matter very little thought, we decided to make no effort connecting the songs with movies in those cases where we lacked knowledge.
So first up is a piece called "Temptation", which is presumably from a movie, maybe even a movie called Temptation. We're not going to try to find out.
It's a really cool number, though, with a swaying exotica feel. Fans of Les Baxter would like it. While I'm not familiar with arrangers Reg Owen and Malcolm Lockyer (although the latter name might ring a bell), Tony Hatch was the recording supervisor and he was a formidable talent.
Anyway, "Temptation" is great, and kicks off the record with style.
Next is "My Melancholy Baby", here given a relaxed but lilting late-night feel. The trumpet playing is extraordinarily good and something about the sound of 32 violins playing in unison has a narcotic effect.
We all know what movie to find "As Time Goes By" in. It starts with solo piano, a choice no less effective for being obvious. When the orchestra comes in, it comes in thick, strong and loud. If you heard this in the supermarket it might be too intense. Certainly the tenor sax solo is too good for most supermarkets.
"Moonlight Becomes You" is a familiar title that we can't place. This one sounds the most like "soundtrack" music at first but then settles into a dreamy slow dance that's very soothing.
The A side ends with "You'll Never Know", another one we don't know and may in fact never know. This one eschews any kind of rhythmic feel and is more like a delicately constructed melody palace. It's a lovely piece.
Flip the record and you start with "You Made Me Love You", a song we do know very well although not what movie it was in. It starts with some dramatic urgency and features the trumpet. Then it relaxes into a pleasantly sleepy and loungey groove.
"Tangerine" is a song I mostly know from hearing a recording of Frank Sinatra singing it. I remember his version being more uptempo, whereas hear it gets kind of a "Moonlight Serenade" feel with some nice embellishments from the harp.
Then it's "Over the Rainbow" time. We all know this movie. It starts with an appropriately ethereal atmosphere, piano and strings giving a sense of floating in the sky among clouds and sunshine. The melody itself is given a surprisingly tender read by piano with, at first, extremely minimal accompaniment. When the strings do come in, they remain gentle and respectfully in the background until they can step forward for the chorus or the bridge or whatever you call the other part of this song.
"Laura" of course is from the movie of the same and is or at least was a jazz standard as well. There's a story that Bernard Herrmann was asked to score the movie and he insisted that the only way to do it was with Mahler or Brahms or something, that he shouldn't write any original music for it. Obviously they got David Raksin and he wrote this and it was hugely successful and, the story goes, Herrmann uncharacteristically admitted to having the wrong instincts in this case.
The piece here is given a soulful presentation with alto sax taking on the melody against a lush and velvety background.
One more and we're done: "That Old Feeling" is another pretty well known song. This one starts out as a small jazz piano combo, a trio with bass and guitar, very well done. We wouldn't mind hearing a whole record of this trio. (We've always like the piano, guitar, bass jazz trio idea.) Eventually of course the orchestra comes in but once again is very tasteful and benefits from some interesting and colorful arrangement choices.
---
2023 January 18 • Wednesday
It's been very gratifying to observe what appears to be a surf music revival. The Surfrajettes come first to mind but there are a lot of great bands out there. It's not exactly a shock but it's certainly a pleasure to detect, in the wake of this interest in surf music, a wave of new lounge and exotica-style music. The first example that we can think of is Molly Lewis's The Forgotten Edge.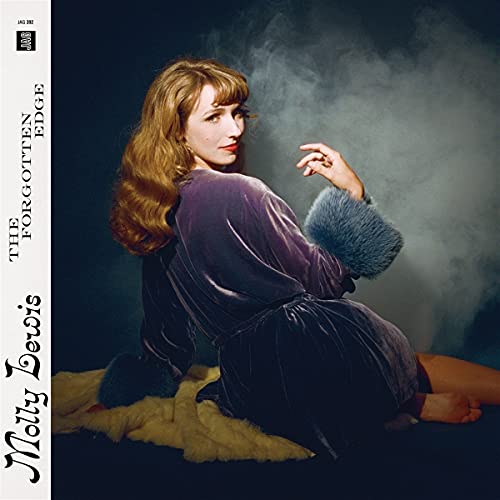 Lewis is mostly a whistler, but like a pro whistler. Think Alessandro Alessandroni, whom she salutes in the liner notes as her favorite whistling maestro. Her whistling is the main instrument in the six pieces on this record although she also contributes vocals, guitar and vibraslap playing. From beginning to end it's a masterpiece of mood, ranging from the sultriest Les Baxter exotica jazz soundscapes to Hawaiian grooves with organ and electric bass and relaxed but pulsating energy. She has a great band to work with, particularly producer Thomas Brennan, who also plays several instruments on the record.

Our only complaint: there isn't more of it!

Check out Molly Lewis on Bandcamp. We highly recommend buying this record in any of the available formats.
---
2023 January 16 • Monday
The 761st Soundtrack of the Week is a bit unusual. It's not even clear what it's called. At first I thought that Action Thrillers!!! was the most likely title but upon further inspection it seems that James Bond Thrillers!!! is probably how we should refer to it.
Also, whose record is it? It's got four pieces of music from James Bond movies and then six originals with titles intended to make you think that they're also from James Bond movies, although they are not.
These tracks have a composer credit of either R. Lowden or J. Kuhn. Aside from credits for Recording Director (D. L. Miller) and Cover Design (Chic Laganella), no other names are given.
The two paragraphs of text on the back of the record state that the recorded performances are by "The Zero-Zero Seven Band from London".
Well, whatever.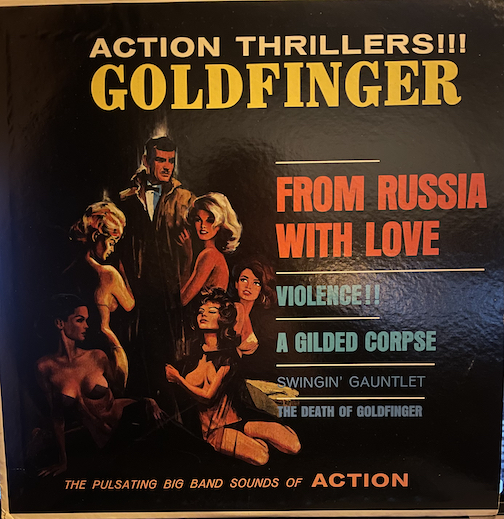 The record begins with the theme from Goldfinger, in a surprisingly tough and energetic rendition that actually varies the mood and intensity quite a bit. The guitar sound is cheaper than Vic Flick's inimitable tone but alto sax is the real star here, actively improvising with enviable tone and creativity. The theme itself actually incorporates another cue from the movie to add another element of interest.
Next is Lowden's "Violence!", an upbeat bit of big band crime jazz with wailing horns, more excellent alto soloing, an electric guitar solo and even a bit of organ or electric piano.
Lionel Bart's theme for From Russia with Love follows and it's really good. It's scaled down to smaller combo for the most part and given kind of a lounge exotica groove with lots of input from the electric guitar and considerable support from organ. About halfway through it unexpectedly shifts to a big band swing arrangement with another great alto sax solo. It certainly seems as though quite a bit of thought went into this recording.
Despite the title, "Blues for Dr. No" is another original piece, this one by Kuhn. It starts with a bunch of gunshot sounds that are almost vaguely rhythmic and when the piece itself starts it turns out to be like a Dixieland or New Orleans sort of jazz number. Surprise!
Side A finishes with another original composition with an intentionally misleading title: "Pussy Galore Meets Bond" by Lowden. This one is an intriguingly bluesy and swaying light jazz suspense number that alternates some airy and tiptoe-ing passages with louder, thicker big-band passages. The agreeably skronky electric guitar can be heard plonking away in the background and there's another great saxophone solo.
The B side kicks off with "James Bond Theme", credited here to John Barry although it's now definitively proven that it is in fact a Monty Norman composition. Since Mr. Barry's arrangement of it was so incredibly important to the success of this piece (and to the franchise in general), it seems like he should have been given a co-composer credit or some kind of compensation for what he brought to it. (Guitarist Vic Flick also contributed at least one crucial idea, lowering the famous guitar riff by an octave or two.)
It's not to be, of course. Presumably because there's just too much money involved. In any event, this read of this famous piece of music is faithful to the original although the guitar sound is somewhat more menacing, with its guitar rock tone, and the horns slide some notes around to give it a slightly unbuttoned feel. I guess the mood could be described as slightly intoxicated. With a cutting guitar break and a nimble and relaxed alto sax solo, it's an unqualified success.
"'M' Joins the Hunt" is the next original, this one by Kuhn. The title is a little baffling in that I can't remember any Bond book or movie that could have included such an idea, particularly in the late '60s, when this appears to have been recorded. Anyway, it begins with gunshot sounds, as did the previous Kuhn contribution. This one is a piano feature, with a bluesy swing to it and generally easygoing and midtempo, a very nice jazzy number with terrific tenor sax and trumpet playing.
Then we get one more from Lowden, "A Gilded Corpse", whose title connects directly to Goldfinger. The piece itself has some similarities to the From Russia with Love theme as well as the "James Bond Theme". It's a fairly straightforward big band swing piece with xylophone or marimba adding unexpected color. There's also a wailing organ solo. I think you can also hear the influence of Henry Mancini here.
Kuhn gets one more piece, "Warm and Deadly", a title that could be dropped into almost anything. Instead of opening with gunshot sounds, this one opens with what sounds like cocktail party chatter or something similar. This kind of intro must be Kuhn's signature, whoever Kuhn is. A late-night saloon feel, very "One for My Baby", with a tinge of New Orleans jazz/blues, is what you get here. The piano gets the spotlight up front and the horn section plays with dynamics in some interesting ways. There's also a trombone solo and a clarinet solo.
The record ends on "Death of Goldfinger", actually from the movie. This is actually a more faithful version of the theme than the purported "theme" that opens the record. Flute takes the melody, there's a great alto sax solo (again), nice organ playing, a lovely smooth feel to it.
It's an interesting and satisfying record. Not to mention a mysterious one. I'd love to know more, or indeed anything, about its making.
---
2023 January 13 • Friday
Here it is Friday the 13th again, so why not take a moment to consider that devilish performer Derren Brown? We've enjoyed watching his various televised shows and even put up the cash to go see his Broadway show Secret and enjoyed it immensely.
And it was in a used bookshop in Amsterdam last autumn that we discovered that Mr. Brown also had written this book: Tricks of the Mind.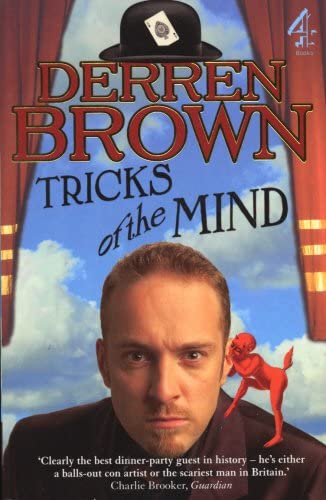 It seemed like a natural progression from Derek Delgaudio's book so we went ahead and read it. It's a very different book: less personal, more provocative, much frequent deployment of wit and sarcasm, more distant. British, you might say.
But it's a compelling read, tracing Brown's route from devout Christian to atheist by way of studying conjuring, memory, psychology and other interesting subjects.
There are useful chapters on sleight of hand, very handy tools for remembering loads of information quickly and effectively, reading facial expressions and body language, all sorts of subconscious actions we all do all the time, etc.
There's a lot of debunking of psychic readings and related endeavors, as well as explanations of how things like Ouija boards work.
Mr. Brown is a charmind and engaging host and in addition to provoking laughter and interest, he also inspired us to try some of his techniques.
At the end there's also a list of suggested reading for those who wish to know more about matters discussed previously.
In short, absolutely essential for fans of Derren Brown and anyone interested in human psychology.
The first line is "Welcome to the official paperback edition of this book".
---
2023 January 11 • Wednesday
Derek Delgaudio's one-person show In & of Itself was something I found enormously rewarding. It was right here in New York, Off Broadway, but didn't know anything about it until my friend Don advised me to watch the film that had been made of it. (It was and perhaps still is on Hulu.) Delgaudio starts out somewhat obliquely, telling a story and dropping hints about things that will occur later in the performance. When he takes out a deck of cards and demonstrates his sleight-of-hand abilities, things get really interesting. While by all appearances a truly virtuosic card manipulator, Delgaudio also has other stage magic abilities to deploy. But that isn't the point of the show. The path that brought him to that stage, via discovering and acquiring these formidable skills, is the real story, beginning with early childhood and on through the first years of adulthood. In & of Itself ends up being a very moving piece of theatre whose subjects are identity, self-realization and connecttion with others. I watched the movie at least three times, very likely four, perhaps five. And now there is this excellent book by Mr. Delgaudio, called Amoralman, in which he expands on the themes of his show and gets into much detail about his early life and exposure to the worlds of magic and cheating at gambling.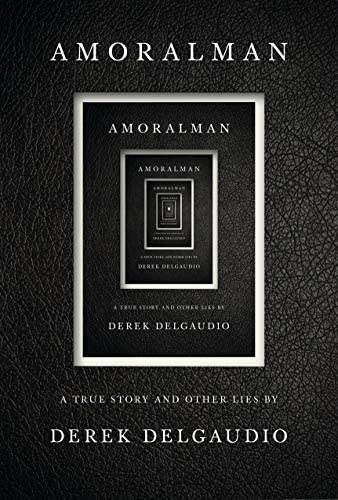 It's a fascinating, moving and inspiring work that I read almost in one sitting. I certainly wasn't able to make the experience of reading it last much more than a day. It has a wonderful structure to it as well, concluding with a sort of time-release trick that demonstrates Delgaudio's stated desire to deceive only to reveal. And on the way it's just a mesmerizing parade of stories and characters and observations. I hope we can have something else from him soon. The first line is "There is a cave lit by a single fire that burns high on a ledge".
---
2023 January 09 • Monday
We have several movie theme collections just sitting around so we're going to give them some attention. Next up is Leroy Holmes and His Orchestra with For a Few Dollars more and Other Motion Picture Themes, the 760th Soundtrack of the Week.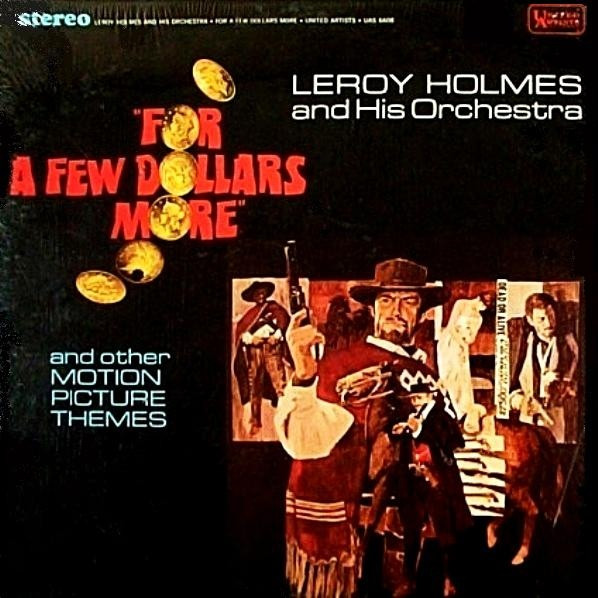 The whole first side is devoted to Ennio Morricone's music from A Few Dollars More and the cues are faithful to the original, complete with chorus, strings, jaw harp, etc.
In "Sixty Seconds to Killing (La Resa Dei Conti)" the rhythmic intensity is increased and the guitar sound is especially good. There's a bit more attention give to the organ as well.
"The Vice of Killing (Il Vizio di Uccidere)" throws xylophone into the mix with great effect while "Aces High (Poker d'Assi)" is given a lilting 12/8 feel.
The B side opens with the main title theme from A Fistful of Dollars, again faithful to the original, complete with whistling, but some nice touches in the orchestral backing, particularly harp and flute, with more great electric guitar playing and a brisker tempo than the original.
Next is the "Theme from Zorba the Greek", taken at fairly high speed and with what sounds like electric harpsichord.
The Topkapitheme is next and it's more relaxed, swaying sort of piece, breezy, gentle and lyrical.
Then there's the theme from Viva Maria, a Spanish waltz with horns, castanets and acoustic and electric guitars.
The next piece is surprising, Maurice Jarre's theme from The Train That's a really good movie but it's not really known for its score and we wouldn't expect to find it on this kind of record. But here it is and it's a very jaunty sort of jazz march with some unfortunate choral parts and just a generally strange feel. It sounds more like it should be from the soundtrack to Stripes.
Finally we get the title theme for Tom Jones, another odd one, sort of like slapstick cartoon classical music, featuring the harpsichord and some sprightly electric guitar picking.
All in all this is one of the better records of this sort. Certainly interesting and creative!
---
2023 January 06 • Friday
Before the Coffee Gets Cold: Tales from the Cafe (possibly a.k.a. simply Tales from the Cafe is the second book in Toshikazu Kawaguchi's unusual time-travel series.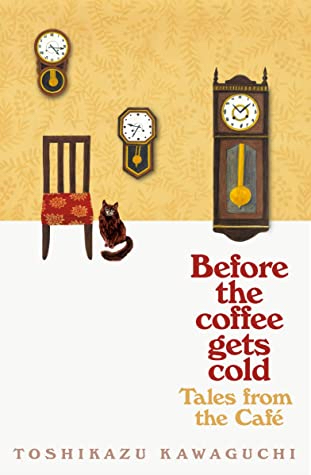 Like the first volume, it's been translated into English by Geoffrey Trousselot and once again I didn't love the sensuality of the prose. This is probably just a result of being faithful to the original text, which would sound and scan much different in Japanese—a lovely language that I wish I were fluent in.
But if you liked the first one, you'll like this one as well.
As before the action is confined to the interior of the coffeeshop since one of the rules of time travel is that it can only be done while seated in a particular chair and the time traveler cannot move from the chair without being immediately returned to the present.
The coffeeshop family expands a bit here with daughter Miki, and while the same themes of redemption and resolution run through the second book, there's also a bit of baton-passing.
We find out quite a bit about the ghost who always occupies the time-travel chair and we get to see how it works when the ghost and traveler switch places.
One interesting development has somebody attempt to commit suicide by becoming the new ghost, which is what happens if you stay too long in the past or future.
These low key stories have their appeal but I found the blockiness of the translated text too lacking in pleasure and I might just leave it here and not read the next books.
I'd still recommend them to anyone with an interest in time-travel stories. They're different enough to be worth checking out.
The first line is "Gohtaro Chiba had been lying to his daughter for twenty-two years".
---
2023 January 04 • Wednesday
Happy birthday!
Toshikazu Kawaguchi's Before the Coffee Gets Cold is the first in (so far) four time-travel books, of which the first three have been translated into English.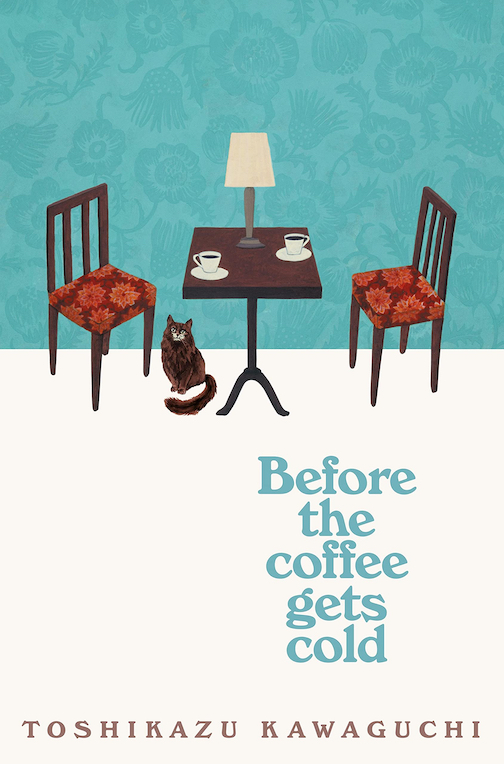 Kawaguchi started out as a playwright and these books began as a play, which isn't surprising. Each of the first two books offers a connected series of short stories, all taking place in a small coffeeshop and involving only a small number of characters. It's quite easy to imagine it as a play.
Each story involves time travel, as the coffeeshop in question, called Funiculi Funicula, is known as a place where you can travel back in time.
(It's almost always referred to as going "back" in time but traveling forward to the future is possible as well, and there are a few examples of this.)
The rules of this particular time traveling are such that people can't get up to too much. First of all, you have to sit in one particular chair in the coffeeshop to do it. And this chair is always occupied by a ghost, a literal ghost, a woman who sits there reading a novel all day, every day.
If you try to forcibly move her from the chair she'll curse you and you'll end up on the ground paralyzed until Kazu, the woman who works at the shop and makes the time travel possible, removes the curse by offering the ghost more coffee.
Once a day the ghost goes to the bathroom and that's your chance to sit in her chair and travel in time. Exactly when the ghost will get up and go is impossible to predict, though.
Once you travel in time, you cannot leave the chair. If you get up from the chair, you'll be immediately returned to the present.
You can only encounter people in the past and future who have already visited the coffee shop.
Nothing you do in the past will change the reality of the present. If you go back in time to warn somebody against getting killed in a car crash, for instance, they'll still get killed.
You only get one shot at this. You can only travel in time like this once.
Finally, to travel back in time, Kazu pours you a special cup of coffee. You become one with the steam rising from the cup and then you're back (or forward) to whatever time you thought of.
But you must return to the present before the coffee gets cold. You return by drinking the cup completely. If you fail to do this, you become a ghost. That's the origin of the ghost woman always sitting in the chair.
So, with such severe risk and so many limitations, what's the point?
In an interesting change of pace for time travel stories, Kawaguchi has gone for very low key, gentle, personal motivations. What motivates most of the time travelers is a desire to communicate their true feelings, to reach out to someone they love and can no longer talk to, whatever the reasons. Death is one, as you might expect, but there's also dementia and plain misunderstanding as well.
It's certainly unusual and enjoyable, but the prose quality of the English translation lacks music and sensuality and just isn't much of a pleasure to read. The ideas are interesting but the text itself is kind of clunky and bland and lacks solidity. This seems to be almost always the case with Japanese fiction translated into English, so presumably the translator, Geoffrey Trousselot, is being scrupulously faithful to the original text.
The first line is "'Oh gosh, is that the time?'".
---
2023 January 02 • Monday
Happy New Year!
Let's start out with one of our favorite people: H. Jon Benjamin! Believe it or not, the 759th Soundtrack of the Week is his record The Soundtrack Collection, a sequel to his Jazz Daredevil album.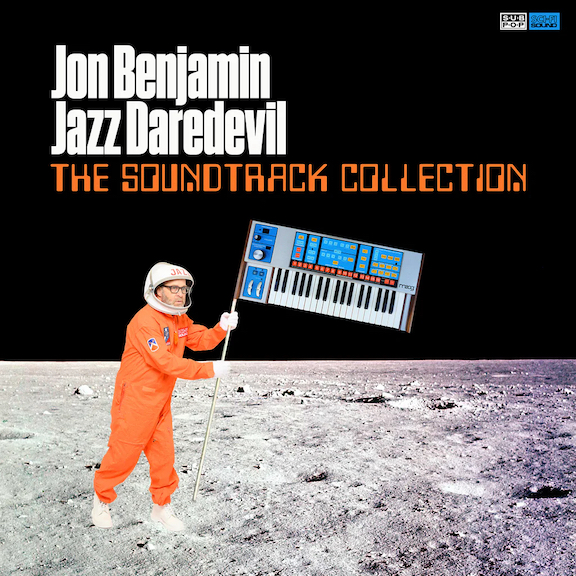 It's on this transparent orange marbled vinyl!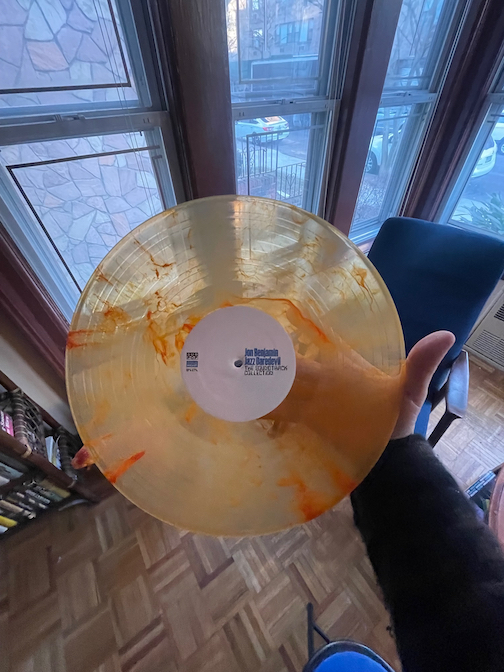 And it also comes with sheet music for the Chariots of Fire theme!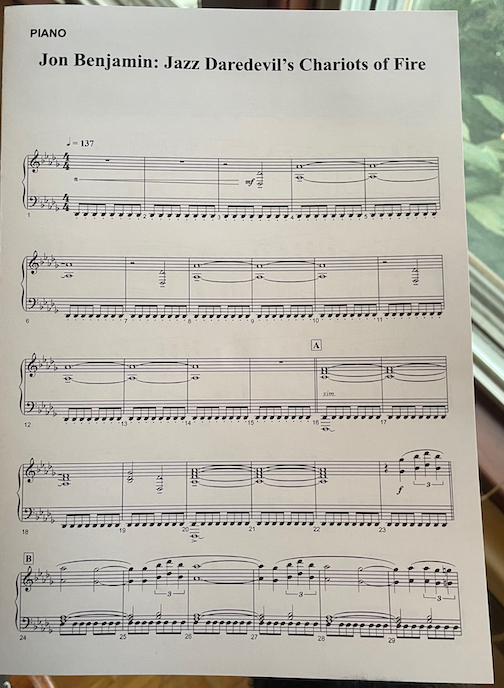 H. Jon Benjamin's previous "Jazz Daredevil" record was a jazz piano trio outing, as I recall, with the novelty that Benjamin had no experience or skill or, I guess, particular talent or aptitude for playing the piano.
So, a daredevil act or just a joke or a novelty record. But I seem to remember that it was actually kind of good, which might indicate how important a rhythm section's contribution can be.
For this second record Benjamin is doing movie music and playing Moog.
I'm not sure who the other musicians are but the first track, "Danger Zone (Theme from Top Gun)", does include Kenny Loggins and immediately clues listeners in as to what the nature of this record is.
It begins with a straight rendition of "Danger Zone", with Jon Benjamin singing the lyrics and is soon interuppted by Mr. Loggins in the studio booth, complaining that the whole thing sucks, especially Benjamin's vocals. They have some entertaining back and forth chat and then that's that.
Next up is "Also Sprach Zarathustra (Theme from 2001: A Space Odyssey)", in which a very faithful orchestral backing is more or less disgraced by Benjamin's amusing abuse of the Moog.
I laughed out loud during the Chariots of Fire theme as Benjamin takes stabs at this extremely familiar theme and misses notes quite often. And of course that's the point.
"Axel F (Theme from Beverly Hills Cop)" gets the same treatment but is even funnier. The contrast between the backing tracks and Benjamin's keyboard playing is really amusing.
None of this is likely to prepare you for the absolute slaughter of "In the Mood", whose inclusion here can perhaps be justified as being from The Glen Miller Story or some such thing. After an incredibly destructive start, Benjamin actually comes close to creating a good, original number. Don't worry, though. It doesn't last.
I guess the theme from Love Story had to be on here. It's like shooting fish in a barrel, isn't it? Just when you think the track you just heard is the funniest and most ruinous one, the stakes inevitably get raised with the next one. Is this actually… good? I guess probably not but… it's actually better than a lot of stuff it's worse than, if you know what I mean.
But then things get serious. Everyone's favorite grim 5/4 horror movie theme. Yes, it had to be Halloween. Benjamin murders it immediately and keeps slashing away at it even after it's dead. Is this the funniest one? They're all really funnty.
Okay, "Theme from Miami Vice", why not? Let's get this over with. It starts straight but when that other shoe falls it goes right through the floor and drags the whole building down with it. The only thing this record is missing is a warning label.
Then we wrap up with "Duelin' Moogs", as in the dueling banjos from Deliverance. And guess what? The first Moog player can play and the second player is Jon Benjamin. Which means that the response never matches the call. I think it's hilarious.
---