The 757th Soundtrack of the Week is the music from Winter Equinox. Whose score is this? Good question. The music is "directed and produced by Dennis Dragon" but it seems that all of it (except perhaps for one track), is composed and performed by other people.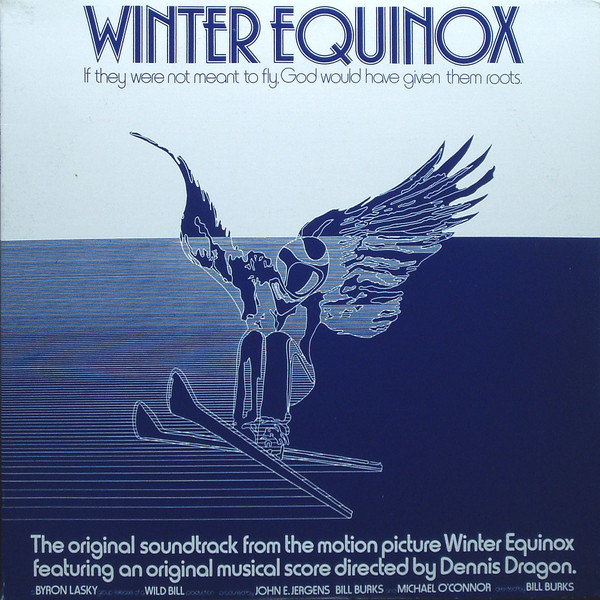 First up is "Ballad of Snowshoe Thompson I", composed and performed by Chris Darrow and I. Balz. It's about a minute long, leisurely banjo and harmonica duet.
Chris Darrow and I. Balz also composed and performed the next piece, "Powder Burn", a driving blues rock number with amplified violin.
Next up is "Indian Chance", a short track of tribal percussion and vocals composed and performed by Steve Olitzky.
"Mogul Monster", composed and performed by Richard Henn, is pure '70s disco funk rhythms with wah-wah guitar, strings and flute. It would fit right in with an episode of CHiPS probably and has a wailing acid rock guitar solo as well as a keyboard solo that has an unusual sonority.
Toulouse Engelhardt composed and performed the next piece, "Too Loose" (get it?), which is a blizzard of fast acoustic guitar strumming and overtones along with some hand percussion. It's pretty awesome.
Chris Darrow and I. Balz return for the next cue, "Salerno's Theme", a killer country-rock instrumental with steel guitar and wordless vocals.
After that comes a track with no actual composer credit, just "Performed by the Redwind Drummers". It's called "Hot Wax" and it's a kind of funky, jazzy, honkytonk sort of piece with piano and drums and electric guitar and amplified violin and organ. It fits nicely with "Powder Burn".
Then it's Richard Henn's turn again with "Park City Trilogy", sort of a mini-suite by mini-orchestra and the closest thing to dramatic underscore so far. There's a soaring and expanisve quality to it, with the flutes especially creating a feeling of flight.
The last two tracks on Side A are by Chris Darrow and I. Balz. "Snow Nose" is an interesting rock instrumental with violin as the lead instrument, giving it a tinge of country, I suppose, and balancing a lyrical melodicism with a hard driving rhythm section.
Then there's the lovely and languid "Hi Time", with swaying steel guitar, laidback drums and a wonderfully sultry and relaxed groove.
The second side opens with Richard Henn's "Snow Dance", a bright and chirpy synth and flute pop/rock instrumental.
Chris Darrow and I. Balz's "Bachs Lunch" (get it?) is actually a laidback country rock instrumental with solid drumming and nice violin and steel guitar playing. It's not some kind of "Fifth of Beethoven"-type riff on Bach, much to my surprise.
After that Richard Henn returns with "Aerial Symphony", a mini-symphony sort of piece with strings playing a melodic line over a heavy drum beat and, eventually, something that sounds like waves or wind.
"Weird Ballet" is by Chris Darrow and I. Balz and starts with a deep and intriguingly funky drum pattern, ably supported by bass and guitar. Harmonica takes the lead, followed by violin. This might be the richest and most satisfying track on the record.
Richard Henn follows this with "Powder Buff", another piece with strings and winds playing over a driving rhythm section, this time with a few echoes of the theme from Shaft.
Then the record wraps up with "Ballad of Snowshoe Thompson II", the banjo and harmoonica joined by drums, bass and steel guitar, quite a nice tune.
---