2022 December 12 • Monday
We haven't checked in with Lalo Schifrin in a while so the 756th Soundtrack of the Week will be his music for Nunzio.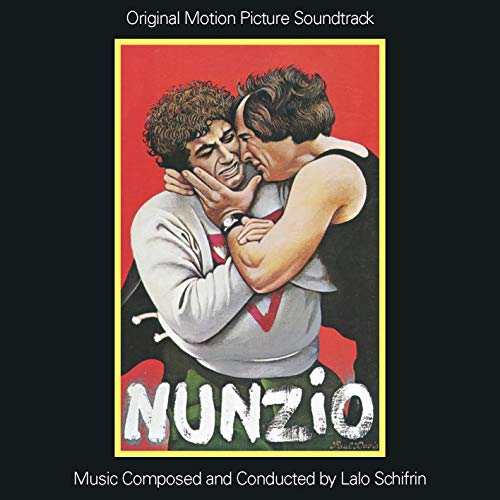 Appropriately enough it starts with "(Hey, Nunzio!) Theme from Nunzio", which kicks off with a Shaft-like feel (and has a few Shaftian flourishes throughout) and develops as disco with room for strings and electronic keyboards to stretch out. The "Main Title" is a more acoustic track, with flute and strings as well as brushes on snare suggesting a situation with lively energy. Timpani and keyboards also contribute to the engaging sonic landscape. Then it's time for sweet, gentle love, with the solo piano piece "Nunzio in Love (Love Theme)". It's a nice love theme with some Bacharach-like elements. Soaring strings then take us off to "Flying Love", an airy and sweeping piece with long phrases and bright orchestral colors. "Only a Memory" is another sweet and gentle solo piano piece, stirring and lyrical. The energy gets sprightly and perky again for the short "No Tips for Nunzio", which features the clarinet and has a similar musical setting as the main title. Another solo piano piece, almost in a classical mood, comes next with "Night Music", which isn't too far away from Satie or Debussy territory. Just in time comes a funk disco freak out for "Candy Store Frenzy". This would be a great tune to have at a roller rink. "Sad Nunzio" starts as a solo piano number but this time the emotions are enhanced by strings. It's a very nice and lonely sort of piece. Solo piano then takes the stage for "Goodnights My Little One", a short and charming lilt of a cue with some affecting minor chords. It's a bit of a surprise to hear menace and tension and suspense at this point but that's what happens next for "Nunzio in Danger", a tantalizingly uneasy and perilous cue that's fantastic dramatic underscore. A similar feeling prevails in "To the Rescue", in which you can detect some of Schifrin's Mission: Impossible past. Busy snare drums and strings kick off "Superspeed", which also has some back and forth call and responses from brass and timpani. It's a driving cue with some jagged edges and sustains a feeling of agitation until the very end. The "End Title & End Cast" have a chipper and successful sound to them, even jolly and content, with flutes trading off with some humorous-sounding lower woodwinds and synthesizers, so maybe everything worked out!
---