2022 December 05 • Monday
Here it is December and that can mean only one thing: the 755th Soundtrack of the Week is Hired To Kill by Jerry Grant.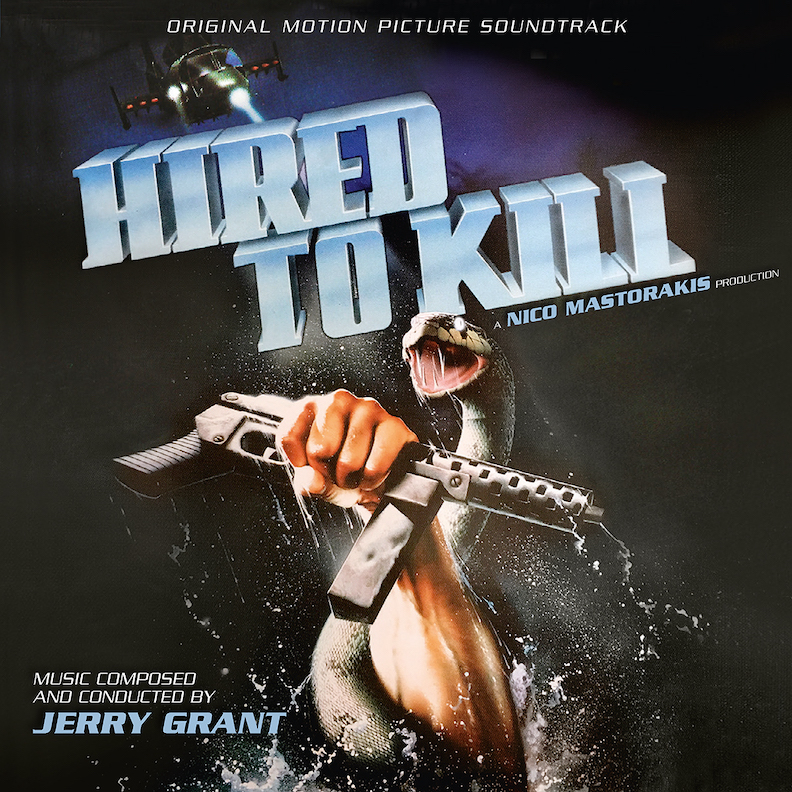 It starts with "Fanfare and Fireworks", which combines lean and muscular action writing with subversive synth contributions that try to corrupt the military snare drums with promises of some slinky grooves. This tension is also evident in the "Main Title", with some of the musical activity somewhat reminiscent of Lalo Schifrin's Mission: Impossible music. Harp, guitar and percussion are used sparingly but effectively. The martial snare and pounding musical statements are back for "In Training", though this time electric instruments play with them. It's a tight, aggressive and high energy blast, occasionally relaxed for a moment. Then we get some Middle Eastern exotica for "Istanbul", with long tones, hand percussion, the expected modality and a bit of wordless vocals that might resemble a call to prayer. But it's also got business to do, with more tense and suspenseful dramatic underscore soon taking over. "Get in the Driver Seat" is a change of space with some massive drum sounds, percolating flute and even a bit of distorted electric guitar or keyboard. There had to be a love theme, right? It comes next in "Katrina", and is lovely, with nice acoustic guitar playing. But then it's back to business with exciting percussion ostinati and great flute playing. Loud and intense sonic explosions kick off "San Quentin" but the cue changes direction with some Spanish guitar playing and a rhythm background that sounds like cicadas in full force. Next is a swinging '80s groove for "Catwalk Assassins", at least for the first half of the cue. The second half is more straightforward suspense and action writing. "Someone Who Knows" is a piece with a lot of space in it, once again with a compelling percussion foundation and lots of wooden flute (shakuhachi?) playing. Soaring strings announce "Arrival in Cypra", which soon takes a somewhat eerie turn with a few mysterious sounds and some pensive guitar work. Hand percussion kicks off a serious groove and then things get atmospheric and tense at the same time. Solo cocktail lounge piano follows, presumably source music for "Dinner with Bartos". "Psychic Reader" is almost a miniature suite of micro cues and blends different sounds in great ways. There's also a new element in there, perhaps vibes. Lively hand percussion and guitar dig into some North African or Middle Eastern grooves for "Let's Mingle", after which timpani kick off "Open the Gates", more tense and dramatic underscore with some whirling flutes and driving horn lines. Restrained and tender solo acoustic guitar starts "Goodbye Sheila" but about halfway through other instruments come in and the melody is taken over by wailing electric guitar. A more low key approach to tension and suspense follows for "Ryan Uncovered", another one with Schifrin-like moments. There's lots of percussion as well as other instruments playing percussively in the tough and angular "Break-in". Strings fill most of the space in "My Life or the Revolution" but there are significant contributions from synths and acoustic guitar. "The Escape" uses a lot of orchestral force and rapidly fires numerous powerful music ideas at the listener. Just when you get used to it, it changes. The intensity and invention continue unabated for "Final Battle" and "Helicopter Fight", after which the score concludes with the triumphant "Victory", which might even quote "Joy to the World". It sounded like it to me, anyway!
---