George Harrison's music for Wonderwall is our 754th Soundtrack of the Week.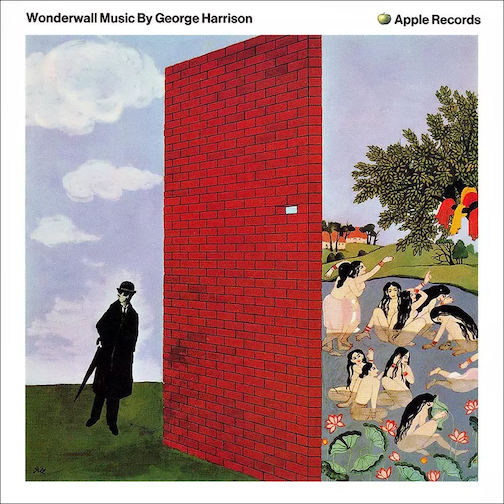 A lot of the music is performed by Indian musicians on classical Indian instruments and the first track, "Microbes", sets the mood right way with two shenhai (I think) players accompanied by what might be sitar or something similar. It's interesting and hypnotic.
Then we get "Red Lady Too", a more conventional piano-led piece in waltz time. It's quite pleasant and rather short. It's followed by "Tabla and Pakavaj", about a minute's worth of those instruments playing.
After that comes some lovely Indian music, very melodic and rhythmic and mesmerizing, for "In the Park".
A run-down saloon sound with drums, bass, beat-up piano and I guess flugelhorn come next for "Drilling a Home". "Guru Vandana", a melodic piece similar to "Microbes", picks up from there and then there's "Greasy Legs", which starts with some low drones and then has some light and airy organ and piano playing.
"Ski-ing and Gat Kirwani" is a cool acid rock piece with distorted guitar soloing over backwards distorted guitar soloing. Then there's a fast piece for tabla and sarod. This segues into a dreamy cue for Indian instruments and vocals which in turn morphs into a "jangly piano" track with heavy drums and flute playing. This abruptly shifts into low organ drones and a flugelhorn feature. Then there's harmonium and some backwards tape stuff as well as siren noises.
The B side starts with "Party Seacombe", a cool and relaxed rock instrumental with some interesting sonorities and a bit of a Beatles feel to it.
This is followed by a mellow and pretty piece for Indian instruments, "Love Scene". The tabla playing is especially nice. This leads into the short and sad-sounding "Crying", with Indian violin as the main instrument.
"Cowboy Museum" starts with very familiar elements like harmonica and horse-hooves rhythms. It has a "Home on the Range" feel to it. The Indian violin-sounding instrument then takes over for "Fantasy Sequins". It starts solo and then is joined by Harmonium, at which point we might be listening to "Glass Box". It's a little hard to tell where some of these begin and end. By the time the drums come in with a beat and other instruments start to solidify the sound, it's definitely "Glass Box", I guess.
A short sitar and/or sarod-driven piece, "On the Bed", comes next. It's got a great tabla groove and an admirably obsessive quality to it.
Then we get a lovely and lush piano feature, "Wonderwall To Be Here", romantic and triumphant sounding at the same time, with a richly textured sound.
The last track is "Singing Om", which has wordless vocals singing in unison with long tones from Harmonium. There's some nice flute playing as well.
---