The 753rd Soundtrack of the Week is from the great guitarist and songwriter Jerry Reed: What Comes Around.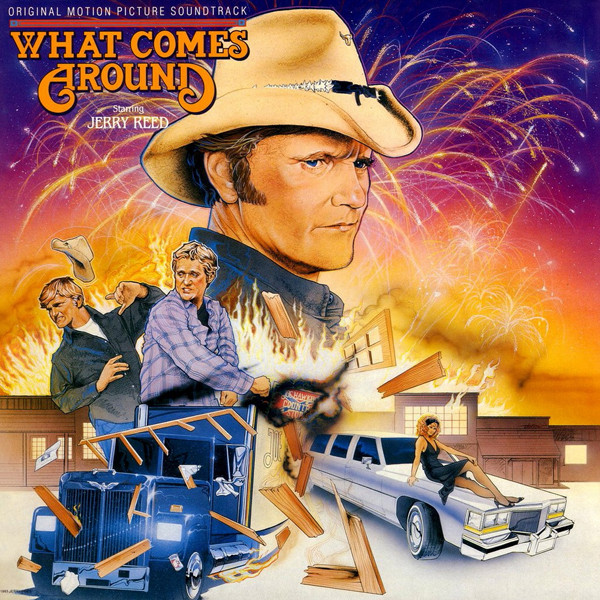 Jerry Reed has had substantial parts in several movies but this one he directed as well as starring in it and writing and performing songs for it. He plays a country music star, so it's not a stretch.
The soundtrack album starts with "I Want To", a mid-tempo country love song with typically sharp guitar playing and nice chord changes and a pretty deep groove.
Then the mood shifts to kind of a country lounge exotica song, "December Winds". It's gentle and lovely with some interesting sonorities. There's a bit of string section in places, an occasional shift to a heavier feel and, of course, great guitar playing.
"Big Time Fool" has a strong backbeat and an insistent, bluesy pop/country feel with another tasty guitar solo.
After that comes a straight-up love ballad in the "You Are So Beautiful" mode. Jerry Reed can do it!
Side A concludes with the title track, a high-energy, toe-tapping, catchy and uplifting song that's just a lot of fun.
Flip the record over and you'll hear "What Will It Be", another love ballad, this time with piano as the main instrumental voice and more of a contribution from the strings.
Jerry Reed steps aside after that for an instrumental number by fellow guitarist Chip Young. "The Long Haul" is brisk and lively piece that features harmonica and guitar, both played really well.
"Boogie Woogie Doctor" sounds like its name. It's a rock and roll boogie song assembled from a dozen extremely familiar musical ideas. You probably wouldn't miss this song if it were gone.
It's piano player Al DeLory's turn after. His instrumental tune "Black Jet Lag" is a perky and driving track that you can easily hear as part of a film score.
Finally we get to "Let It Go", one last song from Mr. Reed. It has a bit of the island sound in some of its instrumentation and feel, as well as a bit of mariachi horns because why not? It's a great song, with a sunny energy and a lilting, swaying, irrepressibly happy feel to it.
---