It turns out that, more or less, The Kinks were just the best. And so our 752nd Soundtrack of the Week is Return to Waterloo by the great Ray Davies.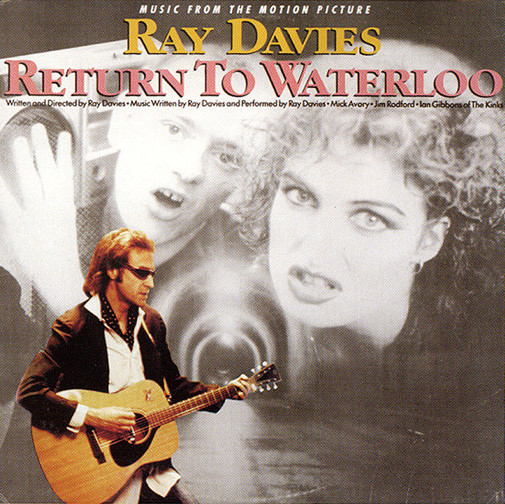 Appropriately enough it starts with "Intro", a short piece with some backwards tape playing, ethereal wordless vocals, timpani and other instruments creating a suspenseful atmosphere.

Then we get the title song, which at first sounds like a classic Kinks song, with strummed acoustic guitar and Davies's familiar singing voice. Then drums and synthesizers come in and it sounds very '80s but in a good way. It's a great song with harmonic movement similar to other Ray Davies songs.

"Going Solo" is more in line with '60s and '70s Kinks, the keyboard being lower in the mix and with a more neutral sound. It's a mid-tempo number but has a really strong energy and inspiring lyrics about striking out on your own.

The tone becomes very gentle and tender for "Missing Persons", a heart-felt pop/rock love ballad.

Side One ends with a blast, the almost-punk rock song "Sold Me Out", with aggressive electric guitar playing, angry lyrics and pounding rhythm section. It's great.

The second side opens with "Lonely Hearts", another very pretty love song, this one in a relaxed 6/8 with nice alternating between major and minor chords.

"Not Far Away" is a straight rocker with similar energy to early Pretenders but more emphasis on keyboard than guitar. Davies sometimes sings, sometimes snarls. Then about halfway through there's a soft and dreamy breakdown, completely unexpected.

Following this is "Expectations", another great pop/rock track with acoustic guitar and subtle keyboards, including organ, plus some huge drum sounds.

Then it ends, too soon, with "Voices in the Dark (End Title)",

a song with massive keyboard and drums sounds and a beautiful melody sung by Davies. This is another very '80s track and it's fantastic.
---