Dingo, a collaboration between Miles Davis and Michel Legrand, is the 737th Soundtrack of the Week!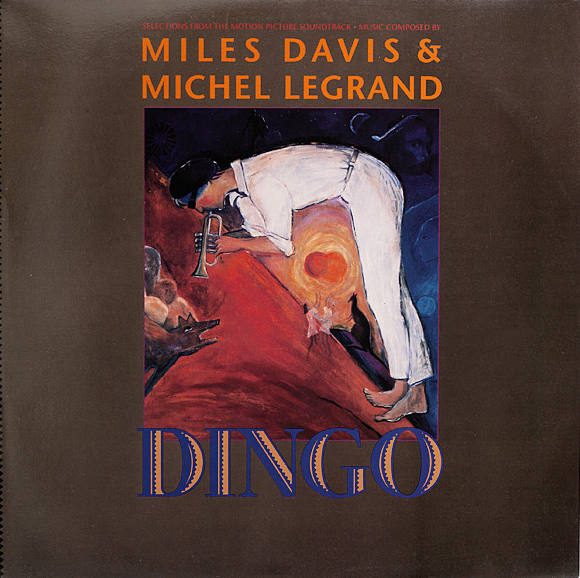 This reissue is on red vinyl!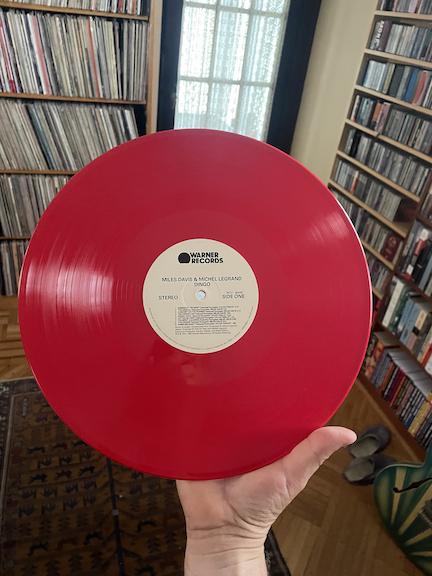 It starts with "Kimberley Trumpet", a lovely and haunting solo trumpet piece (with a slight echo), performed by Chuck Findley.
Then it's Miles Davis's turn with "The Arrival", another beautifully lonely piece, with some delicate orchestral additions added sparingly at the end.
The old days of post-bop are summoned in the fleet "Concert on the Runway", which has a spoken intro by Davis, apparently an audio clip from the movie. The effect is somewhat damaged by the bass sound and the use of wordless jazz chorus, but otherwise it's fairly reminiscent of Davis's '50s and '60s quintets.
Miles speaks again after that, with some young kid, the sound of an airplane in the background as well as somebody speaking French. Another bit from the movie. This is "The Departure", which also features some of the "Arrival" music.
"Dingo Howl" has an actual dingo howling sound and then a bit of trumpet, flowing immediately into the upbeat swing jazz number "Letter as Hero", both with trumpet playing by Chuck Findley.
This is followed by "Trumpet Cleaning", a jazz waltz featuring Davis and somewhat reminiscent of "All Blues".
A slow and soft number comes next, with piano, bass and drums gently supporting Miles's trumpet in "The Dream".
The A side concludes with "Paris Walking I", another Chuck Findley feature, and another nice swing jazz tune but still with not really a great bass sound. Sounds like it could be electric bass guitar instead of upright.
The B side continues from that with "Paris Walking II", this time with Miles Davis as featured trumpeter. It's a totally different tune, though, not walking but a sprightly and zigzaggy bebop-like tune.
Findley returns for "Kimberley Trumpet in Paris", apparently solo trumpet played on the street. You can hear cars going by and other ambient sounds.
"The Music Room" is another bit from the movie, with Miles talking, playing a little trumpet and picking out some notes on a beat-up old piano.
Findley gets to stretch out on the agreeably groovy "Club Entrance" and then both Findley and Davis show up for "The Jam Session", which has kind of a laid-back funk groove and simple changes for them to blow over.
The "Arrival" and "Departure" themes are reprised for "Going Home", still a lovely bittersweet piece, which gets a jolt of energy at the end.
The record ends with the Findley feature "Surprise!", another walking bass line tune with trumpet soloing, quite nice. This one also has some electric guitar in it!
---