The 736th Soundtrack of the Week is FM!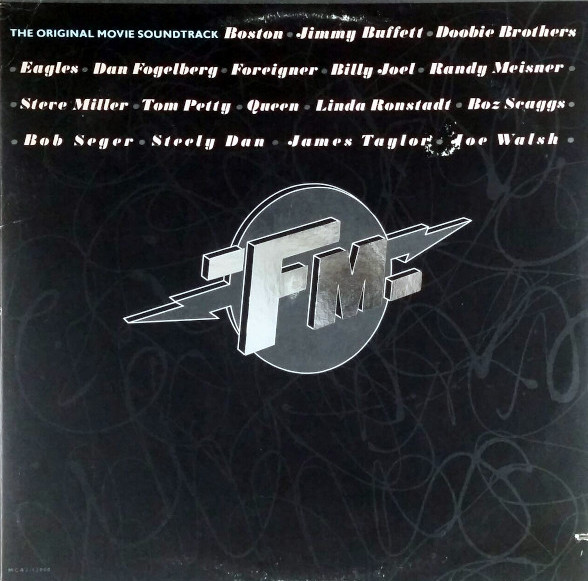 It's a double album of songs that were heard in the movie.

Perhaps the most significant is the title track, my favorite Steely Dan song, written for the movie and not on any Steely Dan album other than Greatest Hits compilations.

Bob Seger & The Silver Bullet Band come next with "Night Moves", a laid back, somwhat country rockish number.

Then there's "Fly Like an Eagle" by the Steve Miller Band, which I'm sure you've all heard a million times. Still a good song, though.

Another big hit follows, Foreigner's "Cold As Ice". Nothing I can say about that. It's a real song. I kind of like it, especially that cheap keyboard sound in it. At the time it probably required a really expensive keyboard.

Then there's a song I didn't know but I bet most people do: "Breakdown" by Tom Petty & The Heartbreakers. This has a really nice groove most of the time and is really good.

Next up is founding member of The Eagles Randy Meisner with "Bad Man", decent enough, I guess, but not one of the strongest on this record.

And then there's The Eagles with "Life in the Fast Lane". I don't suppose I need to comment on this. Pretty good riff.

Steely Dan comes back after that with "Do It Again", another classic.

"Lido Shuffle" by Boz Scaggs has a cool drum beat and some good crunch guitar playing.

The first disc ends with this really obsure song by some band nobody ever heard of: "More Than a Feeling" by Boston. You might want to hunt this one down to check it out. If you can find it!

The second disc starts with two Linda Ronstadt live tracks, which were in the movie with Ronstadt herself contributing some lines of dialogue for the movie.

"Tumbling Dice" is a great kind of honky tonk rock song and "Poor Poor Pitiful Me" is a fairly straightforward cover of the Warren Zevon song but enhanced by Ronstadt's vocal excellence.

Jimmy Buffett had to be on here somewhere, didn't he? He comes up next with a boogie called "Livingston Saturday Night".

Dan Fogelberg's "There's a Place in the World for a Gambler" changes pace with a gentle 3/4 ballad, acoustic guitar and piano, easing everything down a bit.

No comment about Bill Joel's "Just the Way You Are" other than it's the next song.

Then there's The Doobie Brothers' "It Keeps You Runnin'", which has an agreeably whimsical and perky energy to it and some charming keyboard sounds.

Maybe you've heard the James Taylor song "Your Smiling Face"? You're hearing it now if you're listening to this record.

Joe Walsh is up next with the surprisingly complex "Life's Been Good", which skips around a few genres like reggae and hard rock and acoustic pop.

Things wrap up with another practically unknown tune, "We Will Rock You" by the practically unknown band Queen, and then a reprise of "FM" by Steely Dan.
---