2022 July 04 • Monday
A selection of Kawai Kenji's music from the four Ip Man movies starring Donnie Yen, put together on a CD called The Best of Ip Man, is the 733rd Soundtrack of the Week.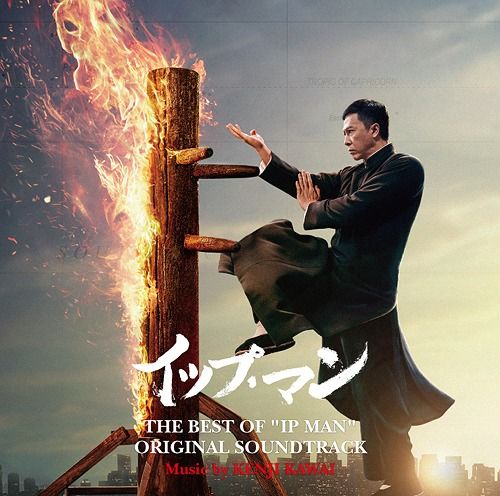 First up is "Fade", a statement of the main theme which takes some time up front to build up to the first statement of the theme in a muscular arrangement. Then violin takes it and shapes it into something flowing and romantic. The rest of the orchestra comes in to add heft at the end. "Being" is a second theme, a gentle and tender melody of both beauty sadness, also a feature for the Chinese violin. A mournful-sounding cello takes the main, sorrowful "City of Sadness", leading to an urgent, driving orchestra with choir blast and pounding drums for "Going Under". The main theme is slightly altered for "Save", a pensive and suspenseful cue that begins with an unhurried pulse and confident use of space before exploding and bringing in distorted electric guitar. "Remembrance" is a sweeping and soaring piece that's both anthemic and rousing while also containing figured of romantic lyricism. Low tones, chopping strings and wordless, almost percussive vocals set a mood of danger for "Battlefield". These elements are intensified and thickened for the next piece, "United". Piano and strings and a bit of percussion do almost all of "Going Home", an emotional number that features the violin. Then there's the very short "Fight", which sounds a bit like a dance number. After it comes an actual dance number, the cheerful and swaying "Dance", probably for the scene in which Ip Man is dancing with his wife instead of preparing for a fight. The fight happens, of course, introduced by some intriguing and ominous electric sounds in "Fight", soon joined by strings and concluding with s workout for percussion and winds as well as strings. "Strike Back" starts out as a sad piece with cello or cello-like instrument playing mournfully, but then the orchestra comes crashing in with a cue full of energy and determination and suggests the main theme in places. Just drums starts off "3 Minutes" and when strings and horns enter, they do so with tense low tones and feelings of apprehension. Then the speed and energy shoot up for a fast, driving, relentless cue with electric guitar and hand percussion surfacing out of the orchestra and choir soaring above. Then there's a radical change of mood for the guitar, piano and violin love theme of "Accompany". "Battle" alternates dense high-energy segments with quieter more spacious atmospheres until it goes all in for the pounding and driving approach and increases the power gradually until the end. Strings create a subdued atmosphere for the beginning of "True Meaning" but about halfway through it becomes a stirring and lyrical theme with a swaying rhythmic pulse. A lonely-sounding piano with lush string accompaniment is not quite so desolate as the title "Despair" might make you expect, but there is a feeling of abandonment to it. The first half of "Challenge and Fight" is quiet and tranquil, with a reed instrument shaping a plaintive melody. For the second half the orchestra flexes its muscles again for a powerful and surging cue that features distorted electric guitar. The same theme is more or less reprised in the following "Final Battle" but this time making use of the main title theme as well. This is followed by "Memory", kind of like a Satie-influenced alternative arrangement of "Being", and then, finally, "Ip Man", which showcases the main theme as well as a few of the others.
---