2022 June 27 • Monday
The 732nd Soundtrack of the Week is from this La-La Land Records box set of scores for Paramount Westerns. This one is Alfred Newman's music for Nevada Smith, also the title of the collection.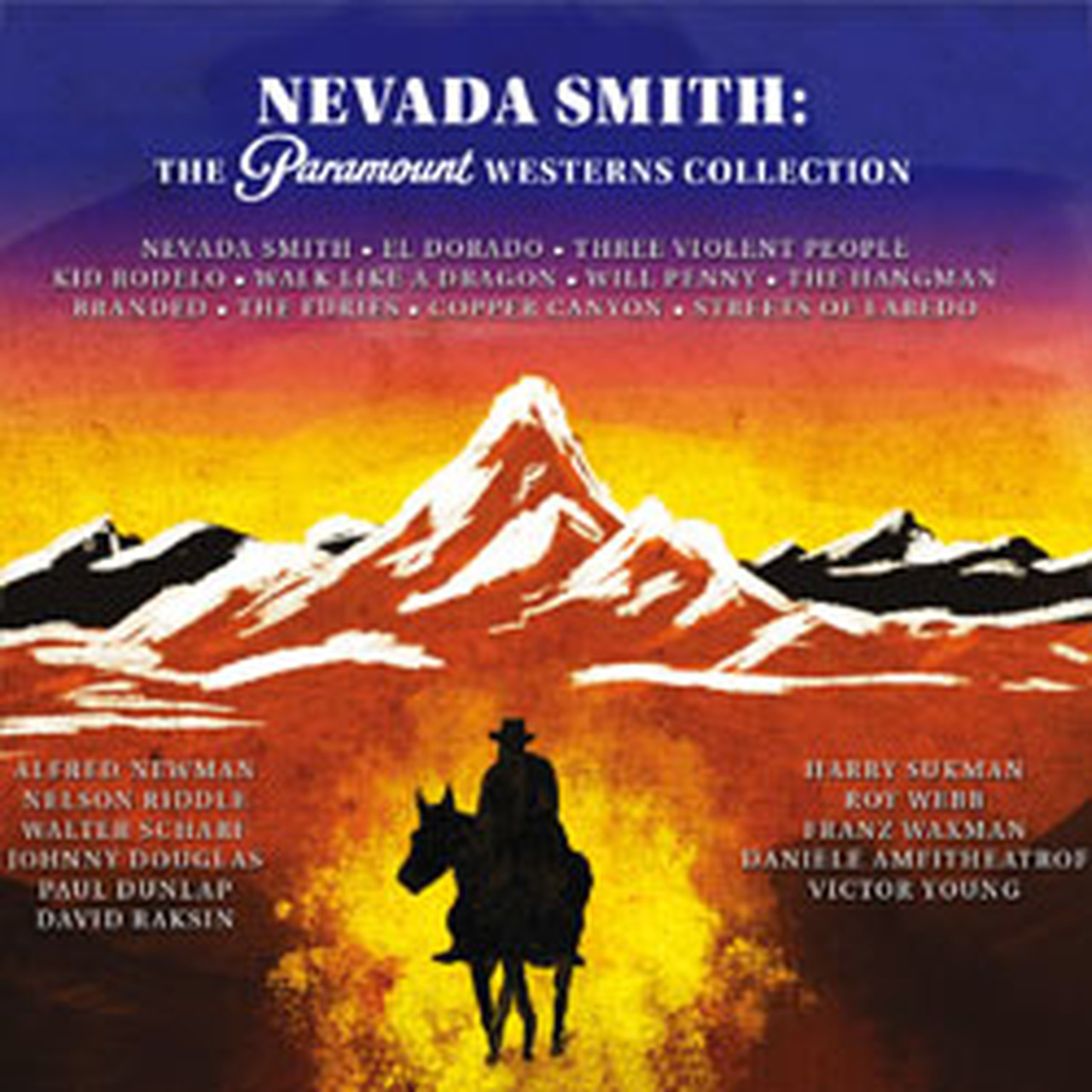 The main title starts off with the full orchestra belting out the main theme with a lot of power. Melodically it's a stirring Americana piece with an unexpected blue note in it, startling a comparison to, perhaps, Gershwin or an old spiritual or perhaps the sadness that always seems to be found in beauty.

Horns and percussion get "The Desperadoes Ride Off/Death and Desolation" off to a rousing and high energy start, with swings swirling in to join them. After alternating with some quieter passages, the strings thicken and make way for a melancholy oboe feature. At the end the main title theme is revisited, but in a slower, more meditative arrangement. "The Lonely Prairie" has an Aaron Copland feel to it mixed with some very evocative writing for the strings that conveys powerfully a sense of being alone in nature's vastness. Flute and percussion work together at the end to heighten the sense of solitude. Solo guitar plucks and strums the main theme for "The Next Morning" before it's picked up by accordion with gentle support from the strings. Percussion and pensive writing for the orchestra end this cue on a note of uneasiness. The main theme is giving a subdued but uplifting run through at the beginning of "Going West" but the piece concludes with a high-energy blast of "let's get moving" music and a compelling sense of forward momentum.

Then we get to a different theme, presumably a love theme for "Neesa, the Indian Girl". Newman has reeds and winds playing in a modality that was probably meant to suggest Native American culture to audiences of the time. Once the strings come in it becomes a beautiful and lush romantic piece.

Then it's a swinging jazz band for "Mississippi River Boat" with banjo, clarinet, trumpet, bass and drums playing cheerfully.

Guitar and flute start off "Pilar, the Cajun Girl/Second Meeting" very quietly and delicately. Accordion and percussion come in, then strings, adding heft to the melodic shape, already quite lovely. The second half scales it back to more or less how it started.

"Escape Through the Swamp" is different from the other cues, being long and almost entirely defined by apprehension and danger, with Newman coaxing some unsettling sounds out of the orchestra and balancing them with more consonant writing for the strings that gets near Bernard Herrmann territory. Pure sadness comed next with the restrained and lonely "Pilar's Death and Burial", which touches on the main theme while also creating an atmosphere of grief and loss. The next cue is the total opposite. "Eldorado County/Eldorado Frontier" is a perky, upbeat, "hittin' the trail" number complete with a suggestion of horse hooves from the percussion and some sprightly banjo playing. Flutes, reeds and guitars combine for some arresting sonic environments in the beginning of "The Mission Chapel/The Padre's Parable" before other instruments come in and place the listener on familiar ground. There's a nice clarinet passage and typically gorgeous writing for strings that sounds like it could have been foundational for John Barry. Then there's a minute and a half of action, tension and danger for "Fitch's Hideout", remarkably spare and subtle but as vivid as a rattlesnake. "The Gold Wagon" is another energetic forward momentum piece, but this time with a martial flavor to it. And then there's the end title, presented first by guitar and accordion before the rest of the orchestra comes crashing in for real send-off.
---