2022 June 06 • Monday
Taj Mahal's music for Sounder is the 729th Soundtrack of the Week.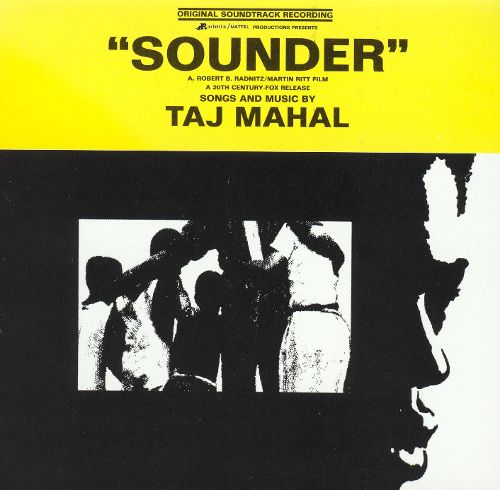 The first track is a classic blues recording, "Needed Time" Lightnin' Sam Hopkins. It's a song of prayer and beseeching Jesus in a time of need. This is reprised later in another vocal and guitar number, but without wordd, as "Needed Time (Hummin' and Pickin')".

Then an energetic, brisk and bluesy piece for solo harmonica, "Sounder Chases a Coon". Sprightly solo banjo starts off "Morning Work/N' Meat's on the Stove" and increases tempo and density for the second half with impressive finger picking. "I'm Running and I'm Happy" is a short piece for solo fingerstyle acoustic guitar, followed by a guitar and voice blues called "Speedball", which sounds like it contains dialogue from the movie too. The next track also sounds like it has surrounding dialogue from whatever scene in the movie it's in, two more solo guitar/voice blues number, with applause from whoever's listening, "Goin' to the Country/Critters in the Woods". Then there's a powerful wordless vocal and handclaps only number, "Motherless Children", which has a spiritual sounds to it despite the lack of lyrics. A similar vocal approach is matched with some vary spare guitar playing in the lonesome "Jailhouse Blues". Handclaps and a voicd singing about working make up the very short "Just Workin'". Then there's another short movie scene with a tiny bit of guitar music for the short "Harriet's Dance Song". After that there's s big change, as an ethereal-sounding but powerful flute plays alone for "Two Spirits Reunited". "David Runs Again" is another fast banjo piece, followed by the relaxed and mellow "Curiosity Blues" for solo guitar. Then there's solo voicd, with words, for the spiritual blues "Someday Be a Change" and then a cheerful and jaunty tune, "Horseshoes", for guitar and whistling. "Cheraw" is another energetic banjo solo and "David's Dream" another clear and solid flute solo. The record wraps up with a solo guitar instrumental version of "Needed Time" and another version for banjo and hand clapping.
---