It's back to the great Quincy Jones for our 727th Soundtrack of the Week: $, a.k.a. Dollars.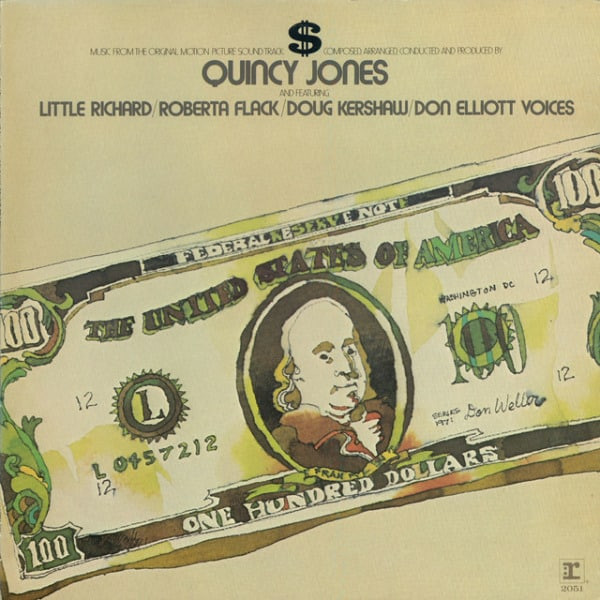 It's on green (of course) vinyl!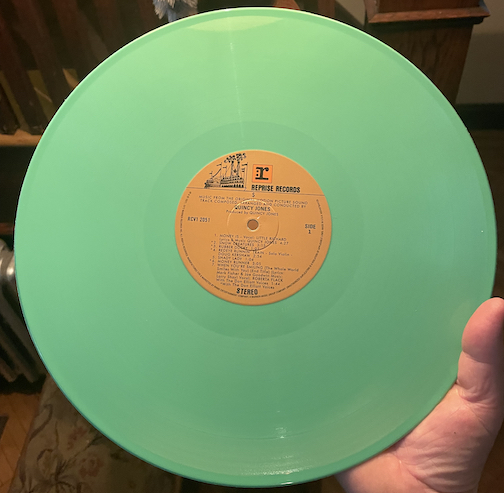 It starts with the song "Money Is", an awesome Quincy Jones soul/funk groover with lyrics sung by the legendary Little Richard! "I got a Ph.D. in how to make ends meet / I graduated from the college of the street / Inflation in the nation, don't bother me / 'Cause I'm a scholar when it comes to the almighty dollar."
Next is "Snow Creatures", a slow and slinky tune at first, as it vamps until The Don Elliott Voices come in, along with a cuica. The groove changes a few more times and there's some really good guitar and percussion playing.
Things get kind of silly and bouncy and lighthearted with "Rubber Ducky", which has some great electric piano playing.
"Redeye Runnin' Train" has the drums doing a fast train beat while the bass throbs and Doug Kershaw gets featured on violin playing.
Then we get to a short cue with a sultry feel for "Shady Lady".
"Money Runner" is an instrumental version of "Money Is" and then Side A ends with "When You're Smiling (The Whole World Smiles with You)", with vocals by Roberta Flack!
Side B opens with another Little Richard number, "Do It—To It". This is an up-tempo rocker with a lot of hand percussion and some impressive electric guitar and electric bass playing. "You gotta do it to it if you want to get it done."
After this comes "Candy Man", which is the first piece to sound like dramatic underscore. It's got that 1970s crime jazz suspense thing going on, with the triangle and some great electric piano soloing as well as some nice reverby guitar playing and some cool percussion work.
Then things get deep into classic blues territory with "Passin' the Buck". It would be great to know who's doing the fantastic blues guitar playing here. It could be Eric Gale, Arthur Adams, Elek Bacsik or David T. Walker.
"Kitty with the Bent Frame" starts out as a reprise of "Candy Man" but halfway through becomes very ominous and mysterious before returning to the more easygoing mood it started in.
Finally there's a long wrap up, the almost ten minutes-long "Brooks' 50¢ Tour (Main Title Collage)", which starts with a fog horn and then goes through a dizzying array of different musical styles, some already heard and some not, featuring Little Richard and Roberta Flack as well as sitar and tuba.
---