Inspired by the Nick Cave and Warren Ellis concert we attended last month, we picked their score for The Road as the 725th Soundtrack of the Week.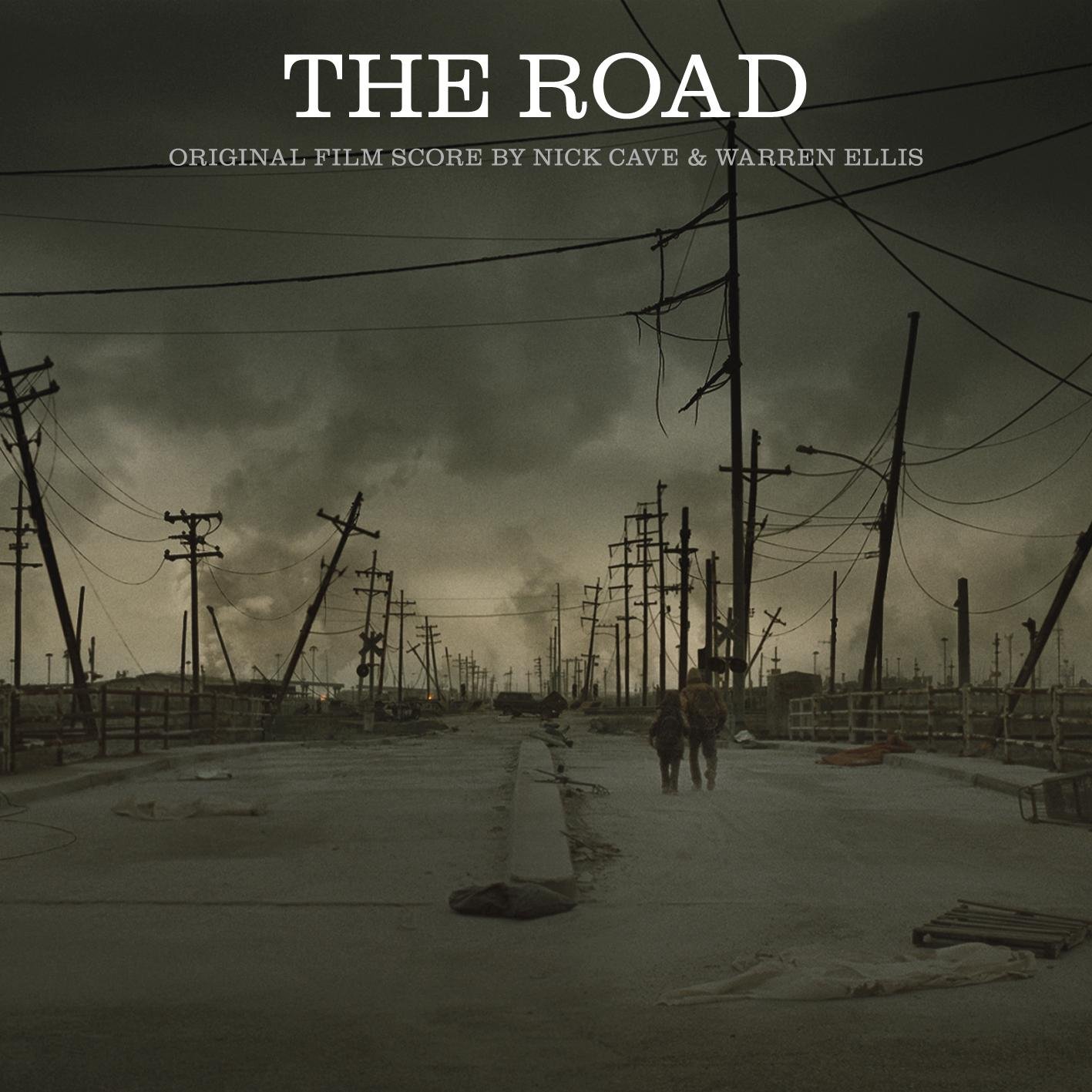 It's on what appears to be grey smoked vinyl!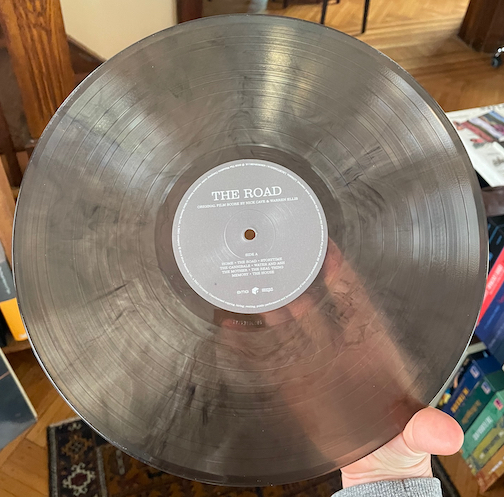 The record starts with "Home", a peaceful and meditative cue with delicate piano and what sounds like celeste or glockenspiel or possibly xylophone responding to the piano's call, while flutes create a soft background.
Then there's the title track, a gentle 3/4 piece that starts with piano alone, presumably Cave, eventually joined by violin, presumably Ellis. It's a simple and plantive piece with subtle support by some other string instruments that gradually thicken the atmosphere.
This is followed by "Storytime" another cue with violin and piano talking to each other as strings give them restrained support.
Swirling, swooping and sizzling strings and didgeridoo-like drones start off "The Cannibals", soon to be joined by pounding percussion for a dreadful and ominous cue that flows seamlessly into "Water and Ash", melancholy violin accompanied by a single note drone. This also leads directly and organically into "The Mother", a touching and lyrical piece for string ensemble.
"The Real Thing" is a gently hypnotic piano and violin feature in 6/8 with sensitive support, once again, from the strings.
Another drone, but a higher pitched, more hopeful sort of drone, starts off "Memory" but the music then shifts to some gorgeous blocks of chords from the string ensemble, one melting into another as Ellis's violin sings beside them.
Side A concludes with "The House", an eerie piece that has Cage generating sounds from inside the piano and Ellis's violin playing in ghostly high registers while the larger ensemble builds tension, eventually exploding into a rock art groove with pounding drums and what could be distorted electric instruments or acoustic instruments being pushed to their limits. Or both. There's definitely something electronic going on in here.
Side B kicks off with "The Far Road", essentially a reprise of the title track but with the melody presented less as a solo violin feature.
This theme then gets transformed into the similar but much sunnier "The Church", which is all lightness and major chords, still subtle and delicate.
Don't get comfortable, though, because "The Journey" then takes us to shadowy, horror-film type landscapes, low rumbling doom-laden piano playing with drums remorselesssly poundind away in the background. When the other instruments come in, it's to solidify the feelings of dread, terror and sadness. A melody emerges from this, mostly from Ellis's violin, but it's suggestive of grief and loss.
"The Cellar" returns us to ominous drones again, this time with some low booming percussion and eventually a solid scream of sound, strings and drums for sure but who the hell knows what else going on in there. It fades out quickly and bleeds right into the eerie wailing of "The Bath", which eventually adds some poignant piano playing to its air of despair. Also making an appearance here is the harmonica, blending with the violin and creating a strong Americana feeling.
Higher-pitched droning strings and lower-frequency throbbing piano and percussion start off "The Family", another cue that seems to indicate extreme disturbance of one sort or another. But it effortlessly relaxes into a much calmer, peaceful, healthier-sounding musical landscape, where the drones feel like blue sky and Ellis's violin suggests the fulfillment of aspirations.
"The Beach" picks up right where this leaves off, but with Cage's affecting piano playing and Ellis's violin starting out with nothing but space, no drones, and when the other strings join them, it's in a comforting and supportive role.
And then it ends with "The Boy", in which multiple soft drones create a foundation for quietly shining wooden flute lines, presumably played by Ellis.
---