We're fans of Chelsea Wolfe here at Gutbrain Records and thrilled that she's getting into the soundtrack game! The 722nd Soundtrack of the Week is X, whose score is by Tyler Bates and Chelsea Wolfe.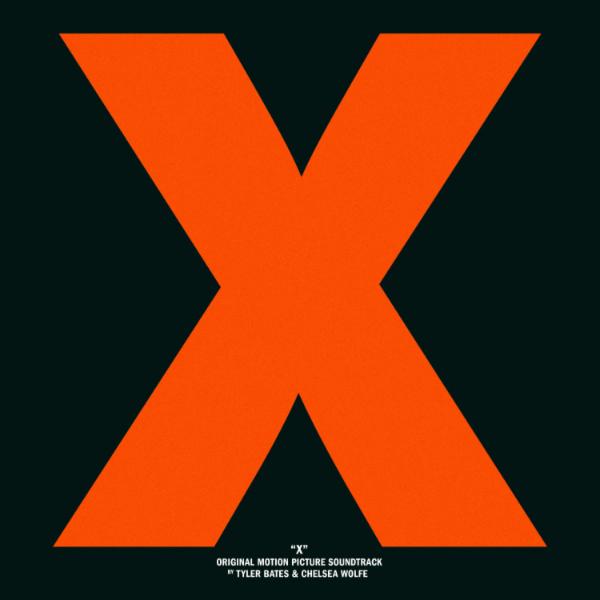 The first track is "My God", in which otherworldly, breathy and wordless vocals by Wolfe coil around ominous musical atmospheres, ambient and industrial sounds with some creepy piano work here and there.

A similar approach is used in "Maxine Meets Pearl" but the pitches are higher, the feeling slightly thicker and brighter.

The mood gets sharper and harsher for "Theda", which builds to some heavy breathing and insistent pulsing of dread.

The acoustic guitar and piano waltz of "Peter's Lullaby" are something of a relief but the vocals and instrumentation still make it sound very uneasy and sad.

It's a bit of a shock when the drums come in with a straight rock beat, joined by wailing electric guitar, for "Fucking Finally". The band fades out at the end to be replaced by textural and unsettling music, though.

"Pearl's Rapture" is a feature for just voices and it sounds like Wolfe using multiple tracks of her voice only, singing and sighing. It's a short piece but very impressive.

For "Dolls" Wolfe brings a childish sing-songy quality to her vocals and it's the kind of horror movie sound that might recall Goblin's music for Deep Red. Unexpectedly, though, guitar and drums come in with a cool rhythm, there's some electric piano playing, then a return to the feel at the beginning. Afte that there's a crescendo to some loud sounds that suggest terror.

This leads immediately into "Pumping Gas", which reprises the groove that was introduced in "Dolls" but ditches it quickly for an atmosphere with lots of space and cloudy sounds plus whispered vocals, spoken not sung.

Another funky/rock cue is in "Use Your Telephone". Since the plot of this movie involves shooting a porn movie, these groovy segments with wah-wah guitar are probably supposed to suggest the film with the film.

Ethereal tones and multi-tracked vocals start off "We Talked About This" but the second half is metallic and ambient/industrial, settling into an intriguingly melancholic mood at the end.

"Nice Girl" has a starker version of the porn movie groove and gets layered with moaning vocals and some more industrial tones.

That rusted steel sound starts out "Headlights" but about halfway through it turns into Wolfe singing the old song "Oui Oui Marie" in a ghostly funhouse mirror sort of way. A more straightforward version of this comes later on the record and was also released as a single. It's like a lot of Wolfe's best work: ghostly, heavy, industrial goth folk.

More aggravated ambient avantgarde soundscapes with some delicate utterances from other instruments and Suspiria-like sighs create "Sorry To Disturb You" while forced exhalations create a rhythm track for slight sounds and wails in "The Cellar".

Similar sighs, exhalations and mysterious noises start off "What Is It Baby?" but the second half of a cue is kind of like a stuck record mellotron drone with some subtle percussion punctuation.

"I Was Young Once" starts very quiet and minimalist but builds to a terrifying pounding and clattering in the middle before coming down to quiet but ominous tones and pulses.

The same mood continues into "Tell Me I'm Special" which also crescendoes to Suspiria-like vocalizing and deranged percussion, piano and swirls of sounds.

Restraint in the form of quiet, long tones and different layers of terse comments from various instruments is most of "Maxine Grabs the Gun" before it clusters out at the end.

Finally there's the haunting a capella "Bring Our Daughters Home", which appears to be two tracks of Wolfe's voice singing a desolate wordless melody.
---