The 720th Soundtrack of the Week is Mark Isham's score for Fire in the Sky.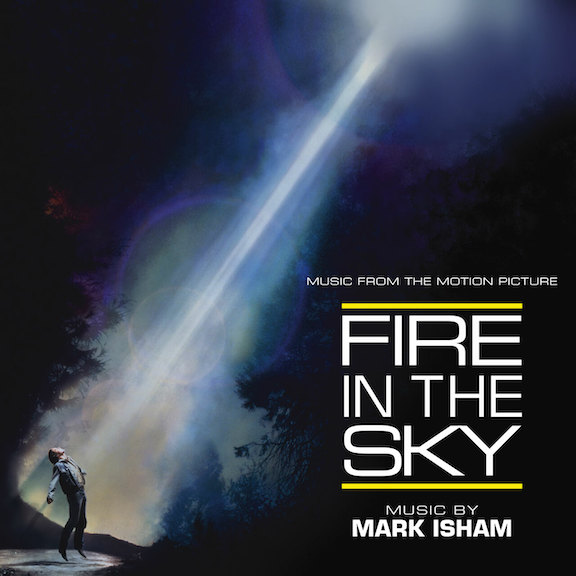 The first track, "White Mountains, Arizona", starts slowly with low tones and regularly space string statements of varying consonance and dissonance building suspense. Sounds like there are didgeridoos in there too. Then drums kick in and the intensity shoots up for a pounding slab of music before strings cluster down and we end in a sort of spacious atmosphere with sharb stabbing sounds from the orchestra intruding every once in a while.

After that comes a plaintive piece of Americana for "Travis Walton", which also builds nicely into something strong and optimistic.

The next piece, "A Fire in the Sky", is over seven minutes long, and is a suite of various atmospheres, from dense and tense, to eerie and electronic. The drums come pounding in again and the strings cluster in and out.

The space and stabs of the first cue return for the first part of "Meanwhile, Back on Earth/Comfort and Prayers/The Search". The second part uses long tones that stack on each other for thick and colorful sonic textures and then part three is an energetic almost Philip Glass-like bit.

"Found Objects/Katie's Betrayal" begins with the sharp stabs of sound again, but this time against a more swaying and intriguing backdrop. For the second part, there's lyrical playing from the orchestra in a quieter and gentler mood.

The rhythmic pulse of "Found Objects" returns for "News Reports" while "Town Meeting/Polygraph Test" returns to the "Travis Walton" mood before bringing in the jagged string motif.

"Night Thoughts/The Return/Hospital Flashback" does start out in a thoughtful mood with strings, piano and harp creating a lovely but uneasy atmopshere. The rhythm picks up in energy and the strings play a more agitated but still lyrical melody. Finally, things get more horror movie-like with some scary and shadowy sounds and intense rhythmic tracks.

"A Man on Display" is a spare and slightly sad cue, restrained but with a lot of feeling. "Party Flashback" is a very short piece that quickly hits some of the themes and ideas that have been developed already.

Then there's the almost thirteen-minute cue "Evil Spirits from the Sky", which starts with mysterious sounds of wind and the suggestions of clouds and strange celestial sounds. It sustains this mysterious, ominous, spacey atmosphere for a very long time before solidifying into something not too far removed from avantgarde industrial music, very much not warm or sounding very human.

We return to comforting Americana-style underscore, this time with an unusual keyboard instrument added to the orchestra, for "They Didn't Like Me—A Case Unsolved" and then wrap things up with "Party Flashback (Alternate), which is just what the title suggests.
---