The 718th Soundtrack of the Week is J. J. Johnson's music for Willie Dynamite.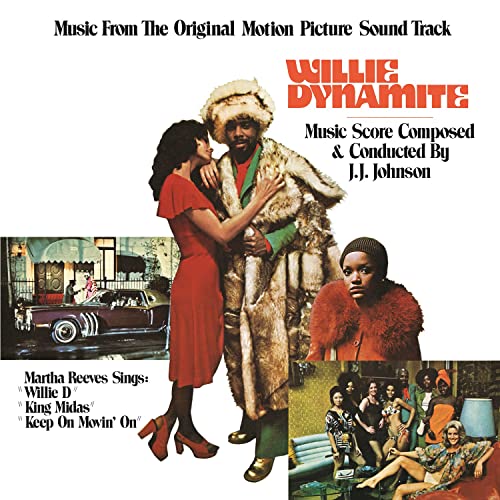 It starts out with a theme song performed by Martha Reeves & The Sweet Things. "Willie D" is an ultra-groovy soul number with lots of percussion, most notable jaw harp, and subtle horn arrangements supporting Reeves's strong and soaring vocals: "He's got to try to be number one / No time for kindness 'till his dream is done". There's also some great keyboard playing.

Then there's "Willie Chase—Instrumental", ehich features the conga quite prominently with electric piano and electric bass stretching out. The groove is killer, with break beat drums and punching and jabbing horns.

Martha Reeves & The Sweet Things are back for the next track, another vocal number, "King Midas", a sweet and tender sould ballad written by Gilbert Moses III. "This moment seems like it will never end / You can't face the day, when did this pain begin?"

"Willie Escapes—Instrumental" brings the tempo back up with some really cool blends of percussion instruments and restrained use of wah-wah guitar. After a fairly mellow beginning it explodes into a deep groove with Hammond organ soloing.

The first side concludes with "Passion's Dilemma—Instrumental", which gives a prominent place to what I believe is bass harmonica, famously used in Pet Sounds and unfairly overlooked for its contribution to the music for The Rockford Files. This piece is relaxed and groovy and swinging, lots of keyboard playing but with flute presenting the melody.

Side Two kicks off with another Martha Reeves & The Sweet Things song, "Keep on Movin' On", a mid-tempo soul groover. "When nothin' can ease your mind / And you've got no place to hide / And the wind whispers fears you've never heard / Tearing at your pride / And all you dreams are made of sand / You better wipe the dust from your eyes. / Don't you know you gotta keep on movin' on".

Tom Morgan gets a credit for the harmonica solo in the next piece, "Make It Right", a bluesy, ballady, moody and gentle piece with harmonica indeed doing most of the heavy lifting.

"Parade Strut—Instrumental" has drums that convey both military marching and funk at the same time, while the horns play anthemic and martial figures that also get tweaked into grooviness. Once the electric instruments come in, it's game over and funk wins.

The next piece, "Gospel Family" has a note that the keyboard solos are by Pete Jolly and Ian Underwood. The keyboards are piano and church organ for this short but satisfying gospel tune.

And then it all wraps up with a reprise of "Willie D", performed again by Martha Reeves & The Sweet Things. This is more or less the same as the version at the top, just shorter.
---