What Just Happened? is an underrated movie. I enjoyed it a lot more than I expected to, anyway. One of its assets is a terrific score by Marcelo Zarvos. There's a mostly great selection of songs sprinkled in there as well. I balked only at the use of some of Ennio Morricone's music from Once Upon a Time in the West. I dislike the poaching of other movies' soundtracks in general but that particular score is just too intense and powerful for this kind of film. It can't carry the weight.
With that noted—and perhaps whoever put the soundtrack CD agrees with me, since the Morricone material is placed last even though we hear it early in the movie—Marcelo Zarvos's music for What Just Happened? is the 716th Soundtrack of the Week.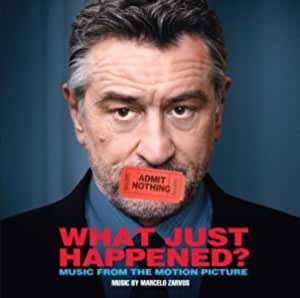 It starts with one of the best pieces, "L.A. Drive", a slow-burning and moody piece with a great late-night feel, an excellent groove from the rhythms section with subtle use of organ and Gil Evans-like horn charts.

Then it goes into the song "Hey Cowboy" by Lee Hazlewood and Nina Lizell, a great late-'60s pop country number that fits the topsy turvy world of the Hollywood producer perfectly. Technically this is part of another movie's soundtrack but it doesn't bother me because it's also just a great song on its own without a powerful connection to another cinematic world.

"Red Carpet" has jazz walking bass, electric guitar, accordion and vibes to serve up an accomplished riff on Nino Rota's Fellini music, parrticularly 8 1⁄2.

Another great song comes next, the bossa groove of Nick Drake's "Poor Boy".

Zarvos can do traditional underscore as well and he gets the opportunity in "The Shooting (Part 1)", music for the Sean Penn-starring movie within a movie that's central to the plot. It's classic "sensitive" "human spirit" "romance" music, just perfect.

Nina Simone's bluesy "Mr. Bojangles" waltz is after that and of course it's always wonderful to hear her.

Waltz follows waltz with "Ben's Waltz" up next, a wistful and sentimental piece mostly for piano and marimba, a lovely and delicate cue.

The harmonica in an Americana mood starts off "Friends and Foes", a dreamy and pensive piece which blends the harmonica with electric guitar and vibes and organ in a richly sensual way.

The tempo and energy then shoot up with the really catchy rap/pop of Citizen Cope's "Brother Lee". This is really one of the best song and score mixtures I've heard.

Then we get more classic dramatic underscore in "Landfill Chase" for the movie within the movie. Great use of percussion and strings in this one.

"Still in My Head" is another fantastic Rota/Fellini pastiche, this one with some wonderful clarinet playing.

After that comes "Bandits" by Buck 65, which is kind of a rap/pop song that nods to "When Johnny Comes Marching Home".

Some wonderful guitar, marimba, clarinet, bass and accordion are added to "The Shooting (Part 2)", similar to Part 1 but with an additional minute featuring that ensemble.

Then there's a Dire Straits song of all things. But it's "Brothers in Arms", which I think is hardly as often played as other songs. I wasn't familiar with it, anyway. It's a great, moody song with, of course, excellent guitar playing.

After that comes our last Zarvos piece, the exquisitely swaying, lyrical and bluesy "Night Drive in Cannes", an absolutely beautiful piece of music.

The CD then concludes with Morricone's Once Upon a Time in the West music, which shouldn't be on here at all. This isnt as bad as using music from Vertigo in The Artist but that kind of thing is almost always dismaying.
---