2022 February 21 • Monday
The James Horner score for 48 Hrs. is our 714th Soundtrack of the Week!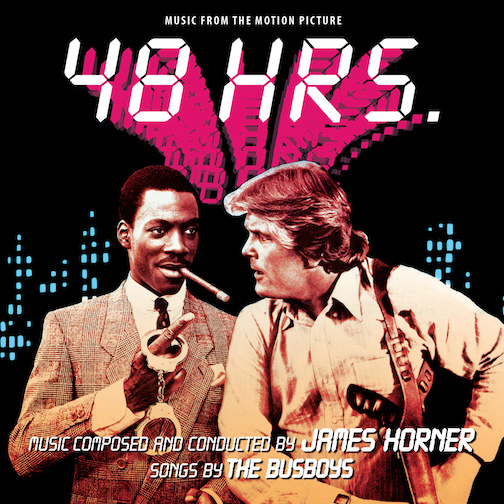 The "Main Title", at over five minutes in length, is something of a tour de force, a mini-suite of compelling themes with electric bass guitar, harp, synthesizers and saxophone as main voices, alternating between grooves, snakey melodic lines and more menacing dramatic underscore that might make you think that Klingons are nearby.

"Jack Leaves Elaine's Apartment" is a short piece with electric bass guitar and saxophone doing much of the talking, but also includes steel drums as a crucial element.

Things get into very intense action and suspense moods, bordering on horror movie soundtrack territory, in "The Walden Hotel", with wailing and divebombing strings and menacing bass frequency stomps. The mood lightens after that for a cheery, swinging and relaxed steel drum feature, "Aerobics.

Then the steel drum works together with synthesizers to create a bewitchingly multi-faceted line that floats above some heavy and suspenseful orchestral parts. At the end Horner shows just how effective one single note can be.

A deep percussion groove kicks off "Subway Station", which gives lots of space for the saxophone and steel drums.

"Subway Chase" is like a classic orchestral cue, perhaps one of the more menacing ones from Horner's Star Trek II: The Wrath of Khan score, but with the addition of synthesizers and steel drums giving it kind of a prog rock feel. This idea continues to be explored in the next tracks, "Luther's Bus.

Another longish cue, more than five minutes in duration, "The Alley" starts off with some of the same ideas from "Subway Chase" and "Luther's Bus" but then gets into eerie and spacious territories, creating a mini-suite similar to the "Main Title".

After that come four songs by The BusBoys.

"(The Boys) Are Back in Town" is a classic '80s rock song and absolutely perfect for a movie like this.

"48 HRS" provides a bit of commentary on the plot of the movie itself and is another catchy and energetic soulful rock number.

"Love Songs Are for Crazies" is a lilting and melodic number, bluesy and swinging with a bit of an old-fashioned feel to it.

"New Shoes" brings us back to the loud, high-energy rock of the other songs. All of these songs are a real pleasure.

The CD is rounded out with alternate versions of "Main Title", "Subway Station" and "Luther's Bus" as well as two pieces of source music: "Ira Newborn's "Torchy Blues" is a scorching country rock guitar instrumental and "Saratoga Blues" is a solo piano honkytonk blues number by Ralph Grierson.
---