Happy Valentine's Day! We brought flowers: Alberto Iglesias's music for La flor de mi secreto, the 713th Soundtrack of the Week!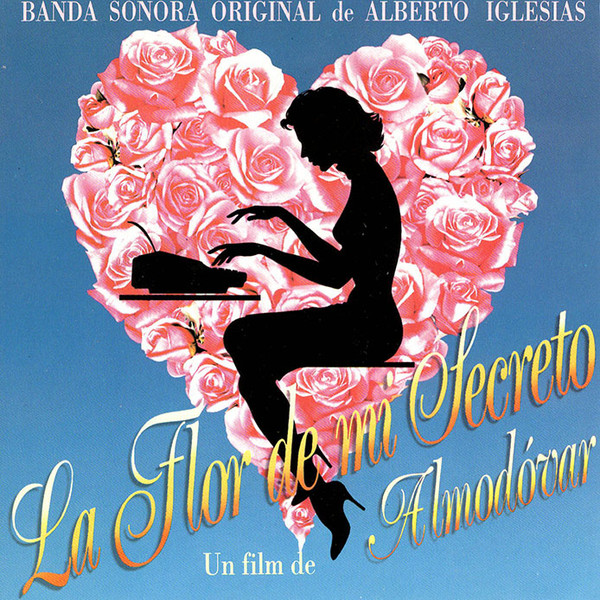 It's a moving and romantic score, starting with "Titulos" that are a duet for violin and flamenco dancing (or so it sounds to me).

"Casa con ventanas y libros" is an urgently flowing piece with violing and clarinet handling a lovely melodic line while the strings chop away rhythmically.

The strings are very agitated in for the very brief "Brevemente" and then there's a kind of moody waltz, "Retrato de Amanda Gris". "Tango de Paris" is a short tango piece with violins and accordion or bandoneon.

Then there's another short cue, not so rhythmic but more pensive, "En Madrid nunca es tarde, again a feature for the strings.

The tempo and feel pick up again for another waltz time number, this time with the flamenco boots again, for "Fascinación".

"¿Existe alguna posibilidad, por pequeña que sea, de salvar lo nuestro?" has the strings playing with and against each other for an atmopshere that impressively mixes the modern and the romantic.

After that we get a breather with the long, textural "Interior", which sounds like clouds and very slow breathing.

Then more swooping and soaring strings drive the short and insistent "Escribe compulsivamente".

"Duo" is 22-second piece for boots and cello, followed by the mysterious and beautifully billowing "Ingenua", another showcase for the string section.

Flute gets to share the spotlight with the luscious string playing in the brief but gorgeous "Mi aldea".

Then two more very short cues, about half a minute each, the waltz time "¿Qué leo?" and the almost Herrmannesque, unsettling "Vertigo" (coincidence?).

"Sola" is achingly beautiful and sounds like loneliness. .

Clarinet gets to take the lead for "La flor de mi secreto", a lovely sinuous tune reminiscent of both Bernard Herrmann and Nino Rota.

The CD ends with a few pieces of music from outside the score, such as Caetano Veloso's "Tonada de luna llena" and "Soleá" from the Miles Davis Sketches of Spain record.
---