2022 February 07 • Monday
Piero Piccioni's music for Colpo Rovente is the 712th Soundtrack of the Week!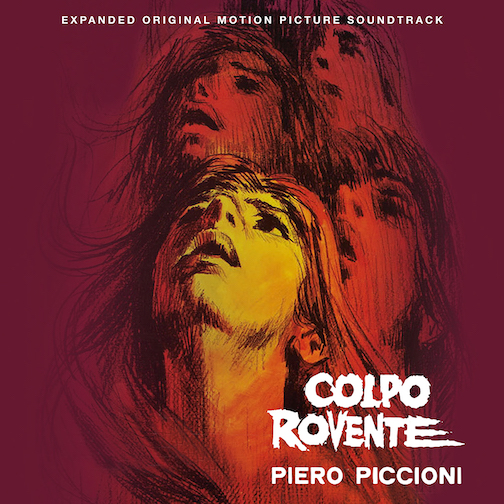 The title track is a slinky and groovy piece in 6/4 with some nice electric guitar playing and a great trombone solo.

This is followed by "Kintabù", kind of a jazz piano feature but with very reverby Duane Eddy-like guitar and a really cool drum/percussion part. It's over much too quickly.

The first thing you hear on "Identikit" sounds like prepared piano laying down another really cool groove. It also sounds like the inside of the piano is being played too. Just in the first three tracks Piccioni is doing an amazing job of mixing catchy rhythmic feels with very sensual atmopsheres. Things get pretty crazy, as you might expect, in "LSD (Red Hot)", which basically has the strings sliding all over the place making a lot of weird noise, before the band comes in to reprise the title theme.

The harp and strings opening of "Eros" suggests a flashback at first but the ideas are developed with the addition of percussion and shaping of the string part so it ends up being an atmosphere of romantic anticipation.

"Fuoco" starts off as a tension cue but ends up reprising the swinging main theme again.

Then it's groove time again with the mellow shake of "Easy Dreamer (Choir)", in which Hammond organ takes the spotlight for a soul-blues-pop number that, sure enough, does tack on a wordless choir.

The percussion does a lot in the laidback and gentle "China Town Drugs", which also features some delicate piano and guitar playing. It's a beautiful cue.

The main theme returns for "Colpo Rovente (Red Hot)" and then there's an abrupt shift to the lush "Mexican Dream", a lovely exotica travelogue type of piece.

The Mexican dream apparently takes place in "Acapulco", a very loungey number that's a feature for the piano and organ.

Those are basically all the cues but there's a lot more music on this CD from Quartet Records, as there are numerous alternates, sometimes as many as four of each. This is a fantastic release from a great label.
---