2022 January 03 • Monday
The 707th Soundtrack of the Week is this magnificent box set—Volume 1!—of music from The Time Tunnel.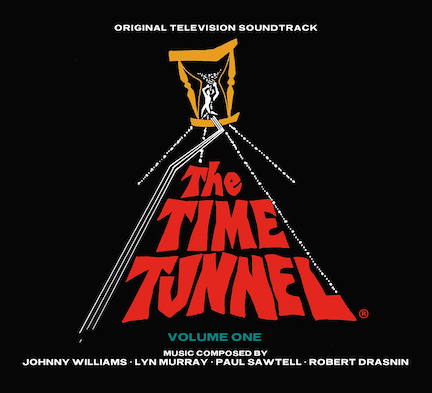 John Williams, then Johnny Williams, came up with the theme, a perky, energetic and off-kilter piece of music similar to his Lost in Space theme.

Then comes Williams's score for the episode "Rendezvous with Yesterday", which has mysterious and adventurous qualities as well as nice use of electric guitar. Parts of it made me think of some of Laurie Johnson's Avengers music while the "Tony Enters Machine" cue could be a cousin of a Bernard Herrmann cue from a Ray Harryhausen movie.

After the theme, thirteen "Rendezvous with Yesterday" tracks and an eight-second bumper composed by Williams, we get Lyn Murray's score for "One Way to the Moon". It's a brooding and ominous piece of music much of the time and makes use of the "space sound" potential of organ, vibes and echoes. There are some noises in "Flight Calculations/Meteor" whose origin was a mystery to me.

The next score, "End of the World", is also by Murray and is also a fairly heavy and serious affair, but without as many outer space motifs (though there are some, apparently for scenes with comets).

Then it's Paul Sawtell's turn as composer for "The Day the Sky Fell In", which uses the Pearl Harbor and the Pacific theatre of World War 2 as a backdrop and thus has some "Asian" and "Japanese" motifs here and there.

It also has some very nice ethereal writing, as in "The Neal Mansion/A Strange Meeting".

"The Last Patrol" is another Lyn Murray work, with lots of martial cues and use of snare drum for a straight-up army story.

The last episode represented is "Crack of Doom", courtesy of Robert Drasnin. I would have expected more exotica from this volcanic island-set narrative, but it's very much in the tension/action mode, though there is the occasional flourish of hand percussion.

The set is concluded with some alternates, source music, library versions, etc.

It's wonderful that La-La Land Records released it. There's just a small group of dedicated people putting out a ton of great soundtrack music these days and I'm extremely grateful to them.
---