Rob Price
Gutbrain Records
rob + gutbrain.com = email
---
We're still enthusiastic about backgammon around here, so we actually read a book about it: Bruce Becker's Backgammon for Blood.
Becker considers probabilities first and player psychology second. "Luck is for losers", he says, but he does believe in luck. He can't count on it, though.
While his book is considered old-fashioned now, by some even to the point of being worse than useless, we appreciated some of his ideas and have been incorporating them into our play. So far it seems to have resulted in a slight improvement!
---
2022 November 28 • Monday
George Harrison's music for Wonderwall is our 754th Soundtrack of the Week.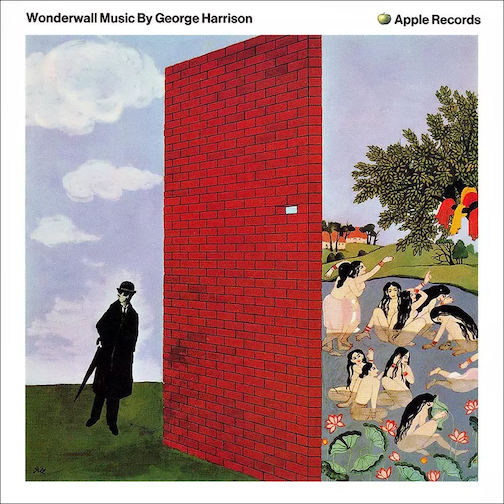 A lot of the music is performed by Indian musicians on classical Indian instruments and the first track, "Microbes", sets the mood right way with two shenhai (I think) players accompanied by what might be sitar or something similar. It's interesting and hypnotic.
Then we get "Red Lady Too", a more conventional piano-led piece in waltz time. It's quite pleasant and rather short. It's followed by "Tabla and Pakavaj", about a minute's worth of those instruments playing.
After that comes some lovely Indian music, very melodic and rhythmic and mesmerizing, for "In the Park".
A run-down saloon sound with drums, bass, beat-up piano and I guess flugelhorn come next for "Drilling a Home". "Guru Vandana", a melodic piece similar to "Microbes", picks up from there and then there's "Greasy Legs", which starts with some low drones and then has some light and airy organ and piano playing.
"Ski-ing and Gat Kirwani" is a cool acid rock piece with distorted guitar soloing over backwards distorted guitar soloing. Then there's a fast piece for tabla and sarod. This segues into a dreamy cue for Indian instruments and vocals which in turn morphs into a "jangly piano" track with heavy drums and flute playing. This abruptly shifts into low organ drones and a flugelhorn feature. Then there's harmonium and some backwards tape stuff as well as siren noises.
The B side starts with "Party Seacombe", a cool and relaxed rock instrumental with some interesting sonorities and a bit of a Beatles feel to it.
This is followed by a mellow and pretty piece for Indian instruments, "Love Scene". The tabla playing is especially nice. This leads into the short and sad-sounding "Crying", with Indian violin as the main instrument.
"Cowboy Museum" starts with very familiar elements like harmonica and horse-hooves rhythms. It has a "Home on the Range" feel to it. The Indian violin-sounding instrument then takes over for "Fantasy Sequins". It starts solo and then is joined by Harmonium, at which point we might be listening to "Glass Box". It's a little hard to tell where some of these begin and end. By the time the drums come in with a beat and other instruments start to solidify the sound, it's definitely "Glass Box", I guess.
A short sitar and/or sarod-driven piece, "On the Bed", comes next. It's got a great tabla groove and an admirably obsessive quality to it.
Then we get a lovely and lush piano feature, "Wonderwall To Be Here", romantic and triumphant sounding at the same time, with a richly textured sound.
The last track is "Singing Om", which has wordless vocals singing in unison with long tones from Harmonium. There's some nice flute playing as well.
---
2022 November 25 • Friday
You might think that Reuben Radding's photo zines are the only photo zines we look at. Not true!
Among others we enjoy is Lionel Derimais's New York 1980.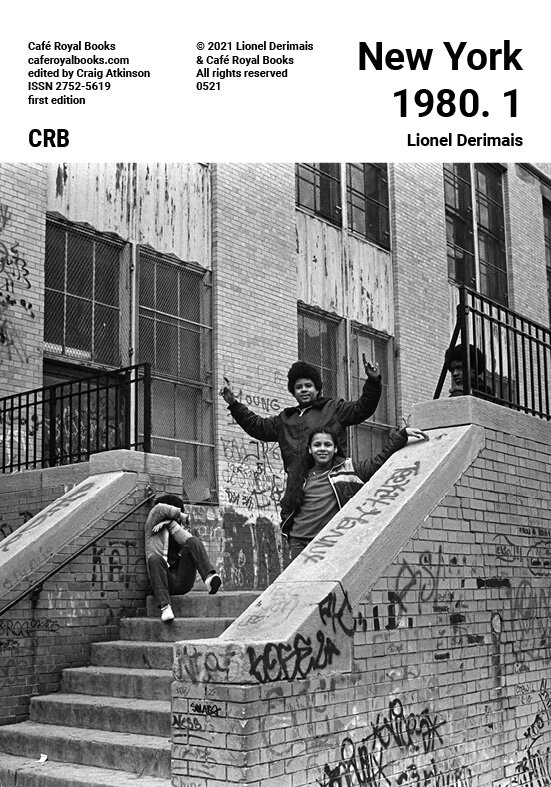 A lot of the interest comes from the distance in time, of course. 1980 seems like quite a different era. The city has certainly changed a lot.
But that's really secondary to the quality of the photos, which is excellent.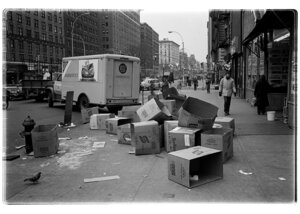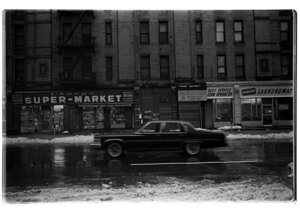 So far there are two volumes of New York 1980. You can get them at Cafe Royal.
---
2022 November 23 • Wednesday
Another Reuben Radding photozine! This one is called The Last Days of Exuberance and it is another great work from our favorite street photographer!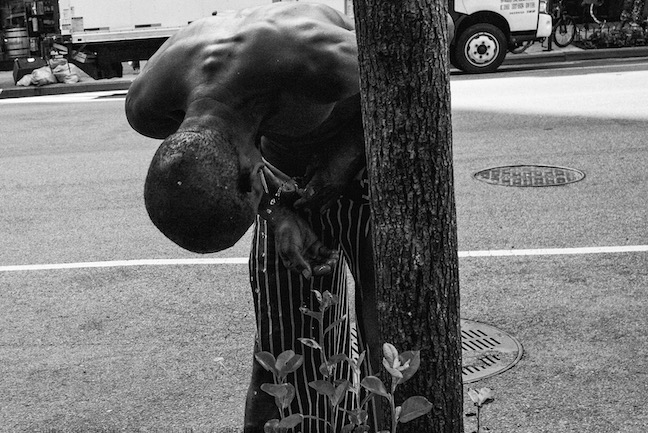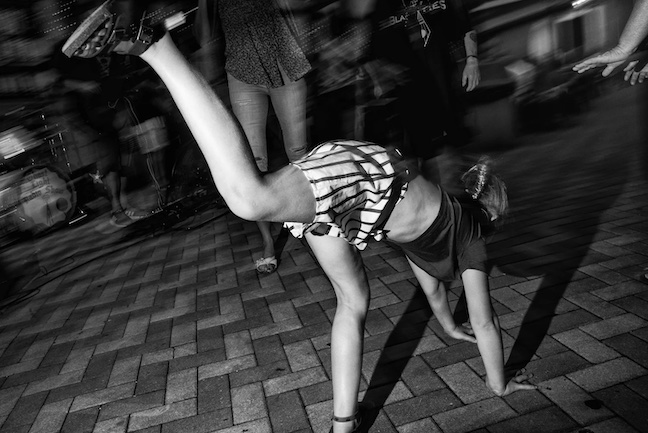 As usual it's worth reading Radding's remarks about the publication, which you can find his website.
Also as usual, it's sold out!
---
2022 November 21 • Monday
The 753rd Soundtrack of the Week is from the great guitarist and songwriter Jerry Reed: What Comes Around.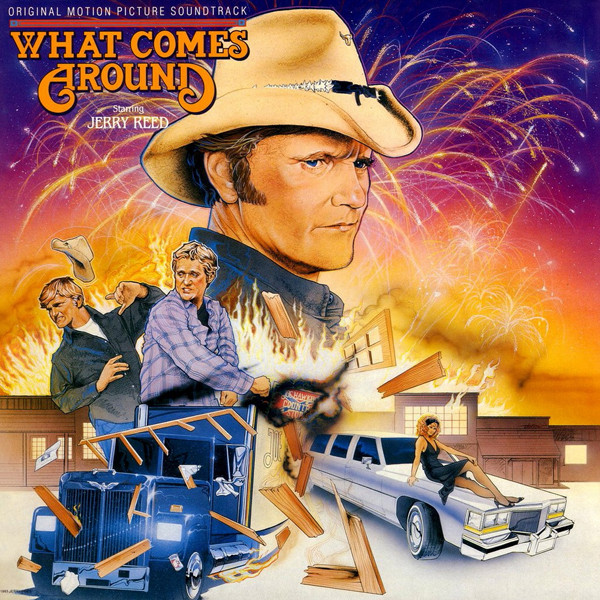 Jerry Reed has had substantial parts in several movies but this one he directed as well as starring in it and writing and performing songs for it. He plays a country music star, so it's not a stretch.
The soundtrack album starts with "I Want To", a mid-tempo country love song with typically sharp guitar playing and nice chord changes and a pretty deep groove.
Then the mood shifts to kind of a country lounge exotica song, "December Winds". It's gentle and lovely with some interesting sonorities. There's a bit of string section in places, an occasional shift to a heavier feel and, of course, great guitar playing.
"Big Time Fool" has a strong backbeat and an insistent, bluesy pop/country feel with another tasty guitar solo.
After that comes a straight-up love ballad in the "You Are So Beautiful" mode. Jerry Reed can do it!
Side A concludes with the title track, a high-energy, toe-tapping, catchy and uplifting song that's just a lot of fun.
Flip the record over and you'll hear "What Will It Be", another love ballad, this time with piano as the main instrumental voice and more of a contribution from the strings.
Jerry Reed steps aside after that for an instrumental number by fellow guitarist Chip Young. "The Long Haul" is brisk and lively piece that features harmonica and guitar, both played really well.
"Boogie Woogie Doctor" sounds like its name. It's a rock and roll boogie song assembled from a dozen extremely familiar musical ideas. You probably wouldn't miss this song if it were gone.
It's piano player Al DeLory's turn after. His instrumental tune "Black Jet Lag" is a perky and driving track that you can easily hear as part of a film score.
Finally we get to "Let It Go", one last song from Mr. Reed. It has a bit of the island sound in some of its instrumentation and feel, as well as a bit of mariachi horns because why not? It's a great song, with a sunny energy and a lilting, swaying, irrepressibly happy feel to it.
---
2022 November 18 • Friday

And now another Jerry Moriarty book! Incredible that decades after gazing with longing at Jack Survives at the comic book shop I haunted as a teenager, I would have a new edition of that title as well as two others.

The third book is called What's a Paintoonist?, and is very close to straight autobiography as a now retired Moriarty moves back to his hometown and considers his past.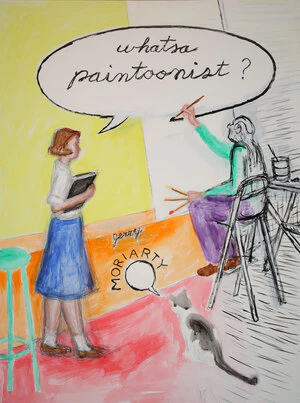 Of course he also "paintoons" it. It's a fascinating meditation as well as bravura artistic performance. Jerry Moriarty is one of a kind and I hope we get to see more from him.
---
2022 November 16 • Wednesday
Jerry Moriarty's Jack Survives has been one of my favorite works in the comics medium for decades, so I was thrilled to come across a new book of his: Visual Crime.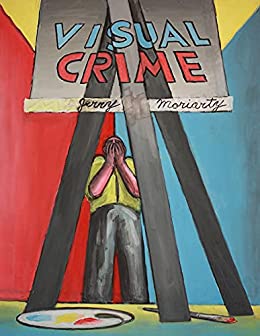 Moriarty is a "paintoonist", and his bold, colorful, powerful paintings have a solidity on the page that's unlike anything else I've ever seen.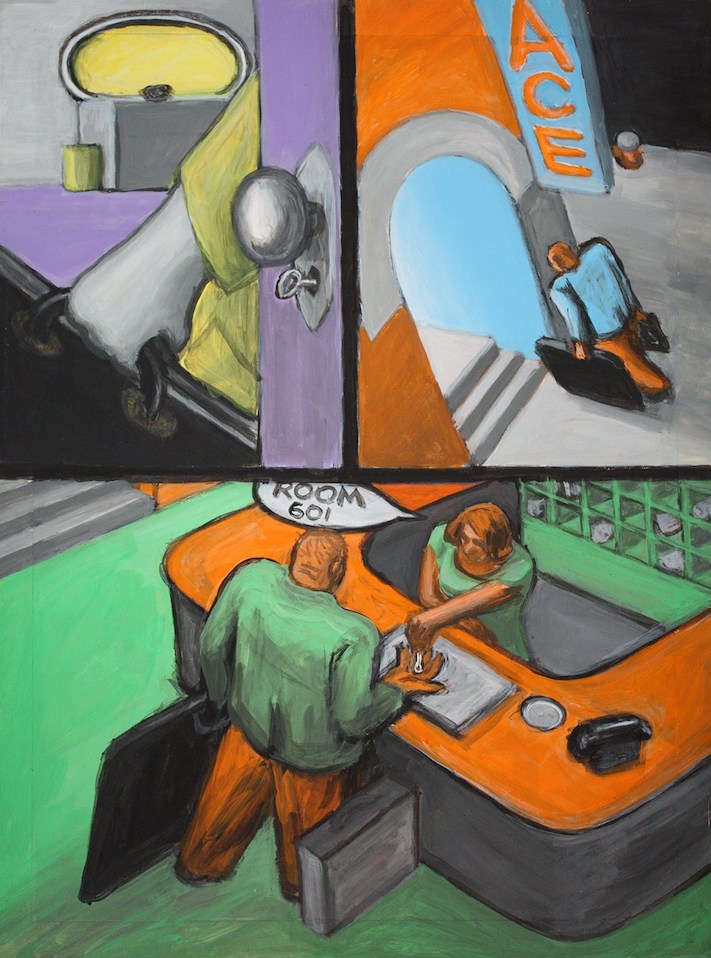 There are also pages of drawings and several strong pieces that are two-page illustrations with a block of text, each one telling a complete miniature story, all of them weird or macabre in some way.
It's always wonderful to see something from this unique artist!
---
2022 November 14 • Monday
It turns out that, more or less, The Kinks were just the best. And so our 752nd Soundtrack of the Week is Return to Waterloo by the great Ray Davies.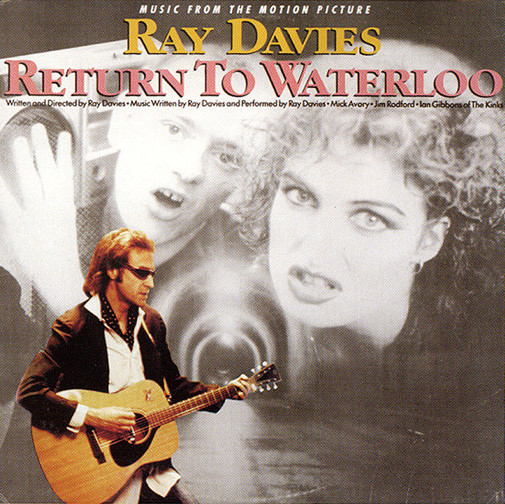 Appropriately enough it starts with "Intro", a short piece with some backwards tape playing, ethereal wordless vocals, timpani and other instruments creating a suspenseful atmosphere.

Then we get the title song, which at first sounds like a classic Kinks song, with strummed acoustic guitar and Davies's familiar singing voice. Then drums and synthesizers come in and it sounds very '80s but in a good way. It's a great song with harmonic movement similar to other Ray Davies songs.

"Going Solo" is more in line with '60s and '70s Kinks, the keyboard being lower in the mix and with a more neutral sound. It's a mid-tempo number but has a really strong energy and inspiring lyrics about striking out on your own.

The tone becomes very gentle and tender for "Missing Persons", a heart-felt pop/rock love ballad.

Side One ends with a blast, the almost-punk rock song "Sold Me Out", with aggressive electric guitar playing, angry lyrics and pounding rhythm section. It's great.

The second side opens with "Lonely Hearts", another very pretty love song, this one in a relaxed 6/8 with nice alternating between major and minor chords.

"Not Far Away" is a straight rocker with similar energy to early Pretenders but more emphasis on keyboard than guitar. Davies sometimes sings, sometimes snarls. Then about halfway through there's a soft and dreamy breakdown, completely unexpected.

Following this is "Expectations", another great pop/rock track with acoustic guitar and subtle keyboards, including organ, plus some huge drum sounds.

Then it ends, too soon, with "Voices in the Dark (End Title)",

a song with massive keyboard and drums sounds and a beautiful melody sung by Davies. This is another very '80s track and it's fantastic.
---
2022 November 11 • Friday
Here's another terrific first-person, non-fiction book, very unusual but absolutely delightful and thought-provoking: DBC Pierre's Big Snake Little Snake: An Inquiry into Risk.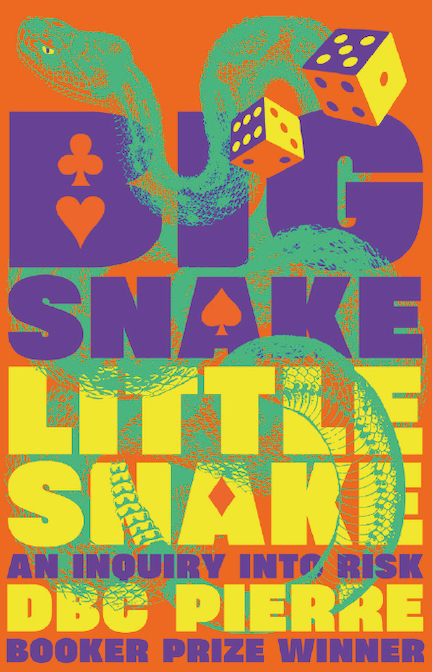 How to describe such a singular volume? Most conventionally you compare a unique writer to a combination of other unique writers (since by definition you can't really say that one unique writer is like another one). In Pierre's case I might stretch for a hybrid of J.G. Ballard and P.G. Wodehouse.
As soon as you say it you might notice its inadequacy. Perhaps you should add Nicholson Baker's name? You could make a case for it.
But what's the point of this beyond giving the impression that you might have read a lot of books?
Big Snake Little Snake is charming and intelligent fun. Pierre is trying to present a view of, well, I guess reality or existence or how what we know about the mysteries of the universe, from the behavior of particles—Einstein and Bohr and quantum science are included in a very user-friendly manner—to the Big Bang simply indicate the greater depths such mysteries possess.
The main thesis is, perhaps, how the incalculable strings of actions and existences and behaviors, from the beginning of time, are leading, in every single moment. to the infinity of actions and existences and behaviors that are occurring right now, and whether what happens next, can be influenced by thoughts, feelings, behaviors, instincts, any number of things that can't be measured or otherwise quantified.
It's hard to describe and it might sound kind of dry but that's the wonder of this book. It's a scintillating and thrilling performance, a riveting solo show, breezy, casual, mildly self-deprecating and witty.
Most of the book takes place in Trinidad, where Pierre wins a lottery by betting on the number that's matched with a picture of a little snake, because he saw a little snake on his doorstep that day.
He wins, and Little Snake becomes something of a guide, a totem, a touchstone, a companion throughout the book.
An example:
My mother blew through with an aunt on their way to a less vibrant island, that is to say less edgy. And thinking about it, it was in my household in Mexico as a kid that my ear for varied music, including classics, was tuned. My mother's favourite piece had been Richard Addinsell's 'Warsaw Concerto' — high succulent romance, a soundtrack not a concert piece — and I only ever heard it at home, its age was long past by then to hear it anywhere else. But I heard it once more, just once, the only other time I can remember outside of home. When these ladies turned up on their flying visit — their first ever in the region — I took them to an open-air bar opposite Queen's Park Cricket Club in Port of Spain. And by the time the first drinks were fixed, from the still night air came the strains of the 'Warsaw Concerto'. We couldn't believe it. It was played on steel drums, not a pair or a handful but over fifty of them, a symphony orchestra of steel pans rehearsing in a pan-yard next door. We took our drinks and relocated like zombies to sit in the pan-yard; and as we stepped through the gate we had to pause for a man striding past in a shirt featuring one bold word: 'MEXICO'. And this is the thing: Little Snake doesn't suggest it was a paranormal event. No, no, Little Snake tells us, this is a mathematical occurence. A coincidence. And so be it, the more experiences we have in life, the more their echoes will play. But some of what we're looking at suggests a clustering of coincidence into the kismet-rich environments or times we're calling vivid maths. Little Snake says this to maths: there can also come a moment in unfolding reality when a statistical explanation is no more plausible than a paranormal explanation. This is what we're here to explore. And our only bitch at science is for its refusal to admit to reality the things its tools can't yet define. Hence we're here proposing new tools, or at least reconditioning old ones.
The book is a short one, and the chapters are also mostly very short, so it's not heavy lifting, but Pierre is a meticulous writer and has almost invisibly structured the book quite rigorously.
As casual in tone as it might be, it did not strike this reader as a casual effort or a lesser work. Perversely, few people wish to bestow their highest praise on art whose most lasting impression is pleasure.
I am not one of those people. Big Snake Little Snake is a masterpiece.
The first line is "The season of this inquiry was long and tropical".
---
2022 November 10 • Wednesday
My dear son actually pays attention to things I say, so when I casually mentioned one time how much I enjoyed Ruth Reichl's Comfort Me with Apples, he remembered this and got me the next two volumes of her autobiography for my birthday.
Garlic and Sapphires, which covers Reichl's time as chief food critic for The New York Times was even better, funny, touching, thrilling and, of course, delicious.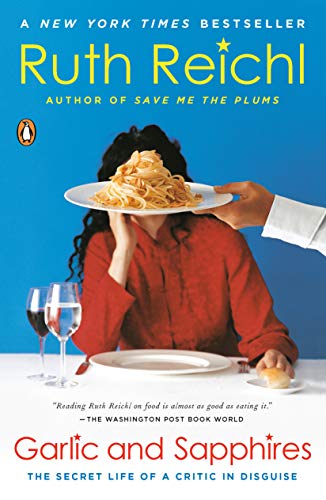 There's a lot going on here but perhaps the main thing is identity. A review from the Times has a huge impact on a restuarant and everyone is on the lookout for Ruth Reichl. Her photo is on the wall of every restaurant kitchen, at least the fancy places anyway.
So Reichl goes to lunch and dinner in disguise. I had known about this but was surprised to discover how deep the transformations were. She actually becomes different people, spending lots of money on wigs, clothes, jewelry and accessories, creating back stories, moving and speaking differently.
The new woman is so different that she's frequently unrecognized by people who know her and see her every day—the one exception being her son, who is never fooled for a moment.
As she changes her appearance, she's treated differently and also treats others differently. In some cases this is delightful, in some amusing and intriguing and in others rather mortifying.
At all times it makes for a scintillating read. Her restaurant reviews are reprinted here, after we've heard the stories of her research, and it's fascinating to compare her blow-by-blow account with the condensed and cleaned up version submitted for newspaper publication.
Also included are several recipes, all extremely promising. I'm going to try to make all of them.
Can't wait to read the next one!
The first line is "'You gonna eat that?'".
---
2022 November 07 • Monday
We're listening to film music from the world of pop/rock this month. We'll start with the great Swedish band Ola & Janglers and the record Pictures & Sounds, songs from the movie Ola & Julia, which starred Ola himself, Ola Håkansson. It's the 751st Soundtrack of the Week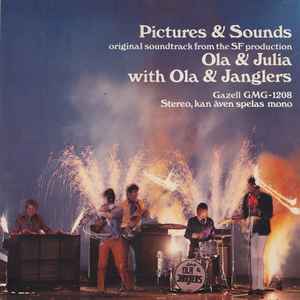 Ola & Janglers were a groovy sixties sort of band that leaned more toward pretty pop than the harder-edged psych or proto-rock that started to blossom in the later part of the decade.
There's definitely a Beatles influence, as well as Simon & Garfunkel and classic pop songwriting and arranging of the Brill Building and Wrecking Crew sort and even a touch of Motown.
As a result most of these songs sound familiar, but in a good way.
They're all tuneful and toe-tapping and stretch to include interesting sounds outside the standard rock band line-up: the electric harpsichord on "Call Me Tomorrow", for example.
They're a band with a lot of great singles and it's a pleasure to sneak them into our soundtrack club here.
---
2022 November 04 • Friday
Here's another great non-fiction comic, Kristen Radtke's Seek You: A Journey Through American Loneliness.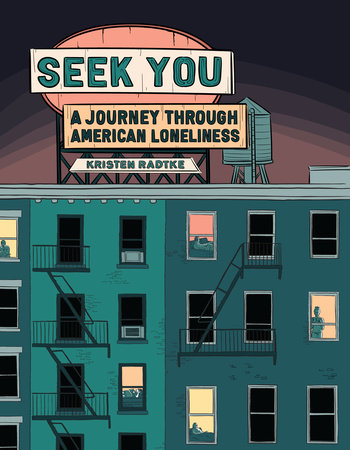 The subtitle actually undersells the book, which is a mixture of research and autobiography and digs deep into psychology and biology to explore the importance of not just social and cultural connection but physical touch.
The title is a play on words, a sound-alike for CQ, the ham radio operator's call over the frequencies to anyone who might be there.
Radtke's rural mid-Western upbringing and later experiences living in Las Vegas and New York City provided her with numerous contrasting experiences of living among others and her perspective is thus wide-ranging, patient and understanding.
The most compelling part of the book, though, and also the most disturbing and sometimes just harrowing, involves Harry Harlow, who established a scientific basis for the importance of love and touch and intimacy.
As important as his research turned out to be—not least in challenging the prevailing wisdom of the time, that discouraged familial closeness on spurious and paranoid public health grounds—his actual methods, the brutal torture of monkeys for years and years, makes for horrifying reading.
But Seek You is an excellent, exciting and rewarding book and a splendid example of the possibilities of the comics medium.
---
2022 November 02 • Wednesday
The contents of this issue of CQ, "The Radio Amateur's Journal", April 1960 cover date, were mostly too technical for me to understand, but this cover illustration is quite imaginative and whimsical.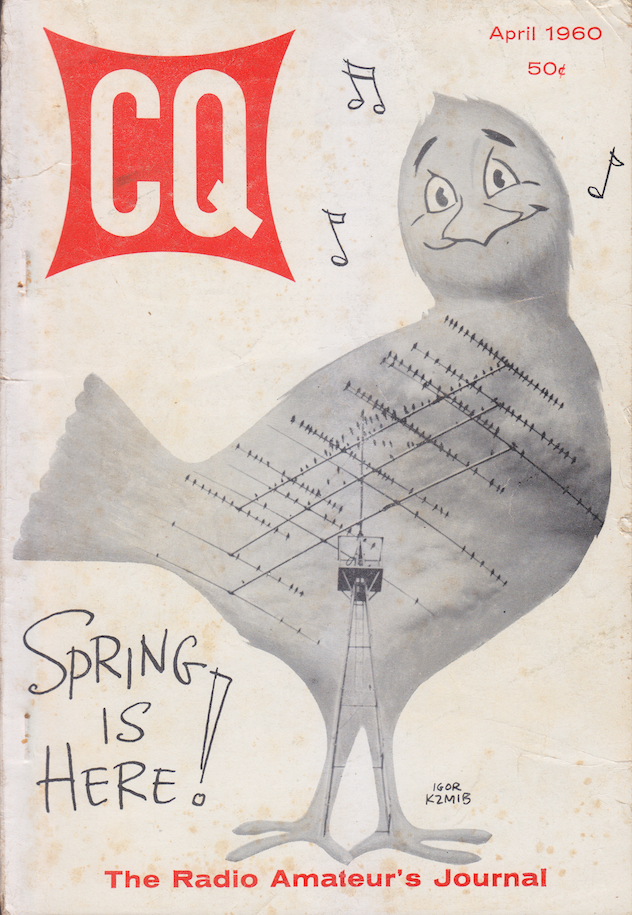 I couldn't even understand the comics inside. But it's still a fascinating peek into a world that is presumably long gone now.
---