Rob Price
Gutbrain Records
rob + gutbrain.com = email
---
Kobayashi Asei's music for the samurai television series Sanbiki ga Kiru! is the 740th Soundtrack of the Week!
After some wave sounds, "M-01a" has drums coming pounding in, shakuhachi blasts and strings play the main theme, an adventure-promising soaring melody punctuated by staccato notes from the horns.

"M-08a" takes us to spaghetti western territory with strummed acoustic guitar, percussion, piano and electric bass guitar laying down a strong groove while trumpet wails over it. Maybe it's a melodica that plays "M-03e"'s mournful melody with lush synth accompaniment. "M-09a" is an urgent and tense cue with strings and rhythm section driving everything forward while horns play the melody. The shakuhachi comes back for the lean and exciting "M-09c", probably an action cue with the horns going up and down in volume and flirting with dissonance. Most of the other cues follow one of these ideas. "M-11a" offers a kind of synth funk lounge while "M-04b" has a sing-songy children's song feel to it.
---
2022 August 22 • Monday
Whatever you'd call Sorcery's music for Stunt Rock, it's the 740th Soundtrack of the Week.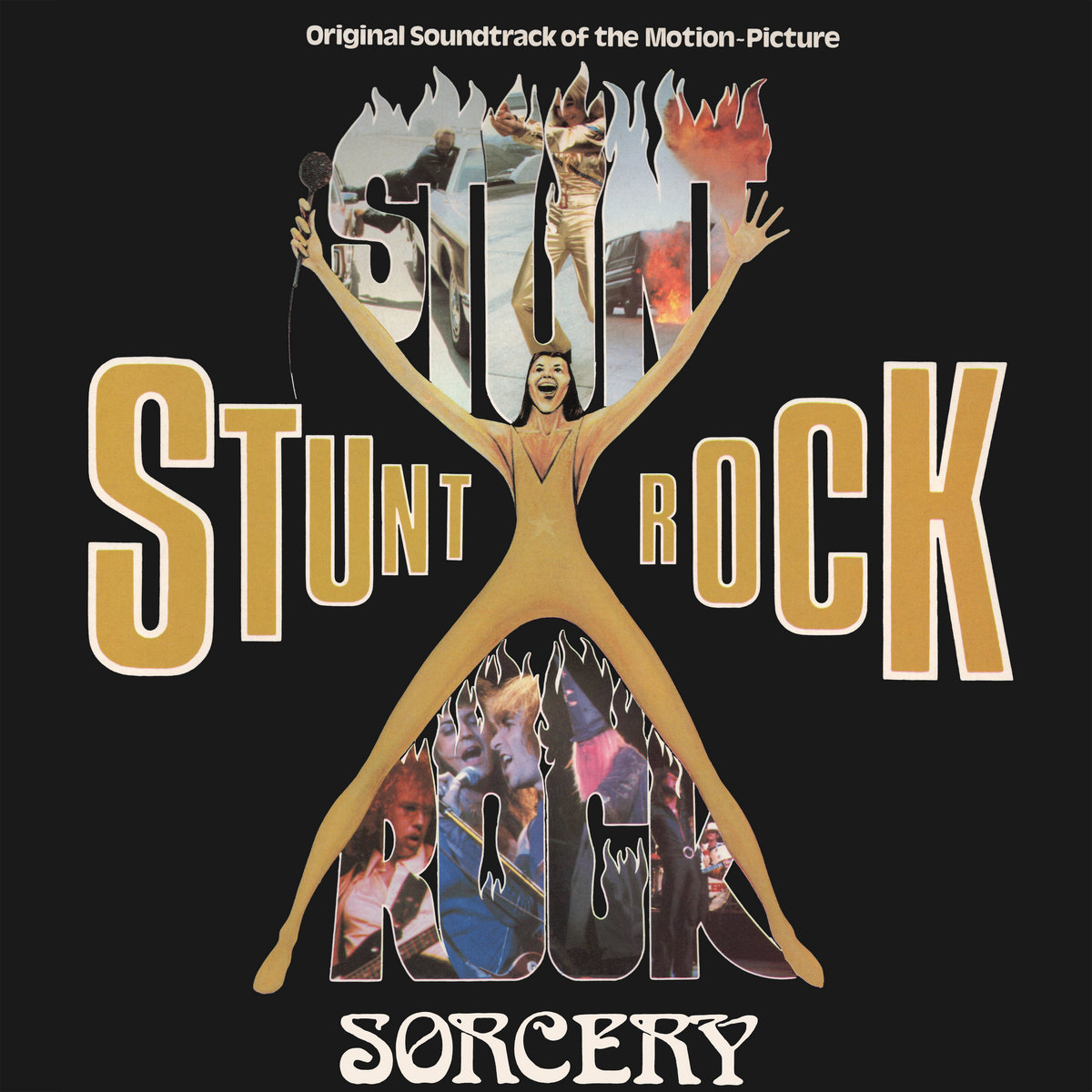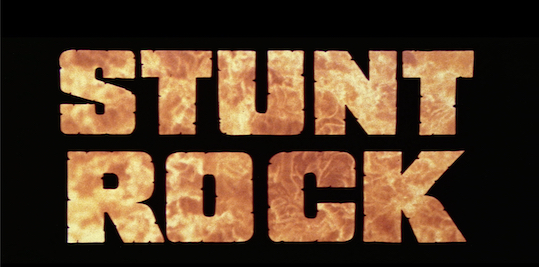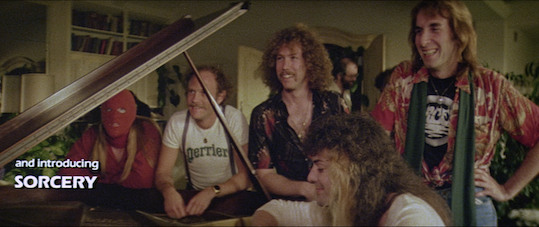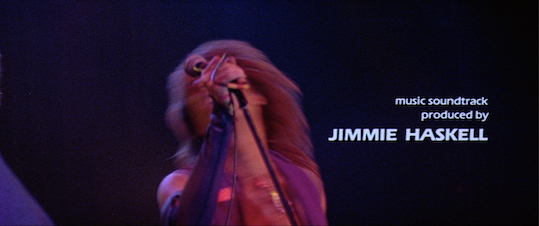 The music is actually pretty cool. It's riff-heavy hard rock with some psych and prog leanings. Not sure exactly what Jimmie Haskell had to do with it.
The movie itself shows Sorcery performing live intercut with scenes of stuntman Grant Page doing various stunts that are ostensibly for a tv show or some other movie.
But Sorcery's whole concept is to have this stage magic show going on while they play, in which a goofy-looking Merlin duels with a "Prince of Darkness" characer.
It's fairly risible and inevitably makes one think of Spinal Tap.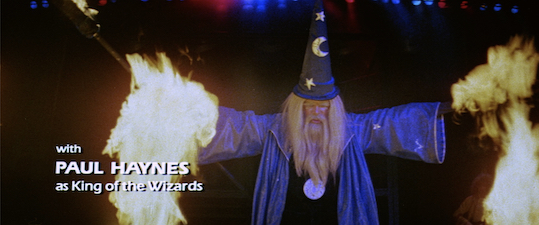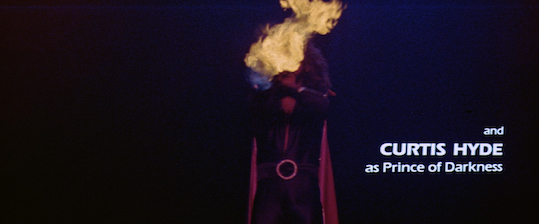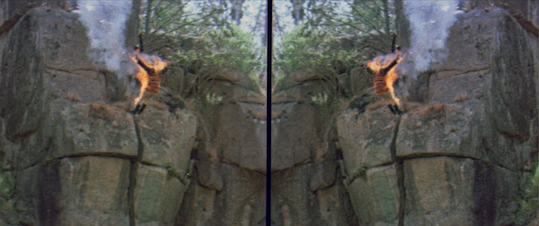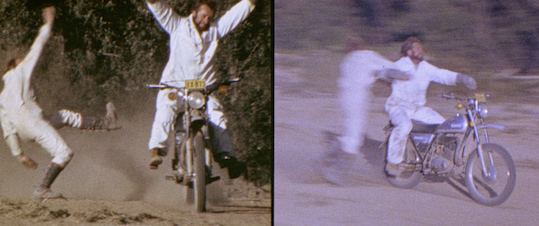 Is Stunt Rock a good movie? No, definitely not. But that's a misleading question. Stunt Rock is beyond good and more valuable than good. It's psychotronic and that's all you really need to know.
---
2022 August 15 • Monday
The 739th Soundtrack of the Week is Brian May's score for Patrick.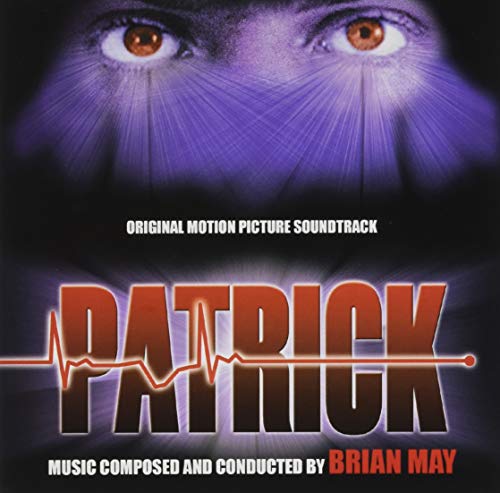 The "Main Title" starts with harp playing a rising and falling line,msoon joined by strings. Then it shifts into more love theme territory and after that a tenser mood, somewhat like Pino Donaggio's music for Carrie.
"Matricide" is a nervy, dissonant piece for strings, ascending chromatically and then bursting into horror.
Tension gets mixed with some pleasanter, more wholesome-sounding musical ideas in "The Flat". Piano states what sounds like a love theme at the end.
More dissonant and modern string ensemble writing creates a portrait of "The Intruder" while "Room 15l is introduced by choppy arco bass and more tense and eerie writing, including piano and clarinet. About halfway through it blends in the love theme and has some atmospheric sections for bass and some electronic instrument.
Harp and strings have something of a call and response in the beginning of "You Can Feel". After that comes more unsettling and menacing-sounding music.
The next piece is a radical chsnge of pace and mood: "Bossa for Ed" is total lounge bossa nova. Nice piece, kind of druggy in a pharmaceutical drugs sort of way.
Then there's another slinky lounge sort of piece, "Kathy's Tune", which has a cool shape to it as well as a lovely melody and nice groove.
But then it's tension time again as the orchestra layers strings and vibes in various uneasy ways for "The Trance".
"Patrick Power" is perhaps the first action-oriented cue, starting with some striking and explosive musical figures before shifting into less active scoring ideas. It's another one that might remind you of Carrie. It gets into the love theme a bit at the end.
Then we get "Kathy's Theme", which is the melody from "Kathy's Tune" and also the love theme that's been appearing throughout. This version has a different groove and uses piano more.
The strings return to Carrie territory for "The Strobe", which uses long tones and chromatic lines to alternate between effective suggestions of suspense and horror.
The strings take up swooping while lower notes drone beneath and what sounds like an electric keyboard of some sort comes in for "Exit Matron". Near the end, harp comes in and the strings slide all over the place.
Another version of the Kathy theme is the focal point of "Kathy Looks for Ed", which also dips into the well of threatening music before ending on a mostly peaceful note.
"Dr. Roget" starts with strings sounding urgent as they bow busily and push forward. But then comes a feeling of space and almost relaxation, soon replaced by dread.
Some of the Roget ideas continue in "The Needle", another mostly ominous cue.
Aggravated chopping and sliding strings announce that "Kathy Returns" and then musical statements of varying density and intensity appear for "I'm Going Now".
There's a pensive mood to "He's Dead", which has harp in unison with the string section for some parts and then the various themes are reprised for the "End Title".
---
2022 August 08 • Monday
Since we're in Sweden, the 738th Soundtrack of the Week is Björn Isfält's music for En Kärleks Historia.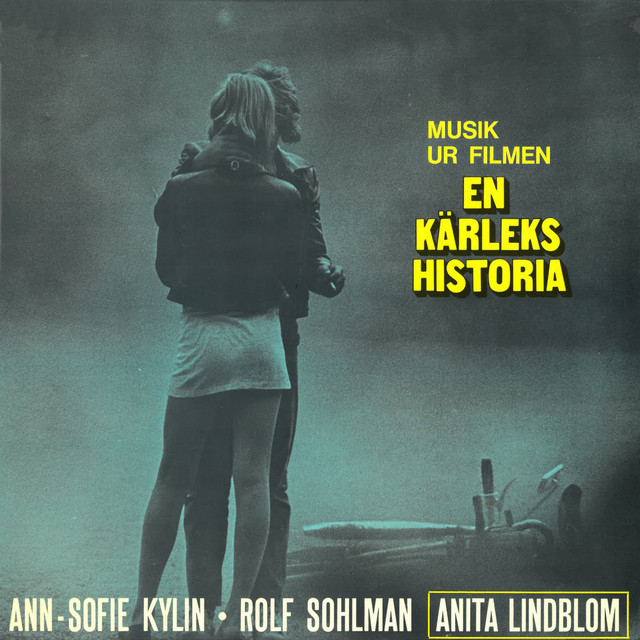 The "Uvertyr" is a lovely piece in gently swinging waltz time, with a pretty melody floating over arpeggiating guitar.
Then there's kind of a pop song with English lyrics, "Talk to Me". It's a love song but it has a kind of bluesy, slightly druggy feel to it, like a straightforward number that's been just the tiniest bit infected by an acid rock shuffle.
Delicate keyboard ostinati are the foundation for "Den Vackre", which has flutes and bass playing a melody in unison for a happy-sounding number.
"Oh No" is another rock/pop/love song, with a really nice melody, vocal harmonies blending well with minor chords and great use of harpsichord.
The next song, "Wake Up in the Morning", starts with groovy bass playing and supportive guitar while the singer returns with more English-language lyrics. It's another love song, about how when the singer wakes up in the morning he only thinks of you. It goes to some interesting places, though. When you think the drums are going to come in, it turns out to be hand percussion. It's really good.
All the songs on the A side have vocals by Staffan Stenström.
Then we're back to the gentle waltz feel for a pretty tune, "Raj, Raj", that's similar to the overture and "Den Vackre".
The A side ends with "Eko-Låten", a restrained instrumental that's similar to some of the vocal numbers.
The B side starts with a more intense vocal song. "Would You Like To Be" has a harder hitting rhythm section and Hammond organ for a bit of a psychedelic rock feel, even though it's still fairly subdued.
Next are three Swedish-language songs with vocals by Anita Lindblom.
"Morgonvals" is a nice waltz number in keeping with the movie's main themes.
På en Sjömansgrav" has kind of a rusitc chanson feel to it, just voice, acoustic guitar and harmonica.
Then there's her version of "Wake Up in the Morning", which has a brighter, airier feel than the previous rendition.
Finally there's "The Bertil Theme", which is very much dramatic underscore, with a pensive melody hovering above pulsating strings and harmonic territory mapped out by the bass.
---
2022 August 01 • Monday
Dingo, a collaboration between Miles Davis and Michel Legrand, is the 737th Soundtrack of the Week!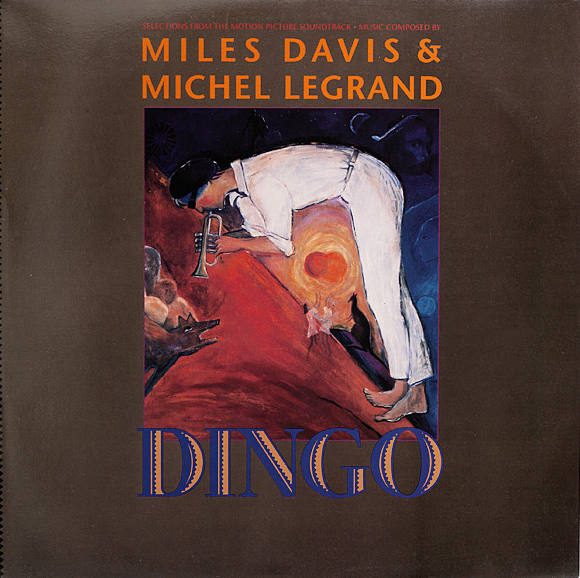 This reissue is on red vinyl!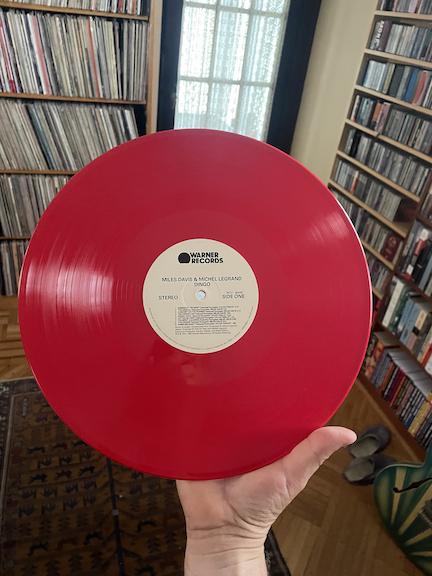 It starts with "Kimberley Trumpet", a lovely and haunting solo trumpet piece (with a slight echo), performed by Chuck Findley.
Then it's Miles Davis's turn with "The Arrival", another beautifully lonely piece, with some delicate orchestral additions added sparingly at the end.
The old days of post-bop are summoned in the fleet "Concert on the Runway", which has a spoken intro by Davis, apparently an audio clip from the movie. The effect is somewhat damaged by the bass sound and the use of wordless jazz chorus, but otherwise it's fairly reminiscent of Davis's '50s and '60s quintets.
Miles speaks again after that, with some young kid, the sound of an airplane in the background as well as somebody speaking French. Another bit from the movie. This is "The Departure", which also features some of the "Arrival" music.
"Dingo Howl" has an actual dingo howling sound and then a bit of trumpet, flowing immediately into the upbeat swing jazz number "Letter as Hero", both with trumpet playing by Chuck Findley.
This is followed by "Trumpet Cleaning", a jazz waltz featuring Davis and somewhat reminiscent of "All Blues".
A slow and soft number comes next, with piano, bass and drums gently supporting Miles's trumpet in "The Dream".
The A side concludes with "Paris Walking I", another Chuck Findley feature, and another nice swing jazz tune but still with not really a great bass sound. Sounds like it could be electric bass guitar instead of upright.
The B side continues from that with "Paris Walking II", this time with Miles Davis as featured trumpeter. It's a totally different tune, though, not walking but a sprightly and zigzaggy bebop-like tune.
Findley returns for "Kimberley Trumpet in Paris", apparently solo trumpet played on the street. You can hear cars going by and other ambient sounds.
"The Music Room" is another bit from the movie, with Miles talking, playing a little trumpet and picking out some notes on a beat-up old piano.
Findley gets to stretch out on the agreeably groovy "Club Entrance" and then both Findley and Davis show up for "The Jam Session", which has kind of a laid-back funk groove and simple changes for them to blow over.
The "Arrival" and "Departure" themes are reprised for "Going Home", still a lovely bittersweet piece, which gets a jolt of energy at the end.
The record ends with the Findley feature "Surprise!", another walking bass line tune with trumpet soloing, quite nice. This one also has some electric guitar in it!
---