Rob Price
Gutbrain Records
rob + gutbrain.com = email
---
Michael Stradford has done it again. We now have a third book about illustration model Steve Holland. This one takes westerns as its sole focus and is appropriately titled Steve Holland: Cowboy.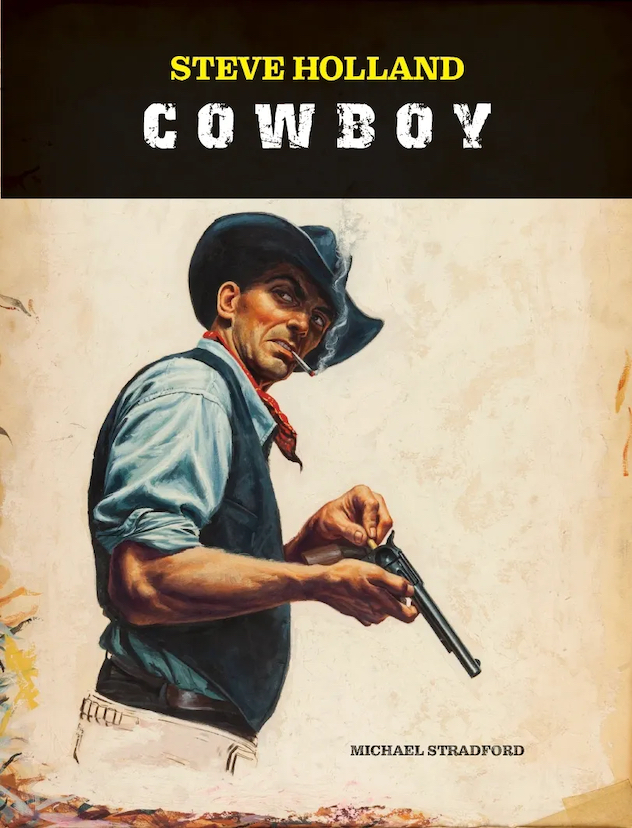 As usual, it's gorgeously designed and presented, with stunning full-page reproductions of original paintings.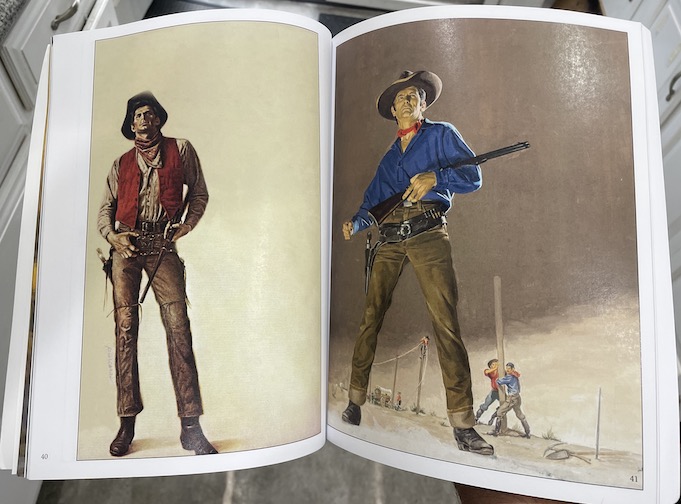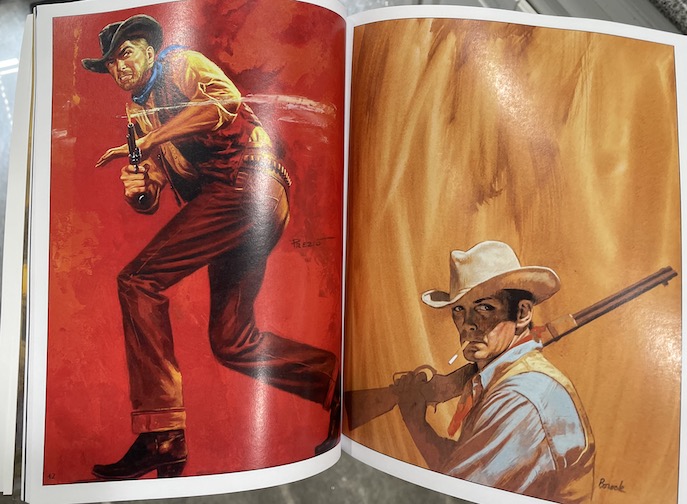 Also included are the many reproductions of the finished product as it would be seen by the public.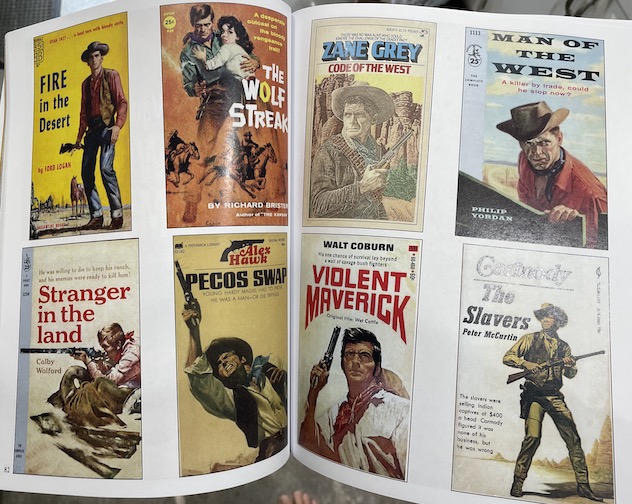 And best of all is comparing the reference photos to the finished work, a sometimes surreal juxtaposition.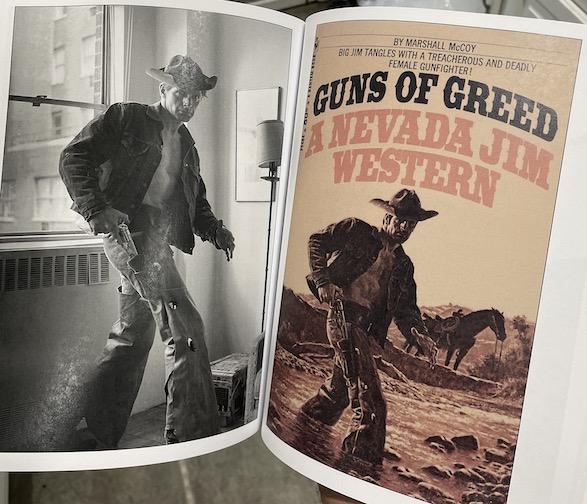 There can never be enough of this kind of book, if you ask me!
---
2022 July 25 • Monday
The 736th Soundtrack of the Week is FM!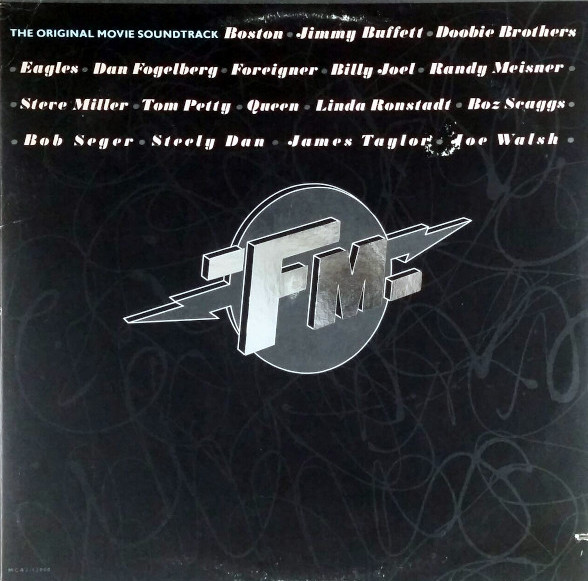 It's a double album of songs that were heard in the movie.

Perhaps the most significant is the title track, my favorite Steely Dan song, written for the movie and not on any Steely Dan album other than Greatest Hits compilations.

Bob Seger & The Silver Bullet Band come next with "Night Moves", a laid back, somwhat country rockish number.

Then there's "Fly Like an Eagle" by the Steve Miller Band, which I'm sure you've all heard a million times. Still a good song, though.

Another big hit follows, Foreigner's "Cold As Ice". Nothing I can say about that. It's a real song. I kind of like it, especially that cheap keyboard sound in it. At the time it probably required a really expensive keyboard.

Then there's a song I didn't know but I bet most people do: "Breakdown" by Tom Petty & The Heartbreakers. This has a really nice groove most of the time and is really good.

Next up is founding member of The Eagles Randy Meisner with "Bad Man", decent enough, I guess, but not one of the strongest on this record.

And then there's The Eagles with "Life in the Fast Lane". I don't suppose I need to comment on this. Pretty good riff.

Steely Dan comes back after that with "Do It Again", another classic.

"Lido Shuffle" by Boz Scaggs has a cool drum beat and some good crunch guitar playing.

The first disc ends with this really obsure song by some band nobody ever heard of: "More Than a Feeling" by Boston. You might want to hunt this one down to check it out. If you can find it!

The second disc starts with two Linda Ronstadt live tracks, which were in the movie with Ronstadt herself contributing some lines of dialogue for the movie.

"Tumbling Dice" is a great kind of honky tonk rock song and "Poor Poor Pitiful Me" is a fairly straightforward cover of the Warren Zevon song but enhanced by Ronstadt's vocal excellence.

Jimmy Buffett had to be on here somewhere, didn't he? He comes up next with a boogie called "Livingston Saturday Night".

Dan Fogelberg's "There's a Place in the World for a Gambler" changes pace with a gentle 3/4 ballad, acoustic guitar and piano, easing everything down a bit.

No comment about Bill Joel's "Just the Way You Are" other than it's the next song.

Then there's The Doobie Brothers' "It Keeps You Runnin'", which has an agreeably whimsical and perky energy to it and some charming keyboard sounds.

Maybe you've heard the James Taylor song "Your Smiling Face"? You're hearing it now if you're listening to this record.

Joe Walsh is up next with the surprisingly complex "Life's Been Good", which skips around a few genres like reggae and hard rock and acoustic pop.

Things wrap up with another practically unknown tune, "We Will Rock You" by the practically unknown band Queen, and then a reprise of "FM" by Steely Dan.
---
2022 July 22 • Friday
A recent visit to Quimby's in Chicago resulted in the discovery of Hell on the Press, an independent comics publishing company in Philadelphia, and this particular title of theirs, Perry Midlife, written and drawn by company co-founder Steve Arnold.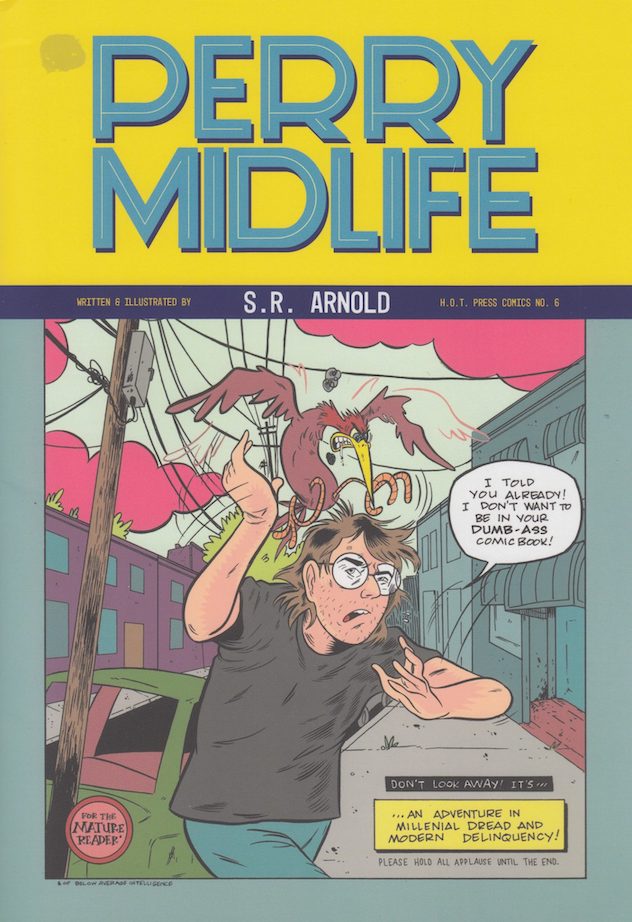 The content ranges from the fantastic (a strange talking bird) to the almost unbearable quotidian (sitting on the couch, going to a doctor's appointment).
The artwork is excellent and the use of the medium's techniques varied and assured. While somewhat reminiscent of Dan Clowes and Adrian Tomine (the latter conspicuously mentioned within), Arnold has his own quirky perspective and a few unexpected twists and turns to deploy.
We'll be keeping an eye out for more work from these folks!
---
2022 July 20 • Wednesday
Steve Fisher's No House Limit was a great read and deliver on the cover blurb, although in a 1958 standards and practices way.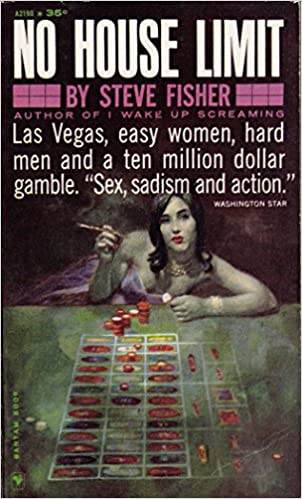 The story concerns the siege of a casino, the Rainbow's End in Las Vegas, the only major independent casino, as in not run owned by organized crime but by tough and honest Joe Martin.
Fisher rather brilliantly leaves it unclear exactly why the syndicate decides to crush Joe's operation, though a couple of possible reasons are given.
The method involves whatever mob it is banking a legendary gambler to go in there, request no limits on bets and then simply win all the money the casino has: about ten million dollars.
The plan also involves crooked dice, counterfeit chips and assassins.
The gambler's name is Bello and the gmae played is craps. I've always wondered how craps was played and this book actually explains it really well.
Everything about the Las Vegas casino scene is vividly and apparently authentically presented and there's an impressive roster of memorable and exciting characters as well.
The Rainbow's End has a mastermind security chief named Sprig as well as a piano player and singer named Mal who's part cynic, part dreamer and all conscience.
Bello has a female companion with him named Dee, who wants to escape from his clutches, while Joe falls in love for the first time with a schoolteacher named Sunny, all during the epic three-day craps game that will decide everyone's fater.
It's a very exciting and well constructed mid-century thriller and I wish there were more like it.
The first line is "It started at exactly eleven minutes past three A.M. on Sunday when Bello made his first appearance in the pit, picked up a pair of dice, and asked that the house limit on bets be taken off".
---
2022 July 18 • Monday
It's time again for the great Jerry Goldsmith, a great score for a great movie. Seconds, is the 735th Soundtrack of the Week.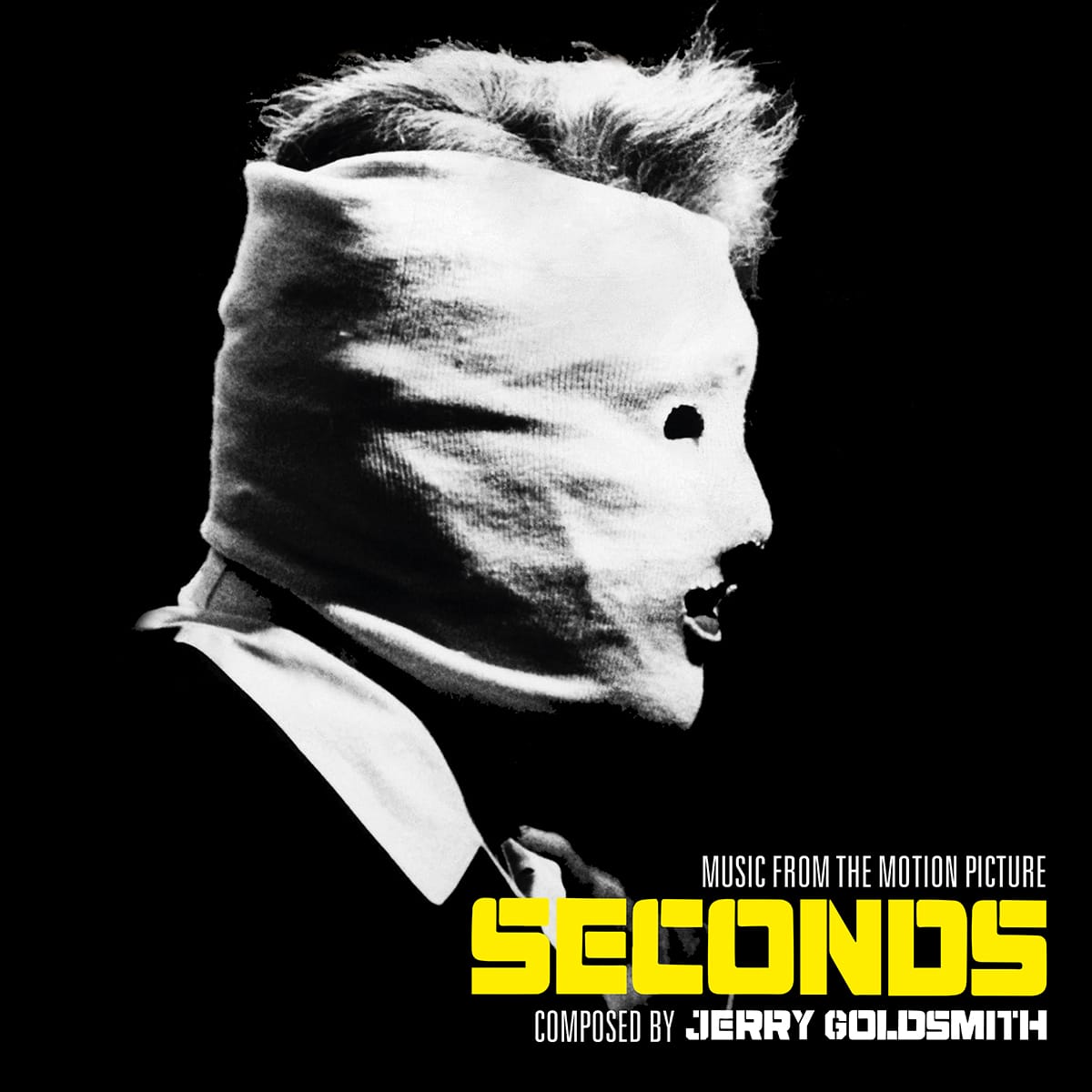 This new expanded edition from Quartet Records was released on both CD and transparent vinyl!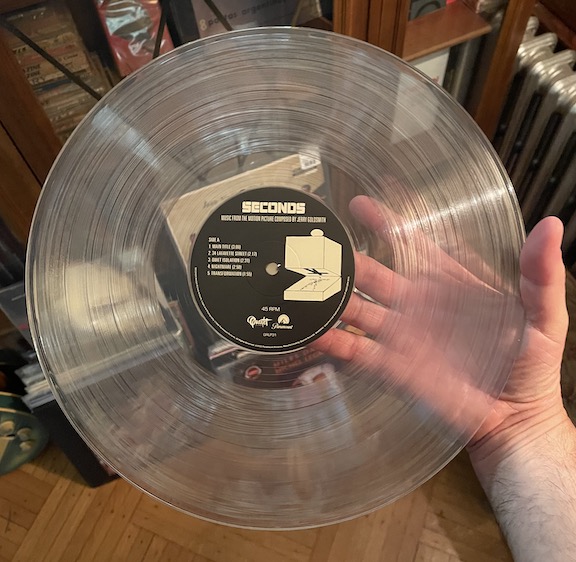 The main title begins with ominous organ drones and some sparse statements by strings. Then massive organ chords come blasting in, followed by some gothic-sounding and occasionally dissonant playing in the upper register while lower tones ominously throb beneath. The strings then come swooping back in for horrific eeriness nad eentually the instruments combine with pounding percussion for a heavy and intense melodic line.
The next track, "34 Lafayette Street", begins as a continuation but then shifts into a strings-only variation on the melody in a higher register with an airier though still disturbing sound. Other strings come in at the end for thicker, more shadowy textures, and the organ returns for the concluding notes.
Plaintive solo harp kicks off the aptly named "Quiet Isolation", soon to be joined by strings reprising the main title melody. Just when you think it can't get more melancholy, an extremely lonely solo piano part takes over.
For "Nightmare" Goldsmith came up with an incredible miniature sweet of mood, melody and weirdness that perfectly fits the hallucinatory camerawork of James Wong Howe. There are vibrato an echo effects, lots of space, strings, organ and percussion coming in and out and combining in different ways.
"Transformation" is mostly solo organ drones but near the end the strings come in with a variation on the main theme.
Strings both bowed and plucked create an urgent rhythmic pulse for the first part of "Rehabilitation and Strange Arrival". The second part is a variation on the main theme, mostly for strings but with important support from the organ as well.
For "Restless Hours" we get another extrapolation on the main theme but this time as a kind of dance in 3/4 or 6/8, at first just for strings but then with piano, alternating with more swaying yet grounded lyrical sections. The organ returns near the end, mostly to play haunting single-note lines.
At just under a minute "Peaceful Aftermath" is the shortest track but perhaps the most poignant, a tiny adagio for strings that's almost painfully heartfelt.
Another spin on the main title theme starts off "Reflections", but then the bittersweet longing of "Painful Aftermath" is picked up and beautifully presented by harp, vibes and piano, later to be enhanced by some very delicate string work.
Some of the melodic ideas from the last track find their way into "Begin Again" but the ominous low throbbing organ is back, as is the air of menace and lurking terror.
The "End Title" starts off gently with just solo piano playing the poignant secondary theme before getting blanketed by organ and strings.
Then there's some source music: jazz combo performances of "Love Is Just Around the Corner" and "That Old Black Magic", both somewhat macabrely fitting titles if you know the story, then a third jazz piece, much sprightlier and with flute, that is apparently an untitled Goldsmith original.
Then there are two Jimmie Haskell tracks, "Keep Rockin'" and "Cleanup" for the out of control cocktail party scene.
It's a fantastic score, short but one of Goldsmith's best.
---
2022 July 13 • Wednesday
The Incredible Shrinking Man has long been a favorite movie and now I've just read the book it was based on, Richard Matheson's The Shrinking Man.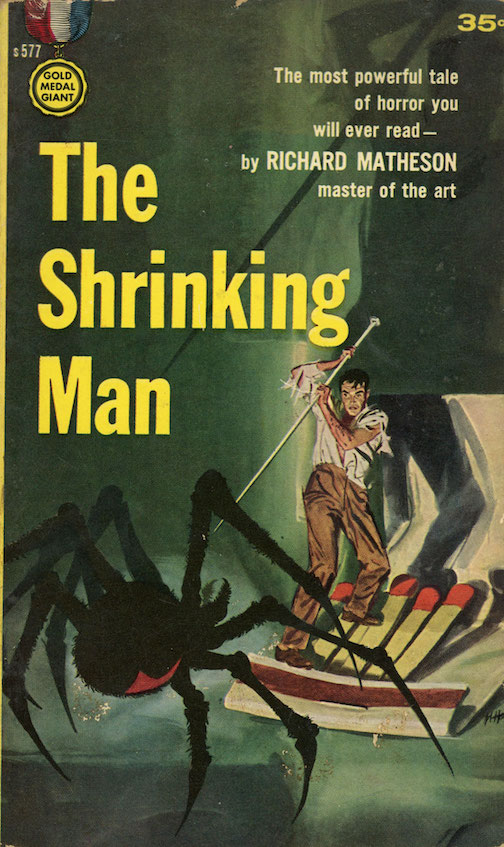 This is one of Matheson's best and much better treated than I Am Legend. The two books have in common a structure in which what seems to be a horror novel simply exploring a "What if?" premise is unexpectedly revealed at the end to be about something much more expansive. Matheson casually flips these cards over at the very end and this reader was surprised and delighted.
All three movies of I Am Legend failed to pull this off. I'm not sure if any of them even tried. The worst of these failures is the most recent one, the only one to keep the title of the book. Since the title is directly connected to this bit of legerdemain at the end of the book, it's especially galling.
The Shrinking Man was much better served by its film adaptation, though the book is quite a bit better.
The structure of the book goes back and forth in time, alternating scenes of Scott Carey at less than an inch tall, trying to survive alone in his house's cellar under constant threat from a black widow survivor as well as trying to find food and water, with scenes tracking his gradual decrease in size.
The movie makes it a tarantula but otherwise does a good job of adapting almost every other scene. The scene where Scott's wedding ring falls off his finger is even a helpful addition.
What's missing from the movie is a lot of sex, one intense action scene and a few scenes of horror.
First the sex. Scott Carey is tormented by desire. There's a whole section where his wife has had to get a job and go to work to support the family, hiring a teenage girl to babysit their daughter while Scott, about the size of an 11-year-old boy, hides in the cellar. Soon Scott becomes obsessed with spying on the babysitter, discovering that he can often find her partially or completely undressed. This doesn't end well.
The scene with the carnival woman who, as a "midget" is part of the freak show, is handled in the movie, but there's a lot more in the book about the agonizing loneliness of both of these people.
There's also a very disturbing scene in which Scott, at about his 12-year-old size, is picked up in a car by a drunk man who desires him sexually. It's not a surprise that this wasn't in the movie.
The missing action scene was probably beyond the special effects possibilities of the time. In this scene Scott, who's small enough to be living in the doll house now, is thrown outside by a wind-blown door. There's a snow storm and he can barely move through the snow and wind. If he doesn't get from the back of the house to the front and ring the door bell, though, he'll freeze to death. He begins this epic journey only to be attached by a sparrow.
The scenes of horror involve teenage bullies—I think a toned-down version of this is in the movie—and a terrifying incident in which the doll-sized Scott is picked up by his daughter and nearly crushed to death in her hand.
Matheson does an amazing job with sharing the workings of Carey's mind and the book contains some incredibly powerful and economical descriptive writing.
Book and movie both end with an unexpected shift to a different understanding of existence. The movie expresses this more or less in spiritual terms while the book frames it as purely part of the natural world. In both cases it's actually inspiring and a brilliant ending.
The first line is "First he thought it was a tidal wave".
---
2022 July 11 • Monday</font>

This compilation of Jerry Van Rooyen film music, At 250 Miles Per Hour, is the 734th Soundtrack of the Week.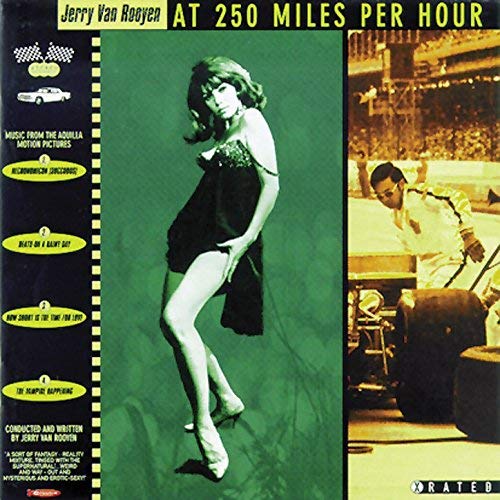 It starts with "Sax Hunt" from the movie How Short Is the Time for Love, which has keeping an almost constant roll on the snare drum while horns and strings come stabbing and blasting out. There are a couple of pockets where the band gets to take a quick breather. A powerful break beat sets up Hammond organ with the rest of the band for "The Great Bank Robbery", also from How Short Is the Time for Love. In addition to the great organ playing there's also some excellent saxophone soloing. The title track, "At 250 Miles Per Hour", another one from How Short Is the Time for Love, is a brisk swing number with a big band-era arrangement blended with Mancini-esque strings and modern organ and sax soloing. Next is "New York Is in China" from Necronomicon/Succubus, a "Harlem Nocturne"-ish piece at first, before unexpectedly becoming a swinging jazz piano trio number. Then a bit for strings is thrown into the mix too. A very odd organ sound establishes the main flavor of the short and somewhat menacing "Little Mean Men" from Death on a Rainy Day. It's a simple but strong piece that gets a lot of force out of a small ensemble. Then it's back to the fast swing of "Death Walks in High Heels" from Necronomicon/Succubus. The horns join in and there are solos from alto sax, trumpet, bass and drums. "Paris from a Helicopter View" takes us back to Death on a Rainy Day and some very interesting electric guitar work, using what sounds like two electric guitars playing intertwining single-note lines for an ear-catching rhythmic element. Then the strings come soaring in for a Maurice Jarre-like melodic idea. Ethereal wordless female vocals are the primary voice for "l"Pin Stripes & Machine Gun", also from Death on a Rainy Day. It has a definite Morricone feel to it and is a lovely cue. Particularly buoyant bass work kicks off "In Front of the Fire Place", kind of like West Coast soul lounge jazz with lots of flute playing. This one is from How Short Is the Time for Love and also has great organ playing. Then it's back to Necronomicon/Succubus for "Lisbon Sidewalks" and a jazzy tune that mixes together samba and swing and features great trumpet and tenor soloing. "Skyscrapers Galore" from Death on a Rainy Day begins with the strings playing the Jarre-ish bit from "Paris from a Helicopter View", then introduces a perky '60s-ish loungey version of it. Swing blues for piano with support from horns is what happens in when "Fabienne Is Going Wild", a short but cool number. From How Short Is the Time for Love. A bossa nova was inevitable and here it is for "Racedriver in Love" from How Short Is the Time for Love. Like the tune before it, it's very short but satisfying. This one is a nice trumpet feature as well. Even shorter, less than a minute, is "Oxtail Castle" from The Vampire Happening. It alternates between an eerie wordless wailing and a jazz waltz. "The Outskirts of Town" is a brisk jazz swing tune for organ combo with trumpet and sax solos from How Short Is the Time for Love. Then it's back to The Vampire Happening for "Transylvanian Knights" for a bluesy loungey number with brushes on snare and what sounds like clavinet or electric harpsichord getting a feature. There's also really nice trombone playing. After that we get kind of a lounge mystery bossa nova in a Mancini vein, for "Lullaby in Red" from How Short Is the Time for Love. The string sound is particularly strong and the piano provides support. Finally it concludes with "Sundown" from The Vampire Happening, a nine-and-a-half minute suite of cues heavy on the organ with groovy rock/pop sections, drum breaks, cathedral-like atmospheres, percussion freak outs and a groovy atmosphere throughout.
---
2022 July 08 • Friday
Here's a curiosity and also more or less a mediocrity: Hampton Stone's The Kid Was Last Seen Hanging Ten.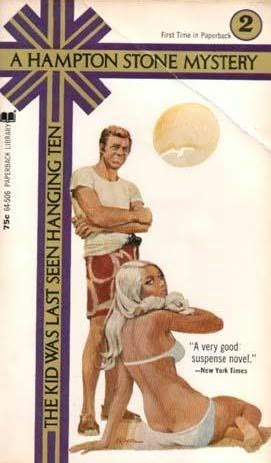 It's apparently one in a series of mystery novels about an assistant Disctrict Attorny in Manhattan, Jeremiah X. Gibson, "Gibby" to the reader.
Is this the second one? Is that why there's floating "2" on the cover? I can't be bothered even to try to find out.
Gibby stumbles upon a missing person situation and looks into it. This seventeen-year-old named Steve has disappeared and the few people close to him have been burgled. In the burglary cases, either nothing was taken or only pictures of Steve were taken.
Gibby and his colleague Mac start investigating—they have enviable hours at the office, it would appear—once someone asking questions about Steve ends up in the hospital and almost dead after being attacked by a gang of skateboarders, a.k.a. sidewalk surfers.
Gibby of course just happens to be an excellent skateboarder, somehow, so he goes skateboarding in Central Park to pick up some intel and sort of does.
Gibby and Mac go around Manhattan encountering various "types" of character, such as the intellectual bohemian, the vain gold-digging woman, the overgrown toxic man, etc., etc.
When it comes to the skateboarders and the surfers there's some slang that I was skeptical of. Sure, maybe once upon a time people used to say "hodad" but some of the rest of it, I don't know.
There's some silly and sexist treatment of women throughout, especially the teenage girls, and one big element of the mystery just popped into my head uninvited in chapter 13, while the rest of the solution could only have been guessed at.
So it's kind of an interesting time capsule and often sort of whimsically entertaining but isn't really especially good.
The first line is "She sat on one of the dusty benches in the little park and she cried."
---
2022 July 06 • Wednesday
You're probably not likely to meet a greater admirer of Bill Frisell than myself. For several decades I've been paying close attention to his music as possible. I've seen him perform hundreds of times, spent, probably, well over a thousand hours listening to recordings of him and have also met him, had conversations and exchanged emails with him.
He's been the biggest influence on me as a guitarist and has probably changed the way I hear music.
So it was inevitable that I would buy and read Philip Watson's biography of him: Bill Frisell, Beautiful Dreamer: The Guitarist Who Changed the Sound of American Music.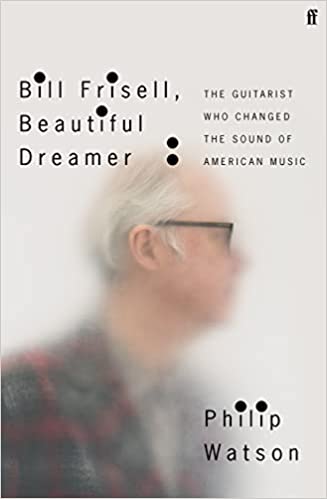 Perhaps it was also inevitable that I wouldn't love the book. I don't often enjoy reading interviews with musicians, for instance. The more I love their music, the less I need to hear them express themselves verbally.
And then I was bugged by the subtitle. It seemed to be missing the target. American music is always changing. There probably hasn't been a single moment in time when it wasn't changing. And while Bill Frisell is an extremely powerful foce, voice and influence, already and destined to continue to be an essential part of music history, this particular statement about Frisell's changing American music isn't really explored in the book.
I'm not saying that it isn't true that Frisell changed the sound of American music. I'm just saying that perhaps this isn't the important thing to know about Bill Frisell. And I'm also saying that at no point does Watson say, as far as I can remember, in what ways he might have changed it.
The best parts of the book cover Frisell's early life, childhood and lean years spent mostly dedicating himself to self-realization as a musician and composer.
The 1980s in general and Frisell's association with John Zorn in particular are gone through too quickly and Watson spends too much time on record reviews.
Also, the book is more than 500 pages long and it could have been improved by tightening it up a bit. The least necessary sections are several "reaction" chapters in which Watson plays Frisell's music for people and transcribes what they say as they listen to it and answer his questions and prompts.
If you love reaction videos on YouTube then you might enjoy the novelty of seeing such a thing on the printed page. For me, it was mostly irritating and a waste of time.
My response to the book as a whole parallels my response to its subtitle. I found it vague and lacking coherence or at least cohesion. Why discuss Frisell's recording of duets with Gary Peacock without saying something about his recording of duets with Greg Cohen, if only for contrast? Why talk so much about the importance of Hal Willner to Frisell without mentioning Willner's involvement in a film Frisell scored?
And Watson, like what seems to be every other mainstream music journalist who's ever written about Frisell, can't seem to get a grip on the eclecticism of Frisell's tastes. There's a lot of energy spent on trying to understand Frisell's musical choices, especially when they drift out of what's generally accepted as some kind of jazz and into genres usually called Americana or country or whatever.
It might have made more sense simply to identify Frisell's lyrical sensibility and love of melody as such powerful elements in him that his attraction to different kinds of songs isn't particlarly more mysterious than Sonny Rollins's need to know the words to the standards he used to play.
The book could have benefited from closer listening to recordings of Bill Frisell, particularly live ones, and more attention given to some of his more unusual collaborations, such as with Renée Fleming or Brian Ales, rather than with more famous people such as Elvis Costello and Paul Simon.
Maybe a brute force approach to the discography would have worked too. Say something about every single record he's been on. I realize that there are hundreds, but many of them could be covered in a couple of sentences. And I suspect that a clearer and more interesting portrait of the artist might have emerged.
And of course there's no real ending, as is always the case with the biography of a subject who's still with us: something for which, in Frisell's case, I am extremely grateful, beyond grateful.
I imagine that most people would enjoy this book more than I did. Which isn't to say that I didn't enjoy it. I mostly did, but I never loved it. There's interesting information and history, and some good anecdotes. But if even someone like me is aware of some better anecdotes that aren't included in this book, I bet there must be a lot more that the reader isn't getting.
But I think I already knew most of what I wanted to know about Bill Frisell from listening to his music.
---
2022 July 04 • Monday
A selection of Kawai Kenji's music from the four Ip Man movies starring Donnie Yen, put together on a CD called The Best of Ip Man, is the 733rd Soundtrack of the Week.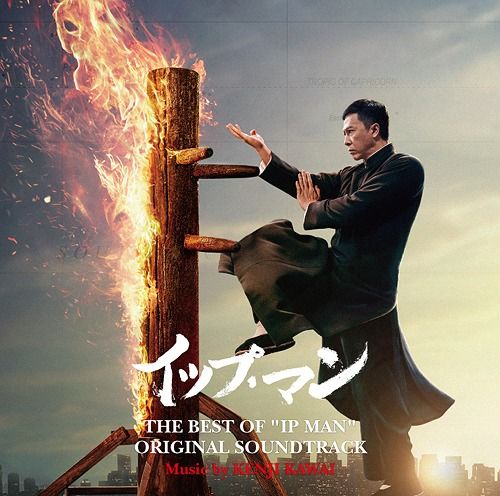 First up is "Fade", a statement of the main theme which takes some time up front to build up to the first statement of the theme in a muscular arrangement. Then violin takes it and shapes it into something flowing and romantic. The rest of the orchestra comes in to add heft at the end. "Being" is a second theme, a gentle and tender melody of both beauty sadness, also a feature for the Chinese violin. A mournful-sounding cello takes the main, sorrowful "City of Sadness", leading to an urgent, driving orchestra with choir blast and pounding drums for "Going Under". The main theme is slightly altered for "Save", a pensive and suspenseful cue that begins with an unhurried pulse and confident use of space before exploding and bringing in distorted electric guitar. "Remembrance" is a sweeping and soaring piece that's both anthemic and rousing while also containing figured of romantic lyricism. Low tones, chopping strings and wordless, almost percussive vocals set a mood of danger for "Battlefield". These elements are intensified and thickened for the next piece, "United". Piano and strings and a bit of percussion do almost all of "Going Home", an emotional number that features the violin. Then there's the very short "Fight", which sounds a bit like a dance number. After it comes an actual dance number, the cheerful and swaying "Dance", probably for the scene in which Ip Man is dancing with his wife instead of preparing for a fight. The fight happens, of course, introduced by some intriguing and ominous electric sounds in "Fight", soon joined by strings and concluding with s workout for percussion and winds as well as strings. "Strike Back" starts out as a sad piece with cello or cello-like instrument playing mournfully, but then the orchestra comes crashing in with a cue full of energy and determination and suggests the main theme in places. Just drums starts off "3 Minutes" and when strings and horns enter, they do so with tense low tones and feelings of apprehension. Then the speed and energy shoot up for a fast, driving, relentless cue with electric guitar and hand percussion surfacing out of the orchestra and choir soaring above. Then there's a radical change of mood for the guitar, piano and violin love theme of "Accompany". "Battle" alternates dense high-energy segments with quieter more spacious atmospheres until it goes all in for the pounding and driving approach and increases the power gradually until the end. Strings create a subdued atmosphere for the beginning of "True Meaning" but about halfway through it becomes a stirring and lyrical theme with a swaying rhythmic pulse. A lonely-sounding piano with lush string accompaniment is not quite so desolate as the title "Despair" might make you expect, but there is a feeling of abandonment to it. The first half of "Challenge and Fight" is quiet and tranquil, with a reed instrument shaping a plaintive melody. For the second half the orchestra flexes its muscles again for a powerful and surging cue that features distorted electric guitar. The same theme is more or less reprised in the following "Final Battle" but this time making use of the main title theme as well. This is followed by "Memory", kind of like a Satie-influenced alternative arrangement of "Being", and then, finally, "Ip Man", which showcases the main theme as well as a few of the others.
---
2022 July 01 • Friday
The first day of July and the big news is that there's a new recording!
This one does not have a physical form but is only available on Bandcamp. Nonetheless, I'm quite pleased with it.
It's called Firebird 74 and you can get it here!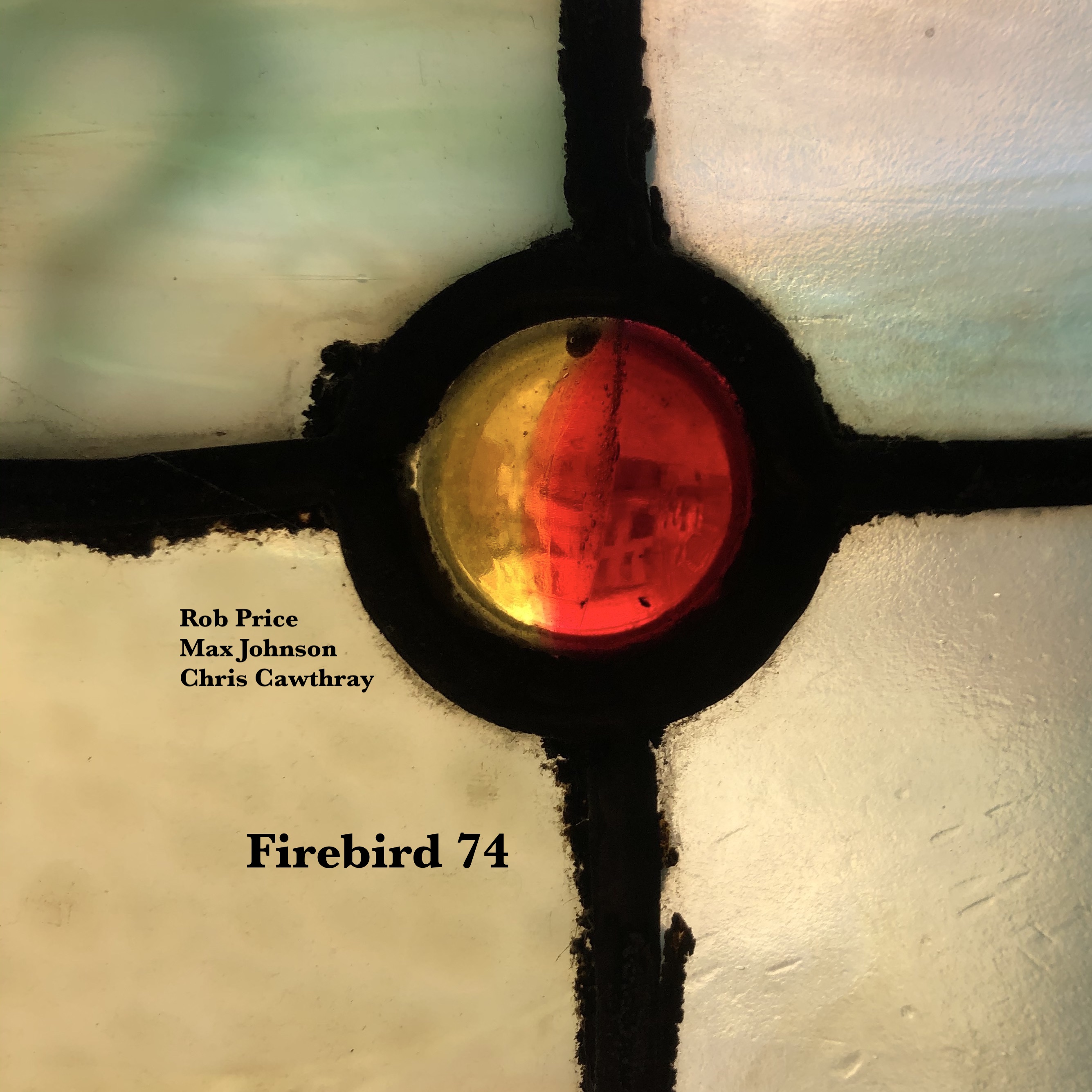 Max Johnson and Chris Cawthray are both amazing on this and I really like the four original pieces of mine. I'm actually kind of proud of them, which is extremely unusual for me.
Chris also has a great new one as well as a new take on an older one of his. And then there's a great tune that's by an old friend of his.
We played this music in Toronto last week, with the wonderful Liam Smith on bass, and it was so much fun. Looking forward to more of it!
---